---
Crew
Producers – Nick Everhart, Leigh Scott, Brad Southwick & Eliza Swenson, Photography – Leigh Scott, Music – Eliza Swenson, Makeup Effects – Krystal Phillips, Production Design – Krista Gall. Production Company – IFI Studios/Palaceamaginarium.
Penny Dreadful
Crew
Director – Leigh Scott, Screenplay – Leigh Scott & Eliza Swenson.
Cast
Eliza Swenson (Penny Dreadful), Collin Galyean (Ned), Dillon Geyselaers (Wolfboy), John Wells (Chauncey)
The Morning After
Crew
Director/Screenplay – Eliza Swenson.
Cast
Samantha Soule (Alice), Ramona Mallory (Jez), Lucky Gretzinger (Charlie), Jason Griffith (Clive)
The Slaughter House
Crew
Director/Screenplay – Leigh Scott.
Cast
Josh Hammond (Ron), Jeffrey Combs (Brady), Sid Haig (Earl), Brandon Stacy (Jimmy), Alexis Iacono (Nancy), Devanny Pinn (June), Collin Galyean (Jerry), Eliza Swenson (Betty), Al Snow (Cody), Kristina Hammond (Candy), Jacqueline Kroschell (Rose), Rebecca Salois (Billy Jack), Nicholas Theodoseau (Rusty)
---
Plot
The strange Penny lives alone in an abandoned theatre with two companions and a collection of dolls. She invites various men over for dates who are unaware of the fate in store for them as they join Penny to sit and watch films. The Morning After:– Alice wakes up with what happened the previous night a jumble in her mind. As things start to come back to her, she is certain that she has forgotten something essential. At the same time, she begins to undergo a transformation. The Slaughter House:– It is 1975. A group of counter-culture youths are on a trip when their van breaks down in the backwoods. They are offered a ride by the hillbilly Cody who says they can stay at his place until morning, although warns that his family is strange. However, as they settle in, things are not quite what they seem.
---
The horror anthology film has made a major comeback in the 2010s in particular with anthologies that come from different directors with a genre history. See the likes of Chillerama (2011), The Theatre Bizarre (2011), The ABCs of Death (2012) and sequels, V/H/S (2012) and sequels, The Profane Exhibit (2013), Southbound (2015), Tales of Halloween (2015), Grindsploitation (2016), Holidays (2016), XX (2017), The Field Guide to Evil (2018), Nightmare Cinema (2018) and Isolation (2021).
The Penny Dreadful Picture Show was one of the also-rans in this fad and does not appear to have been widely released. (It should not be confused with the popular tv series Penny Dreadful (2014-6) featuring a crossover between figures from Victorian horror fiction). The film is a collaboration between Leigh Scott and Eliza Swenson. (The IMDB insists on crediting Nick Everhart as one of the co-directors but his name is not listed on the credits in any other capacity than as producer). Leigh Scott is a prolific low-budget director who has made a number of films for The Asylum and in more recent years has started to work as an independent (see below for Scott's other films). Eliza Swenson has been an actress in most of Scott's films since 2005 and has branched out to work as writer, producer and composer on some of these. The Morning After episode here is her directorial debut.
I have never been much of a fan of Leigh Scott's usually cheaply made films. However, I was surprised with The Penny Dreadful Picture Show as it seemed above average in some respects. The Penny Dreadful wraparound features Eliza Swenson in front of the camera playing a gothed-out girl who lives in abandoned movie theatre with broken toys and two strange creatures as companions while she invites various dates over to watch films, the men not realising that sinister fates are in store for them. These sections did nothing much for me – they come at a giggly pitch and all the twists seem obvious. There is an even briefer opening piece with a couple receiving a malevolent jack-in-the-box.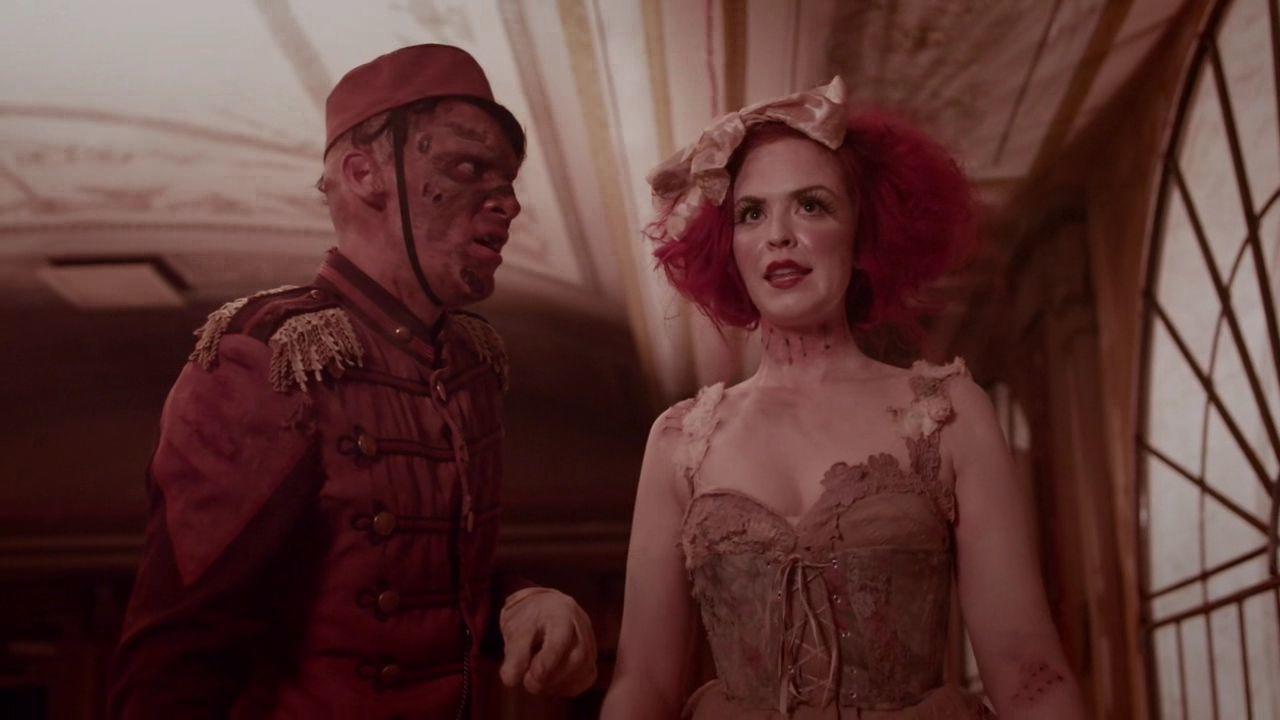 The first full segment is Eliza Swenson's The Morning After. You are not sure where the episode is going at the outset as Samantha Soule wakes up and goes through her day wondering what happened to her the night before. Swenson shoots everything with a retro-1960s vibe, particularly in the costuming department. Just when I was wondering what direction the piece was taking, Swenson turns it on its head and reveals that we are watching a vampire film. This works rather well and comes with an undeniable dark relish. Standout is the performance from Ramona Mallory as the vampire predator who enters the film with a sizzling seduction scene and holds the show considerably thereafter.
Leigh Scott makes the other full segment The Slaughter House. This appears to have been intended as a twisted take on The Texas Chain Saw Massacre (1974). In the same way that Swenson goes for a 1960s look in her segment, Scott goes for 1970s retro here. He winds the episode up to a certain manic tone, aided by Jeffrey Combs' performance as the imbecilic member of the family and various other lunacies. That said, the segment is only predicated around reversing the sympathies of The Texas Chain Saw Massacre. This works up to a point but Tucker and Dale vs Evil (2010) did similar things far more cleverly.
Leigh Scott started out making low-budget films at The Asylum with the likes of The Beast of Bray Road (2005), Frankenstein Reborn (2005), King of the Lost World (2005), Dragon (2006), Exorcism: The Possession of Gal Bowers (2006), Hillside Cannibals (2006), Pirates of Treasure Island (2006), The 9/11 Commission Report (2006), The Hitchhiker (2007) and Transmorphers (2007), as well as several other genre items for other companies with Dracula's Curse (2005), Flu Bird Horror (2008), Chrome Angels (2009), The Dunwich Horror (2009), The Witches of Oz (2011), Dorothy and the Witches of Oz (2012), The Lost Girls (2014) and Piranha Sharks (2016).
---
---