---
Crew
Director/Producer – Dan Curtis, Teleplay:- Julie and Millicent and Therese Written by William F. Nolan, Based on Short Stories by Richard Matheson, Amelia Written by Richard Matheson, Based on His Short Story, Photography – Paul Lohmann, Music – Robert Cobert, Special Effects – Richard Albaine, Puppet Master – Erik M. Von Buelow, Art Direction – Jan Scott. Production Company – Dan Curtis Productions/ABC Circle Films.
Cast
Julie:- Karen Black (Julie Eldridge), Robert Burton (Chad Foster), Jim Storm (Eddie), Kathryn Reynolds (Anne), Gregory Harrison (Arthur Moore). Millicent and Therese:- Karen Black (Millicent Lorrimore/Therese Lorrimore), George Gaynes (Dr Chester Ramsey), John Karlin (Anmar), Tracy Curtis (Tracy). Amelia:- Karen Black (Amelia)
---
Plot
Julie:- Student Chad Foster develops a sudden fixation with his teacher Julie Eldridge. After he persists, she agrees to go on a date to the movies with him. There he drugs her drink and takes her to a motel room where he proceeds to photograph her naked then have his way with her. He subsequently uses the photos to blackmail the prudish Julie into doing what he wants. However, everything is not as it seems. Millicent and Therese:- Following the death of their father, Millicent Lorrimore becomes very afraid of her sister Therese. Millicent insists that Therese is evil and that she uses witchcraft and black magic to seduce men. At wit's end, Millicent decides to use Therese's sorceries back against her. Amelia:- Amelia has taken an apartment to get away from her over-controlling mother and enjoys the company of a man friend, anthropologist Arthur Breslow. She has brought a Zuni fetish doll as a present for Arthur. The doll is supposed to hold the soul of a warrior inside as long as a gold chain remains around its neck. However, the chain is knocked off and the doll comes to life and stalks Amelia through the apartment.
---
Trilogy of Terror is considered a classic of horror television. It was commissioned by ABC from producer and sometimes director Dan Curtis, best known for the tv series Dark Shadows (1966-71), The Night Stalker (1972) and a series of remakes of various horror classics for tv, and writer Richard Matheson, best known for The Incredible Shrinking Man (1957), various episodes of The Twilight Zone (1959-63) and Star Trek (1966-9), several Roger Corman Edgar Allan Poe films and the oft-filmed horror novel I Am Legend (1954). (See below for both Dan Curtis and Richard Matheson's other genre credits). Matheson turned the script adaptation of the first two stories over to his friend William F. Nolan, best known as the co-author of the novel Logan's Run (1967). Almost certainly ABC were attempting to imitate the successes that England's Amicus Films were having with in the early 1970s with their various horror anthologies – Dr Terror's House of Horrors (1965), The House That Dripped Blood (1970), Asylum (1972), Tales from the Crypt (1972) etc.
The first episode Julie is the weakest of the three. The episode comes with a promisingly sordid element – Robert Burton voyeuristically peeping in on Karen Black undressing from outside her apartment, drugging her drink (in a prefigural of the Date Rape Drug scare in the 1990s) and then taking her to a motel and snapping photographs of her undressed before he himself strips and climbs on top of her, and his subsequently blackmailing her with the photos to make her continue to see him (and it is implied do things with his friends). Alas, such sordid element gets the tamest imaginable handling in Dan Curtis's direction – Karen Black gets no further undressed than lying on a bed with her blouse undone a couple of buttons. Admittedly, you could hardly have expected anything else in watching a tv movie but the story almost cries out for treatment as an R-rated exploitation film.
The other major problem that one had with Julie was the contrived nature of the story. The first half sets things up so that we are supposedly shocked at seeing Robert Burton drugging, photographing, having his way with and then blackmailing Karen Black. Then comes the twist revelation that she has planted the thought in his mind and has been manipulating the situation all along. Alas, the script never deigns how to explain how it was that Black managed to so influence him.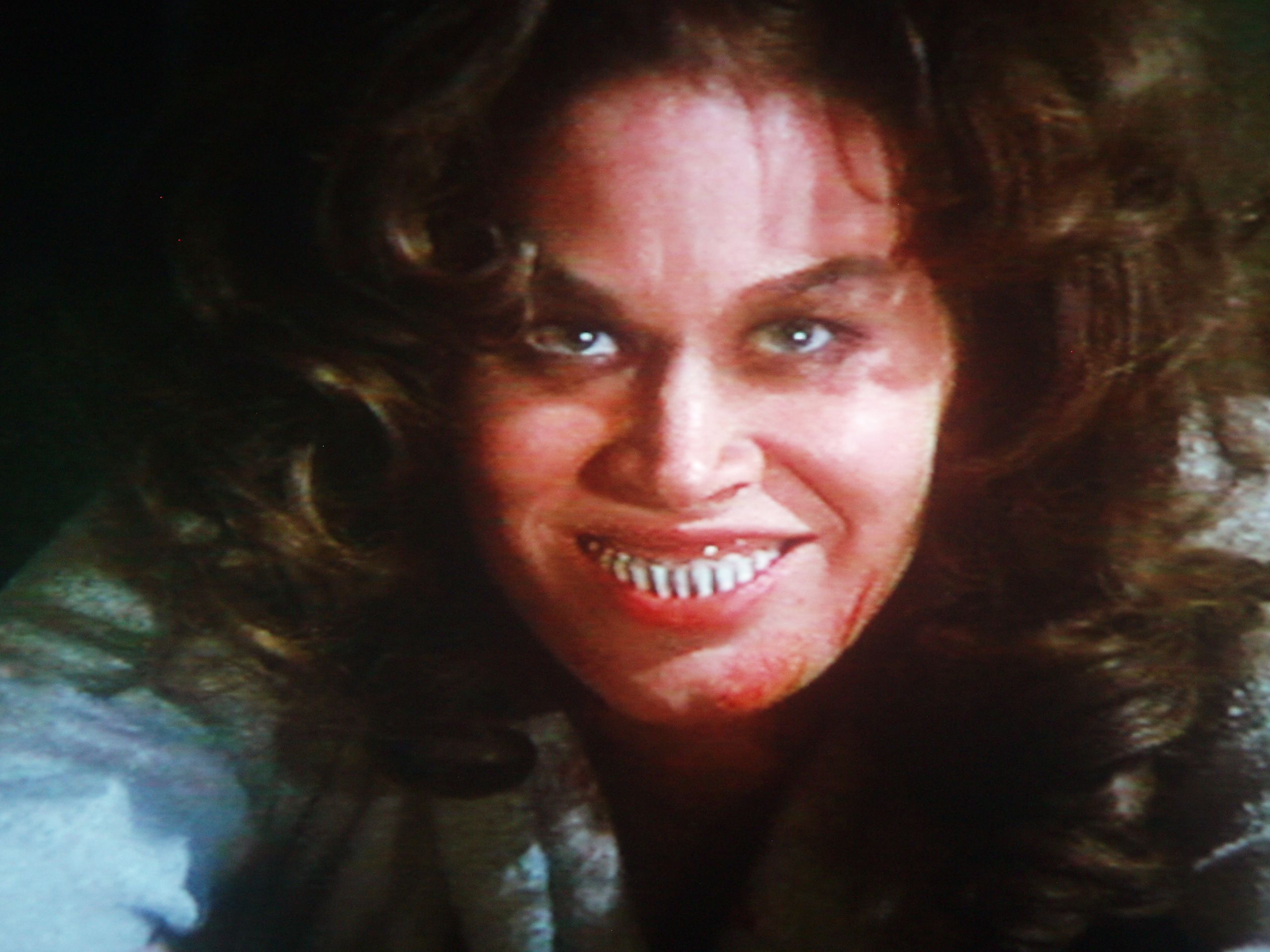 Even more so we realize that our sympathies throughout have been falsely manipulated by the story – where we are first led to feel shock and horror over what he is doing. When the twist revelation is known, it becomes hard to believe that any woman would willingly allow a man to date rape her, photograph and then blackmail her into being his sexual plaything, all for her own pleasure.
Certainly, Karen Black, who plays the lead female role in all three episodes, is good at playing the primly repressed teacher and lacing the latter half of the story with a series of calculating glances from beneath her glasses. Apparently, Black agreed to the part if her then real-life boyfriend Robert Burton could play the male lead opposite her. The first two episodes, both scripted by William F. Nolan, cast Karen Black in roles where she must make a switch between primly repressed spinster and seductive temptress.
The second episode Millicent and Therese is an improvement over Julie. Karen Black's dual opposed roles are at an extreme. William F. Nolan seems to be tapping into cliche images of a sexually assertive woman as being evil or in league with the forces of darkness. "These books show what she is – demonology, pornography, Satanism, voodoo, witchcraft," the primly repressed Black says of her sister at one point, which says it all in terms of how horror in this era viewed female sexuality. The narrative is much stronger than in Julie, although Dan Curtis's direction is still too clean, too tidy in its camera set-ups. One can also see the twist ending coming way in advance – one that has clearly been borrowed from the Lucy Comes to Stay segment of Amicus's Asylum. Karen Black clearly has a good deal of fun, vying between the tightly repressed Millicent and the trampish Therese, the latter beneath a very unconvincing blonde wig.
Of course, the one episode that has made Trilogy of Terror into a cult film is Amelia – Karen Black says on the dvd extras interview that of all the films that she ever made, Trilogy of Terror is by far the one that she is asked about the most. Amelia is a single person drama – the whole show is taken up by Black alone in an apartment. (To this extent, the episode has to contrive her having two conversations into a phone in order to give the story some explanations and dialogue).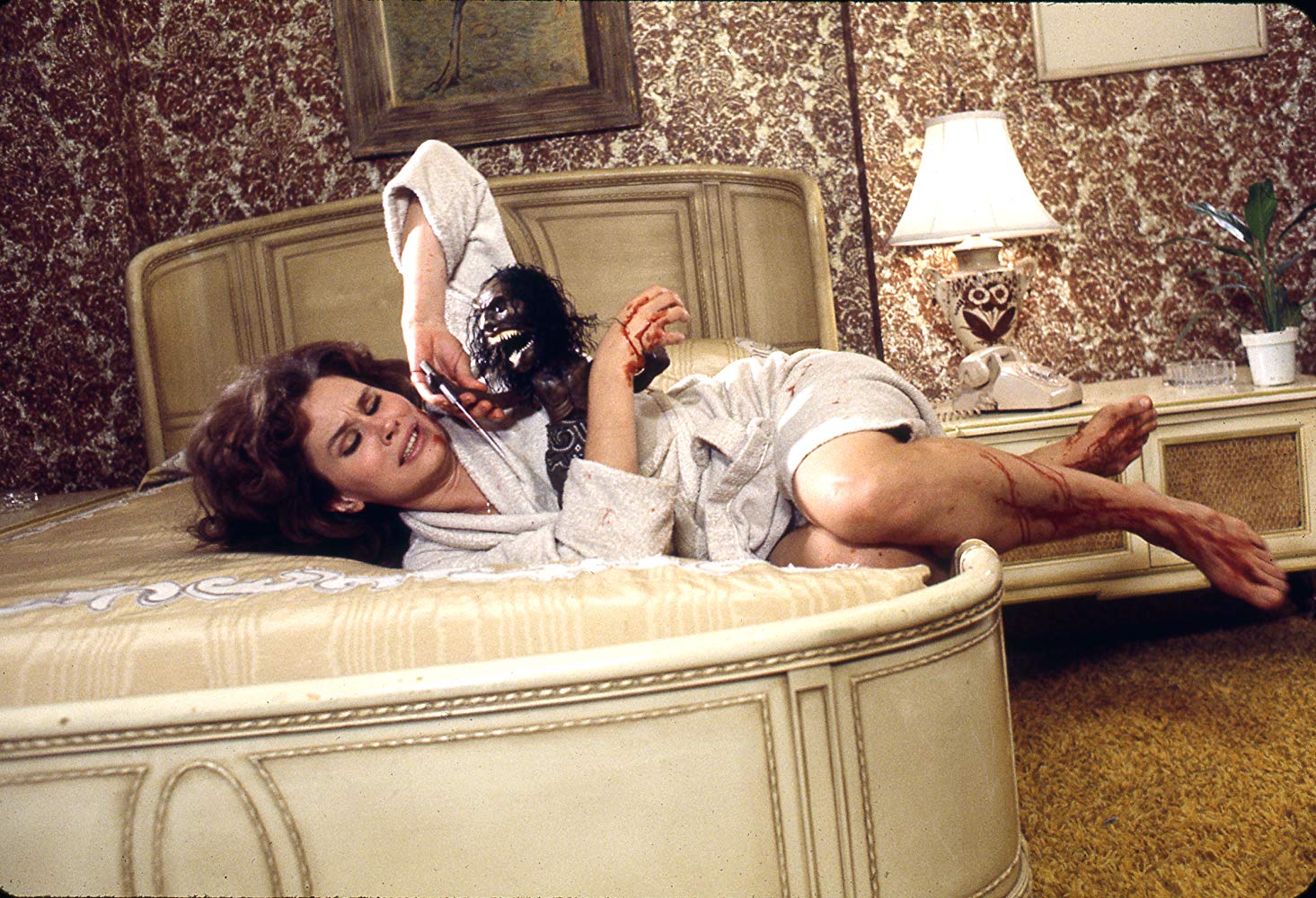 Dan Curtis builds atmosphere effectively via seeing shadows moving and things scuttling in the background but soon plunges the episode into an all-out attack. Here Curtis let all stops go as the incredibly nasty looking Zuni fetish doll attacks Karen Black with a ferocity, jabbing knives at her under doors, clawing its way up out of a bath, cutting its way out of a suitcase, biting into her neck. (On the extras, Karen Black amusingly tells how the real puppet kept falling apart and most of the time she was left having to hold it against her).
Amelia eventually arrives at one of the truly memorable anthology episode twist endings of all time as [PLOT SPOILERS] Karen Black disposes of the fetish doll by incinerating it in her oven, then calls her nagging mother up on the phone and invites her over. She then squats down to wait with a knife in her hand and just before the screen fades out opens her mouth to reveal that she has sharpened teeth just like the doll.
Trilogy of Terror II (1996) was a sequel, also directed by Dan Curtis. Lysette Anthony replaced Karen Black, playing different roles in three different stories. The third of the stories offered a sequel to Amelia and a return of the Zuni fetish doll.
Dan Curtis's other genre productions are:- The Strange Case of Dr Jekyll and Mr Hyde (1968), House of Dark Shadows (1970), Night of the Dark Shadows (1971), The Night Stalker (1972), Frankenstein (1973), The Invasion of Carol Enders (1973), The Night Strangler (1973), The Norliss Tapes (1973), The Picture of Dorian Gray (1973), Dracula (1974), Scream of the Wolf (1974), The Turn of the Screw (1974), Burnt Offerings (1976), Curse of the Black Widow (1977), Dead of Night (1977) and Intruders (1992).
Richard Matheson's other genre works are:- The Incredible Shrinking Man (1957) based on his own novel, Roger Corman's Edgar Allan Poe adaptations The House of Usher/The Fall of the House of Usher (1960), Pit and the Pendulum (1961), Tales of Terror (1962) and The Raven (1963), the Jules Verne adaptation Master of the World (1961), the occult film Night of the Eagle/Burn, Witch, Burn (1961), the Corman-produced mortician's comedy The Comedy of Terrors (1963), The Last Man on Earth (1964) based on his novel I Am Legend concerning a world taken over by vampires, the Hammer psycho-thriller The Fanatic/Die, Die, My Darling (1965), the classic Hammer occult film The Devil Rides Out/The Devil's Bride (1968), the historical biopic De Sade (1969), Steven Spielberg's first film Duel (1971), The Night Stalker (1972) and The Night Strangler (1973) tv movies for Dan Curtis, the ghost story The Legend of Hell House (1973), Curtis's tv adaptation of Dracula (1974), the tv movies Scream of the Wolf (1974), The Stranger Within (1974), a further Dan Curtis anthology tv movie Dead of Night (1977), The Strange Possession of Mrs. Oliver (1977), the tv adaptation of Ray Bradbury's The Martian Chronicles (1980), the time travel romance Somewhere in Time (1980) from his own novel, Jaws 3-D (1983) and Twilight Zone – The Movie (1983). Works based on his novels and stories are The Omega Man (1971) from I Am Legend, the afterlife fantasy What Dreams May Come (1998), the fine ghost story Stir of Echoes (1999), I Am Legend (2007), The Box (2009) and Real Steel (2011).
---
---