---
Crew
Director – Oliver Parker, Screenplay – Toby Finlay, Based on the Novel The Picture of Dorian Gray by Oscar Wilde, Producer – Barnaby Thompson, Photography – Roger Pratt, Music – Charlie Mole, Visual Effects – Moving Picture Company (Supervisor – Charley Henley), Special Effects Supervisor – Mark Holt, Makeup Design – Jeremy Woodhead, Production Design – John Beard. Production Company – Ealing Studios/Alliance Films/Fragile/Aramid Entertainment/Prescience/UK Film Council/Dorian Gray Limited.
Cast
Ben Barnes (Dorian Gray), Colin Firth (Henry Wotton), Ben Chaplin (Basil Hallward), Rebecca Hall (Emily Wotton), Rachel Hurd-Wood (Sibyl Vane), Pip Torrens (Victor), Johnny Harris (Jim Vane), Fiona Shaw (Lady Agatha), Caroline Goodall (Lady Radley), Emilia Fox (Lady Victoria Wotton), Michael Culkin (Lord Radley), Maryam d'Abo (Gladys), Jo Woodcock (Celia Radley)
---
Plot
Victorian England. Handsome young Dorian Gray inherits the estate of his late uncle. He befriends the artist Basil Hallward and Henry Wotton, a libertine who takes Dorian out and inspires him to indulge in all available pleasures. Basil paints a portrait of Dorian and Dorian idly makes the wish that he would "nail his soul to the Devil's altar" were it he rather than the painting that remained eternally youthful and unblemished by time. Soon after, Dorian woos the actress Sibyl Vane and proposes to her. However, she drowns herself after realising that she has given herself to him and he has been unfaithful. Dorian soon makes the discovery that no cut will mar him and that all his wounds and moral corruptions are instead inflicted onto the portrait. He locks the portrait away in the attic and gives himself over to pleasure. All the while he remains ageless as those around him grow older. However, in a desire to protect his secret, his sins soon give way to increasingly more extreme acts, including murder.
---
The Picture of Dorian Gray (1890) was the sole novel written by Victorian playwright and cause celebre Oscar Wilde. It has since become regarded as one of the genre classics of the era, although was less regarded in its time. The book caused some degree of controversy because of its parallels to Oscar Wilde's own 'debauched' life and the charges of homosexuality that would prove his downfall a few years later.
The Picture of Dorian Gray has been filmed a number of times in the silent era – in 1910, 1913, 1915, 1916, 1917 and 1918. The classic adaptation is generally regarded as the MGM version The Picture of Dorian Gray (1945) starring Hurd Hatfield, although this is a somewhat staid film when seen today. Other versions include Dorian Grey (1970), producer Harry Alan Towers' sexploitation version; The Picture of Dorian Gray (1973), a tv adaptation produced by Dan Curtis starring Shane Briant, which is probably the best film version to date; The Sins of Dorian Gray (1983), a modernised tv movie where Dorian is made into a woman played by Belinda Bauer; the modernised Dorian/Pact with the Devil (2003) where Dorian (Ethan Erikkson) becomes a male model; The Picture of Dorian Gray (2004) starring Josh Duhamel; and The Picture of Dorian Gray (2006). Dorian Gray even turns up as one of The League of Extraordinary Gentlemen (2003) played by Stuart Townsend and as a regular character in the tv series Penny Dreadful (2014-6) played by Reeve Carney, while variations on the plot appear in episodes of Blake's 7 (1978-81) and Star Trek: The Next Generation (1987-94).
This new version of the story was conducted by Oliver Parker. Parker is a former actor who began directing films with the Shakespeare adaptation Othello (1995) and has since conducted several adaptations of Oscar Wilde's works including An Ideal Husband (1999) and The Importance of Being Earnest (2002), as subsequently comedies like Johnny English Reborn (2011) and Dad's Army (2016). The film is co-produced by the revived Ealing Films, the British company that produced a number of classic comedies during the 1940s and 50s including Kind Hearts and Coronets (1949), The Lavender Hill Mob (1951), The Man in the White Suit (1951) and the original The Ladykillers (1955).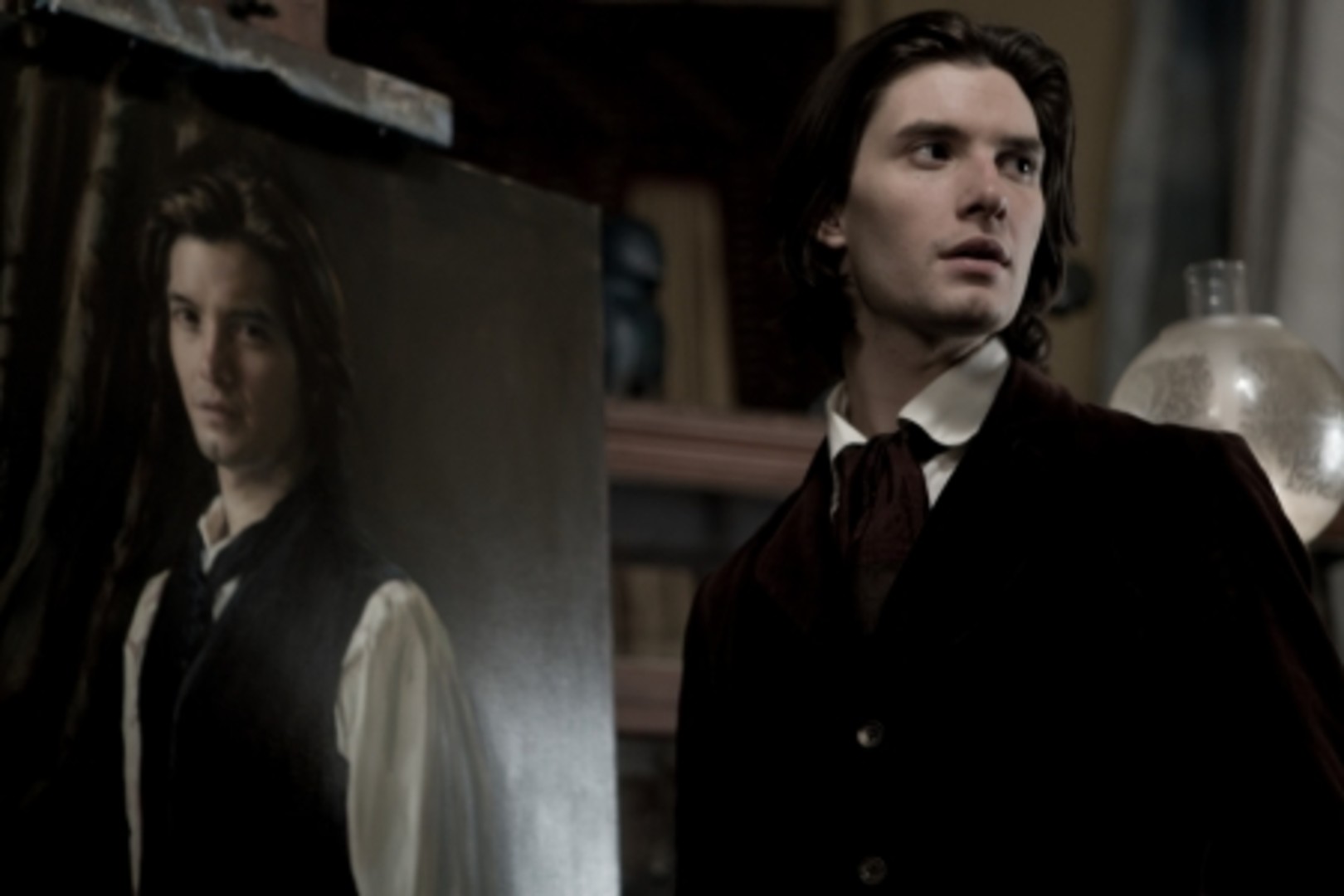 While most of the previous adaptations of the story have opted for staid depictions of Victoriana, the film here plants the story inside a lush, exquisitely detailed recreation of the period. This falls into modern screen take on the period, which is to show Victoriana in grim, brooding and darkly downbeat colours. It is a world that seems universally dark and grim – very little of the film ever seems to take place in daylight, for instance. This sense of period however is one of the best aspects of the production. Where most other adaptations of the story exist in a nebulous Victorian era and never tie it to the passing of time beyond showing the supporting characters getting older, this version locks the story into the historical time period and extends events from around the fin du siecle era the book was written through the turn of the century and even into World War I.
Toby Finlay's adaptation of the Oscar Wilde story is exceptional, getting very much inside the sense of hypocrisy and obsession with one's station that was a central aspect of Victorian society. Finlay keeps great faith to Oscar Wilde for the most part, altering some scenes – such as eliminating the character of the chemist that Dorian blackmails to dispose of Basil's body. The Sybil Vane scenes has been changed somewhat – she now becomes suicidal after she surrenders her virginity to him and then finds that he is unfaithful, rather than as Wilde had it where her surrender caused him to lose interest in what attracted him, while here she now drowns herself rather than drinks acid.
The most substantial differences from the book are in the latter section where the film introduces the character of Wotton's daughter Emily (who does not exist in the book) and Dorian's seduction of her, whereas in the book this character was a minister's daughter. Also in the film it is Wotton who destroys the portrait rather than Dorian doing so out of shame at the sins he has conducted.
Oliver Parker does a fine job of portraying Dorian's decadence and corruption – in fact, has far more freedom to portray such things than Oscar Wilde himself did. Dorian's descent into sin goes by degrees – first cigarettes, followed by drinking in low-life Whitechapel bars, cavorting with prostitutes and then branching out into more serious vices such as smoking opium, unfaithfulness, breaking the heart of an innocent woman who has surrendered her virginity to him, even what appears to be BDSM and eventually murder.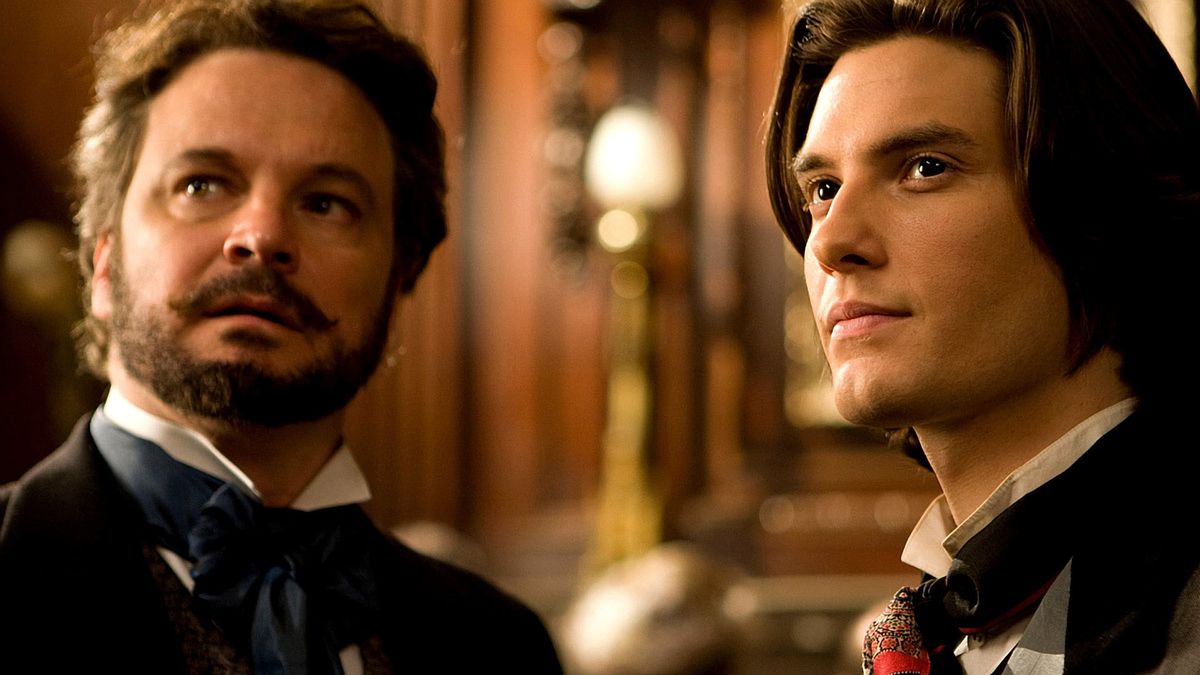 There is a fine scene where Ben Barnes appears at a society function, seduces the innocent daughter upstairs, followed by her mother (Caroline Goodall) when she comes up to express her outrage at what he has done as all the while the daughter hides under the bed. There is even the frank suggestion that Dorian swings both ways (which Oscar Wilde was ever so fearful of coming out and saying) in a scene where he seduces Ben Chaplin.
Cast in the role of Dorian Gray is British actor Ben Barnes who became a handsome new Hollywood face with his appearance as the title prince in The Chronicles of Narina: Prince Caspian (2008), only to then promptly vanish from screens. Barnes certainly has the impossibly handsome looks that the part of Dorian requires. Prince Caspian indicated that Barnes seemed to lack much beyond that. Here however, Barnes holds his end of things up and shows us that he is more than capable of covering the range of the role all the way from impossibly handsome youth to cruelly debauched.
Cast in the role of Dorian's best friend and fellow debaucher is Colin Firth (who was also in Oliver Parker's The Importance of Being Earnest). Firth plays the part at almost opposite remove from the handsome, genial roles one has become used to him in, giving the part a persuasively diabolic charisma. He gets the lion's share of Oscar Wilde's acidicly barbed witticisms and has a field day with them. The increasingly underrated Rebecca Hall has a lovely innocence and forthright strength as Colin Firth's daughter.
(Nominee for Best Adapted Screenplay and Best Supporting Actor (Colin Firth) at this site's Best of 2009 Awards).
---
---