---
Crew
Director/Screenplay – Brian De Palma, Producer – Edward R. Pressman, Photography – Larry Pizer, Music/Songs – Paul Williams, Additional Music – George Aliceson Tipson, Special Effects – Greg Auer, Makeup – Tom Burman, Production Design – Jack Fisk. Production Company – Pressman Williams/Harbor Productions.
Cast
William Finley (Winslow Leach), Paul Williams (Swan), Jessica Harper (Phoenix), Gerrit Graham (Beef), George Memmoli (Arnold Philbin), Jeffrey Comanor, Archie Hahn & Harold Oblong (The Juicy Fruits/The Beach Bums/The Undeads)
---
Plot
Composer Winslow Leach approaches the recording company magnate Swan with his score for a rock opera based on 'Faust'. Instead, Swan steals the score and has Leach framed and jailed on heroin dealing charges. Escaping, Leach tries to take revenge against Swan but his face is hideously burned in an accident with a record press. As Swan is about to open his new rock palace The Paradise with the debut of 'Faust', Leach hides in the building, sabotaging Swan's efforts. Eventually, he and Swan agree to a truce. However, when Swan starts vulgarising the opera, Leach kills to stop him and ensure that the beautiful Phoenix sings the lead.
---
At the time of The Phantom of the Paradise, director Brian De Palma had emerged with four quirkily eccentric comedies – Greetings (1968), The Wedding Party (1969), Hi, Mom (1970) and Get to Know Your Rabbit (1972). However, De Palma did not garner major attention until the striking psycho-thriller Sisters (1973). This psycho-thriller genre would become De Palma's most fertile directorial ground for the next decade. (See below for Brian De Palma's other titles).
The Phantom of the Paradise is one of Brian De Palma's most enjoyable hour-and-a-halves. It was originally written back in 1969 when De Palma was still in experimental form. De Palma has designed the film as a parody of the oft-filmed The Phantom of the Opera (1925) – conceived as a hilarious parody of seventies glitter rock.
Not satisfied with merely sending up The Phantom of the Opera, De Palma also throws in spoofs of Faust, The Picture of Dorian Grey and the Universal Frankenstein films. Not to mention a very funny parody of the Psycho (1960) shower sequence – the first and funniest of numerous Hitchcock quotes that would turn up in De Palma's films – with The Phantom wielding a toilet plunger in lieu of a knife.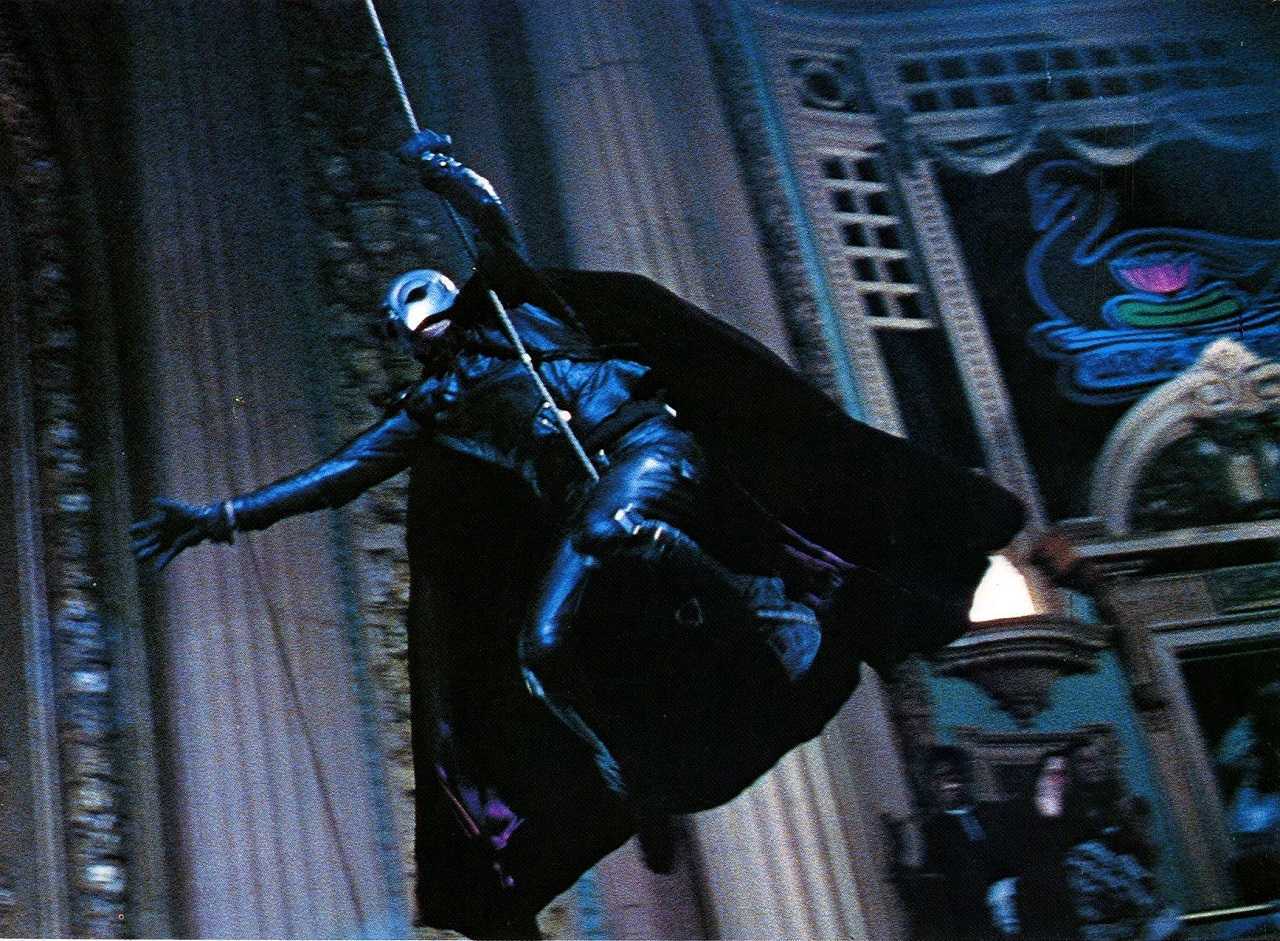 Just as much as the horror genre, De Palma conducts wild and hilarious swings at 70s glam rock – with songwriter/star Paul Williams winding in send-ups of every imaginable musical style from The Beach Boys to Alice Cooper and retro-50s rockers like Sha Na Na.
Brian De Palma is a director with a love of flashy directorial style. Here he characteristically shows off – some of his use of anamorphic lenses and split-screen trickery proves a distraction but the scenes with his camera conducting 360o pans or where animated musical bars and notes wind around William Finley as he composes are highly stylish.
Gnomic 5'2″ Paul Williams gives a campy performance that, among the rest of the film's lunatic exaggerations, seems to be perfectly in place. He is clearly having a good deal of fun. Williams had a sporadic career as a musician and actor in film and tv – he appeared as an orangutang in Battle for the Planet of the Apes (1973) and in Smokey and the Bandit (1977), had his own very short-lived tv series The Paul Williams Show (1979), voiced The Penguin in the various animated Batman tv series of the 90s, and wrote the theme music for The Love Boat (1977-86) and songs for several of the Muppet movies.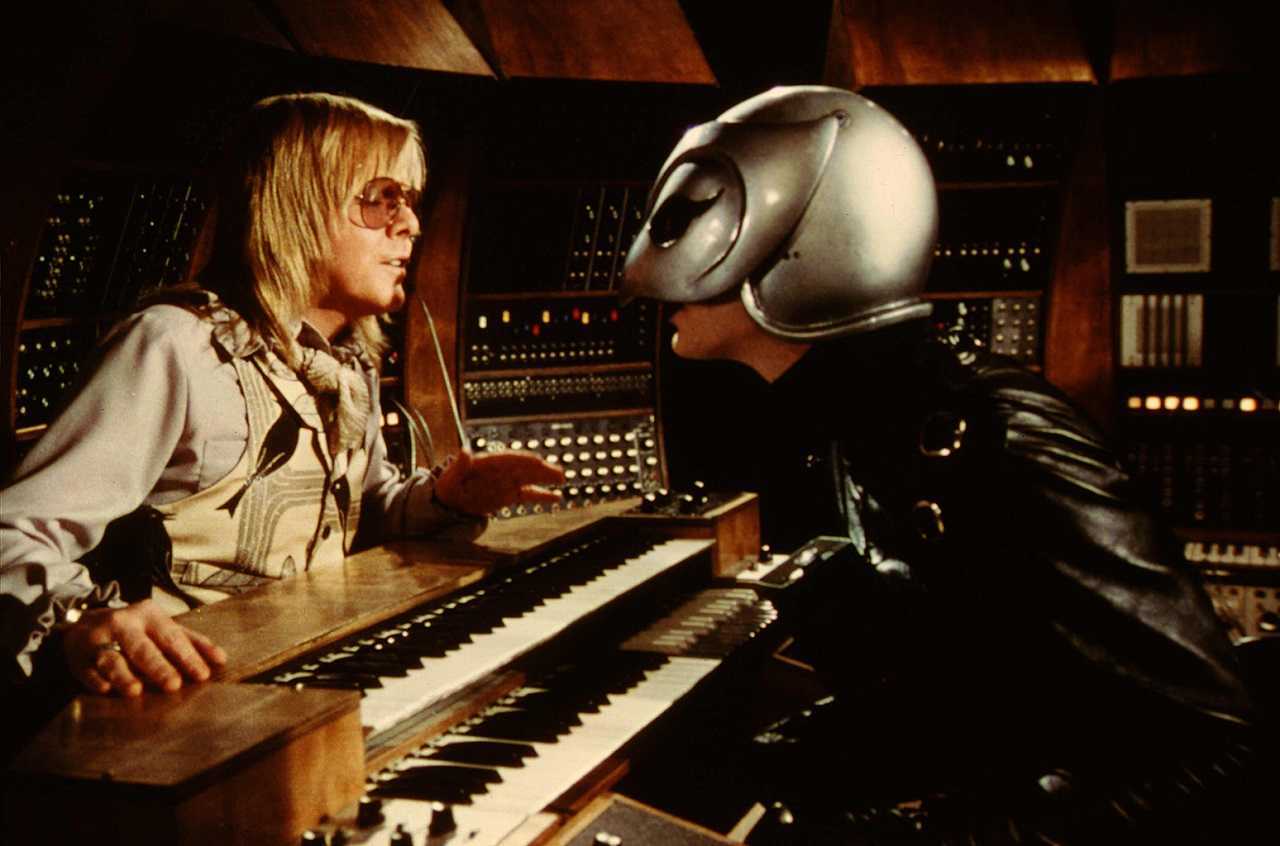 The film's scene-stealer is Gerrit Graham as Beef, a macho parody that seems to combine David Bowie's gender bender persona with Gary Glitter to hilarious regard. Gerrit Graham had debuted in Brian De Palma's Greetings, made his first major performance in The Phantom of the Paradise and went on to appear in a number of B horror movies throughout the 1980s, particularly those produced by Albert and Charles Band. Gerrit Graham, however, has never been better than he was here. His attempts to walk in platform heels are guaranteed to have one in hysterics.
The Rocky Horror Picture Show (1975) the following year mined fairly much the same territory as The Phantom of the Paradise in its combination of monster movie clichés and parodistic glitter rock. This joyfully mad film is a perfect companion piece for the Rocky Horror set and is indeed a side of himself that Brian De Palma should visit again some time.
Brian De Palma's other genre films are:– Get to Know Your Rabbit (1972), Sisters/Blood Sisters (1973), Obsession (1976), Carrie (1976), The Fury (1978), Dressed to Kill (1980), Blow Out (1981), Body Double (1984), Raising Cain (1992), Mission to Mars (2000) and Femme Fatale (2002). De Palma (2015) is a documentary about De Palma's life and films.
---
---