---
Crew
Director – Craig Gillespie, Screenplay – Marti Noxon, Story – Tom Holland, Based on the 1985 Film Written by Tom Holland, Producers – Michael De Luca & Alison R. Rosenzweig, Photography (3D) – Javier Aguirresarobe, Music – Ramin Djawadi, Visual Effects Supervisor – Joe Bauer, Visual Effects – Digital Domain (Supervisor – Steve Preeg), Eden FX, Entity FX, Hammerhead (Supervisor – Dan Levitan), Hirota Paint Industries, Luma Pictures (Supervisor – Vincent Cirelli), Pixel Magic (Supervisor – Ray McIntyre Jr), Sassoon Film Design, Shade FX (Supervisor – Bryan Godwin), Special Effects Supervisor – Larz Anderson, Makeup Effects Supervisors – Howard Berger & Greg Nicotero, Production Design – Richard Bridgland. Production Company – DreamWorks SKG/Michael De Luca Productions/Gaeta-Rozenzweig.
Cast
Anton Yelchin (Charley Brewster), Colin Farrell (Jerry Dandridge), David Tennant (Peter Vincent), Imogen Poots (Amy), Toni Collette (Jane Brewster), Christopher Mintz-Plasse (Edward 'Evil Ed' Lee), Sandra Vergara (Ginger), Emily Montague (Doris), Dave Franco (Mark), Reid Ewing (Ben), Chris Sarandon (Jay Dee)
---
Plot
Charley Brewster is a teenager at high school in Las Vegas. His friend, the nerdish Ed, forces Charley to join him in investigating what has happened to a school friend who has gone missing. Ed is certain that their friend was killed by vampires and that Charley's new next-door neighbour Jerry Dandridge is the vampire responsible. Ed is then attacked by Jerry and goes missing too. Charley starts to believe that Jerry might be a vampire. He breaks into Jerry's house to see Jerry drinking the blood of another neighbour. Jerry then comes after Charley. Charley seeks the help of Peter Vincent, a Las Vegas magician with a vampire act, but Vincent throws him out, saying that vampires don't exist. Jerry then puts the bite on Charley's girlfriend Amy and Charley must go into combat to stop him.
---
Ever since the remake of The Texas Chainsaw Massacre (2003), there has been an industry centred around remaking classic horror films from the 1970s and 80s. These have so far included the likes of Toolbox Murders (2003), Willard (2003), Dawn of the Dead (2004), The Amityville Horror (2005), Assault on Precinct 13 (2005), The Fog (2005), Black Christmas (2006), The Hills Have Eyes (2006), The Omen (2006), Sisters (2006), When a Stranger Calls (2006), The Wicker Man (2006), Halloween (2007), The Hitcher (2007), April Fool's Day (2008), Day of the Dead (2008), It's Alive (2008), Long Weekend (2008), Prom Night (2008), Friday the 13th (2009), The Last House on the Left (2009), My Bloody Valentine (2009), Night of the Demons (2009), Sorority Row (2009), The Stepfather (2009), And Soon the Darkness (2010), The Crazies (2010), I Spit on Your Grave (2010), Mother's Day (2010), A Nightmare on Elm Street (2010), Piranha (2010), Don't Be Afraid of the Dark (2011), Straw Dogs (2011), The Thing (2011), Maniac (2012), Carrie (2013), Evil Dead (2013), Patrick (2013), Poltergeist (2015), Suspiria (2018), Child's Play (2019), Jacob's Ladder (2019), Pet Sematary (2019), Slumber Party Massacre (2021), Firestarter (2022) and Hellraiser (2022). (For a more detailed listing see Films That Were Remade and Remakes)..
Here Fright Night (1985) joins the mountain of remakes, all of which are inferior to their originals. The original Fright Night came just at point when the vampire was learning to ditch his cape, shuck period surroundings and tentatively search for a place in the modern world. There were a number of other vampire films made around the same time that offered up jokey treatments of the material. It was in essence the vampire becoming a postmodern figure and deflating its cinematic image. In this respect, Fright Night contrasted images of classic horror in the person of horror actor Peter Vincent (so named in tribute to Peter Cushing and Vincent Price) up against the reality of a vampire living in contemporary suburbia. All of this was offered up inside a slick commercial package where the emphasis was on the 1980s fad for makeup transformation effects. The film was a reasonable success and produced a sequel with Fright Night Part 2 (1989).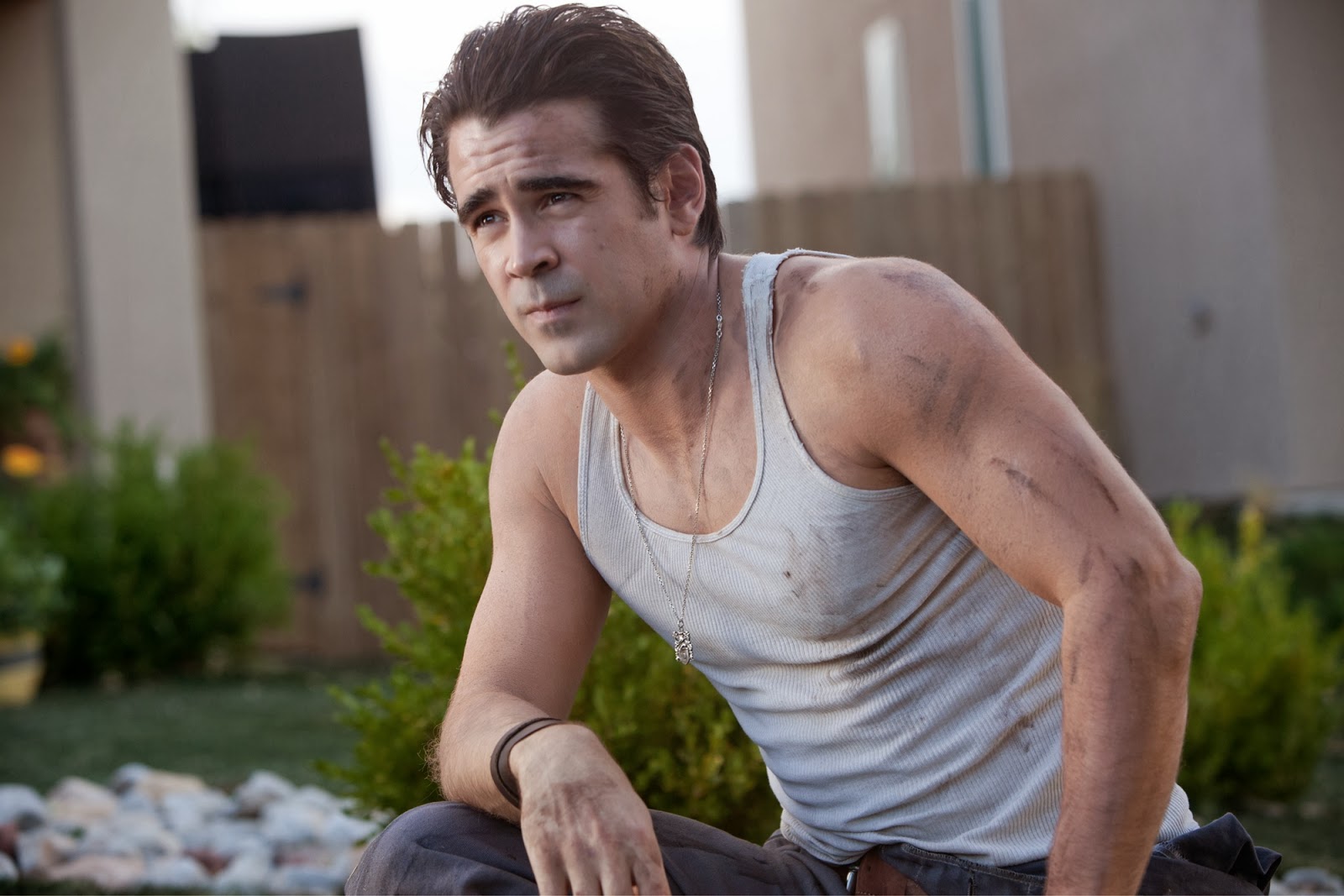 Looking back at it, there was nothing particularly original about Fright Night – it was driven by its makeup effects, an appeal to 1980s teen audiences and succeeded largely through its timing more than anything. Certainly, many vampire films since then have done these basics far better. When it comes out, Fright Night 2011 enters into a world where the vampire has attained an over-familiarity via contemporary works such as tv's True Blood (2008-14) and Twilight (2008) and sequels, which show the vampire as so well integrated into the modern world that it has become just another figure dealing with everyday life. More than anything, the remake seems to be trading on the brand name recognition of the original – and judging from the box-office response for Fright Night, this doesn't amount to much.
Various changes have been made to the characters – most of them pointless. Evil Ed has gone from a crazy to merely a nerd – Christopher Mintz-Plasse doing about his 47th variation on the bespectacled geek role. There is a subtle change to the character of Charley as well. In the original, he was an average kid with a love of horror movies, no more than that. Now he is a kid who is trying to be cool and shuck off association with his horror movie-loving nerd friend Christopher Mintz-Plasse. Certainly, Anton Yelchin gives the role of Charley a studious and convincing portrayal but the idea of a vampire film that dismisses fans of the genre as annoyingly nerdish and uncool has 'How to Isolate Your Core Audience' written all over it.
In the original, Charley discovered that Jerry was a vampire by accident; now it is Christopher Mintz-Plasse who conducts the discovery and Charley who merely confirms these suspicions. Here there is also a good deal less play around Charley's insistent belief in Jerry being a vampire and the way that Jerry repeatedly contrives to deflate this in front of everybody else.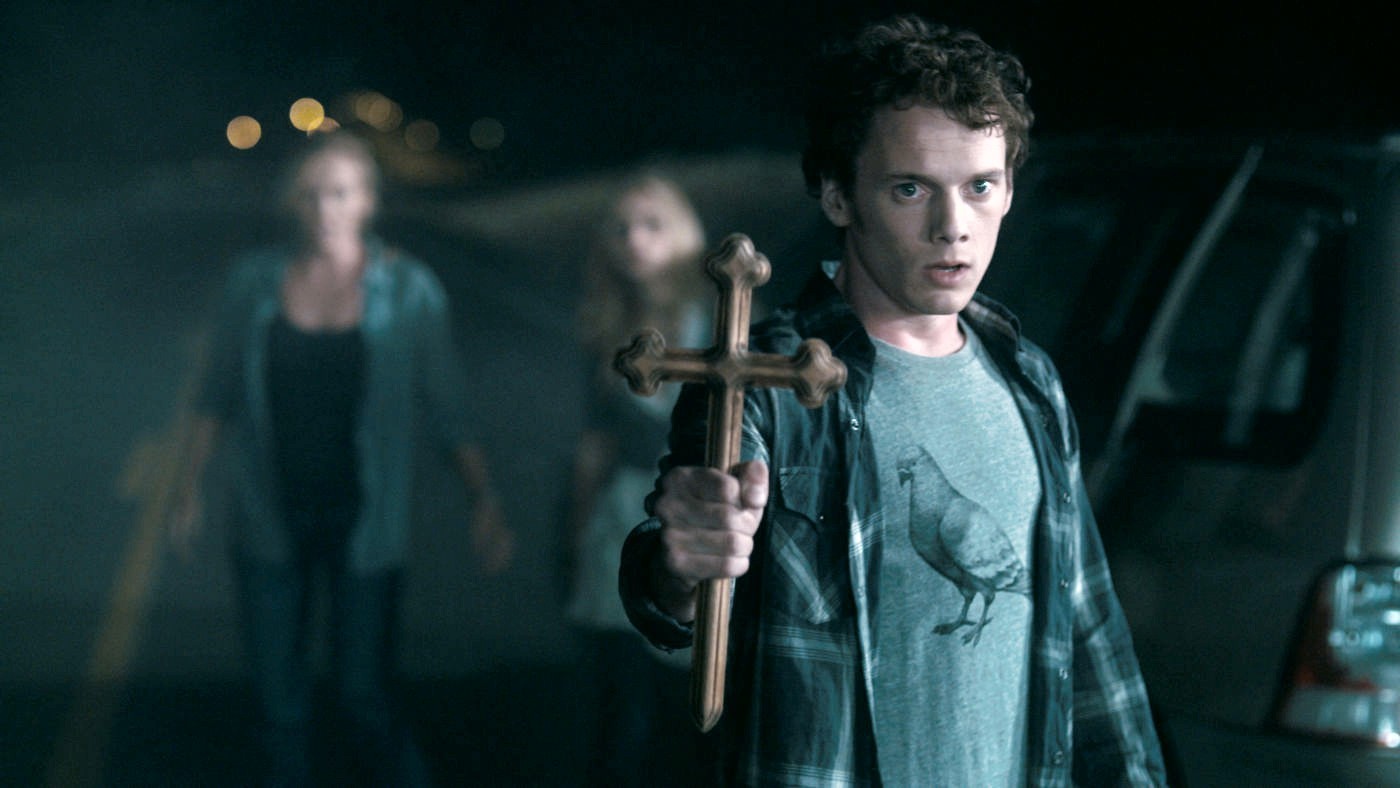 The remake also does little with the idea of making a contrast between real and fictional vampires – the original film borrowed the idea from An American Werewolf in London (1981) of a character suddenly forced to confront the old B-movie myth as real – although Christopher Mintz-Plasse does get an amusingly snide line at one point: "I'm seriously so annoyed that you think I read Twilight."
Colin Farrell is reasonably well suited to the role of the new Jerry Dandridge. It plays into Colin Farrell at his devilishly handsome, bad boy best, although he gives us much more of a working class Jerry Dandridge than Chris Sarandon's impliedly aristocratic seducer in the original. That said, what we have up on screen is simply 'Colin Farrell as a Vampire'; it is not a character that you feel is undead, has lived across the ages and takes delight in seducing the innocent, it is just Colin Farrell playing with a smirk.
The most incisive performance of the film is David Tennant in the Peter Vincent role. Now Vincent has been pointlessly rewritten from an aging horror actor into a Las Vegas stage magician, which again emasculates the original's contrast between fictional and real vampires. This Peter Vincent is not drawn on classic horror actors so much as conceived as a combination of Russell Brand and Criss Angel. This proves entertaining, with Tennant doing a charismatically sexy turn that is almost unrecognisable from the role he came to fame in as the tenth Doctor Who (1963-89, 2005– ). Although for all that, David Tennant gets far less screen time here than Roddy McDowall's Peter Vincent did in the original and not enough opportunity to own the show as he seems eminently capable of doing in his first few scenes. There is also an amusing cameo from Chris Sarandon, the original Jerry Dandridge, who gets his throat torn out on the highway by Colin Farrell as the new Jerry Dandridge.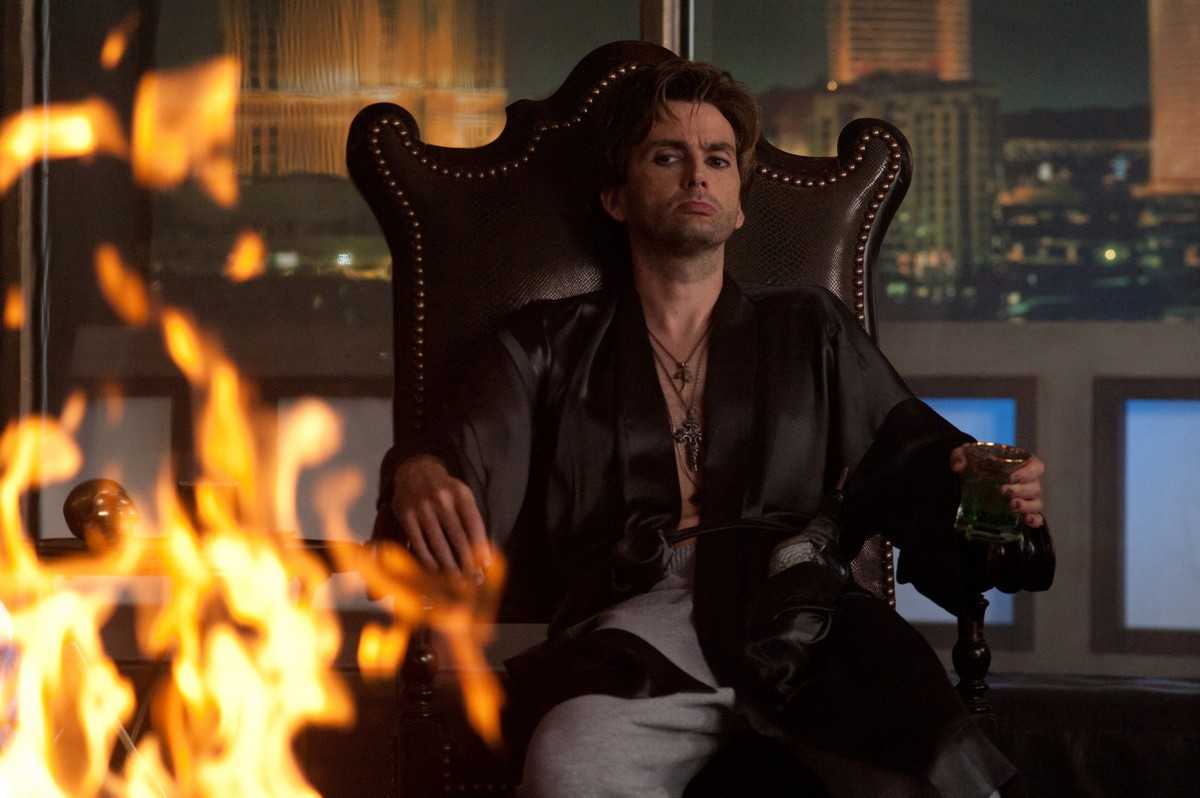 Despite a clear budget thrown at it, Fright Night 2011 is surprisingly slow. Director Craig Gillespie takes a long time to get the action happening, certainly a good deal longer than any other contemporary horror film. There is also a surprising lack of emphasis on effects and transformations. They are there but the film does little to make them stand out and be set-pieces that wow you. That only leaves Fright Night 2011 doing a none-particularly-exceptional variation on a vampire film where you feel that all of its moves have been done before. The sad news is that they have – indeed, most of them had been by the time of the original Fright Night and that still managed to do them better.
Fright Night 2 (2013) was a sequel (more a remake of the original) with Jaime Murray as a female vampire named Gerri Dandridge.
Craig Gillespie previously made the witty Lars and the Real Girl (2007). He subsequently went on to the critical acclaim of I, Tonya (2017) and the live-action Disney prequel Cruella (2021), among other works.
---
---