---
Crew
Director – Randy Kent, Screenplay – Davy Williams, Producer – WeiYu Sun, Photography – Caleb Tou, Music – Mariano Saulino, Visual Effects – Ivy Images LLC (Supervisor – Ivy Liao), Production Design – Rohini Jadhav. Production Company – Kung Pao Pictures.
Cast
Davy Williams (Tony Scott), Daniela Brown (Susie Love), Sean Eden Yi (Genji Ma), Richard Gavigan (Jim), June Lee (Reika), Jeff McDonald (Pastor Robert), Brandon Lamberty (Sam), Rezan Denizmen (Zara), Keely Dervin (Wanda), Crystal Wang (Director Li Weng), Aaron Bray (Steven Sheinberg), Raven Armando Astone (Tank)
---
Plot
In Hollywood, actor Tony Scott auditions for a role in a Chinese film. He has learned his lines in Mandarin but is rejected because the producers want a fluent Mandarin speaker. His agent learns that the production has been delayed a month and urges Tony to take a crash course in Mandarin and then re-audition. Tony signs in to the Chinese language academy run by Genji Ma. There he develops an attraction to fellow student Susie, while his friend Jim signs up for a course to pursue her friend Reika. Unknown to them, Genji Ma is the last of a race of Chinese vampires who were wiped out by the Japanese in 1937. Genji Ma now places the bite on Reika and she infects Susie who in turn comes and infects Tony. Afterwards each of them now finds that this makes them fluent Mandarin speakers but unable to speak English anymore. At the same time as Genji Ma attempts to build them into an army to take over the world, a team of vampire hunters set out to eliminate them.
---
Chinese Speaking Vampires comes from Davy Williams. Born in Montana, Williams learned to speak Mandarin and moved to China in 2006 where he found some success playing Americans in Chinese films and tv, He even published a self-help book about doing so with Move to China! Struggling in the U.S.? (2007). In the late 2010s, Williams moved back to Hollywood and established Kung Pao Productions with the intention of producing a series of Chinese-American crossover films.
Chinese Speaking Vampires comes amid the ready embracing of the massive Chinese box-office that Hollywood has discovered in the 2010s. Though the film is made in the US and directed by a Westerner, there are a number of Chinese among the production crew. The premise of vampires that infect people with the ability to speak Mandarin is a head-scratching one – it's a novelty that produces more of a "huh?" than anything else. After first hearing about it. I anticipated that we would end up with the Chinese jiangshi or hopping vampires a la Mr Vampire (1985) and sequels and was disappointed that all we get are regular vampires.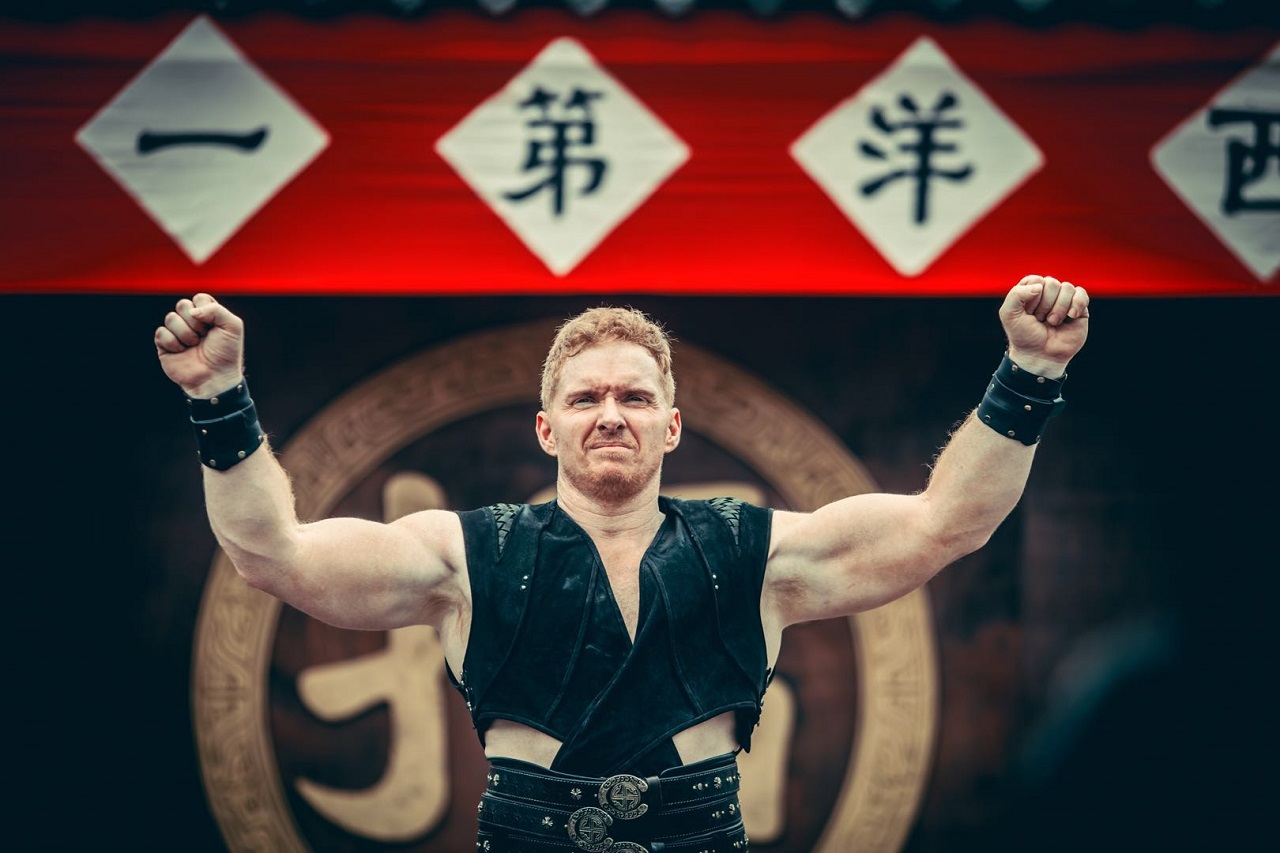 The Vampire Film has been feeling somewhat anaemic in the 2010s following the whole Twilight (2008) phenomenon. That said, I don't think Chinese Speaking Vampires does anything to pull the stake out of the genre's heart. For a low budget film, it is slickly put together and has an amiable energy. The characters strike up an undeniable rapport and Davy Williams proves a passable lead.
There are a cadre of Vampire Hunters, although the interesting thing is that they are a slightly unbalanced mob who seem to be standing up for America against a racial invasion and wearing America First t-shirts, which clearly draws obvious connection to the MAGA mob. On the other hand, the chief vampire is also seen as someone who is a tyrant who seeks to turn the body of vampire converted into his own army to conquer the world. The solution Davy's hero seems to find for himself is ignoring either side and just getting on and being an actor in the Chinese film industry.
Randy Kent has been directing assorted films since the late 2000s, including the horror films The Perfect House (2013) and Blood Tulip (2019).
---
Trailer here
---