---
Crew
Director – Adam Gierasch, Screenplay – Josh Burnell, Story – Josh Burnell, Mike De Trana & Keegan Wilcox, Producers – Jace Anderson, James Callis, Brian Cooperman, Mike De Trana, Anne Dudek & Gary King, Photography – Mitchell H. Anderson Jr., Music – Adam Barber, Creature Effects – Monster FX (Ron Karkoska & Mark Villalobos). Production Company – Anvil Entertainment.
Cast
James Callis (Scott Morgan), Anne Dudek (Karen Morgan), Amiah Miller (Emma Morgan), Natasha Bassett (Gwen), Michael Bowen (Harry Sander), Mark Berry (Detective McKendy), Guy Nardulli (Detective Galluzzo), Lee Garlington (Dr Llewellyn)
---
Plot
Husband and wife Scott and Karen Morgan take some time away and go to stay at his parents' lakeside cabin, along with their autistic ten-year-old daughter Emma. They have also hired a live-in babysitter Gwen to look after Emma. Emma soon develops an imaginary companion she calls The Fish Man. Karen believes that Fish Man is Harry, a creepy old man they see around the lakeside who keeps inviting Emma over to see his fish. They discover that Harry is a convicted pedophile. Emma's imaginary companion and changed behaviour becomes the cause of much argument between Scott and Karen.
---
Adam Gierasch is a director of medium-budgeted horror films whose name has been on the rise since the mid-2000s. Gierasch had started out writing screenplays for genre efforts such as Spiders (2000), Rats (2003), Dario Argento's Mother of Tears: The Third Mother (2007) and several Tobe Hooper films, Crocodile (2000), Toolbox Murders (2003) and Mortuary (2005). Gierasch made his directorial debut with the hospital horror Autopsy (2008), followed by the remake of Night of the Demons (2009), Fertile Ground (2011) and Fractured (2013), as well as the Trick episode of Tales of Halloween (2015). All of Gierasch's work is co-written with his wife Jace Anderson.
House By the Lake seems a change of pace for Adam Gierasch. Most of his previous films have been horror films founded around gore and creature effects, whereas this is a drama set around a domestic scenario. The bulk of the film is taken up by the bickering between husband and wife James Callis and Anne Dudek (both of whom are also listed as the film's producers) and debate over whether daughter Amiah Miller has an imaginary companion or is being preyed upon by a paedophile. In fact, for much of the film, right up until the end, I was debating whether I was even going to review House By the Lake as a genre film or whether it was just a regular drama. It is certainly very different in tone from anything else that Adam Gierasch has made.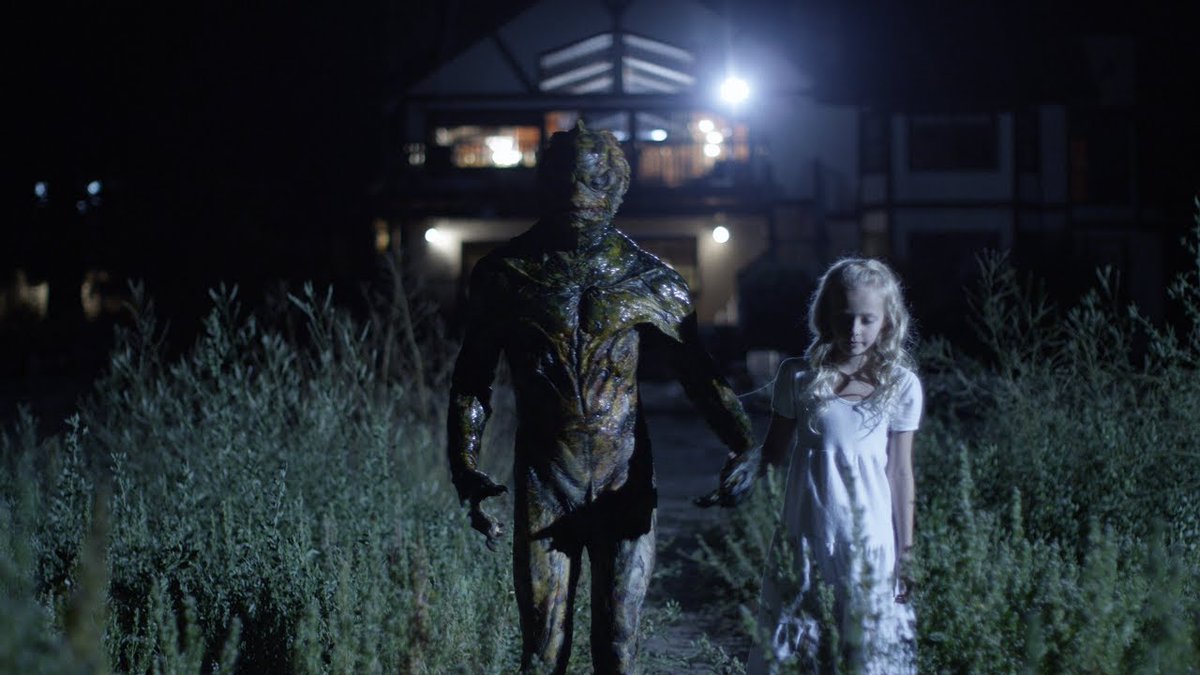 The set-up of the child with the Imaginary Companion who may or may not be real reminds of Hide and Seek (2005), which collapsed into an absurdly hokey ending. House By the Lake is not particularly any different. Certainly, in the role of the child, the film has Amiah Miller, who gave a phenomenal performance in War of the Planet of the Apes (2017). Similarly here, she gives an eerily detached performance.
That however does bring us to the ending. [PLOT SPOILERS]. When Amiah's Fish Man emerges from the lake, looking like a cut-price version of The Creature from the Black Lagoon (1954), the entire film collapses into absurdity just as much as Hide and Seek did. Part of the problem here is that the film fails to establish a sufficient degree of ambiguity about the existence of the Fish Man throughout, all it does is spent its time on the domestic drama of James Callis and Anne Dudek bickering. Thus when the creature emerges, it seems such an absurd and unbelievable twist that comes out of nowhere that it kills the whole film.
---
---