---
UK. 1986.
Crew
Director – George Pavlou, Screenplay/Based on the Short Story by Clive Barker, Producer – Kevin Attew & Don Hawkins, Photography – John Metcalfe, Music – Colin Towns, Special Effects – Gerry Johnston, Creature Effects Supervisor – Peter Litten, Art Direction – Len Huntingford. Production Company – Alpine Pictures/Green Man.
Cast
David Dukes (Howard Hallenbeck), Heinrich von Schellendorf (Rawhead Rex), Ronan Wilmot (Declan O'Brien), Kelly Piper (Ellen Hallenbeck), Niall O'Brien (Detective-Inspector Isaac Gissing), Niall Toibin (Reverend Coot), Hugh O'Conor (Robbie Hallenbeck), Cora Lunny (Minty Hallenbeck)
---
Plot
A lightning bolt strikes in a field in Ireland, reviving Rawhead Rex, an eight-foot tall monster from the pre-Christian era, which then starts to slaughter nearby townspeople.
---
Shortly before Clive Barker made his directorial debut with Hellraiser (1987) and seemed (for a time) a genre name second only to Stephen King, he turned out two scripts for director George Pavlou. Rawhead Rex, adapted from Clive Barker's own short story, was the second, with the other being Underworld/Transmutations (1985).
The original Clive Barker short story that the film is based on, which can be found in the third volume of his Books of Blood (1985), has a savage ferocity in its vision of a baby-eating, cannibalistic pre-Christian god violating the modern world. Unfortunately, even with Clive Barker writing the screenplay, the film version of Rawhead Rex is a colossal disappointment. The monster is ludicrous and unconvincing – it is like a crosseyed rubber Neanderthal decked out with a mohawk and a ludicrous overbite – it vaguely looks like the Tasmanian Devil but even that has more threat. Clive Barker's writing also leaves much to be desired – characters seem to be searching for dialogue.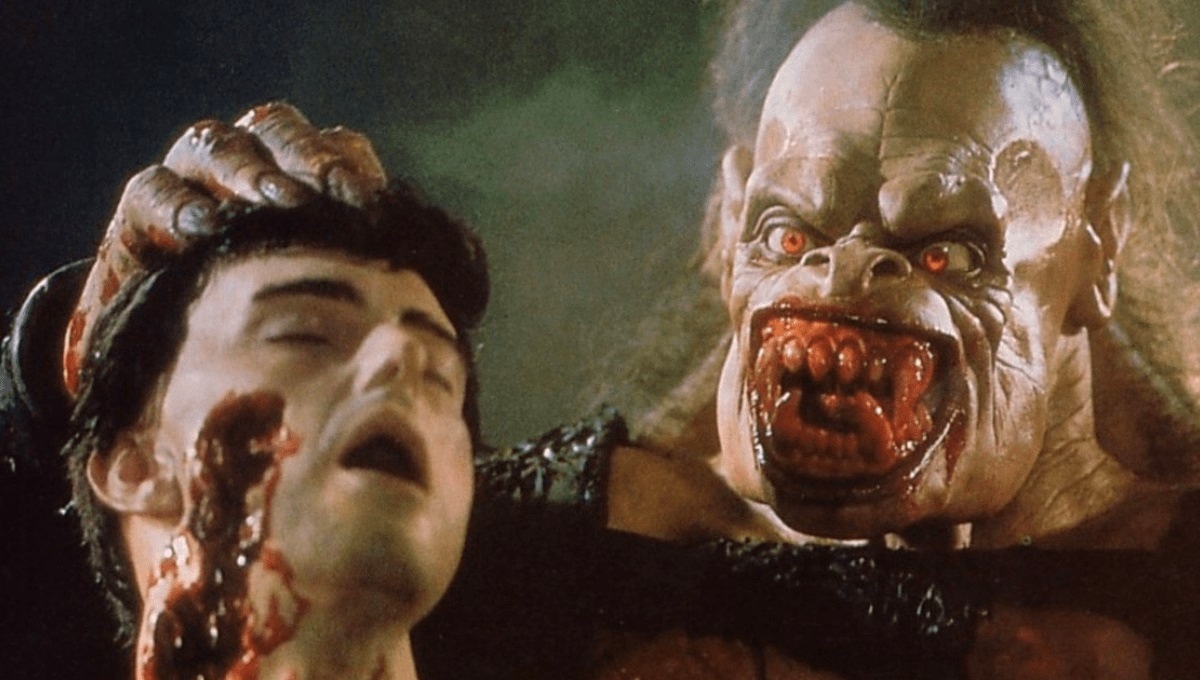 Director George Pavlou does his best to destroy even that with his attempts at cheap shock effect – demented roars that turn out to be just someone crying. In one scene, a victim runs through the woods holding her boyfriend's hand, only to find she is carrying his severed hand – it is a scene that may have seemed good on paper but in practice is laughable. Similarly, a scene with David Dukes and Kelly Piper tending their scared daughter, while unseen behind them their son is attacked by the monster could be a scene of classic pulling-the-carpet-out suspense in any competent director's hands but is badly botched in George Pavlou's hands. The striking image from the story where Rawhead Rex urinates on the verger, in essence baptising him, is retained but to absolutely no effect.
Clive Barker has also directed/written Hellraiser (1987), Nightbreed (1990) and Lord of Illusions (1995). Other adaptations of Clive Barker works include Candyman (1992), which produced two sequels, one of the stories in the tv movie Quicksilver Highway (1997), The Midnight Meat Train (2008), Book of Blood (2009), Dread (2009) and Books of Blood (2020). Barker has also acted as Executive Producer on Gods and Monsters (1998); wrote story and produced Saint Sinner (2002); and produced The Plague (2006).
The only other film that George Pavlou has made outside of Clive Barker-adapted works is the horror comedy Little Devils: The Birth (1993).
---
---