aka Dracula 2001
---
Crew
Director – Patrick Lussier, Screenplay – Joel Soisson, Story – Patrick Lussier & Joel Soisson, Producers – Joel Soisson & W.K. Border, Photography – Peter Pau, Music – Marco Beltrami, Music Supervisor – Ed Gerrard, Visual Effects Supervisor – Erik Henry, Visual Effects – Rhythm and Hues, Additional Visual Effects – The Computer Café Inc (Supervisor – David Ebner) & Gray Matter (Supervisor – Gray Marshall), Special Effects Supervisor – Ted Ross, Makeup Effects – Two Hours in the Dark Inc (Supervisor – Gary J. Tunnicliffe), Production Design – Carol Spier. Production Company – Dimension Films/Neo Art and Logic.
Cast
Gerard Butler (Dracula), Jonny Lee Miller (Simon Shepard), Justine Waddell (Mary Heller), Christopher Plummer (Matthew/Abraham Van Helsing), Colleen Fitzpatrick (Lucy Westenra), Omar Epps (Marcus), Jennifer Esposito (Selena), Jeri Ryan (Valerie Sharpe)
---
Plot
In present day London, a group of thieves break into a sealed vault in the antique store of Matthew Van Helsing, expecting to find a great treasure. Instead they find the coffin of Dracula and take it not realising what it is. Dracula returns to life, causing their plane to crash near New Orleans. There Dracula starts claiming victims. Among these is Mary Heller, who is drawn to Dracula through her dreams. Mary discovers that she is Van Helsing's daughter. At the same time, Dracula seeks eternal love with her.
---
Dracula 2000's trailer came with the ominous promise 'Wes Craven Presents'. In fact, the earliest trailers misleadingly tried to give people the impression that Wes Craven had directed the film, with credited director Patrick Lussier's name not even being mentioned. Wes Craven was one of the finest horror directors of the 1980s and 90s – A Nightmare on Elm Street (1984), The Serpent and the Rainbow (1988), Scream (1996) – but when Craven 'presents' a film the results have tended to be less than impressive – see the likes of The Fear (1994), Mind Ripper (1995) and Carnival of Souls (1998). With Dracula 2000, Wes Craven has come on board in a much more hands-on way, bringing along his regular producer Marianne Maddalena, and has handed the directorial reins to Patrick Lussier who has edited every film Craven has made since Wes Craven's New Nightmare (1994).
Dracula 2000 takes its lead from the dark and sexually magnetic modern vampire established by Anne Rice and on film with Bram Stoker's Dracula (1992). Dracula 2000 could be said to be a modern sensual vampire equivalent of Dracula A.D. 1972 (1972) – in fact, it is the film Dracula A.D. 1972 should have been. There is a good script from Joel Soisson, author and producer of a number of genre films including the Prophecy trilogy, as well as a great many sequels to other peoples films with several Hellraiser, Children of the Corn, The Prophecy, American Pie and Mimic entries, as well as the Feast films and the Pulse series.
Soisson knowingly pastiches from vampire cinema and fiction – the Demeter crash from the Bram Stoker novel is replayed with the captain tied to the wheel of a small plane instead of a ship; Dracula gets three new wives; and Gerard Butler has a witty line: "I never drink … coffee." And of course, the film uses Anne Rice's home turf New Orleans as its setting. (For an overview of the vampire film see Vampire Films).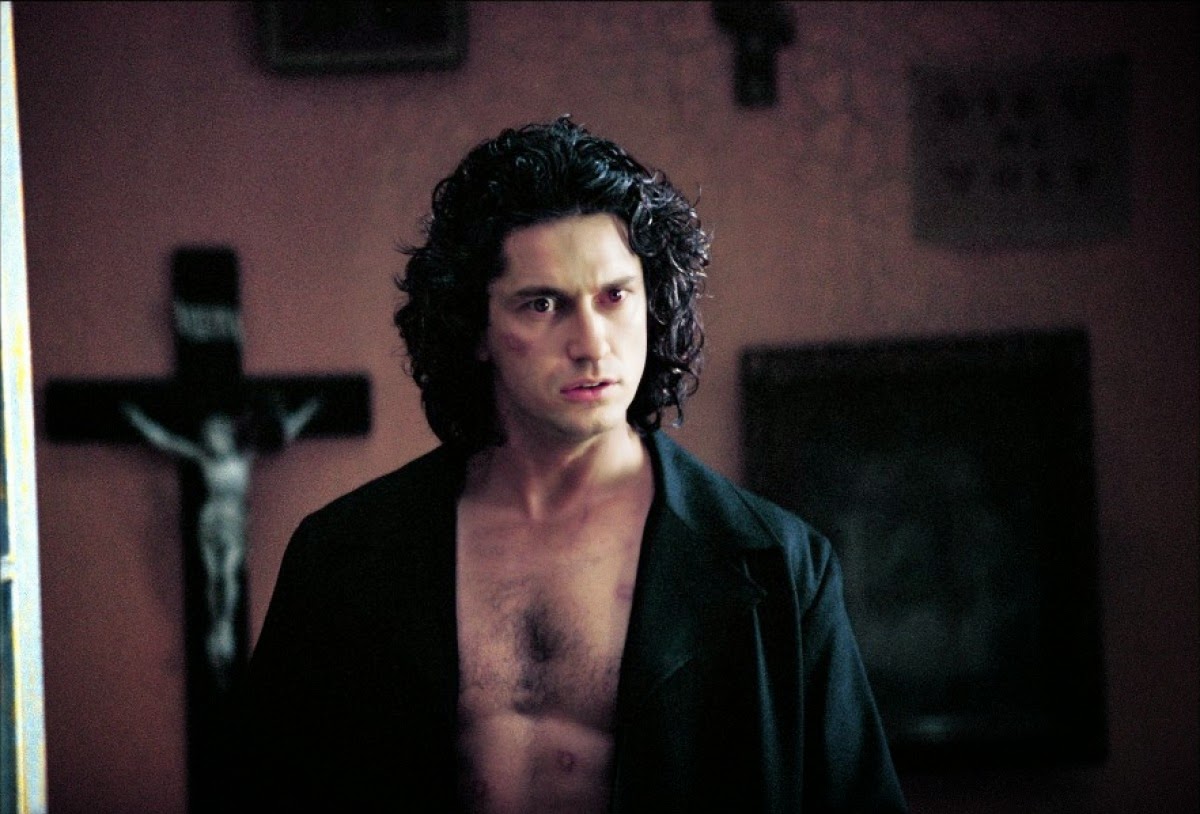 Joel Soisson also appropriates characters from the Bram Stoker novel – Lucy Westenra, Dr Seward – although you are not sure why. The film sets itself up as a modern-day sequel to the events of Dracula (1897) but this places it in the oddly improbable position of having a Dracula who has encountered two sets of people, both with the same names, one in 1897 and one in 2000. Soisson also falls into the cliches of the modern Dracula film – Dracula seeking true love, descendants of the vampire hunters in Dracula. This is balanced out by the sheer ingenuity of many parts – such as the fascinating revelation of Dracula's origins and the logical explanation of his aversion to things Christian and silver.
At the centre of Dracula 2000 is a magnetically sexual performance from Gerard Butler (back at a point when Butler was an unknown and had not gravitated to A-list stardom). Patrick Lussier plays it up, minimising Gerard Butler's dialogue and maximising the dark, smouldering looks, all shot with Butler looking up from under his brow or in bared chest. It is a performance that simmers with raw sexuality far more so than Gary Oldman's performance did in Bram Stoker's Dracula. Indeed, Gerard Butler has far more presence here than when he was cast as the supposedly moody romantic title character in the musical version of The Phantom of the Opera (2004).
Patrick Lussier directs with some alluring and at times hypnotic tricks – Mary's dream visions of Dracula with him at one point passing through her roommate, some nifty effects with lenses turning different colours, vampires transforming into hordes of fluttering bats or coalescing from mist. In a way, this is Dracula the action movie – Lussier readily borrows more than one or two tricks from The Matrix (1999) with vampires doing mid-air flips and acrobatics.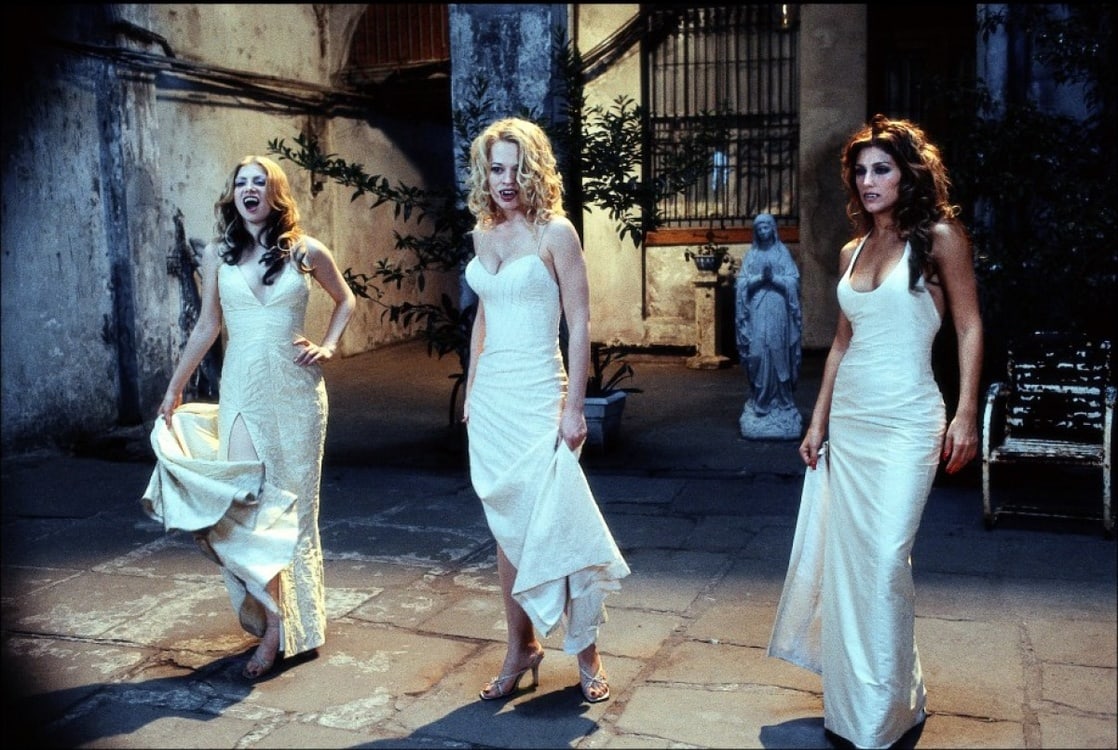 However, this reliance on cool effects also ends up being an approach that wrings any atmosphere out of the film. The difference is best seen in contrast with Bram Stoker's Dracula – there Francis Ford Coppola eschewed all forms of visual effects trickery and produced a series of flamboyant and ravishingly sensual flourishes of directorial technique; in Dracula 2000, Patrick Lussier delights in CGI trickery and produces some cute trick effects but never any atmosphere. In Dracula 1992, the wives seducing Jonathan Harker was a dazzlingly sensual scene, here the wives crawling all around the walls as they come onto Jonny Lee Miller is a cute effect but no more than that. Dracula 1992 has a fabulous love scene with Dracula seducing Winona Ryder; a similar scene here has the nifty effect of the lovers taking off and flying around the room but little in the way of sensuality. That ultimately is the failing of Dracula 2000 – a near good film that misses the mark through too little atmosphere and too much reliance on CGI trickery.
Patrick Lussier later directed two back-to-back shot released-to-video sequels Dracula II: Ascension (2003) and Dracula III: Legacy (2005).
Patrick Lussier had earlier made his directorial debut on the Joel Soisson produced The Prophecy 3: The Ascent (2000) and would later go onto make White Noise: The Light (2007), My Bloody Valentine (2009), Drive Angry (2011) and Trick (2019), as well as wrote the script for Terminator Genisys (2015).
(Nominee Best Supporting Actor (Gerard Butler) and Best Makeup Effects at this site's Best of 2000 Awards).
---
---