USA. 2018.
Crew
Director/Screenplay – Thomas Della Bella, Producers – Eric B. Fleischman & Sean Tabibian, Photography – Derrick Sims, Music – Giona Ostinelli, Makeup Effects – Jill Fogel, Production Design – Liz Toonkel. Production Company – Diablo Entertainment.
Cast
Todd Lowe (John), Brooke Butler (Izzy), Hannah Nordberg (Victoria), Dash Williams (Aiden), Ashley Crow (Claire), Samuel Larson (Tommy), Lisa Brenner (Melissa), Maria Olsen (Madame Addison), Ian Duncan (Irwin Tolwood), Courtney Cunningham (Maybell Tolwood), Nikki Hahn (Elena), Jenni Blong (Anna)
---
Plot
Azusa, California, 1891. Irwin and Maybell Tolwood go to consult the medium Madam Addison about finding their missing daughter. However, things go wrong during the ceremony and Madam Addison becomes possessed. In the present day, John buys the same house going cheaply and moves in with his teenage daughter Izzy and two younger children Victoria and Aiden. They are seeking a new start after the death of Tom's wife. Once in the house though, they begin to experience spooky things.
---
The Remains was a directorial debut for Thomas Della Bella who had previously worked as a production assistant on various films. Della Bella expanded the film out from a previous thirteen-minute short film Open House (2014).
There are some themes in genre material that have become so creatively strip-mined during the 2000s/10s – the zombie film, the exorcism film – that they are feeling out of all interesting plot ideas. One feels a moratorium should be imposed to give the topic some time to reinvent itself. The haunted house is one theme that should sit right up there. The Remains is not a bad film. It is just that none of the elements are any different to the 347 other haunted house films that this site has seen in the last twelve months or so.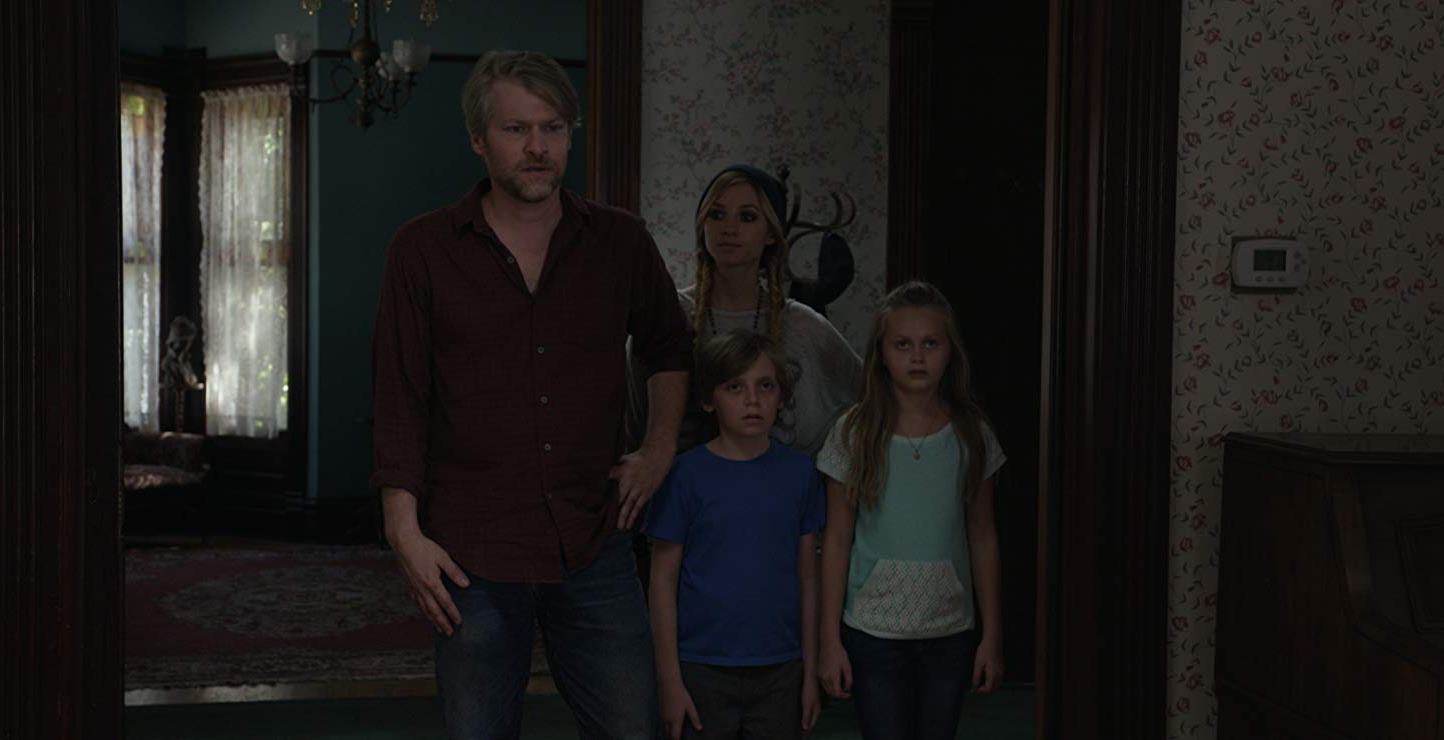 The performances are all convincing and Thomas Della Bella certainly puts everything together with a professional look. That said, The Remains is an awfully generic film and Della Bella does not offer enough directorial imagination to transform the unoriginal set-ups, which do no more than repeat the same things every other medium-to-low-budget haunted house film does.
Della Bella gets an okay jump off at the start when the medium (Maria Olsen) becomes possessed but thereafter all of the spooky elements he serves up – sinister toys, mysterious people who appear/disappear, Todd Lowe's dreams of murder, reappearances of the dead medium in blackout makeup – are entirely by the book. The film reaches a very tired twist ending.
---
---