---
UK. 1965.
Crew
Director – Roman Polanski, Screenplay – Roman Polanski & Gerard Brach, Producer – Gene Gutowski, Photography (b&w) – Gilbert Taylor, Music – Chico Hamilton, Art Direction – Seamus Flannery. Production Company – Compton/Tekli.
Cast
Catherine Deneuve (Carol), Yvonne Furneaux (Helen), John Fraser (Colin), Ian Hendry (Michael), Patrick Wymark (Landlord)
---
Plot
Carol, a manicurist from Belgium, is flatting in London with her sister Helen. Helen goes away for the weekend with her boyfriend, leaving Carol behind in the flat. There Carol's mental state starts to rapidly collapse to the point that she is fantasising about arms reaching through the walls and of being violently raped. When a would-be paramour and the landlord come calling, it becomes a casual step in Carol's disturbed state for her to start killing.
---
Roman Polanski is one of the most fascinating directors in the international arena. Polanski is fascinating as much for the films he has made as for his troubled and tragic private life – his family were killed in the Nazi concentration camps, his wife Sharon Tate was murdered by the Manson Family in 1969, and he was forced to flee from justice in the USA in 1978 to avoid prosecution for having sex with a thirteen year-old girl and has not stepped back on American soil since.
What is unarguable, all other things aside, is Roman Polanski's genius as a director. Polanski has produced some great classics, including Cul de Sac (1966), MacBeth (1971), Chinatown (1974), Tess (1980) and especially his below-listed genre classics. Polanski's output from the 1980s onwards has been more variable – although he has made a number of fine films during this time including Death and the Maiden (1994), The Pianist (2002), Oliver Twist (2005) and Carnage (2012).
Repulsion was Roman Polanski's first major film. At that point, Polanski had only made several surreal shorts and then the acclaimed thriller Knife in the Water (1962) in his native Poland. Repulsion was Polanski's first English language film and is arguably the best thing he has ever made.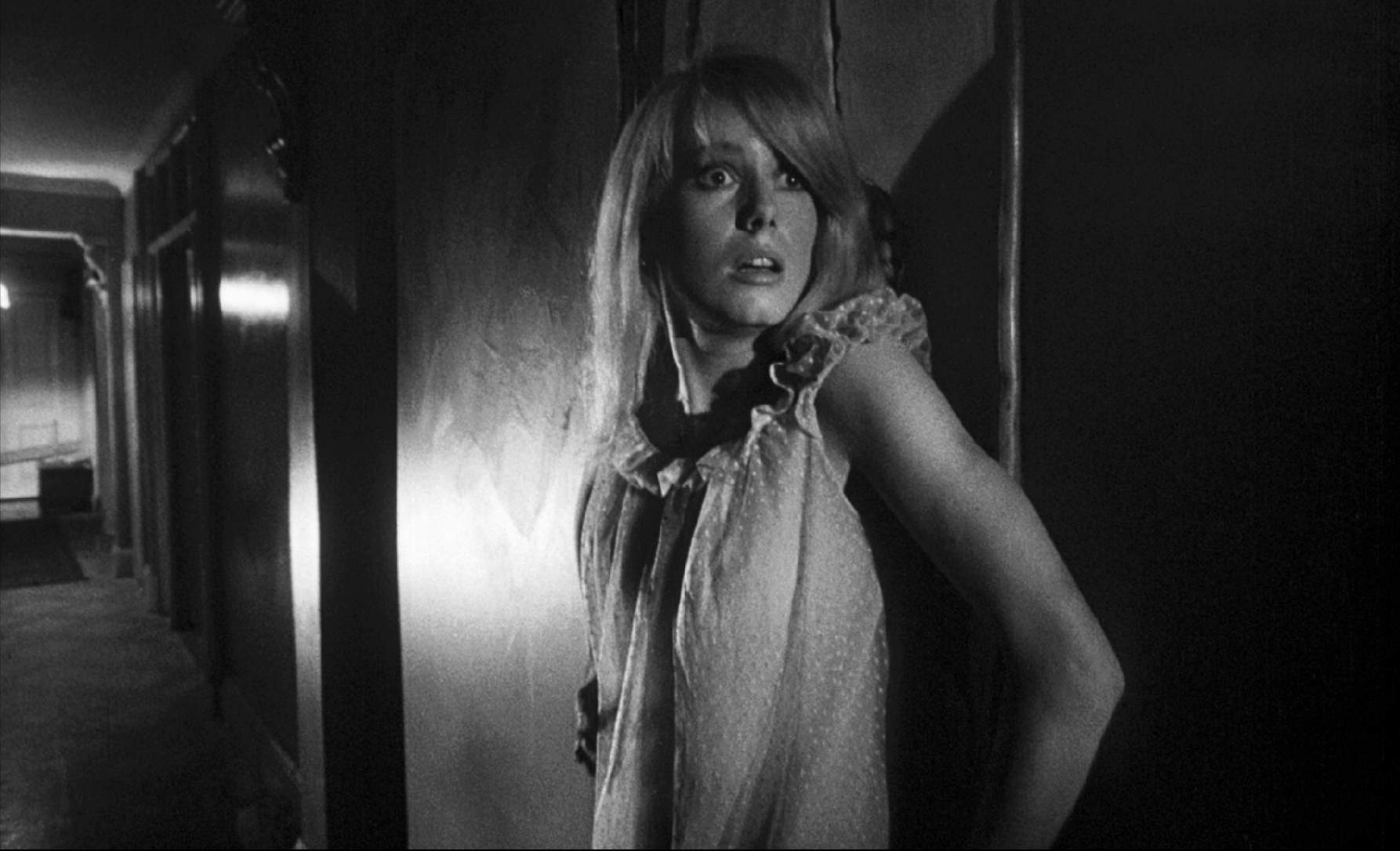 Repulsion can be regarded as a psycho film and placed in the context of the Psycho (1960) cycle. However, it is more like a post-Psycho psycho-thriller from the inside out. Rather than concern himself with thriller dramatics, Polanski takes a subjective jump into the disturbed person's head to look out through their eyes. Polanksi's determination to dismiss as much baggage of the psycho-thriller genre as possible only intensifies the disturbing nature of the film – there is no pat Freudian psychological explanation at the end as there is in Psycho.
There are not even any explanations of Catherine Deneuve's behaviour – all that one can piece together from various clues is that it has something to do with intense sexual repression. Dialogue is virtually eschewed altogether throughout. There are only a handful of exchanges, usually about something banal and offhand – indeed, many of the peripheral characters seem practically comic in the caricature of their Englishness. (The film was written by Polanski, a Polish Jew living in London for the first time, as well as a Frenchman, Gerard Brach, and their mutual foreignness adds something to the paranoia – the paranoia often seems as much one where the gap is a cultural-linguistic one as it is mental).
Most importantly, Repulsion is a film where Roman Polanski disturbingly makes no distinction between where the real world leaves off and where hallucination begins. Watching the film, we are entirely sitting inside the mind of a mad person. A recurrent theme of Roman Polanski's work, particularly his horror films, seems to be paranoia, of protagonists finding the familiar around them suddenly turned strange and obliquely sinister. Polanski's evocation of paranoia is always intensely subjective, something he frequently suggests could just as easily be being imagined by his protagonists. He is aided greatly here by a fine performance from Catherine Deneuve who appears blank and withdrawn.
Polanski builds suspense unbearably with the accretion of detail in long, slow, silent fades. Sound effects are used particularly well throughout – there are long stretches with no dialogue, just the banal noises of Catherine Deneuve moving about the house. Polanski will then suddenly explode into disturbing outbreaks of violence – the murders, or the jolt that comes when Catherine Deneuve shuts the closet door to see the man standing there – without any warning. The scenes where the cracks appear in the walls and hands start reaching through are startling. The rape is an extremely disturbing scene that stays with one long afterwards – the scene is shot in long, low distorted shots as the unknown assailant throws Catherine Deneuve on the bed, ripping her nightgown off, while the soundtrack stays unsettlingly silent but for the loud, measured ticking of a clock. The detached position one is forced into by the juxtapositions of the shocking and the surreally banal in the scene is extremely uncomfortable.
Roman Polanski's other films of genre interest are:– the Hammer horror spoof The Fearless Vampire Killers/Dance of the Vampires (1967); the classic and highly influential Satanic impregnation film Rosemary's Baby (1968); the paranoid identity exchange drama The Tenant (1976); and the occult film The Ninth Gate (1999).
---
Trailer here
---