---
Crew
Director – Mark L. Lester, Screenplay – Larry Cohen, Based on the Novel by James Gabriel Berman, Producers – Mark L. Lester & Dana Dubovsky, Photography – Mark Irwin, Music – Paul J. Zaza, Special Effects Supervisor – Al Benjamin, Production Design – Paul Joyal. Production Company – American World Pictures/Cinepix Film Properties/Boarders Film Productions Inc.
Cast
Kevin Dillon (William 'Billy Crapshoot' Costigan Jr), Lysette Anthony (Caitlin Bourke), Nick Mancuso (Paul Bourke), Matthew Walker (Dr Richard Dotterweigh), Stefan Arngrim (Conan Cornelius), Robert Lewis (Detective Cross), Jo Bates (Dr Rory Sorenson), Kate Luyben (Myrna Casey), Megan Leitch (Serena)
---
Plot
Petty hood William 'Billy Crapshoot' Costigan Jr shoots songwriter Conan Cornelius and then moves into Cornelius's home and assumes his identity. Among Cornelius's belongings, Billy finds acceptance papers as a sperm donor at a prestigious fertility clinic. He pretends to be Cornelius and makes a deposit. His genes are then selected by childless couple Paul and Caitlin Bourke. Billy then kills a doctor at the clinic to find out who the recipients are and starts stalking Caitlin, determined to be a part of his child's life.
---
The films of low-budget auteur Larry Cohen are almost always worth watching for the quirkiness of wit and daringness of ideas that Cohen brings to genre themes. Cohen has made such gems as It's Alive (1974) and sequels, God Told Me To/Demon (1976), Q – The Winged Serpent (1982) and The Stuff (1985). In the 1990s, Cohen vanished from the director's chair almost altogether, much to the genre's loss. Nevertheless, Larry Cohen still continues to turn out scripts for other directors, most notably the trilogy of films begun with Maniac Cop (1988), Misbegotten, Uncle Sam (1997), as well as more high-profile films like Phone Booth (2002), Cellular (2004), Captivity (2007), the remake of It's Alive (2008) and Messages Deleted (2010).
Misbegotten is reminiscent of The Tie That Binds (1995), a psycho-thriller about a White Trash couple who come after the middle-class parents who adopt their daughter. Misbegotten goes one beyond The Tie That Binds into a pleasantly morally dubious area – a psychopathic sperm donor comes after the middle-class couple that end up bearing his child. (Larry Cohen after all ventured into twisted parent-child obsessions in It's Alive, although that was more the reverse of the themes there – there the child was the monster, here the parent is. Before that Cohen had also written Daddy's Gone A-Hunting (1969) about a woman who is stalked by her ex-boyfriend after she aborts the child of his that she is pregnant with).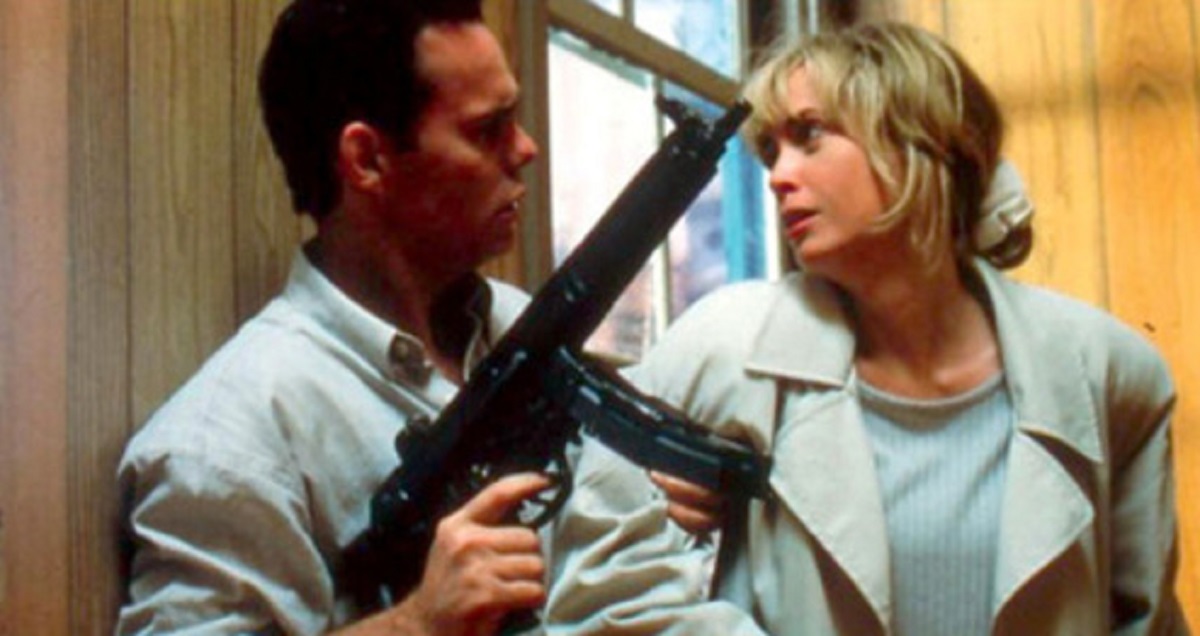 Misbegotten is fuelled by a perverse sense of humour, very much characteristic of Larry Cohen's films. This hits in from the opening scene where Kevin Dillon hijacks Stefan Arngrim (once the kid on tv's Land of the Giants [1968-70]) and his car, finds that he is a songwriter and then gets him to compose theme music for the situation – "Does this feel like a movie?" – before he kills him.
Of course, from the point that Kevin Dillon contacts Lysette Anthony, Misbegotten sets in with a hold where you are never sure where it is going to go from one minute to the next. The games and Kevin Dillon's obsession become wonderfully twisted, eventually arriving at the amazing scene where the head of Lysette Anthony's husband is delivered to her in a box at the baby shower, immediately followed by a scene where she tries to conduct a home abortion with a coat hanger. The film arrives at a wonderfully sardonic ending that initially starts out as the usually upbeat, seemingly miraculous, happy-ever-after twist that another formula film might do, before dashing it with deliciously nasty regard.
Misbegotten, which was only released to cable/video markets, is the best effort made by Mark L. Lester, director of Class of 1984 (1982), Firestarter (1984), Class of 1999 (1990), The Ex (1996), Sacrifice (2000), Pterodactyl (2005), Groupie (2010), Poseidon Rex (2013) and Dragons of Camelot (2014). Lester has also produced Devil's Prey (2001), Instinct to Kill/The Perfect Husband (2001), Bad Karma/Hell's Gate (2002), The Wisher (2002), Wraiths of Roanoke (2007), Yeti: Curse of the Demon (2008), Beauty and the Beast (2009), Jabberwock (2011), Sinbad and the Minotaur (2011), Dragonwasps (2012), Jurassic Attack (2013) and Toxin (2015).
---
---