---
USA. 1953.
Crew
Director – George Marshall, Screenplay – Herbert Baker & Walter DeLeon, Additional Dialogue – Norman Lear & Ed Simmons, Based on the Play by Paul Dickey & Charles W. Goddard, Producer – Hal B. Wallis, Photography (b&w) – Ernest Laszlo, Music – Leith Stevens, New Songs – Mack David & Jerry Livingston, Photographic Effects – Gordon Jennings & Paul Lerpae, Process Photography – Farciot Edouart, Makeup Supervisor – Wally Westmore, Art Direction – Franz Bachelin & Hal Pereira. Production Company – Wallis-Hazen.
Cast
Dean Martin (Larry Todd), Jerry Lewis (Myron M. Mertz), Lizabeth Scott (Mary Carroll), George Dolenz (Cortega), Carmen Miranda (Carmelita Castinha), Dorothy Malone (Rosie), William Ching (Tony Lauren), Paul Marrion (Ramon/Francisco Castillo)
---
Plot
New York nightclub singer Larry Todd and his bumbling friend, waiter Myron Mertz, are caught up in nefarious mob doings after Larry gets involved with a jealous mob boss's girlfriend. Meanwhile, Mary Carroll has just received news that she has inherited a castle on Lost Island near Cuba. Immediately after this news, she starts to receive buyout offers and sinister warnings. Fleeing a mob murder, Larry hides in a trunk in Mary's room – but the trunk is accidentally packaged off to Cuba. Myron and Mary follow. Aboard the ship, Larry falls for Mary and decides to accompany her. At the castle, they encounter various supernatural figures, as well as sinister mortals attempting to get their hands on the treasure hidden there.
---
Scared Stiff is a remake of the Old Dark House comedy The Ghost Breakers (1940), which in itself was a remake of a play that had been twice filmed during the silent era (1914 and 1922). The Ghost Breakers was made as a vehicle for Bob Hope just after the success of his Old Dark House comedy The Cat and the Canary (1939) clearly hoping to milk a similar vein. Here the Bob Hope role is split between the duo of Dean Martin and Jerry Lewis who become a nightclub singer and a bumbling waiter rather than Hope's radio broadcaster. Otherwise, the film is much the same. It even has the same director George Marshall.
To all accounts from those who have seen both films, Scared Stiff is inferior to The Ghost Breakers. Watched on its own, it is a likeable knockabout comedy. Much of it depends on the extent to which one can tolerate the team of Dean Martin and Jerry Lewis. Lewis gives an amazingly geekish performance, all delivered in a nasal siren whine, while Dean Martin plays more or less himself, a lazy not-too-bright playboy lounge singer.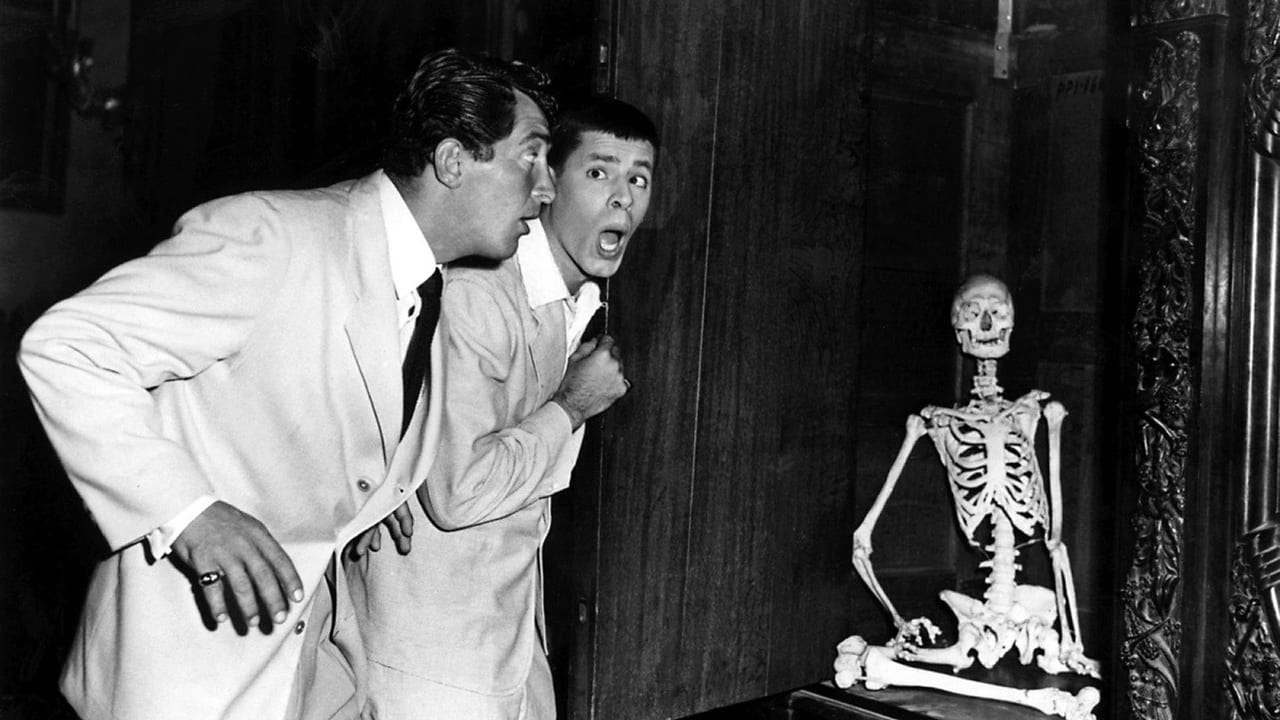 The slapstick scenes are often amusing – there is a gag early on with Martin, Lewis and a woman in a stand-up routine wherein no matter whether Lewis plays the husband, the lover or the spouse it always ends with him being beaten up by Martin. Lewis also has an amusing scene tying to dance to a record that keeps getting stuck.
Scared Stiff goes on far too long – it takes over 90 minutes before we get to the island, with the plot being dragged out by an interminable series of musical numbers and much runnings around hotels and ships at sea. It is also lazily developed – it reaches the end without ever explaining whether the hauntings are real or not. There is the amusing end gag where the greatest horror of all turns out to be skeletons with the heads of Bob Hope and Bing Crosby (a nod to the original in which Hope starred).
Scared Stiff is unrelated to about a dozen other films with the same name. Several of these are early shorts in the similar Old Dark House vein, two are adult films. The other two genre entries are the bizarrely awful haunting film Scared Stiff/The Masterson Curse (1987) and Scared Stiff (1987), the English language titling for a Hong Kong film about a man who can enter into dreams.
Director George Marshall (1891-1975) was a prolific director principally of comedies and some Westerns. These include classic works such as Destry Rides Again (1939), You Can't Cheat an Honest Man (1939), The Blue Dahlia (1946), The Perils of Pauline (1947) and Houdini (1953), although no other genre vehicles.
---
---