---
Crew
Director/Screenplay – Amanda Evans, Producers – Greig Buckle & Amanda Evans, Photography – Jacques Koudstaal, Music – Andrew Schar, Visual Effects – Loco VFX (Supervisor – George Webster), Makeup Effects – Jeanine-Marie "Jim" Raubenheimer, Production Design – Tom Gubb. Production Company – Videovision Entertainment/Enigma Pictures/Plastic Soldiers.
Cast
Sarah Dumont (Gwyneth Kealey), Tom Ainsley (Adam Kealey)
---
Plot
In South Africa, businesswoman Gwyneth Kealey is insistent that she join her entomologist husband Adam as he goes on a weekend trek to remote Suicide Gorge in search of a new species of beetle. What she is not telling him is that she is trying to get away from another man that she was having an affair with who has become insistent about seeing her again. They set up a tent and settle in for the night. However, they are woken to discover that a deadly black mamba snake is in the tent with them. Afraid to move in the slightest, they try to think of a way to get out. However, in using Gwyneth's cellphone to see by, Adam discovers the thread of texts from her lover.
---
Serpent comes from South African director Amanda Evans who had only previously made the skateboarding documentary Monumental: Re-Riding History (2007). Serpent received some film festival play and was then released to dvd and streaming media. Evans has clearly made the film for international audiences. She casts American actress Sarah Dumont and British actor Tom Ainsley, both of whom had played in episodes of The Royals (2015– ), among other minor tv and film work. The Cape Town locations are disguised so that it is not specific where the film is taking place in (although this is given away by the South African licence plates on the vehicle).
Ever since the success of Phone Booth (2002), we have seen a spate of what I have termed 'conceptual economy thrillers', which attempt to contain their dramas within the smallest space possible. Phone Booth was designed around the novelty of keeping its protagonist inside the title cubicle for the duration of the film. There have been a number of other films that have built out on this idea with the likes of Black Water (2007), which took place in a tree as the cast were being menaced by a crocodile in the water below; Wind Chill (2007), a ghost story set inside a car; Shuttle (2008) with its protagonists held hostage in an airport shuttle; Buried (2010), which was set entirely around Ryan Reynolds trapped inside a coffin; Frozen (2010) with three characters trapped in mid-air on a ski chairlift; The Night Chronicles 1: Devil (2010) about five people trapped in an elevator with The Devil; 247oF (2011) with people trapped in a sauna with the heat on the rise; ATM (2012) with three people trapped in an ATM booth by a killer; Detour (2013) and Curve (2015) with characters trapped in crashed SUVs; Landmine Goes Click (2015) with a character trapped standing on a landmine; The Shallows (2016) in which Blake Lively is stranded on a rock by the tide and menaced by a lurking shark; and 200 Degrees (2017) in which Eric Balfour is trapped inside a heat kiln. (For a greater overview of the genre see Imprisonment Thrillers).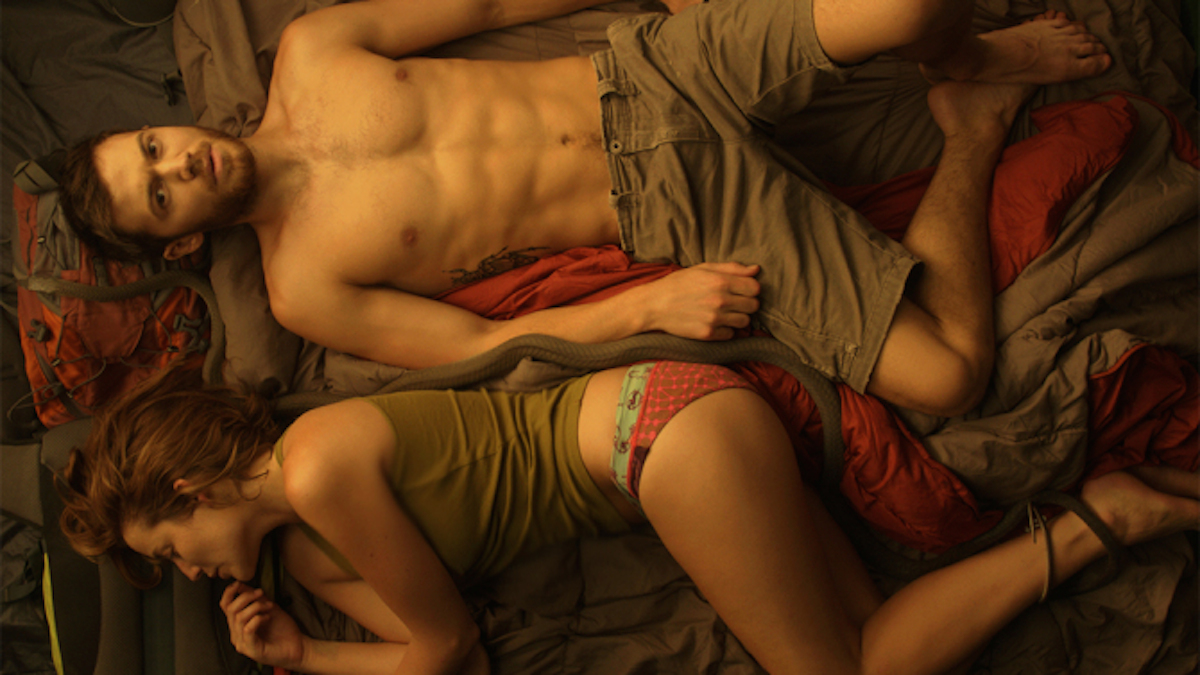 Amanda Evans has clearly taken her lead from Buried. Although about half of the film takes place in the city and surrounding location of the gorge, the bulk of the drama is confined within the tent. These scenes come in much the same vein as Buried that had Ryan Reynolds encased in the coffin for the duration of the show. In a similar way, Amanda Evans generates quite a reasonable degree of suspense out of having Sarah Dumont and Tom Ainsley in their sleeping bags inside the tent as the snake is seen crawling across their bodies, alongside and even under them with they unable to move a muscle lest they be bitten. Evans even shows off with arty shots like a 360-degree pan that rotates over Dumont and Ainsley's heads and then circles into the soil underneath the tent and then back up over their heads again.
The only thing that kills the suspense in some of the scenes off is the fact that a reasonable part of the tent scenes take place in the dark without the benefit of any light apart from the occasional light coming from a cellphone – this may well have worked better watching the film on a cinema screen and in a naturally darkened room but seeing Serpent on a regular home entertainment system it ends up with a whole section of the film where what is happening is murky and unable to be clearly seen.
Of course, this does lead to one fine twist the film puts on things, which is to have Tom Ainsley using Sarah Dumont's phone to light the tent only to chance upon the thread of texts and realise that she has been having an affair, whereupon this turns the survival situation into one of heavily divided tension at the same time as they are unable to move a muscle – at one point, we even have him trying to murder her while the snake moves around the tent.
---
---