---
Crew
Director/Producer – William Castle, Screenplay – William McGivern, Based on the Novel by Ursula Curtiss, Photography (b&w) – Joseph Biroc, Music – Van Alexander, Makeup – Bud Westmore, Art Direction – Alexander Golitzen & Walter M. Simonds. Production Company – Universal.
Cast
Andi Garrett (Libby Mannering), Sarah Lane (Kit Austin), John Ireland (Steve Marak), Joan Crawford (Amy Nelson), Sharyl Locke (Tess Mannering), Leif Erickson (Dave Mannering), Patricia Breslin (Ellie Mannering), John Archer (John Austin), Joyce Meadows (Judith Marak), John Crawford (Trooper)
---
Plot
Teenager Libby Mannering invites her friend Kit Austin over while her parents are away overnight. The two girls, along with Libby's young sister Tess, amuse themselves by making prank calls to numbers they randomly choose from the phone book. One of their pranks involves them calling someone and say "I Saw What You Did – and I Know Who You Are." However, one of the people they choose to play this on happens to be Steve Marak who has just stabbed his wife to death. As they talk, Libby becomes taken by Steve's voice and impulsively decides she wants to go and visit him. This unwittingly precipitates a sequence of events where Steve comes stalking Libby, believing that she has knowledge about the murder he has just conducted.
---
Director-producer William Castle (1914-77) became famous in the late 1950s for his horror films that all came with theatrical gimmicks. These included stunts like taking out insurance policies in case audiences died of fright in Macabre (1958), winching a skeleton across a theatre in House on Haunted Hill (1959), wiring theatre seats up with electric shock buzzers to jolt audiences at appropriate moments in The Tingler (1959) and a Fright Break so the faint of heart could leave the theatre in Homicidal (1961). This gained Castle a sensationalistic name and he would also appear in the trailers to introduce his films. (See below for William Castle's other genre films).
The audience for Castle's novelty films had started to grow thin by the early 1960s. Either that or inspiration for new gimmicks was running out. By this time, Castle had discovered a new genre sideline to tap – the Psycho-Thriller. The start of the decade brought Alfred Hitchcock's Psycho (1960), which in itself had used Castle-styled promotional gimmicks where Hitchcock had it contractually stipulated that audiences were not allowed into the theatre after the film had started and he appeared in a promotional trailer asking them not to give away the ending. With Homicidal, Castle began tapping the psycho-thriller genre and stayed there for much of the rest of the decade.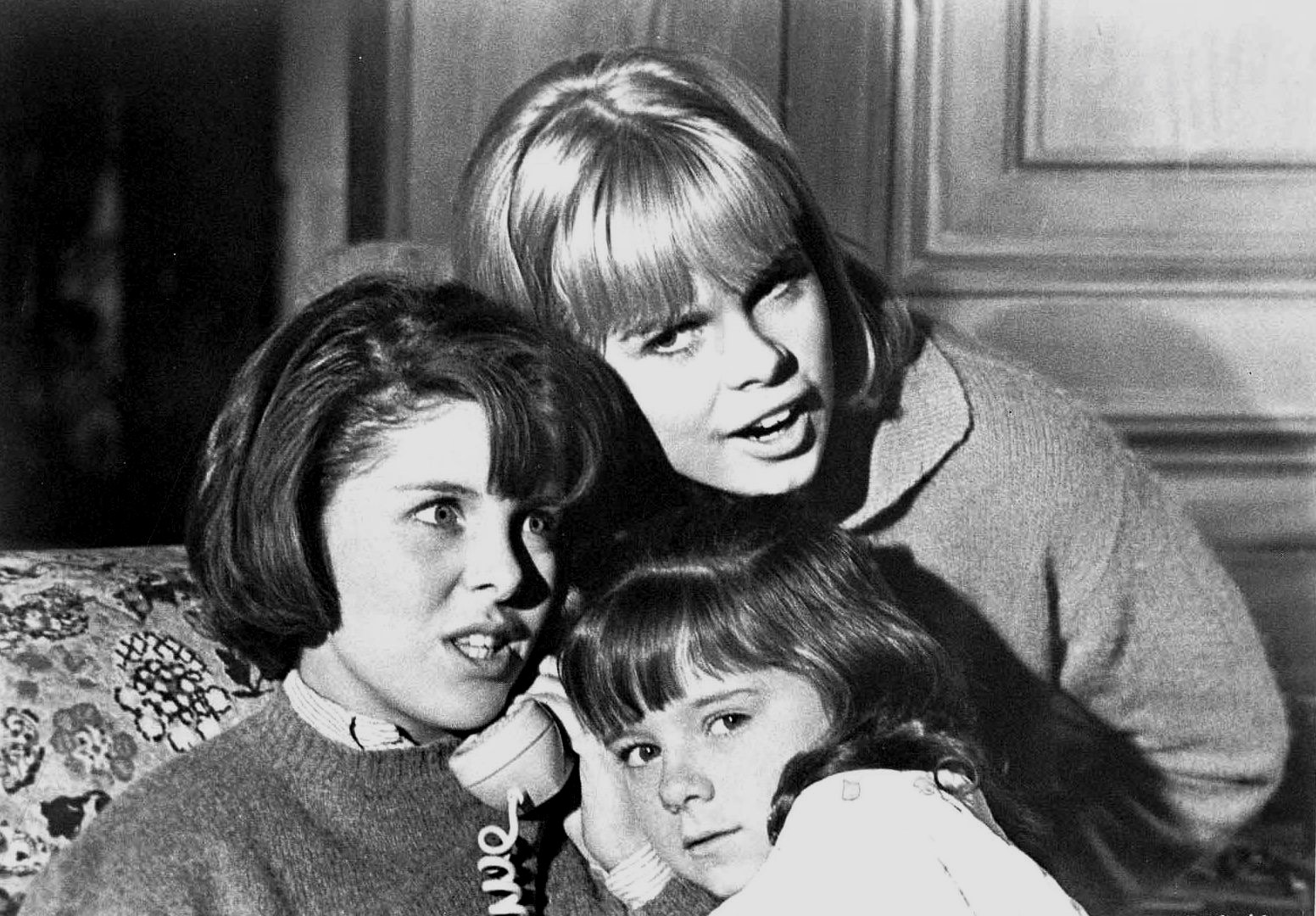 A couple of years after Psycho, the psycho-thriller genre had another big success with What Ever Happened to Baby Jane? (1962), which gave a renewed career boost to both Bette Davis and Joan Crawford and began a trend of films featuring aging Hollywood stars going completely bonkers. Castle ventured into a couple of these Grand Dame Guignol films with The Night Walker (1965) featuring Barbara Stanwyck, while he employed Joan Crawford twice, in Strait-Jacket (1964) and here. (Here Crawford gets top-billing despite only having a supporting role as John Ireland's mistress who is bumped off part way through).
I Saw What You Did is not a gimmick film but is a psycho-thriller set around a gimmick – that of prank phone calls. The central idea – two bored teenage girls amuse themselves making prank calls and saying "I Saw What You Did," only to inadvertently call a man who has just murdered his wife – is a gimmick that feels more suited to being a half-hour episode of a tv anthology show of the era like Alfred Hitchcock Presents (1955-62) or Thriller (1960-2) than it does in being spun out to a feature-length film.
It is also one of those premises that technology would have rendered impossible today – caller id would puncture the pranksters' balloon in no time, while most people now routinely refuse to pick up an unknown number or would simply let the call go to answer phone. As evidence of what a prehistoric technological era we are in, we even see people using four digit phone number, while Castle includes cuts away to switchboard operators connecting lines.
The plot is dependent on being dragged out with improbable devices – the killer traces the girls' whereabouts after his jealous mistress Joan Crawford snatches Andi Garrett's learner's licence – and people behaving in ways that seem hard to believe – Andi Garrett develops an instant crush on John Ireland based solely on his voice after a two-minute phone conversation and impetuously rushes off to see him, imagining herself romancing him.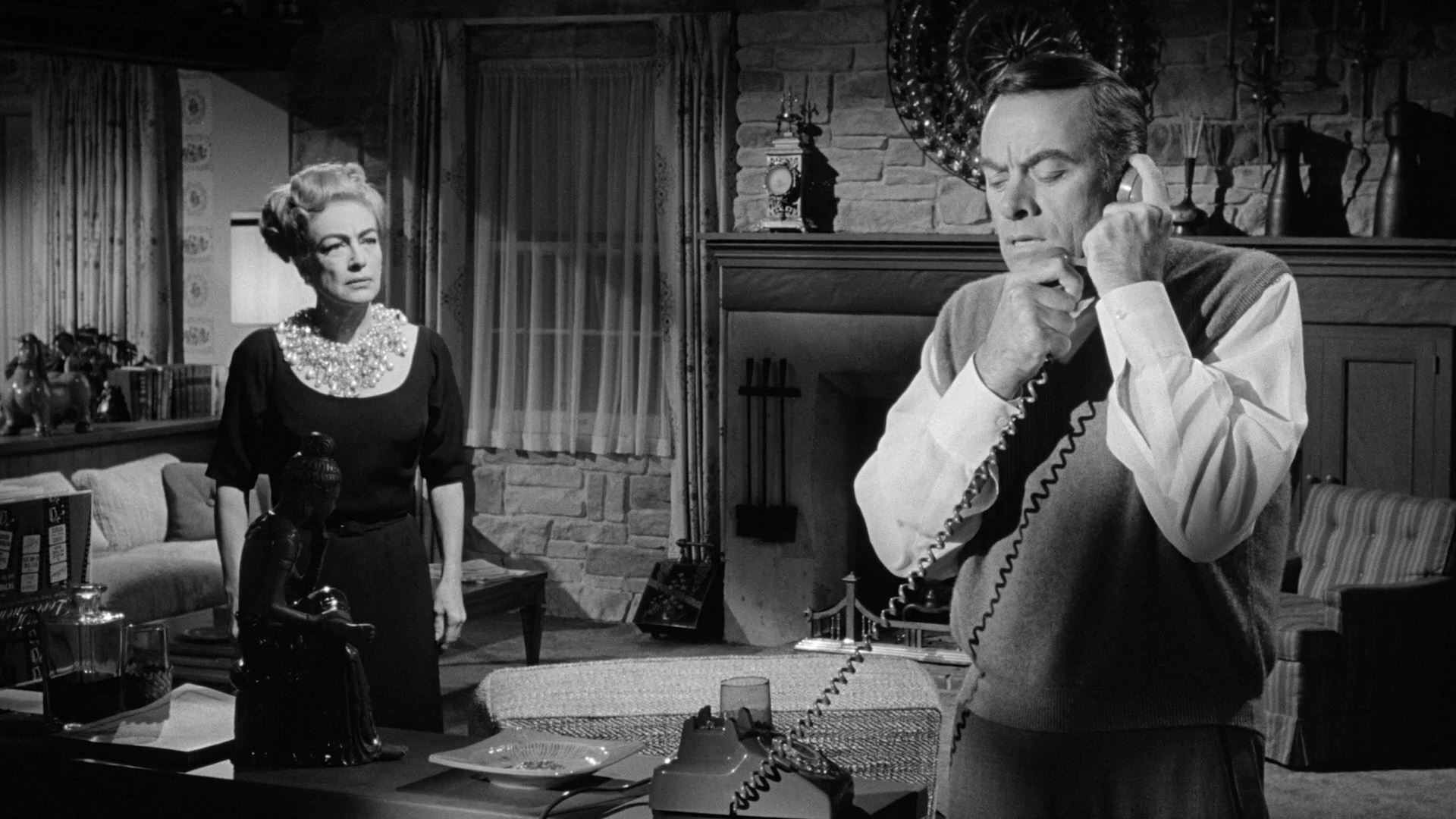 Castle generates some okay suspense in the scenes with John Ireland skulking about and killing people. He even stages a Psycho-modelled shower murder sequence that comes as a jolt surprise early in the show. On the other hand, the scenes with the teenage airheads, where much of the focus of the film is, do drag the show out.
The film was later remade as a tv movie I Saw What You Did (1988) with Shawnee Smith and Tammy Lauren as the two girls and Robert Carradine playing the killer.
William Castle's other films of genre note as producer-director are:– as director of Crime Doctor's Manhunt (1945), the sixth in a series of Columbia crime thrillers, of which Castle directed several, featuring a forensicologist against a split-personalitied killer; the psycho-thriller Macabre (1958); House on Haunted Hill (1959); the classic The Tingler (1959), probably Castle's best film; the haunted house film 13 Ghosts (1960); the psycho-thriller Homicidal (1961); Mr. Sardonicus (1961) about a man with his face caught in a grotesque frozen smile; the juvenile comedy Zotz! (1962) about a magical coin; the remake of The Old Dark House (1963) for Hammer; the Grand Guignol psycho-thriller Strait-Jacket (1964) with Joan Crawford; The Night Walker (1965), a psycho-thriller about a dream lover; the psycho-thriller Let's Kill Uncle (1965); the ghost comedy The Spirit is Willing (1967); the reality-bending sf film Project X (1968); Shanks (1974) with Marcel Marceau as a puppeteer who can resurrect the dead; and as producer of the classic occult film Rosemary's Baby (1968) for Roman Polanski; as producer of the anthology series Ghost Story (1972-3); and as producer of the firestarting insect film Bug! (1975).
---
---