---
Crew
Director/Producer – William Castle, Screenplay – Robb White, Based on the Novel The Marble Forest by Theo Durrant, Photography (b&w) – Carl E. Guthrie, Music – Les Baxter, Special Photographic Effects – Irving Block, Louis DeWitt & Jack Rabin, Art Direction – John T. Collis & Robert Kinoshita. Production Company – Susina Productions.
Cast
William Prince (Dr Rodney Barrett), Jacqueline Scott (Polly Baron), Jim Backus (Jim Tyloe), Philip Tonge (Jode Wetherby), Christine White (Nancy Wetherby Tyloe), Jonathan Kidd (Ed Quigley), Ellen Corby (Miss Kushins), Susan Morrow (Sylvia Stevenson), Dorothy Morris (Alice Barrett)
---
Plot
The undertaker Ed Quigley reports the theft of a child's coffin to sheriff Jim Tyloe. Tyloe blames local GP Rodney Barrett for the deaths of both his wife Nancy and Barrett's wife Alice who was Nancy's sister. Tyloe tells Barrett that all the townspeople hate him and want him out. Barrett returns home to discover that his young daughter Marjorie has been abducted. While he is out searching for her, someone calls his secretary Polly and leaves a taunting message that Marjorie has been buried alive and only has a few hours left. As the hours count down, Barrett and Polly begin a frantic search for her hiding place.
---
William Castle (1914-77) was a genre director/producer who was almost always associated with the promotional stunts he devised for his films. Castle started out directing in the 1940s, making a number of thrillers, including several entries in the Crime Doctor and The Whistler series' at Columbia, as well as the odd Western. After a brief move into television, Castle made the first of the gimmick films with Macabre. He financed the film himself, mortgaging his own house. An inveterate showman, Castle took out an insurance policy with Lloyd's of London, offering $1000 to any audience member who died of fright. (Nobody ever claimed on the policy). This was a stunt that served to inspire great word of mouth and made Macabre into a hit.
This was something that set Castle onto a career path and made him into a cult figure. Castle would always appear in his trailers to introduce his films and with each devised increasingly more outrageous promotional schemes – with House on Haunted Hill (1959), a glow-in-the-dark skeleton was winched across the theatre; with The Tingler (1959), it was promised that the title creature would get loose in the theatre and seats were wired up with electric buzzers to zap patrons; 13 Ghosts (1960) was filmed in a process where audiences could put on a pair of coloured Ghost Viewers glasses to see the ghosts on the screen; Homicidal (1961) featured a Fright Break where those too frightened could retreat to the Coward's Corner in the lobby and receive a refund; and with Mr Sardonicus (1961) audiences could vote on the fate of the title character.
One comes to Macabre after having seen a number of William Castle's other films. In these, he developed greater sophistication as a director and Macabre is much more crude in comparison to these. Castle's career received a big boost with the release of Psycho (1960) whereupon he started imitating its Psycho-Thriller form. The crucial difference is that Macabre is a psycho-thriller that was made before the arrival of Psycho and the enormous influence it subsequently wielded on the genre. As a result, it takes as its model the film noir thrillers of the 1940s.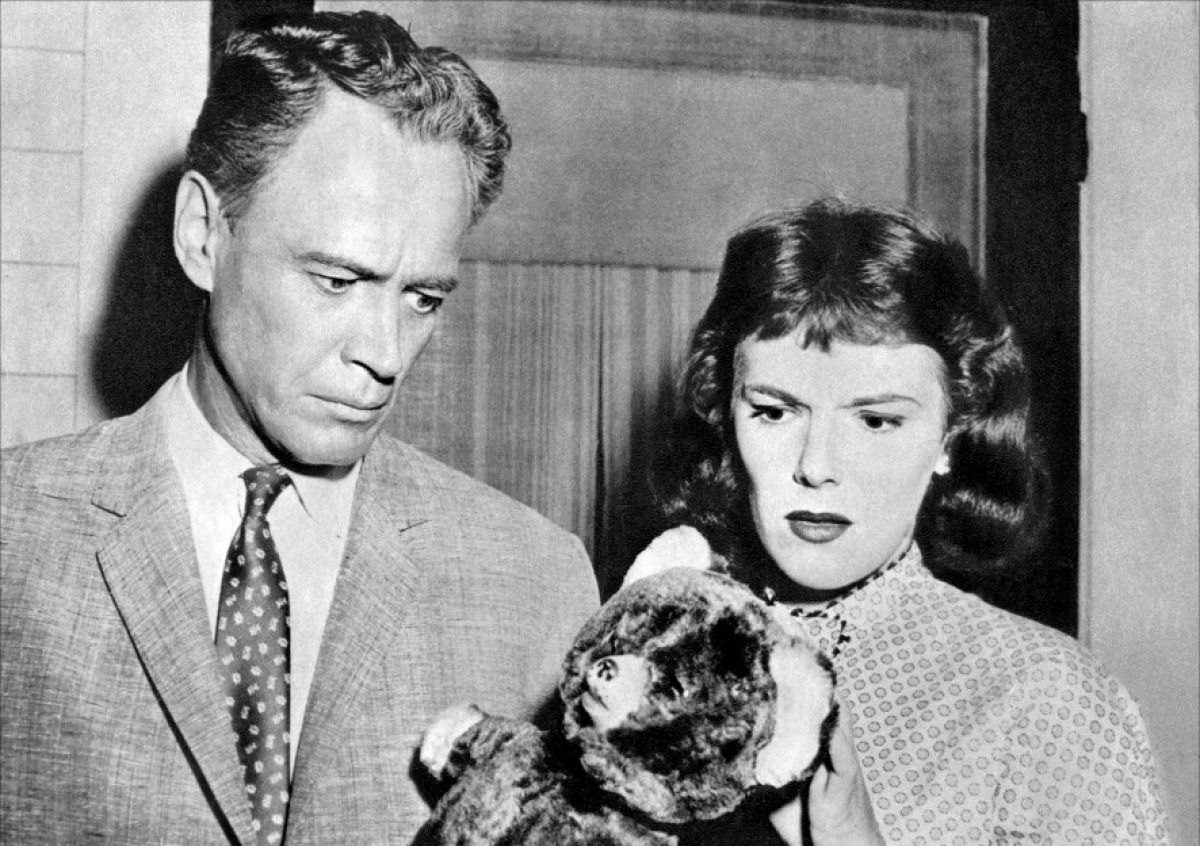 Stylistically, Castle shoots with heavy surrounding shadow just like in film noir. In fact, there is very little in the film that stands out from being a regular thriller and makes Macabre into a horror film where it is usually pigeonholed. Castle gets some modest atmosphere in in the skulking around the graveyard but that is it – there is certainly nothing in Macabre that fulfils Castle's promotional promise that the film would frighten people to death. Were this a post-Psycho psycho-thriller, we would almost certainly have a number of supplemental killings and the addition of an explanation involving gender-confused psychology.
Certainly, some of the characters were adventurous for the era the film was made. In the flashbacks, there is the character of Christine White's Nancy who appears to lead a carefree lifestyle and refuses the pressure to be settled down with any man, which was quite an eye-opening outlook for any woman during the 1950s. Here the film also takes up one of the challenging issues of the day – that of unwed pregnancy. The interesting thing about this is that, though the character of William Prince's doctor is accused of having killed the two women, we never learn what he did to kill Nancy and can only assume from the inferences that he did so in a backstreet abortion. You suspect that this was something that was in the original novel but had been removed from the film at studio or censor instigation.
The film arrives at an improbably contrived twist ending regarding the revelation of the identity of the abductor where it turns out with a reasonable surprise to be the least likely and most sympathetic character in the show. It all involves an implausibly contorted inheritance scam and a plan to kill someone by fright, one part at least that falls into familiar psycho-thriller plotting.
William Castle's other films of genre note as producer-director are:– as director of Crime Doctor's Manhunt (1945), the sixth in a series of Columbia crime thrillers, of which Castle directed several, featuring a forensicologist against a split-personalitied killer; House on Haunted Hill (1959); the classic The Tingler (1959), probably Castle's best film; the haunted house film 13 Ghosts (1960); the psycho-thriller Homicidal (1961); Mr. Sardonicus (1961) about a man with his face caught in a grotesque frozen smile; the juvenile comedy Zotz! (1962) about a magical coin; the remake of The Old Dark House (1963) for Hammer; the Grand Guignol psycho-thriller Strait-Jacket (1964) with Joan Crawford; The Night Walker (1965), a psycho-thriller about a dream lover; the prank phonecall psycho-thriller I Saw What You Did (1965); the psycho-thriller Let's Kill Uncle (1965); the ghost comedy The Spirit is Willing (1967); the reality-bending sf film Project X (1968); as producer of the classic occult film Rosemary's Baby (1968); as producer of the anthology series Ghost Story (1972-3); Shanks (1974) with Marcel Marceau as a puppeteer who can resurrect the dead; and as producer of the firestarting insect film Bug! (1975).
---
---