---
Crew
Director/Producer – William Castle, Screenplay – Robb White, Photography (b&w, 3-D) – Joseph Biroc, Music – Von Dexter, Photographic Color Effects – Butler-Glouner Inc, Art Direction – Cary Odell. Production Company – William Castle Productions.
Cast
Donald Woods (Cyrus Zorba), Martin Milner (Benjamen Rush), Charles Herbert (Buck Zorba), Jo Morrow (Medea Zorba), Margaret Hamilton (Elaine Zacharias), Rosemary DeCamp (Hilda Zorba), John Van Dreelen (Van Allen)
---
Plot
At the same time as they are forced to give up their own home due to financial problems, palaeontologist Cyrus Zorba and his family learn they have inherited a house from their late uncle Plato. They move in. However, once there, they learn that the house is haunted by thirteen ghosts that Plato, a famous parapsychologist, brought back from around the world.
---
13 Ghosts was one of the classic films made by producer/director William Castle. Castle made such films as Macabre (1958), House on Haunted Hill (1959), The Tingler (1959), Mr. Sardonicus (1961) and Homicidal (1961) – see below for a full list of Castle's credits. What made William Castle's name was less the films, which were mediocre to passable, but the outrageous sales gimmicks he came up with, including insuring audiences against dying of fright, winching skeletons across the theatre and wiring seats with electric buzzers to give people shocks. Castle's gimmick in 13 Ghosts was a process he called 'Illuso' – where the characters in the film put on a pair of special glasses to see the ghosts, the viewers would then put on 3D glasses and see them too.
13 Ghosts is one of William Castle's more routine films and is usually quickly skimmed over by genre reviewers. Castle was a crude director and his work usually pedestrian and lacking in style. Many of his films were carried by their sheer chutzpah of Castle's gimmickry or usual collaborator Robb White's often inventive scripts. However, 13 Ghosts progresses in a dull and stolid way.
The hauntings consist of routine and cheap double exposure effects or candles, biscuit tins and the like floating around on wires. One scene that momentarily generates some atmosphere is the seance. Certainly, Margaret Hamilton, twenty years earlier the Wicked Witch of the West in The Wizard of Oz (1939), has an effectively cold and austere presence as the maid.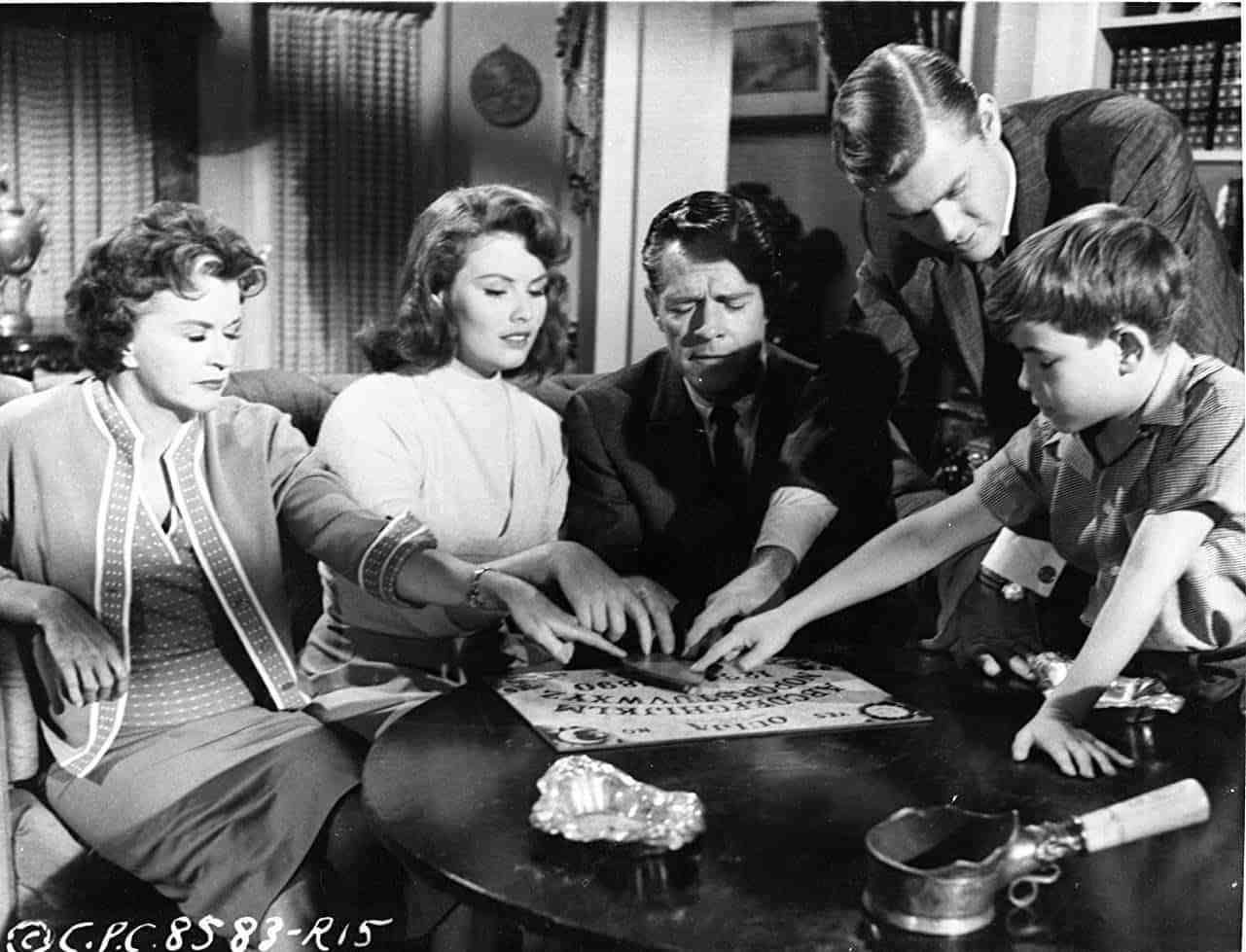 Many of Robb White's scripts raised haunted house themes but in the end transpired to only be mundane crime thrillers. Such is also the case here and it is something where Robb White, in turning the latter third of the film over to young Charles Herbert and his 'secret' and the attempts to find the money hidden in the house, kills the atmosphere.
The film was remade as Thir13en Ghosts (2001). Thirteen Erotic Ghosts (2002) was an adult version capitalising on the release of the latter.
William Castle's other films of genre note as producer-director are:– as director of Crime Doctor's Manhunt (1945), the sixth in a series of Columbia crime thrillers, of which Castle directed several, this featuring a forensicologist up against a split-personalitied killer; the psycho-thriller Macabre (1958); House on Haunted Hill (1959); the classic The Tingler (1959), probably Castle's best film; the psycho-thriller Homicidal (1961); Mr. Sardonicus (1961) about a man with his face caught in a grotesque frozen smile; the juvenile comedy Zotz! (1962) about a magical coin; the remake of The Old Dark House (1963) for Hammer; the Grand Guignol psycho-thriller Strait-Jacket (1964) with Joan Crawford; The Night Walker (1965) a psycho-thriller about a dream lover; the prank phonecall psycho-thriller I Saw What You Did (1965); the psycho-thriller Let's Kill Uncle (1965); the ghost comedy The Spirit is Willing (1967); the reality-bending sf film Project X (1968); as producer of the classic occult film Rosemary's Baby (1968) for Roman Polanski; as producer of the anthology series Ghost Story (1972-3); Shanks (1974) with Marcel Marceau as a puppeteer who can resurrect the dead; and as producer of the firestarting insect film Bug! (1975).
---
---