---
Crew
Director – David Moore, Teleplay – Jonathan St Johnston, Producers – Caroline Hewitt & Gub Neal, Photography – Ulf Brantas, Music – Simon Fisher Turner, Visual Effects – Studio 3, Production Design – Michael Pickwoad. Production Company – Box TV/Size 9 Productions/Pie Shop Productions Ltd.
Cast
Ray Winstone (Sweeney Todd), Essie Davis (Mrs Lovett), Tom Hardy (Constable Matthew Paine), David Warner (Sir John Fielding), David Bradley (Sweeney's Father), Ben Walker (Tobias)
---
Plot
London, the early 19th Century. Sweeney Todd has become a successful barber but also develops a taste for slitting the throats of his customers with a razor while he is shaving them. Sweeney also has some skill as a surgeon and befriends Mrs Lovett, a pie-maker in a nearby shop, when she asks him to perform an abortion for her. Afterwards, she sends him meat pies daily. Sweeney is called by Mrs Lovett to operate on her ailing husband. Seeing that the husband beats her, Sweeney kills him during the operation. Afterwards, Sweeney buys Mrs Lovett the neighbouring premises so that she can have her own pie shop. He declines her offer of a sexual relationship but watches through a peephole as she regularly has sex with customers. When she sends them to him for a discount shave, he slaughters them and then gives the flesh to her as meat for her pies. She then comes to him, suffering hideously from venereal disease. As he tends her through her illness, he confesses his secret to her. When she returns to work and is taunted by customers about the sores on her face, she readily takes to the idea of sending them to Sweeney knowing that they will be killed.
---
The story of the demon barber Sweeney Todd and his razor and Mrs Lovett and her meat pies is something that has been tickling audience's fancies ever since its first appearance as a penny dreadful in the 1840s. At least one author has argued that Sweeney Todd was based on a real person, although no substantiating evidence has been shown to demonstrate this. Nevertheless, the story has gained enormous popularity and there have been a number of films about Sweeney Todd – the silent British Sweeney Todd (1926), the silent British Sweeney Todd (1928), the British sound version Sweeney Todd: The Demon Barber of Fleet Street (1936) with Tod Slaughter, Andy Milligan's cheap Bloodthirsty Butchers (1970) and a British tv version Sweeney Todd/The Tale of Sweeney Todd (1997) with Ben Kingsley and Joanna Lumley as Sweeney and Mrs Lovett. The most popular incarnation was the 1979 Stephen Sondheim Broadway musical, which led to the high-profile Tim Burton film Sweeney Todd: The Demon Barber of Fleet Street (2007) and two earlier tv stagings Sweeney Todd: The Demon Barber of Fleet Street (1982) and Sweeney Todd: The Demon Barber of Fleet Street in Concert (2001).
This British television production was almost certainly mounted with the idea of getting in just prior to the release of the Tim Burton film. Rather interestingly, this version has pared away all the songs and lurdily over-the-top Grand Guignol effects that mark the other versions and attempted to tell it as a grimly realistic historical story. Jonathan St Johnston's script makes an interesting attempt to delve down into Sweeney's psychological motivation. There is a fabulous moment at the end where David Warner's blind judge asks Ray Winstone "Why?" to which Winstone shrugs: "Because I could. And then I couldn't not." In particular, Sweeney is given a sexual pathology – he has no interest in regular sex but instead peeps through a hole in the wall as Mrs Lovett couples with various customers and then shaves and kills them, serving their flesh back up to her for use in meat pies.
The film has a degree of grim grisliness in the depiction of Sweeney's activities, especially when it comes to the shockingly crude medical procedures of the era – although being made for television, it is unable to get as gore-drenched as it might and is forced to pull its punches on a number of occasions, particularly when we see Ray Winstone carving up bodies.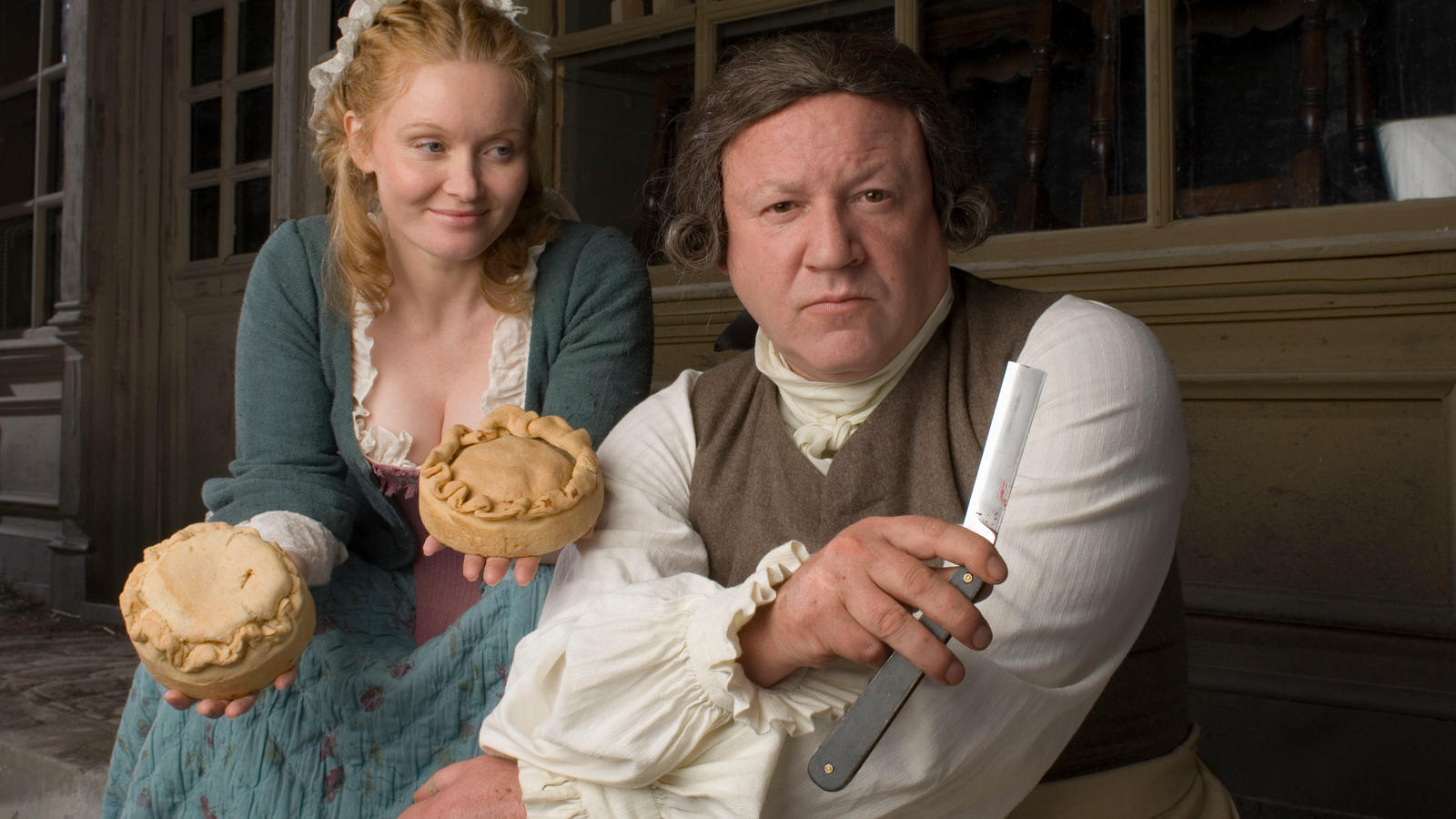 The script starts to gain its strength when we see Jonathan St Johnston building out the relationship between Sweeney and Mrs Lovett. The strength of the film are in the scenes where she comes to him, wanting him to do something about her pox, and then seeing him tending her through her infirmary and confessing his secret to her, and how she then returns to work looking hideous and after being taunted for her condition wilfully turns the customers over to Sweeney.
In the end scene where Ray Winstone is taken to be executed, we can see that Jonathan St Johnston sees Sweeney as very much a creation of his era – how he was a response to the pitiless cruelty of the conditions that the poor and dissolute lived in around the time. Rather than Stephen Sondheim who merely had Sweeney acting in revenge for being wrongly exiled to Australia, Jonathan St Johnston has Sweeney as an out-and-out serial killer who was formed by the place where he was birthed (the jailhouse) where life was treated as being without meaning.
In an interesting choice, Sweeney Todd is cast with Ray Winstone. Ray Winstone is a rough-hewn actor with a distinctive East London accent – he seems more to belong in The Sweeney (1975-8) than Sweeney Todd. Winstone has a solid and beefy build and in Sweeney's wig, with shaved head underneath, he looks unappealingly corpulent. Much of the time, Winstone seems stiff but does, at least when the film gets into the grist of Sweeney and Mrs Lovett's operation, demonstrate a hard-headed intensity. I actually found this are far more interesting version of the Sweeney Todd story than Tim Burton's overrated Grand Guignol show.
---
---