---
Hong Kong/France/China. 2009.
Crew
Director – Chris Nahon, Action Director – Cory Yuen, Screenplay – Chris Chow, Based on the Anime Written by Kenji Kamiyama & Katsuya Terada, Producers – Bill Kong & Abel Nahmias, Photography – Poon Hang Sang, Music – Clint Mansell, Visual Effects – Eclair VFX (Senior Supervisor – Yann Blondell), Menfond Electronic Art & Computer Design Co. Ltd. (Directors – Eddy Wong & Victor Wong), Special Effects Supervisor – Arthur Lau Wai Kit, Creature & Makeup Effects – Spectral Motion Inc., Production Design – Nathan Amondson. Production Company – East Wing Holdings/SAJ/Beijing Happy Pictures Cultural Communications Co., Ltd.
Cast
Gianna (Saya), Allison Miller (Alice McKee), Liam Cunningham (Michael Harrison), J.J. Feild (Luke), Koyuki (Onigen), Larry Lamb (General Howard McKee), Colin Salmon (Powell), Andrew Pleavin (Sergeant Frank Nielson), Michael Byrne (Elder), Masiela Lusha (Sharon), Ailish O'Connor (Linda), Constantine Gregory (Mr Henry)
---
Plot
Saya is a vampire hundreds of years old, although only looks like a teenage Japanese girl. She works with the agency known as The Council and is engaged in the single-minded mission of eliminating the hordes of the demon Onigen that take on human form. The Council post Saya to the Kanto US Air Force base in Tokyo where there has been a recent plague of Onigen's demons. Saya goes in undercover, posing as a schoolgirl among the children of the families on the base. Alice McKee, daughter of the base's commander, is witness as Saya slaughters two demons that are posing as schoolgirls. Her panic at this makes her father General McKee suspicious of The Council's agents. Saya saves Alice from being killed by the demons in a massive street fight. Alice's father and Saya's controller are then shot by a rogue Council agent. The two girls flee pursued by demons as Saya heads to a showdown with Onigen.
---
The last few years have featured a spate of live-action films based on anime with the likes of Transformers (2007), Speed Racer (2008), Dragonball: Evolution (2009), Kite (2014), Ghost in the Shell (2017) and Cowboy Bebop (2021), as well as several Japanese-made efforts such as Cutie Honey (2004), Devilman (2004), Casshern (2005), YatterMan (2009), Space Battleship Yamato (2010), Kiki's Delivery Service (2014), Lupin III (2014), Attack on Titan (2015), Fullmetal Alchemist (2017), Gintama (2017) and Tokyo Ghoul (2017).
Blood: The Last Vampire is an interestingly unusual choice to join these. It is a live-action adaptation of Blood: The Last Vampire (2000), an anime short film produced by Production I.G. that only ran to 48 minutes long. Apparently, the original had been intended as a much longer film but funding was not available to make the full story. What made it to the screen was nevertheless highly impressive. This international big-budget remake was put together, clearly intended to jump aboard the renewed vampire fad that emerged in 2008.
The remake copies most of the essentials of the original. It opens with a scene that reproduces the opening of the anime where Saya chases a demon in human form down a train carriage, replicating the sequence shot for shot but in live-action. All of this bodes well. The rest of the plot follows the basics of the original with Saya going undercover on a US Army base, battling demons there. The only part that is missing is the dazzling climactic scenes from the original with Saya fighting a demon in a burning hangar and racing after it as it climbs aboard the outside of a bomber, which is here reduced to a single brief scene where she chases a flying demon down a runway as a plane lands. The secondary character of the teacher who gets dragged into the action is now expanded to become an American schoolgirl. The era has been updated from 1956 to 1970 – ironically going from the start to near the end of the Vietnam War. Outside of that, the original has been expanded out with the addition of more battles and the new character of the demonic nemesis Onigen.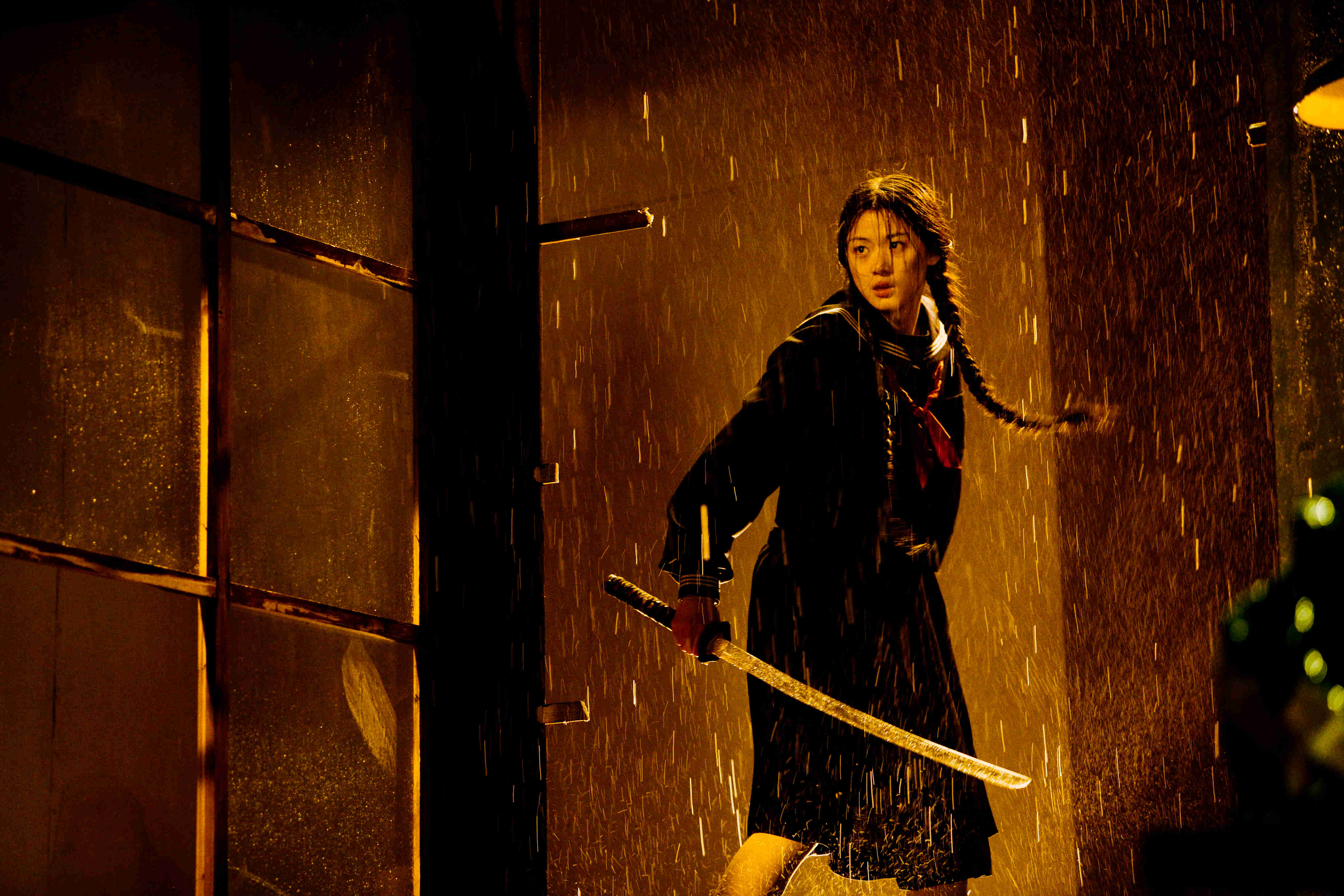 French director Chris Nahon had previously made the Jet Li vehicle Kiss of the Dragon (2001), the thriller Empire of the Wolves (2005) and subsequent to this the underground fight match film Lady Bloodfight (2016). These films are triumphs of style over substance and the same could be said of Blood: The Last Vampire.
Nahon's finest set-piece is one that comes about twenty minutes in, an amazing street battle as Gianna saves Allison Miller from hordes of demons, which contains a full flight of modern Hong Kong-influenced action scenes – mid-air twirls, slow-motion beheadings and sword slicings en masse, and with Gianna pursuing the Colin Salmon demon in a race leaping up and across the rooftops, even running down the length of a building smashing through multiple apartment walls. There is a decent climactic showdown with Onigen where she (Koyuki) appears with the trails of her dress floating up behind her, they battling, wielding power blasts with their swords, fighting in mid-air and blasting each other through entire houses.
The minus points are that that the CGI effects are obvious and tend to distract, while the gouts of blood only look like brown digitally created gore. One sequence involving a fight with a demon around a truck travelling along a narrow mountain road feels like it has been copied from Underworld: Evolution (2006). Everything comes with an exhilarating kick – on the other hand, if you have watched enough Hong Kong fantasy cinema or a few clones of The Matrix (1999)'s Bullet Time moves, you have seen much of this before. Gianna, a popular South Korean actress better known as Ji-hyun Jun, plays through a thick accent but incarnates the striking image of a teenage girl in Japanese schoolgirl uniform wielding a sword with great ferocity.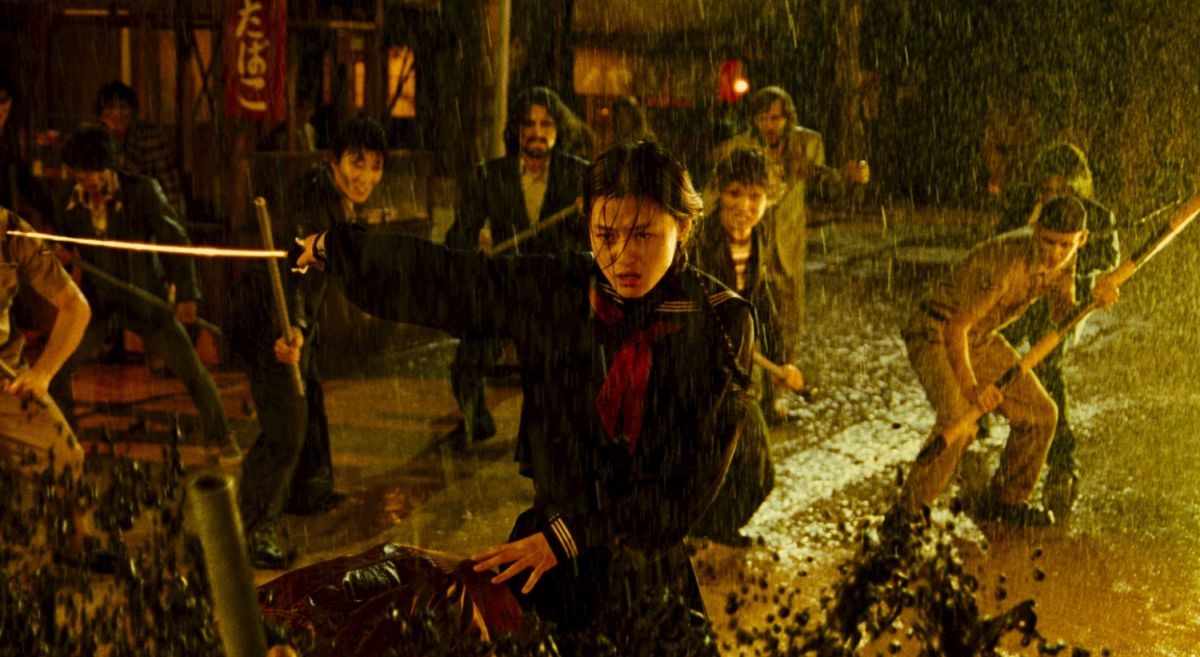 While Blood: The Last Vampire has been created as a vampire action film, outside of Chris Nahon's moves it only emerges down around the level of a copy of Underworld (2003). There is nothing that stands up against modern vampire films – not the character depth and potency of writing of tv's True Blood (2008-14), not the romantic soul of the vampire as in Twilight (2008). Most of the action moves have been patented by Blade (1998) and in particular the dynamic Hong Kong-influenced action sequences in Blade II (2002).
On a pure story level, the film is routine. There is no depth to any of its mythology or characters. It feels that the anime has been padded out to feature-length in routine ways that are only written to modern action movie formula. Often things are poorly explained. Onigen pops up in the middle of nowhere with no reason or explanation why other than that this is the point that the film needs to conduct its climax. We are never given any idea why J.J. Feild suddenly goes rogue. Despite flashbacks to Saya's origin story, we learn nothing about how she became a vampire, why she is the last vampire, while her being Onigen's daughter amounts to no more than a throwaway line where the significance of such is left unexplained.
---
---