---
Crew
Director – William Lustig, Screenplay – Larry Cohen, Producer – George G. Braunstein, Photography – James Lebovitz, Music – Mark Governor, Special Effects – Ultimate Effects (Supervisor – John Hartigan), Makeup Effects – Sota Effects (Supervisors – Roy Knyrim & Jerry Macaluso), Production Design – Charlotte Malmöf. Production Company – Gable Productions.
Cast
Christopher Ogden (Jody Baker), Isaac Hayes (Jed Crowley), Anne Tremko (Louise Harper), David 'Shark' Fralick (Sergeant Sam Harper), Leslie Neale (Sally Baker), Matthew Flint (Phil Burke), Zachary Lemore (Barry Cronin), Timothy Bottoms (Mr Crandall), Robert Forster (Congressman Cummings), Phil Burke (Ralph), Bo Hopkins (Sergeant Twining), Thom McFadden (Mac Cronin), P.J. Soles (Madge Cronin), Jason Adelman (Jesse Colburn), Morgan Paull (Mayor)
---
Plot
Three years after her husband Sam went missing in combat, the military inform Louise Harper that he was killed by friendly fire in Kuwait. Sam's body is returned home to Twin Rivers and placed in the family home as July 4th celebrations near. From his coffin, Sam's body returns to life whereupon he reclaims his medals and walks out into the town. As July 4th begins, Sam, disguised in a carnival Uncle Sam costume, stalks the town, killing those who disrespect the flag, rob the government and have dodged the draft.
---
Uncle Sam has been the last effort so far to emerge from the fruitful working collaboration between low-budget directors William Lustig and Larry Cohen. Larry Cohen had a cult presence during the 1970s/80s as director/writer of films such as It's Alive (1974) and sequels, God Told Me To/Demon (1976), Q – The Winged Serpent (1982), The Stuff (1985) and The Ambulance (1990). William Lustig started out as a porn director then made the notoriously nasty slasher film Maniac (1980) and went onto other thrillers like Vigilante (1983) and Relentless (1989).
From the 1990s onwards up until his death in 2019, Larry Cohen appears to have retired as a director and now mostly writes screenplays for other directors, including the likes of Guilty as Sin (1993), The Ex (1997), Misbegotten (1997), Phone Booth (2002), Cellular (2004), Captivity (2007), the remake of It's Alive (2008) and Messages Deleted (2010). One of William Lustig's biggest successes was the Maniac Cop series, which were penned by Larry Cohen and consisted of Maniac Cop (1988), Maniac Cop II (1990) and Maniac Cop 3: Badge of Silence (1992). Lustig has retired as an active director subsequent to Uncle Sam and these days produces accompanying shorts for dvd extras, usually for horror releases.
Uncle Sam feels like it could easily be a follow-on from the Maniac Cop series ie. Larry Cohen has gone from the idea of a crazed, hulking law enforcement officer seeking retribution to a crazed, hulking army veteran seeking retribution. You suspect that Larry Cohen started out wanting to make Uncle Sam as a vengeful Vietnam Vet film but by the eventual time he got the film off the ground it was over a decade too late for the whole Vietnam anger thing and he instead turned to the Gulf War (I). The first Gulf War is not something so emotively interwound in the American zeitgeist as the Vietnam War so the film does not have the same anger and resonance to it. (It certainly would have had Larry Cohen written it after the second Gulf War (II) of 2003, which split the US down the middle).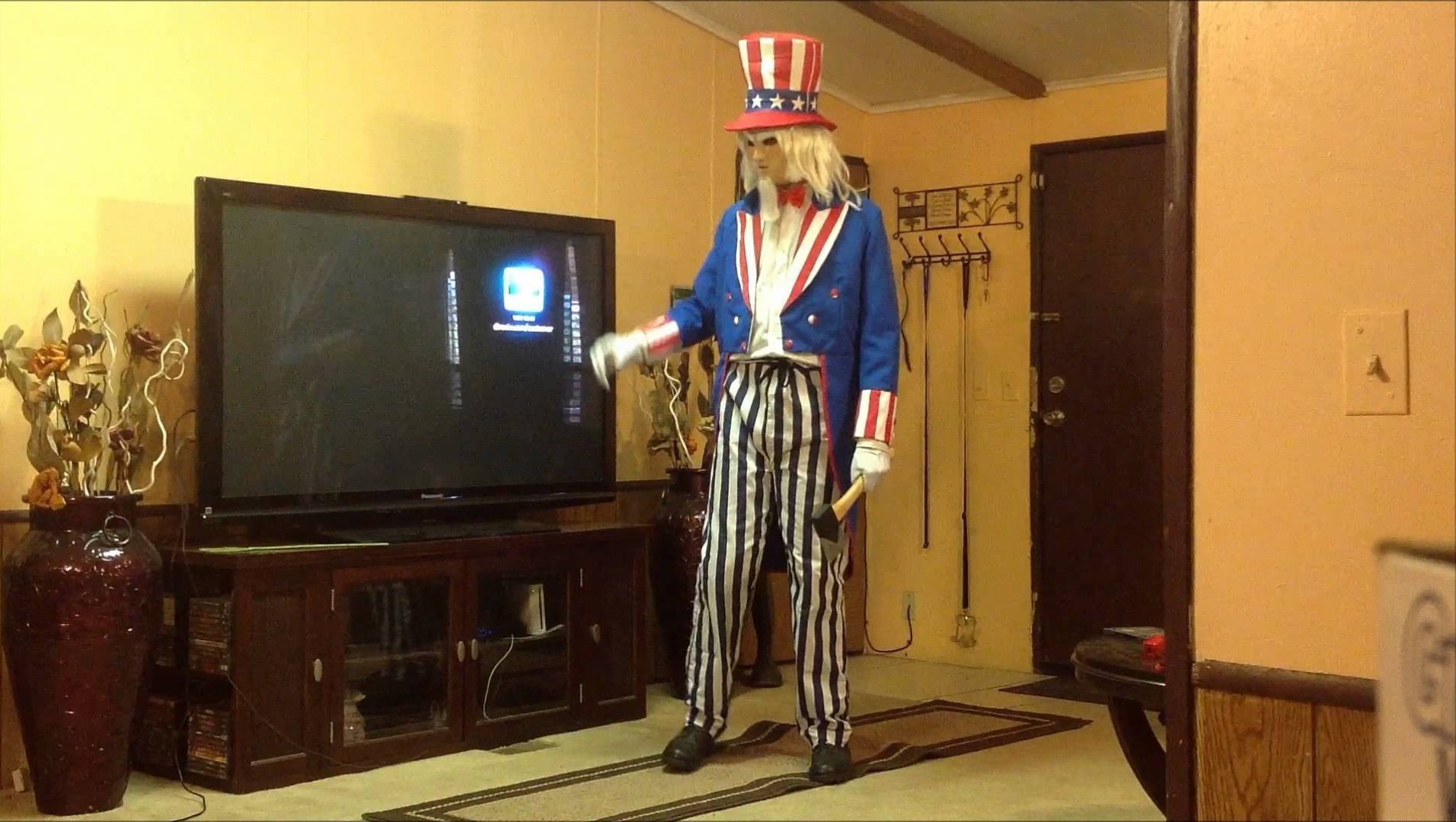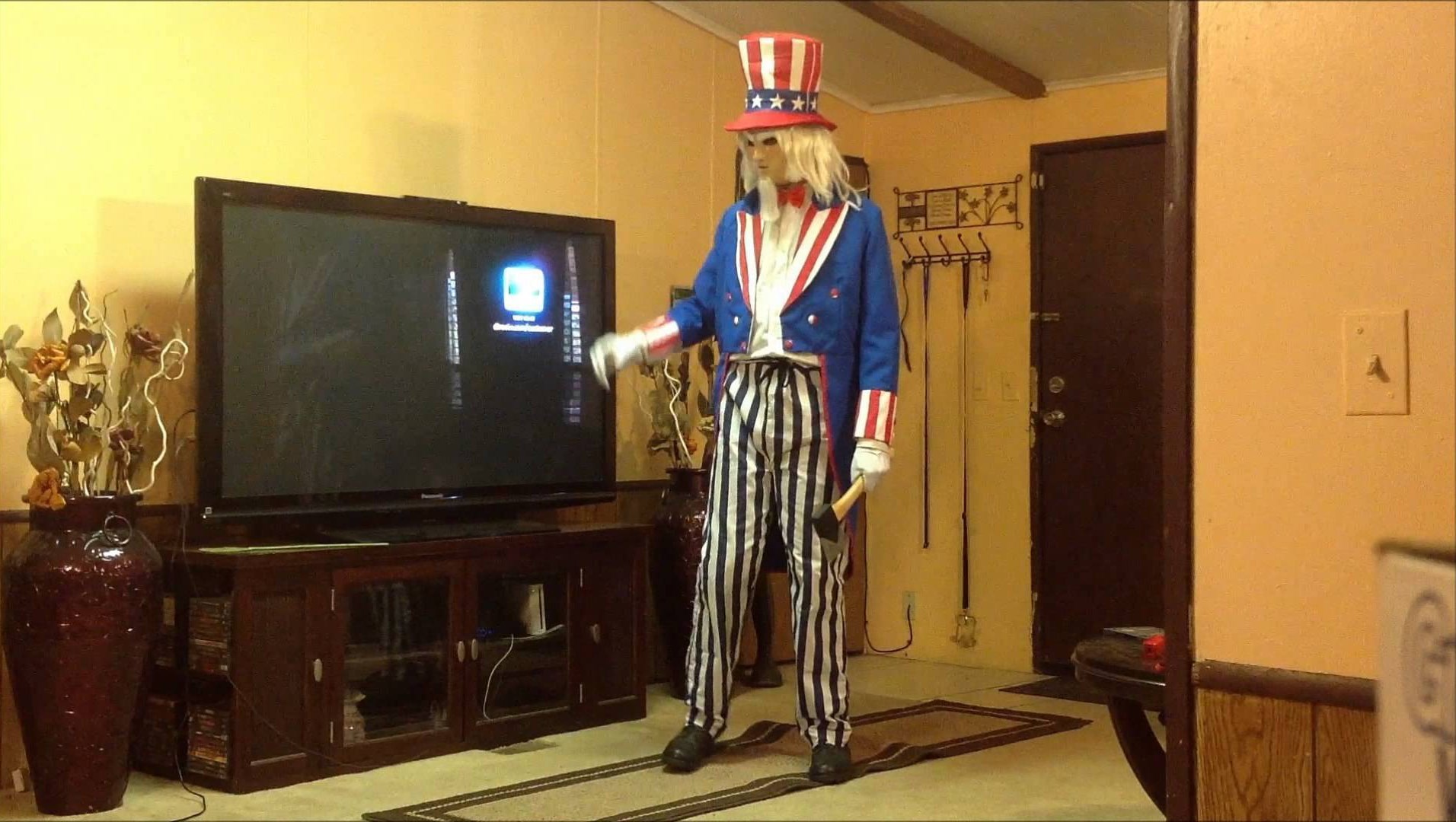 One of the great pleasures of Larry Cohen's scripts is that they have unusual sympathies, a quirky wit and a subversive bite. Here you can see Cohen setting up deserving suspects for the wrath of the flag-saluting undead soldier – Timothy Bottoms as a Vietnam draft dodger, the corporate lawyer who boasts about avoiding paying tax for his clients, the flag defacers, the dope-smoking teen layabouts. There is something quite dark to the image of a victim's body being hoisted up a flag as the Funeral Taps plays. There are the usual Cohen-esque asides – like where the kid playing George Washington in the July 4th re-enactment is redressed for sitting on the cherry tree drinking soda; or where the teenager gives a heavy metal rendition of the American Anthem.
William Lustig serves up some entertaining despatches – bodies impaled on flagpoles, Robert Forster's self-important politician set alight on a fireworks stand. With a film that so willingly sinks its teeth into the issue of American flag-waving and military pride, it is no surprise that Uncle Sam experienced a number of problems in receiving domestic distribution. Yet, while Larry Cohen's satiric take gives Uncle Sam a certain bite, there is nothing on the other hand in the film as charged as Lustig and Cohen's single greatest moment together – the sublime Maniac Cop II.
---
---