aka From Beyond the Grave
---
USA. 1996.
Crew
Director/Story – John Eyres, Screenplay – John Eyres, John Cianetti & Amanda I. Kirpaul, Producers – John Eyres & Gregory Vanger, Photography – Bob Paone, Music – Jonathan Flood, Computer Animation – C.O.R.E. Digital Pictures, Miniatures – Glacier Entertainment, Special Effects – Larry Roberts, Production Design – Ron Mason. Production Company – Nu Image/EGM.
Cast
Martin Kove (Michael Silvano), David Keith (Joseph Meeker), Paul Koslo (Lockhart), Thomas Ian Nichols (Alex Silvano), Kelly Peribe (Roland), Laura Johnson (Grace Silvano)
---
Plot
Former cop Michael Silvano arrests wanted killer Joseph Meeker during a liquor store hold-up. Meeker is sent to the electric chair. However, Meeker returns from the dead and begins taunting and pursuing Silvano, determined to obtain revenge for Silvano's accidental shooting of Meeker's girlfriend during the hold-up.
---
Judge and Jury is a variant on the killers-back-from-the-electric-chair mini-theme that was briefly the in-thing around 1989-90 with the likes of Shocker (1989), The Horror Show (1989) and The First Power (1990). All of these were forgettable. It was not until the subsequent Fallen (1998) that this mini-genre gained its first respectable treatment. Judge and Jury is no different to any of these others. Its major difference over its predecessors is in treating the exercise as less of a horror film than as a supernatural action film of sorts with villain David Keith pursuing hero Martin Kove amid car chases and a good many explosions, where Keith's principal weapon is a shotgun as opposed to any ghostly arsenal of tricks.
Judge and Jury is made by John Eyres who previously made various direct-to-video efforts such as Project: Shadowchaser (1992) and sequels. (See below for Eyres' other films). To say that Judge and Jury was John Eyres' best film up to this point does not come as any great recommendation – certainly, Judge and Jury is never a film that rises above the wholly average in any way.
Eyres pays even less lip service than most action directors do to the nominal need for a plot to connect action sequences together. The Project: Shadowchaser films are astounding for the minimalist motivation with which the proceedings are conducted. Judge and Jury is a marginal improvement, with Eyres at least paying some attention to character (or at least actor-driven scenes) at the beginning – there is a nice scene with David Keith taunting a priest who reads him the last rites.The rest of Judge and Jury is like a single 90-minute chase sequence without any stops for plot, character development or anything.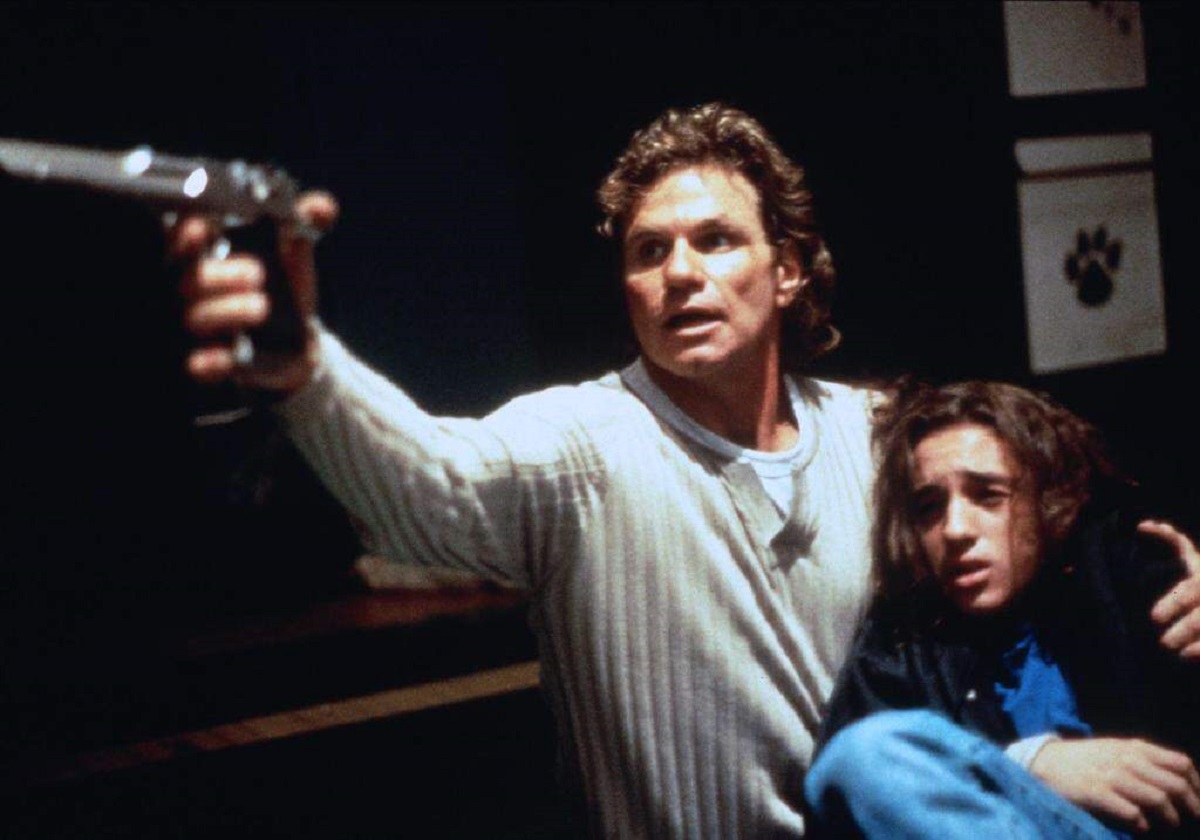 Eyres has improved stylistically as a director to a certain extent, with some sequences being occasionally evocative rather than the mindless brutalising action of earlier Eyres films like Project: Shadowchaser II (1995). (Although, there is one contrived and silly sequence that requires hero Martin Kove to kick a goal with a flaming football).
David Keith has never appeared to be having more fun in a role than he is having here, playing wildly over the top while getting to dress as everything from an Elvis impersonator, a French chef (with an accent and mustache that both seem to be in competition to be the most outrageously false), a biker with a flaming orange hair dye job, in drag, a bespectacled academic in a tweed jacket, a clown and a stand-up comic.
John Eyres' other genre films are:– Goodnight, God Bless (1987), Project: Shadowchaser (1992), Monolith (1994), Project Shadowchaser II (1995), Project Shadowchaser III (1995), Octopus (2000) and Ripper: Letter from Hell (2001). Eyres has also produced other genre films like Xtro II: The Second Encounter (1991), The Runner (1992), Dark Planet (1996), The Apocalypse (1997) and Spoiler (1998).
---
Trailer here
---