---
USA. 2010.
Crew
Director/Producer – Andrew Shortell, Screenplay – Lawrence Robinson, Photography – Shane Daly, Music – James Edward Barker, Visual Effects – Beach VFX (Supervisor – Gary E. Beach), Special Effects Supervisor – Martin Pryca, Makeup Effects – Brian Wade EFX Group, Inc, Production Design – David Baxa. Production Company – Green Card Pictures/International Production Company.
Cast
Sara Foster (Roslyn Hanniger), Cary Elwes (Dr Irvin Clement), Gabriel Mann (Cole Hanniger), Michael Biehn (Detective Marling), Colleen Camp (Beth), Winter Avi Zoli (Emma), Susie Amy (Ann Marks)
---
Plot
Roslyn Hanniger takes a job filing patient documents at the about-to-be-closed St John's hospital. Working at night, she is fearful at reports of the serial killer known as The Nighthawk prowling the streets. She befriends Dr Clement, a psychiatrist working several floors above. Her relationship with her husband Cole has become strained over her desire to have a baby and his not wanting to. She asks advice of Clement who pushes her past her reluctance to discuss the incident that had her placed in the hospital several years ago. At the same time, someone appears to be stalking her in the hospital, while suspicions indicate that Cole might be The Nighthawk.
---
Psych 9 was a directorial debut for Andrew Shortell who had previously made a couple of short films but has done nothing since. Despite being an unknown, Shortell has managed to assemble some moderately well-known names on the cast line-up.
The basic premise of Psych 9 is strongly reminiscent of the fine Danish thriller Nightwatch (1994) and its' also worthwhile English-language remake Nightwatch (1998) about a young novice security guard working the nightshift at the morgue who finds sinister happenings occurring around the building and someone playing games on him. In both films, there is also a serial killer lurking in the background. The other film one kept being reminded of was Session 9 (2001), which was also set in an abandoned psychiatric institution and featured people on clean-up detail before arriving at a very similar twist ending.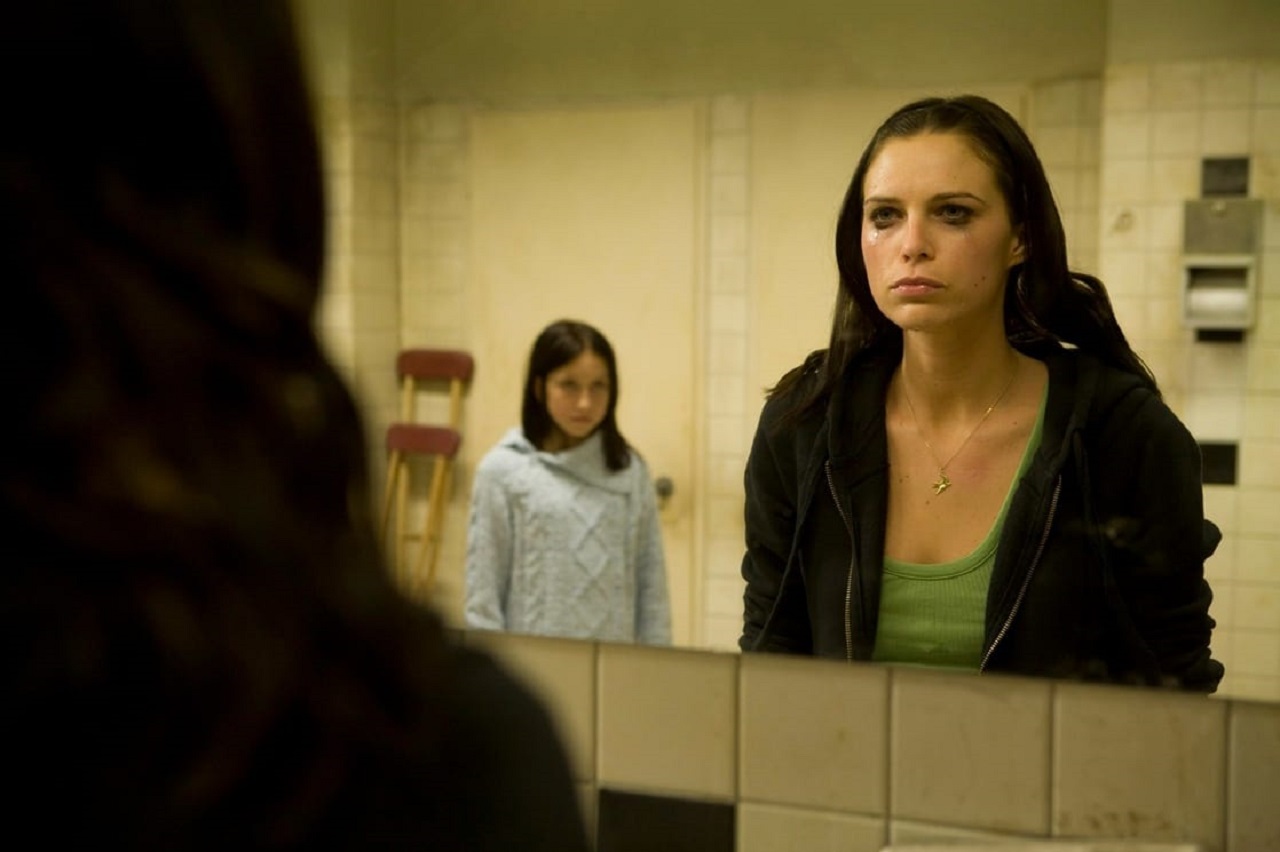 In this regard, Psych 9, though familiar, holds interest for a time. It lines up a variety of supporting characters – Gabriel Mann as Sara Foster's husband, Michael Biehn's detective and Cary Elwes as the friendly psychiatrist – all of whom it serves to deflect suspicion onto, in between a series of flashbacks to past incidents and hints about the heroine's troubled psychiatric history. This includes even making us wonder if Sara Foster herself is The Nighthawk. Everything vies between suspicion and uncertainty as to whether everything is being imagined, all of which is very familiar territory for this kind of film.
It leaves you hoping that Psych 9 is going to do something with the material and pull off an ending that is striking and original. Only it never does. [PLOT SPOILERS] The end revelation seems to give us the impression that Cary Elwes's psychiatrist was imagined in Sara Foster's head. A film with a big The Sixth Sense (1999) and Session 9-styled conceptual reversal twist ending needs to make its big aha moment stunningly clear and let us see how everything falls into sudden place. However, nothing in the revelation here is very clear. The film ends leaving us with no clear idea as to who The Nighthawk was, whether it was 'Dr Clement' or who. The epilogue gives us a now blonde Sara Foster settling in with a child in the crib and husband in the corner, along with the disquiet suggestion that things are bubbling away beneath this cosy picture of domesticity.
---
Trailer here
---