aka Dracula's Dog
---
Crew
Director – Albert Band, Screenplay – Frank Ray Perilli, Producers – Albert Band & Frank Ray Perilli, Photography – Bruce Logan, Music – Andrew Belling, Makeup Effects – Zoltan Elek & Stan Winston, Art Direction – PFOM. Production Company – Vic Productions.
Cast
Michael Pataki (Michael Drake/Count Dracula), Jose Ferrer (Inspector Branco), Reggie Nalder (Veidt Smit), Jan Shutan (Marla Drake), Arleen Martell (Major Hessle), Libbie Chase (Linda Drake), John Levin (Steve Drake)
---
Plot
While conducting excavations, the Romanian army accidentally uncover the tomb of the Draculas. A guard inadvertently removes the stake from the body of Dracula's vampire dog Zoltan, whereupon it returns to lif and tears his throat out. Zoltan revives Dracula's partially undead manservant Veidt Smit. The two travel to California to find the modern day descendants of Dracula and serve them. This happens to be psychologist Michael Drake and his family. As the Drakes go away on holiday, Smit and Zoltan pursue, determined to make Michael accept his inheritance.
---
Most people who hear the title think the film is a joke – but Zoltan … Hound of Dracula/Dracula's Dog is a real film. The product on display is played with a remarkable restraint that belies either the brainlessness or the sheer chutzpah of the concept – it is hard to decide which. And the film lives up to none of it – being neither truly bad nor playing itself zestfully tongue-in-cheek. It is only a B film of no distinguishing interest.
More than anything, one feels that Zoltan … Hound of Dracula has been put together to exploit the interest in killer canines as a result of The Omen (1976). Before that the popular genre of animals amok films that had begun in the earlier part of the decade with films like Willard (1971) and Frogs (1972), culminating in the runaway success of Jaws (1975). This had given birth to a couple of killer dog pack films the previous year with Dogs (1977) and the quite good The Pack (1977). That combined with the box-office popularity of the Hammer Dracula films with Christopher Lee and the great body of vampire movie imitators that grew up in the 1970s.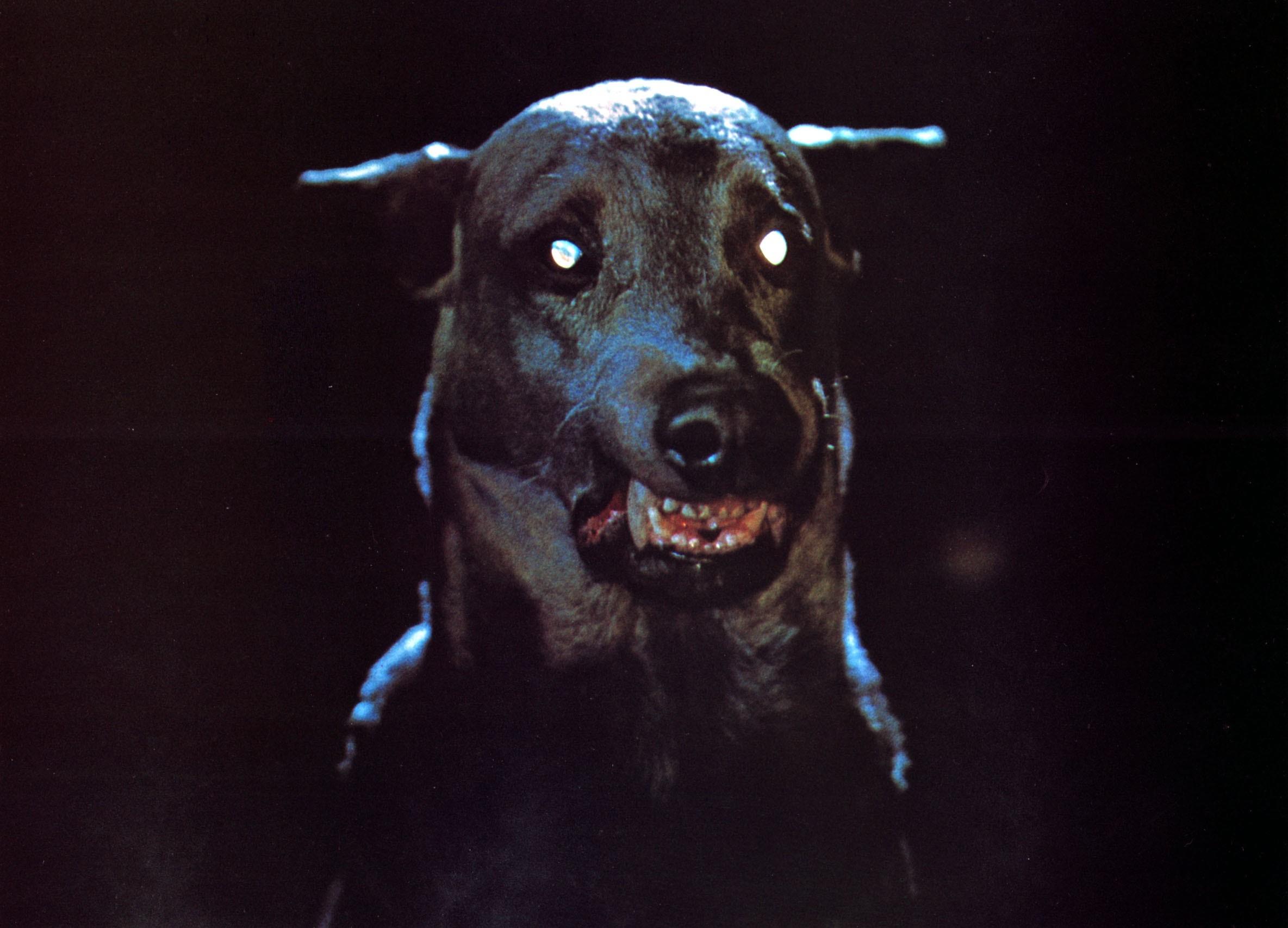 Some of the canine attack scenes are reasonably gory and vicious, while the siege climax maintains a reasonable tension. The film's one casting coup is the amazingly gaunt, cadaverous presence of Reggie Nalder. However, Michael Pataki's harsh, thuggish presence as the hero becomes a turnoff – one has difficulty believing he is a psychologist and the film wisely limits the flashback scenes of him doubling as Dracula to a minimum. A sense of humour emerges upon one occasion – when informed of his heritage as a Dracula, Michael Pataki comments: "I'm going to sue all those people for making Dracula movies without my permission".
Into the 1980s, director Albert Band became a prolific producer of low-budget video-released sf and horror films. He founded both Empire Films and Full Moon Productions. Under these labels, both he and his son Charles oversaw the likes of the Ghoulies, Trancers, Puppetmaster and Prehysteria! series of films, among numerous others. As director, Albert Band only made a handful of other films including genre entries such as the fascinating I Bury the Living (1958), Ghoulies II (1987), Doctor Mordrid (1992), Robot Wars (1993), Prehysteria! (1993) and Prehysteria! 2 (1994).
---
Trailer here
---