---
Crew
Director – Dan Trachtenberg, Screenplay – Josh Campbell, Damien Chazelle & Matthew Stuecken, Story – Josh Campbell & Matthew Stuecken, Producers – J.J. Abrams & Lindsay Weber, Photography – Jeff Weber, Music – Bear McCreary, Visual Effects Supervisor – Luke McDonald, Visual Effects – Kelvin Optical Ltd., Special Effects Supervisor – Matthew James Kutcher, Makeup Effects Supervisors – Matthew W. Mungle & Clinton Wayne, Production Design – Ramsey Avery. Production Company – Bad Robot.
Cast
Mary Elizabeth Winstead (Michelle), John Goodman (Howard), John Gallagher Jr (Emmett DeWitt), Suzanne Cryer (Lindsey)
---
Plot
Michelle leaves her boyfriend and starts driving, only to be hit by a vehicle on the road. She comes around to find that she is a prisoner in a cellar. She is let free by her captor Howard and finds that she is in a survival shelter, along with one other guy Emmett. Howard is insistent that she not go outside because a catastrophe of unclear origin that has poisoned the air. As she settles in to their life there together, Michelle remains disbelieving of Howard's certainty that the world up above is unsafe and contrives to make repeated escape attempts. She also comes to suspect that Howard might have abducted her and killed another girl he kept in the shelter.
---
10 Cloverfield Lane is a quasi-sequel Cloverfield (2008), the J.J. Abrams produced Found Footage film about a monster loose in New York City. It is a sequel only in the sense that both films use the same name in the title and come from many of the same personnel (Abrams and his Bad Robot company again produce, while Cloverfield director Matt Reeves and screenwriter Drew Goddard are also present as executive producers). The interesting name on the script is that of Damien Chazelle, director of the acclaimed likes of Whiplash (2014), La La Land (2016) and First Man (2018). Director Dan Trachtenberg makes his debut here, having previously directed commercials and been the host of a fan videocast, subsequently going on to direct the Predator sequel Prey (2022).
There is the same general theme in both films about people trying to survive in the midst of a catastrophe where details about what has happened are kept extremely vague, as well as a very minor sense of continuity tie-up in the use of some of the same fictional brand names. On the other hand, Cloverfield was a Found Footage film, while 10 Cloverfield Lane is not. 10 Cloverfield Lane is also the only one of the films in which the name 'Cloverfield' has some significance – towards the end, a sign reveals that the title refers to the street address where John Goodman lives. This was apparently the first in an intended series of Cloverfield films and would be followed by a third film The Cloverfield Paradox (2018) and others announced.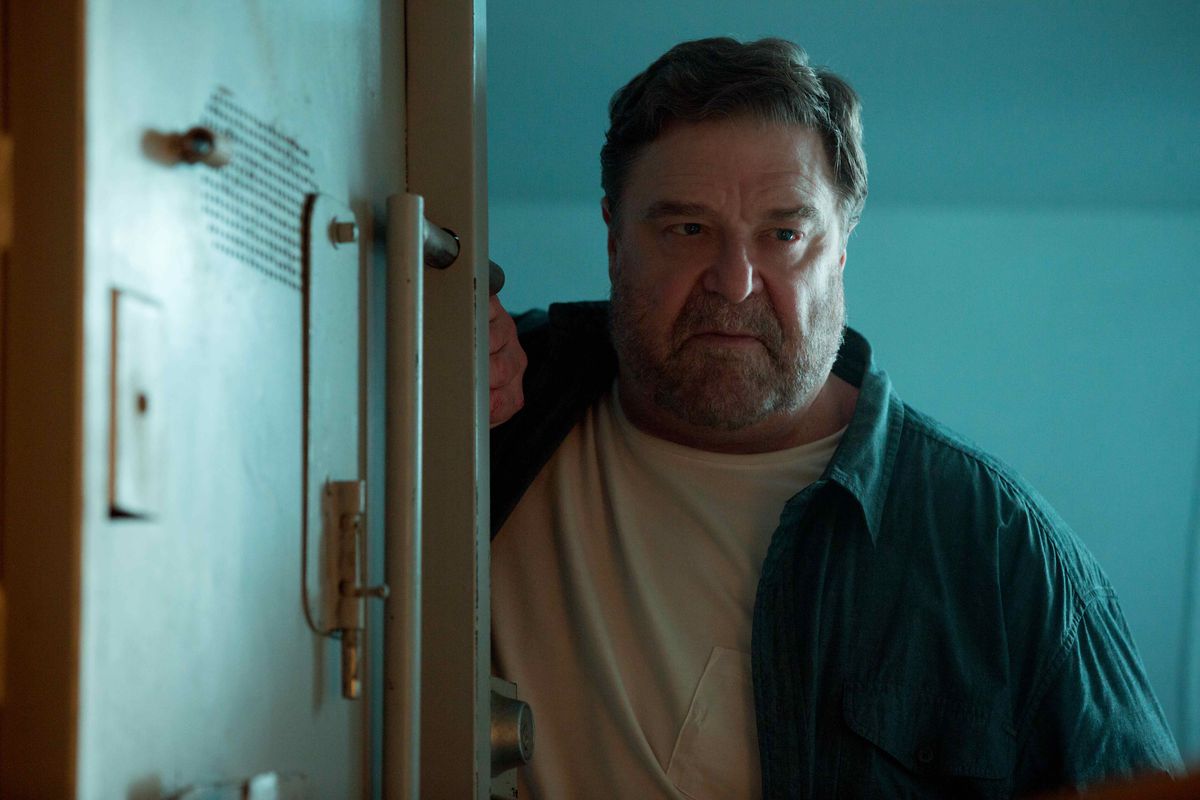 Most J.J. Abrams films are made in a veil of secrecy. Abrams loves building his films as a trailer tease with everything – sometimes even what the film is about – being kept under wraps. It is the same approach that worked well for many of M. Night Shyamalan's early films back when he was being sold as the conceptual twist reversal director. In the case of the original Cloverfield, the title of the film was not even announced until only a few months before release. 10 Cloverfield Lane was made under a similar veil of complete secrecy, being shot under the title Valencia and the world knew nothing about it until the trailer went out in January of 2016, two months before the film's release. Even then, the trailer told very little – just a domestic scenario (no hint that we were in a bunker), followed by a scene where John Goodman pleads with Mary Elizabeth Winstead not to go outside.
The resulting film telescopes down to a chamber drama – one that is set in a survival shelter for 95% of its running time. (It would not be difficult, for instance, to rewrite the entire story as a play). The central drama that fires the film is the question of what has happened in the outside world, of which we are given few details, and whether John Goodman's central character is right in what he says, a paranoid crazy or even worse. This makes the film not dissimilar in its premise to Take Shelter (2011) wherein Michael Shannon was a family man who was certain that the apocalypse was about to happen and wanted to built a shelter, while everyone around him thought he was going crazy. The main difference is that Take Shelter was located above ground and the shelter had not yet been built, while this takes place entirely inside the shelter. Both films though vie between the same ambiguity as to whether the central male character is crazy and whether the disaster is real or not. There are also a number of similarities to Hidden (2015), released some months earlier, about people taking refuge in a fallout shelter where we were unsure what the threat on the surface they were facing was.
The entire film sits in this place of ambiguity – about exactly what happened up above ground, about how crazy John Goodman is and what happened with the girl he claims was his daughter. This it does reasonably well and Dan Trachtenberg, a first-time director, engages us in the drama of Mary Elizabeth Winstead's attempts to escape and the delivery of a number of twists and jolts. In particular, John Goodman, a great actor who has been too quiet in the last few years, gives a real barnstormer of a performance that keeps the show going.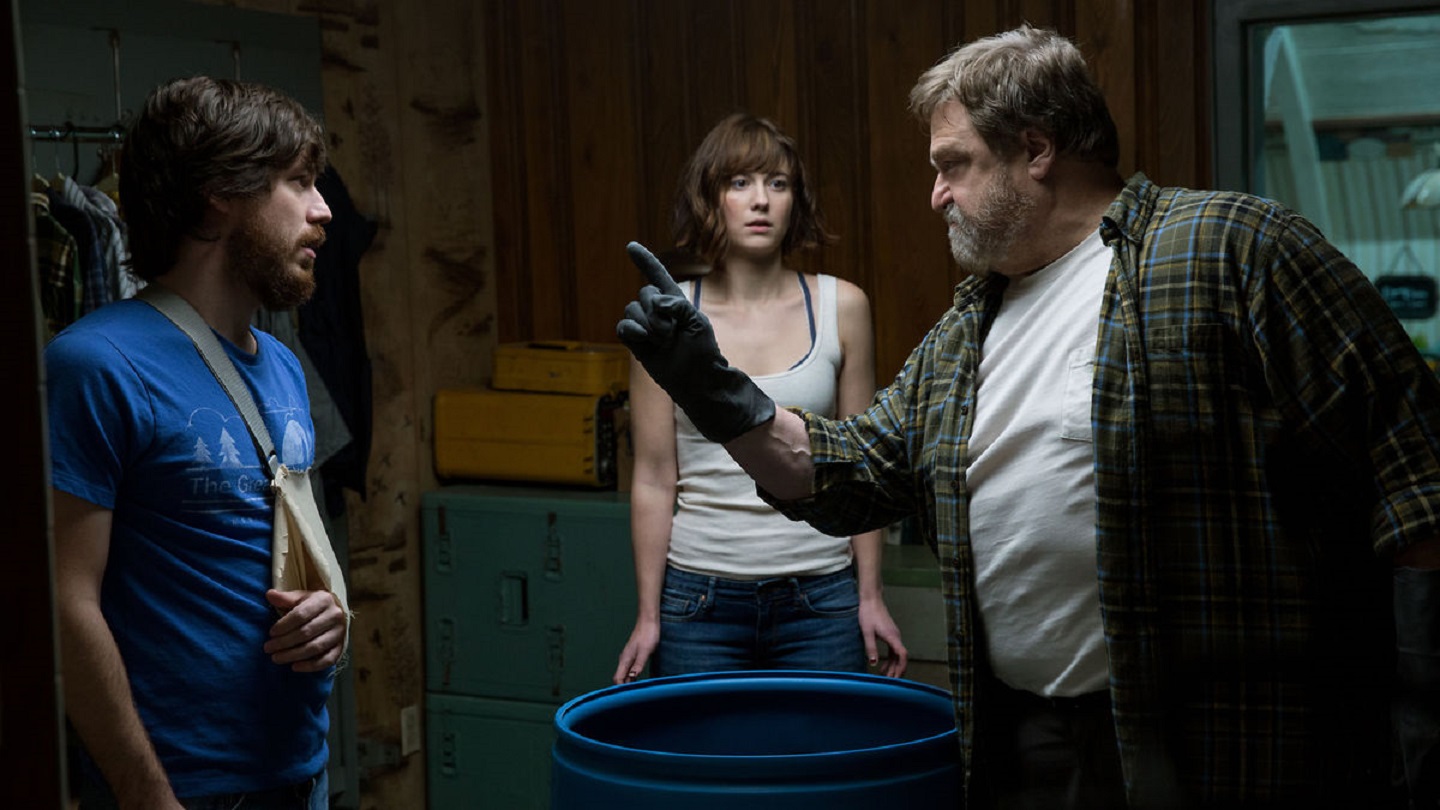 Though 10 Cloverfield Lane received good reviews and it is certainly a better film than Cloverfield, my feeling was that the tension is effective but never truly keeps you on the edge of the seat. A point of comparison might by Xavier Gens's The Divide (2011), a brutally harrowing story that had a group of people imprisoned in a cellar after the advent of a nuclear war. That was a film that pushed as far as it could go and scoured the depths of the human condition. By contrast, 10 Cloverfield Lane seems far tamer. Dan Trachtenberg generates a reasonable level of tension but Mary Elizabeth Winstead's feeling of imprisonment, of just how much we feel we should not trust John Goodman never seems to hang on a knife-edge (although there is at least one good shock three-quarters of the way through the film).
And then there is the ending [PLOT SPOILERS]. Many audiences called it a WTF ending but I have seen too many similar things done in recent years. We get alien ships of ill-explained purpose, there is a moderately upbeat finale where Mary Elizabeth Winstead destroys one of the ships and then sets off to join the resistance. A good WTF ending either comes as a jaw-dropping surprise or throws everything that has gone before on its head but this is more one that leaves you with a dissatisfied feeling of wanting to know more about what is going on.
(Nominee for Best Actor (John Goodman) at this site's Best of 2016 Awards).
---
---