---
USA/Germany/Canada. 2004.
Crew
Director – Jonathan Hensleigh, Screenplay – Jonathan Hensleigh & Michael France, Based on the Comic Book Created by Gerry Conway, Producers – Avi Arad & Gale Anne Hurd, Photography – Conrad W. Hall, Music – Carlo Siliotto, Music Supervisor – David Jordan, Visual Effects – Fantasy II Film Effects (Supervisor – Gene Warren Jr), Special Effects Supervisor – Kevin Harris, Makeup Effects – Matthew W. Mungle, Production Design – Michael Z. Hanan. Production Company – Marvel Enterprises/Valhalla Motion Pictures/Film and VIP 2 Co Medienfonds GmBh/Film and VIP 3 Co Medienfonds GmBh/Lions Gate Films.
Cast
Thomas Jane (Frank Castle), John Travolta (Howard Saint), Will Patton (Quentin Glass), Rebecca Romijn-Stamos (Joan), Ben Foster (Dave), John Pinette (Bumpo), Laura Harring (Livia Saint), Eddie Jemison (Mickey Duka), Samantha Mathis (Maria Castle), Roy Scheider (Frank Castle Sr), Mark Collie (Harry Heck), Kevin Nash (The Russian), Marcus Johns (Will Castle)
---
Plot
FBI agent Frank Castle goes undercover to bust an arms dealing operation but this ends in a shootout. One of those killed turns out to be the son of wealthy underworld banker Howard Saint. Saint swears vengeance and tracks Frank down to Puerto Rico where he is holidaying with his family. There Saint has his men massacre Frank's entire family and leave Frank for dead. However, Frank survives and returns to Tampa where he takes a room in a rundown tenement, arms himself and begins taking violent revenge against Saint's organisation. At the same time, the three other tenants in the house befriend the grim and tight-lipped Frank but this serves to make them targets for Saint's men.
---
The immense success of X-Men (2000) created a great deal of interest in the cinematic potential of Marvel Comics properties. From there we went to the massively successful Spider-Man (2002), which opened up a gateshed of Marvel adaptations that has so far included the likes of Daredevil (2003) and Hulk (2003) and subsequent to The Punisher, Elektra (2005), Fantastic Four (2005), Man-Thing (2005), Ghost Rider (2007), Iron Man (2008), Captain America: The First Avenger (2011), Thor (2011), The Avengers (2012), Guardians of the Galaxy (2014), Ant-Man (2015), Deadpool (2016), Doctor Strange (2016), Black Panther (2018), Venom (2018), Captain Marvel (2019), Black Widow (2021), Eternals (2021), Shang-Chi and the Legend of the Ten Rings (2021) and various sequels to most of these, as well as the tv series' Agents of S.H.I.E.L.D. (2013-20), Daredevil (2015-8), Agent Carter (2015-6), Jessica Jones (2015-9), Luke Cage (2016-8), The Defenders (2017), Inhumans (2017), Iron Fist (2017-8), The Punisher (2017-9), Runaways (2017-9), The Falcon and the Winter Soldier (2021- ), Hawkeye (2021- ), Loki (2021- ), WandaVision (2021- ), Moon Knight (2022- ), Ms Marvel (2022- ), She-Hulk: Attorney at Law (2022- ) and Secret Invsion (2023).
The Punisher first appeared in Amazing Spiderman #129 in February 1974. In that story, The Punisher was the villain of the piece who was stalking Spiderman, believing him to be a murderer. The response to the character was positive and Frank Castle/The Punisher made return appearances up against various other characters in the Marvel universe. The Punisher had been inspired by Don Pendleton's The Executioner thrillers, from which Marvel subsequently virtually xeroxed the origin story of a character seeking vigilante justice for the murder of his family by Mafia. Marvel were reluctant to grant The Punisher his own series, with many higher-ups in the company finding the concept of a murderous, ultra-violent vigilante contrary to Marvel's family line. When those responsible were finally allowed to do a limited five issue series in 1986, it proved a best-seller and The Punisher has remained at the forefront of the Marvel line-up ever since. By the mid-1990s, The Punisher was appearing in three simultaneous series and various graphic novel specials, including a crossover into the DC Universe to face Batman and, at one point, even a meeting with quintessential comic book Boy Next Door-type Archie. The character previously appeared on screen in The Punisher (1990), starring Dolph Lundgren in the title role. Although the character was shorn of his trademark black skull costume in the film, this was a highly enjoyable adaptation that strode a fine line between dark avenging psychosis and tongue-in-cheek.
This version of The Punisher is a collaboration between Marvel's specially formed film production wing and Gale Anne Hurd's Valhalla Motion Pictures (who also co-produced the adaptation of Marvel's Hulk). The Punisher was the directorial debut of Jonathan Hensleigh. Hensleigh began as a scriptwriter on The Young Indiana Jones Chronicles (1992-3) and then branched out with scripts for films such as Die Hard with a Vengeance (1995), Jumanji (1995), The Saint (1997) and Armageddon (1998), as well as acting as an executive producer on various Jerry Bruckheimer action vehicles. Hensleigh subsequently went onto direct the horror film Welcome to the Jungle (2007) and the true-life crime film Kill the Irishman (2011).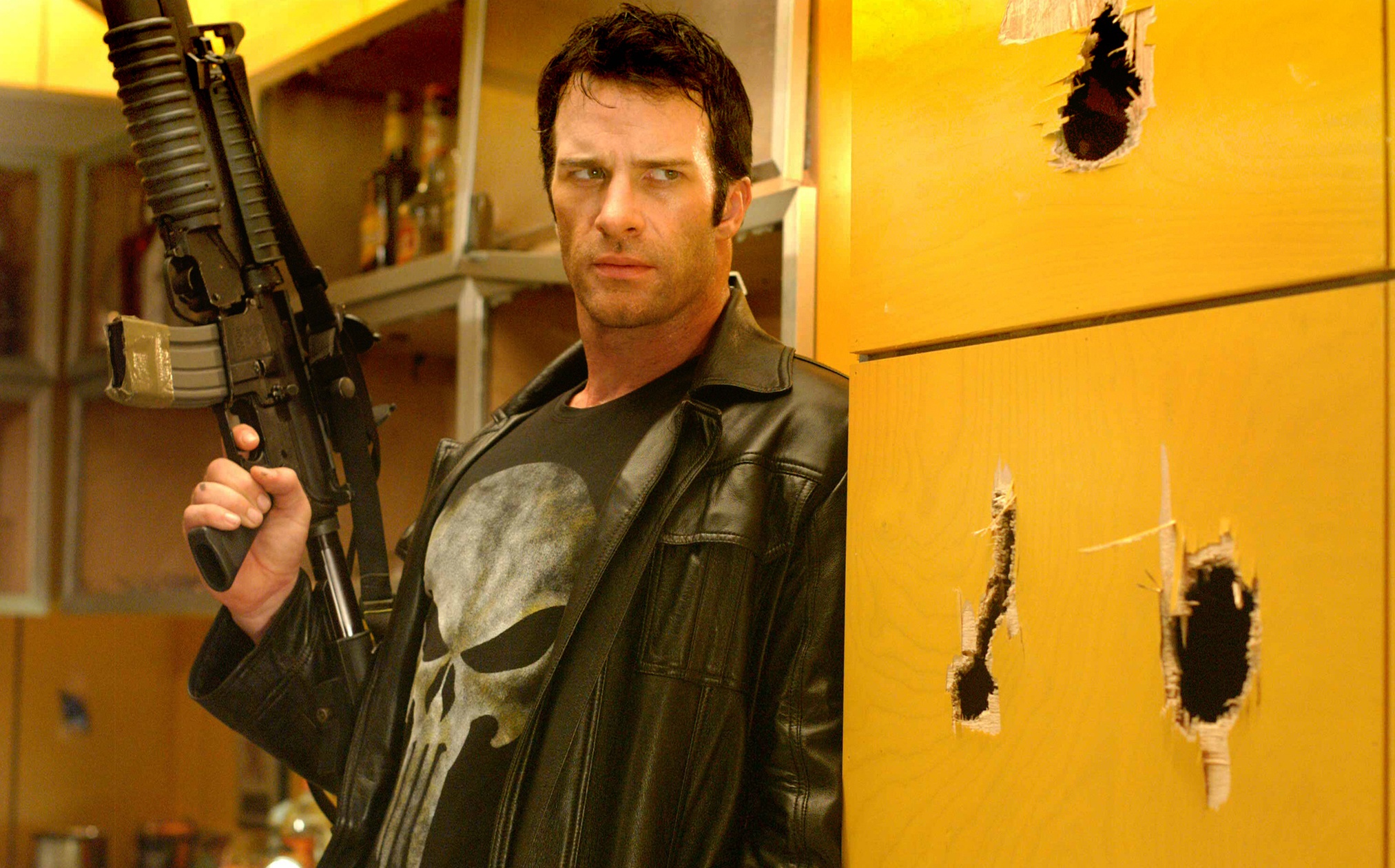 The Punisher is an uneven film. Though he has had a more than exemplary background as a scriptwriter and producer of big-budget action films, Jonathan Hensleigh proves less assured when it comes to directing action scenes himself. Various sequences such as the chase that culminates in the shooting of Castle's wife and son and the showdown with Harry Heck are routinely directed as action movies go. It is only at the climax of the film that Hensleigh touches upon a genuine sense of comic-bookish action – with Thomas Jane going into action with a bow and arrow, slashing opponents throats in welts of blood, impaling victims with a knife that can be seen coming up through the throat into their mouth and John Travolta left to be dragged across a lot tied to a burning car as Jane detonates explosives that leave the entire lot aflame in the shape of a burning skull. The Punisher is frequently and expectedly a violent film. Aside from the aforementioned, there is a nasty scene where Will Patton has Ben Foster at knifepoint and starts ripping out his piercings.
The rest of the time the film rarely touches upon the comic-bookish – Frank Castle seems only a big-budget version of Charles Bronson in Death Wish (1974) with a cool T-shirt. There is a good amount of time when Jonathan Hensleigh misjudges the tone and The Punisher falls into the campy – a scene where Thomas Jane has Eddie Jamison tied up and makes him think he is being tortured by cooking a steak with a blowtorch and applying a popsicle to his back; and especially where he takes on wrestler Kevin Nash in a bash-up match that demolishes most of the apartment block, a sequence that frequently verges on the slapstick.
In these scenes, Jonathan Hensleigh either seems to be pulling back on scenes that could have been much nastier and grimmer and going for a misjudged comic-bookish tone or the cutsie or both. A scene where Thomas Jane deals with Rebecca Romijn-Stamos's bullying boyfriend and merely grabs his switchblade and taps him on the forehead with it saying "You shouldn't play with knives" comes out laughably. Elsewhere, there are too many scenes with the unnecessary comic relief of Castle's three neighbours, scenes that, when Hensleigh stops the comedy, turn badly sentimental.
The Punisher is certainly the darkest of modern superheroes and predated The Dark Knight Returns (1986) where DC Comics patented the Dark Avenging Superhero look. Alas, Jonathan Hensleigh seems unattuned to the Dark Avenger ethos. The film is too long and neither dark nor kinetic enough to work effectively. Thomas Jane certainly gives a brooding, if lantern-jawed, Frank Castle, but it is not often that the film seems to inhabit the psychological darkness of the Dark Avenger comic-book.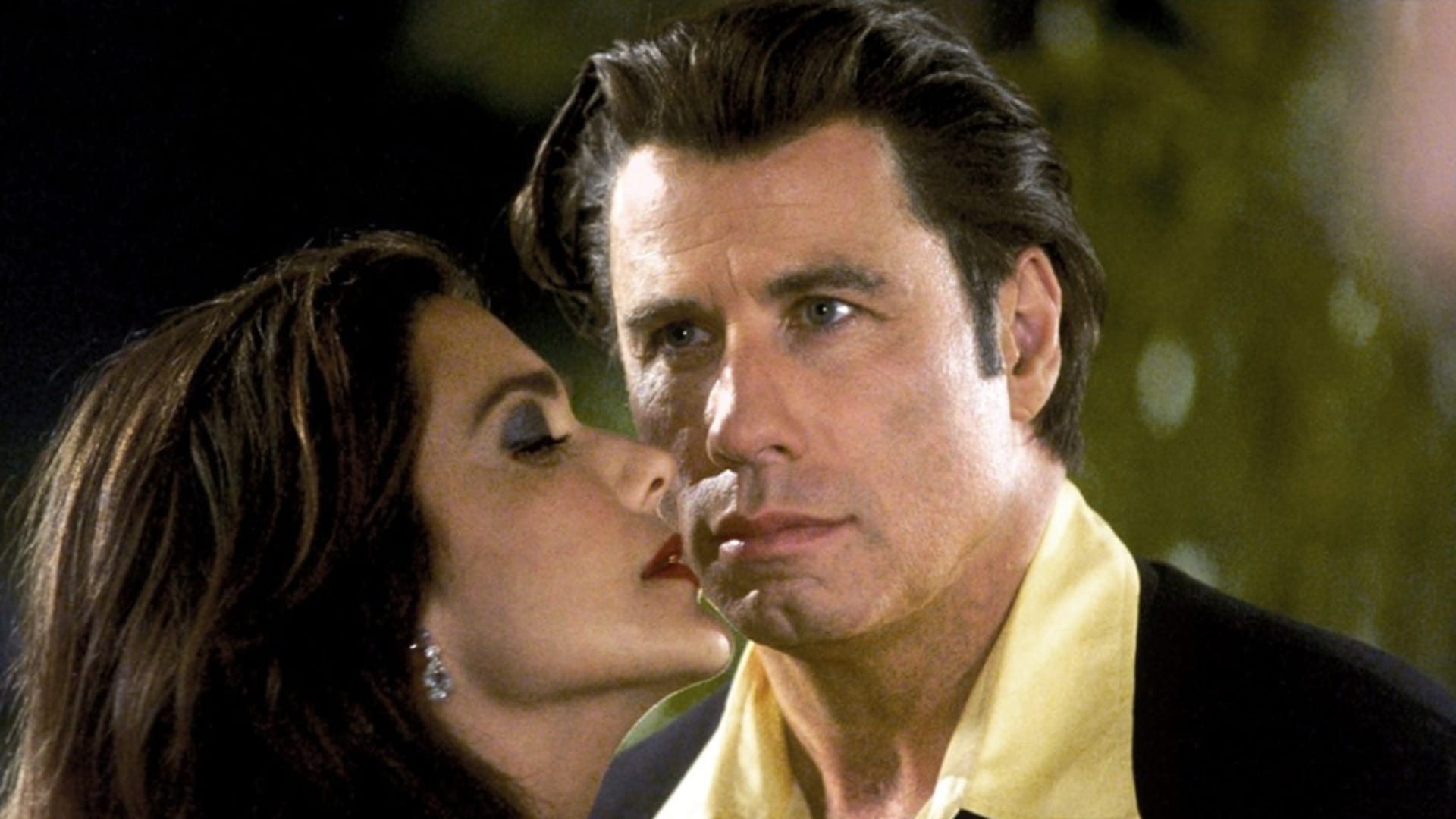 The film does have the benefit of John Travolta as the villain of the show. Travolta is good but the villain role he fills ends up being routine as a nemesis and certainly not of the stature that one expects of an actor of Travolta's calibre – compare Travolta's performance here to the way Jack Nicholson filled the villain role in Batman (1989) or Danny DeVito in Batman Returns (1992). Clearly, the producers were hoping to get more from John Travolta's casting than they succeeded in imagining for him to do.
Of the two films, The Punisher 90 is easily the better film, even though it discarded the character's costume, never concerned itself with an origin story and was the lesser budgeted of the two. It at least had a perfect sense of the comic-bookish and delved into the dark avenging vigilante psychology; The Punisher 2004, by comparison, looks more like another big-budget action film than it ever does a comic-book adaptation.
The Punisher was a reasonable hit and was followed by a superior sequel Punisher: War Zone (2008). Both Jonathan Hensleigh and Thomas Jane were absent and the title role recast with Ray Stevenson. The Punisher then appeared in the second season of the tv series Daredevil (2015-8) played by Jon Bernthal and was subsequently spun out in his own tv series with The Punisher (2017-9). Frank Castle also makes a cameo appearance in the animated Iron Man: Rise of Technovore (2013) voiced by Norman Reedus.
---
---