---
Crew
Director – Roy Del Ruth, Screenplay – Orville H. Hampton, Story – Orville H. Hampton & Charles O'Neal, Producer – Jack Leewood, Photography (b&w) – Karl Struss, Music – Irving Gertz, Special Effects – Fred Etcheverry, Makeup – Ben Nye & Dick Smith, Art Direction – John Mansbridge & Lyle Wheeler. Production Company – 20th Century Fox.
Cast
Beverly Garland (Joyce Hatton Webster/Jane Marvin), Frieda Inescort (Lavinia Hawthorne), Richard Crane (Paul Webster), George Macready (Dr Mark Sinclair), Lon Chaney Jr (Manon), Bruce Bennett (Dr Eric Lorimer), Douglas Kennedy (Dr Wayne MacGregor)
---
Plot
Jane Marvin, a nurse at the Webley Sanatorium, agrees to become a subject in a series of hypnotic experiments. However, once under hypnosis, she reveals that her real name is Joyce Webster and proceeds to tell a remarkable story. She married war veteran Paul Webster – but after receiving a telegram while on their honeymoon, he stepped off the train and vanished. She eventually tracked him down to a plantation mansion in the Louisiana swamps. She received a frosty welcome from the owner Mrs Lavinia Hawthorne who said that she did not know Paul. Joyce insisted in staying on and eventually discovered Paul was there. A scientist had been using the plantation to run a series of experiments in helping war veterans regenerate severed limbs using injections of alligator serum – but the experiments had gone wrong and Paul and the others were starting to turn into alligator people.
---
The Alligator People is a 1950s B-movie. (Although when it came out, it was considered sufficiently more than that for 20th Century Fox to release it in Cinemascope). It was clearly inspired by the success 20th Century Fox had the previous year's The Fly (1958) – it features the near-identical plot of a wife discovering that her husband has become an animal hybrid as the result of a lab experiment accident. There is also a peculiar mixture of elements from the then contemporary Bridey Murphy fad – the true-life sensation when a man claimed he had hypnotically regressed a woman to her past life, which was filmed as The Search for Bridey Murphy (1956) – with an unnecessary framing device in which the wife is hypno-regressed and reveals a repressed memory that consists of the events of the film.
The Alligator People is cheap looking. The alligator suit – one of the earliest makeup jobs from later Oscar-winning makeup effects man Dick Smith of The Exorcist (1973), The Hunger (1983) and Amadeus (1984) fame – has wrinkles in it, although the revelation of the reptile-skinned face is effectively kept to the shadows. Director Roy Del Ruth creates a certain torrid atmosphere out of cliché Southern Gothic elements – large, decaying, ivy-clad antebellum mansions in fetid swamps; lurking snakes and gators; servants that fear to say the things they could; crazed handymen.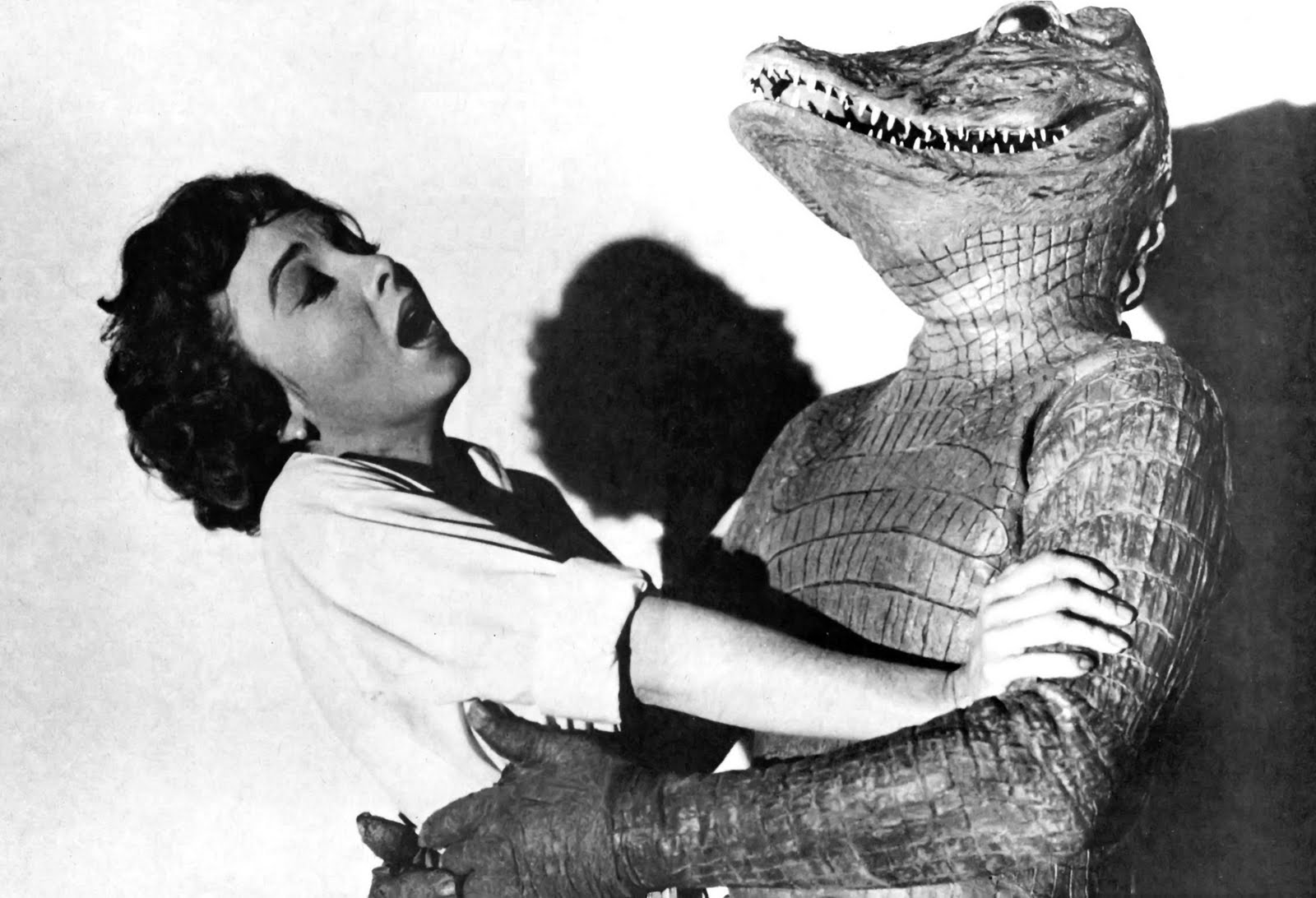 Roy Del Ruth builds everything to an effective head in a scene with heroine Beverly Garland pursued by Lon Chaney Jr's handyman, running past gators and snakes in the rain and mud. However, the film never gets too much more exciting than that. The climax is almost a wilful attempt to compact as many mad scientist clichés together as possible – with the drunken halfwit destroying the lab, the experiment going amok, Richard Crane mutating into a full alligator person and wrestling with alligators before being devoured in quicksand.
Roy Del Ruth was a director who had been working way back to the 1920s. He made the original The Maltese Falcon (1931) and various musicals, including several of the Broadway Melodies series. He made two other films of genre interest with the light fantasy ghost comedy Topper Returns (1941) and the Edgar Allan Poe adaptation Phantom of the Rue Morgue (1954).
---
Trailer here
Full film available online here:-
---