---
Crew
Director – Cate Shortland, Screenplay – Ned Benson, Eric Pearson & Jac Schaefer, Producer – Kevin Feige, Photography – Gabriel Beristain, Music – Lorne Balfe, Visual Effects Supervisors – Geoffrey Baumann & Lisa Marra, Visual Effects – Cantina Creative, Capital T (Supervisor – Jamie Hallett), Cinesite (Supervisor – Ben White), Digital Domian 3.0 (Supervisor – Dave Hodgins), Industrial Light and Magic (Supervisor – Jose Burgos & Craig Hammack Animation Supervisor – Mathew Cowie), lola l VFX (Supervisor – Trent Claus), Mammal Studios (Supervisor – Gregory P. Oehler), Rising Sun Pictures, Scanline VFX (Supervisor – Mathew Giampa), Trixter VFX (Supervisor – Dominik Zimmerle) & Weta Digital Limited (Supervisor – Sean Noel Walker), Special Effects Supervisor – Paul Corbould, Production Design – Charles Wood. Production Company – Marvel Studios.
Cast
Scarlett Johansson (Natasha Romanoff/Black Widow), Florence Pugh (Yelena Belova), David Harbour (Alexei Shostakov/Red Guardian), Rachel Weisz (Melina Vostokoff), Ray Winstone (Dreykov), O.T. Fagbenle (Rick Mason), William Hurt (Secretary Thaddeus Ross), Olga Kurylenko (Antonia Dreykov/Taskmaster), Ever Anderson (Young Natasha), Violet McGraw (Young Yelena), Liani Samuel (Lerato), Michele Lee (Oksana)
---
Plot
In 2016, Natasha Romanoff is a wanted fugitive, hunted by the US government because of her violation of the Sokovia Accords. She takes refuge in Norway where her fixer Rick Mason has picked up mail from her old Budapest flat. Among these is a letter that contains samples of the Red Dust. This has her hunted by the programmed killer Taskmaster. Returning to Budapest, Natasha finds Yelena Belova, her sister from when they were both children in Ohio back in 1995, posing as part of a Russian sleeper program. Yelena was a mind-controlled assassin of the Red Room program run by former general Dreykov until she was given the Red Dust, which freed her from the programming. Natasha believed she had assassinated Dreykov along with his daughter Antonia. She and Yelena now agree to team up to bring down the Red Room. However, finding Dreykov's whereabouts requires them to reunite Alexei Shostakov, aka the Red Guardian, the Soviet equivalent of Captain America, and Melina Vostokoff, who posed as their parents back in Ohio.
---
Black Widow – not to be confused with other films on the subject such as the serial The Black Widow (1947) and the psycho-thriller Black Widow (1987) that had Theresa Russell as a multiple husband killer – is a Marvel Comics character. She initially appeared in in an issue of Iron Man in 1964. In her original incarnation, she was a Soviet spy although defected after a romance with Hawkeye. She later gained enhanced abilities and longevity, while her origin was retconned to be part of the Soviet Black Widow superspy program. She gained her own short-lived title in 1970 and there have been sporadic comic-book issues dedicated to her. She has been a regular member of the comic-book Avengers, although unlike her screen counterpart her loyalties on the comic-book page have flip-flopped between spy and defector, criminal and superheroine. Prior to her screen incarnation by Scarlett Johansson in Iron Man 2 (2010), she had appeared in the animated films Ultimate Avengers (2006) and Ultimate Avengers II (2006.
The Marvel Cinematic Universe has had an extraordinary success since 2008 where they built out using some of the lesser-known superheroes to create an audience desire to see them teamed up together. This resulted in a massive popularity that came to completely obliterate everything else at the box-office as Marvel rolled out one production after another. These included Iron Man (2008), Captain America: The First Avenger (2011), Thor (2011), Guardians of the Galaxy (2014), Ant-Man (2015), Doctor Strange (2016), Black Panther (2018), Captain Marvel (2019), Eternals (2021), Shang-Chi and the Legend of the Ten Rings (2021), along with various sequels to these.
Black Widow was the first Marvel film released after The Great Pause that was the Corona Virus pandemic of 2020-1. The film was originally scheduled to go into wide theatrical release worldwide on May 1 2020 but this ended up being cancelled due to the theatrical closures under the pandemic. Unlike a host of other Disney releases that ended up being dropped to streaming media during the pandemic, Black Widow was held back for theatrical release until July of 2021.
As a result, Black Widow becomes the first MCU film to appear since Avengers: Endgame (2019) came out in April of 2019, a gap of sixteen months. Sitting down to immerse oneself back into the MCU again already feels like reconnecting with something from another entire lifetime ago. It is not just that the world has completely changed between then and now but the entire theatrical release model with a 90-day window before streaming that all of the MCU films were predicated around has vanished. Now Black Widow makes simultaneous appearance in theatres and on the Disney+ streaming service, while there is the widespread pessimism that the theatrical release will never recover if not is completely dead.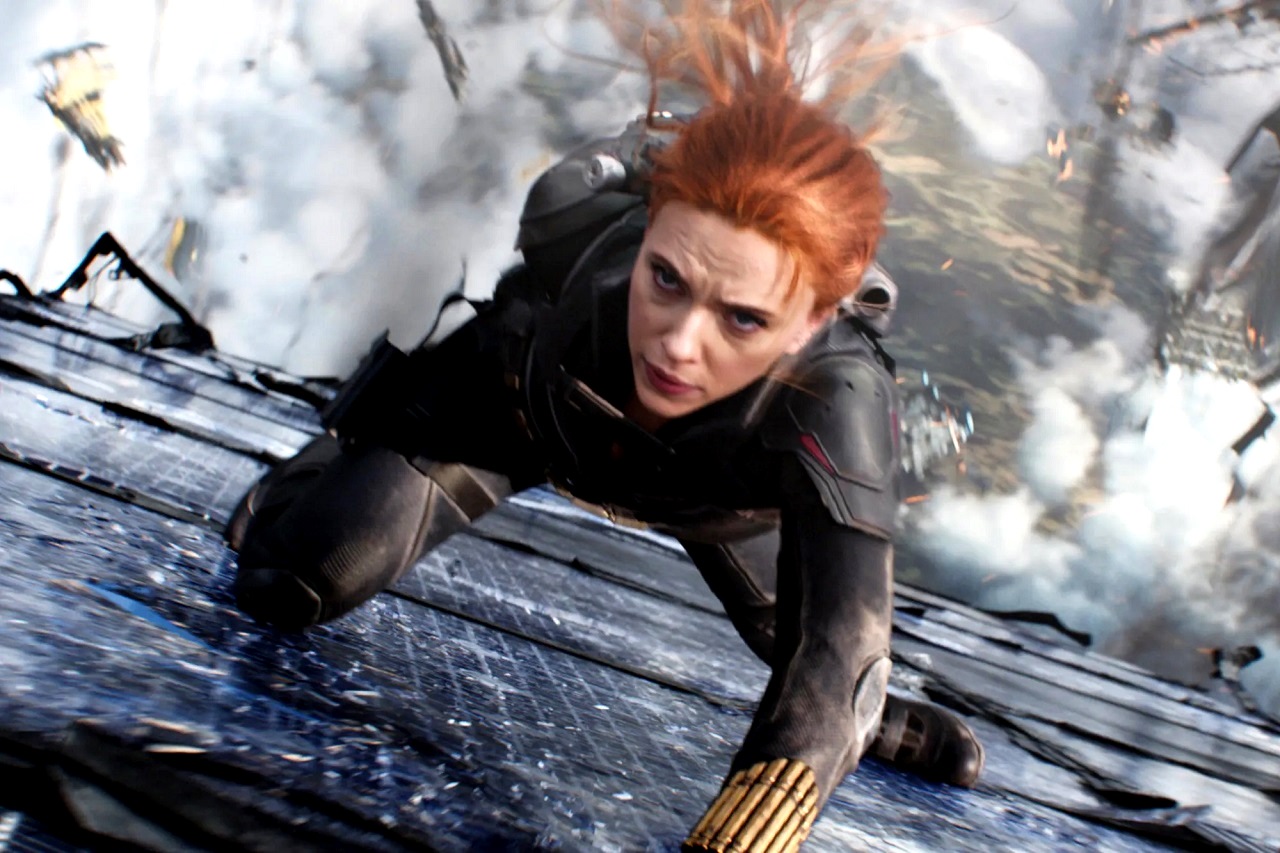 Certainly, there has been a steady stream of Marvel-based tv shows turn up throughout the pandemic with WandaVision (2021- ), The Falcon and the Winter Soldier (2021- ), Hawkeye (2021- ) and Loki (2021- ) but I have yet to drum up sufficient commitment to either the characters or universe to dedicate the time to making my way through these. Not to mention that by the point of Avengers: Endgame, most of the superheroes that formed the MCU from 2008-19 have either been killed off or sidelined. Black Widow, for instance, has to predate its action to back in 2016 sometime around or not long after the events of Captain America: Civil War (2016), due to the fact that Natasha Romanoff was killed off in Endgame.
I didn't go into Black Widow with much enthusiasm. Along with Hawkeye whose sole distinguishing feature is that he wields a crossbow, I have always found her one of the least interesting MCU characters. The character has never been anything more than Scarlett Johansson in a tight black vinyl bodysuit and some kick-ass moves. None of the other films have given us anything more than that, not even any reference to a background – in fact, I did not even realise she was a super-powered character on the comic-book page until I did background reading for this review. In fact, none of the films prior to this have even shown her in her chosen professions as a spy and assassin. What was there about the screen Black Widow that made one want to watch a film dedicated to her? My suspicion is that a large part of the focus driving the vBlack Widow film is the same "when are we going to see a female Marvel superheroine?" push for equality that was behind Captain Marvel.
And as Black Widow starts in, there is nothing much that dissuades me from that view. I am further switched off by listening Nirvana's Smells Like Teen Spirit (1991) reworked as a soft ballad over the opening credits – if there is anything that stands as direct oppose to the ethos of Kurt Cobain and the whole grunge movement, it is surely the hyper-merchandised, constantly recycled intellectual product Disney of the 2020s. The opening escape aboard the small plane seems faintly ridiculous with images of David Harbour hanging on a wing as the plane takes off and somehow managing to shoot a gun at the same time. The action scenes with Scarlett Johansson and Florence Pugh being hunted around the streets of Budapest by an APC feel like they are lesser copies of the sequences racing through the streets of Paris from Mission: Impossible – Fallout (2018).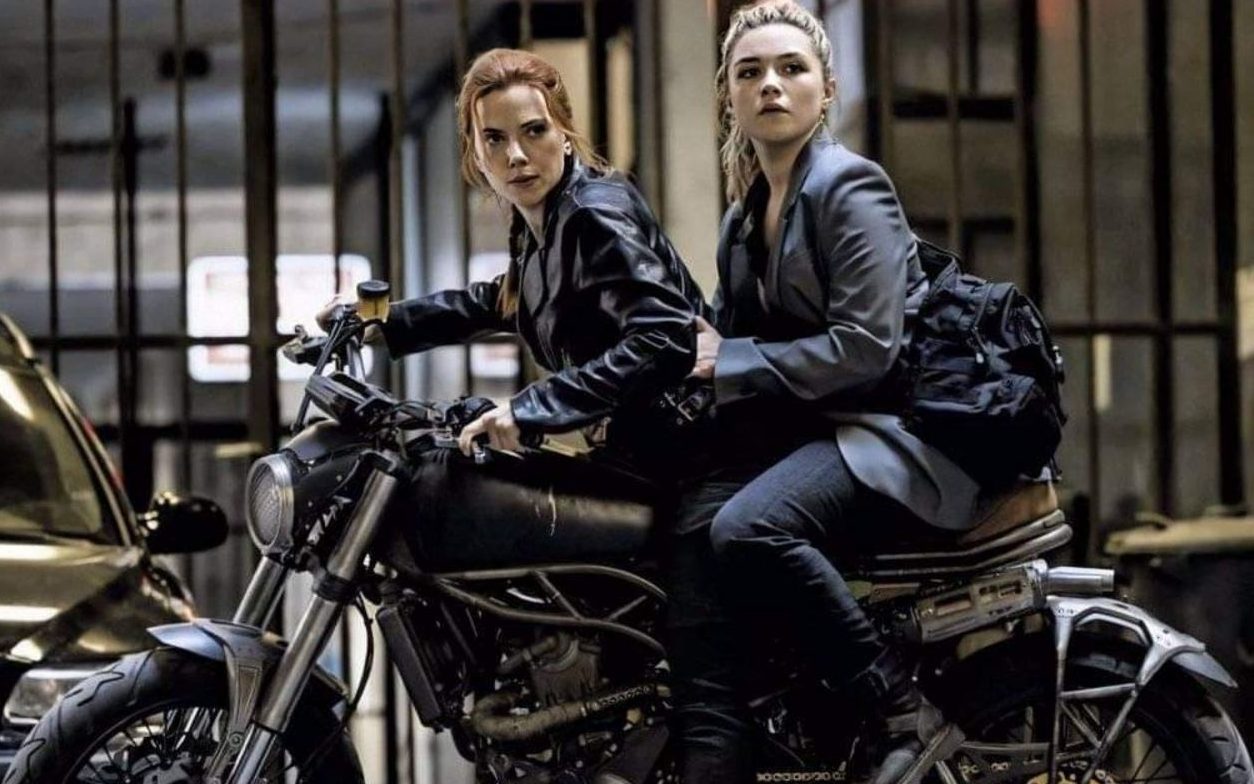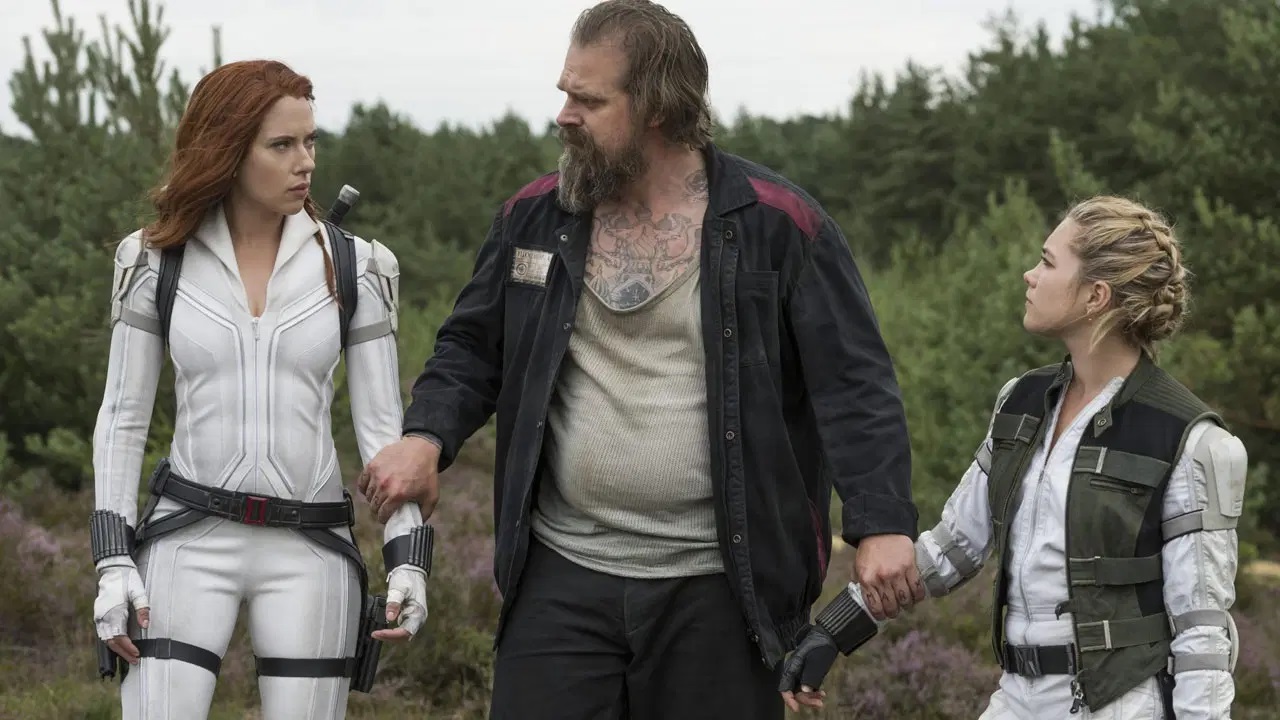 On the other hand, the film gains a major boost with the introduction of Florence Pugh who has been a name on the rise in the last few years in Little Women (2019), Midsommar (2019) and most impressively the tv remake of The Little Drummer Girl (2018). She and Scarlett strike up a great screen rapport, especially hilarious being her ongoing ribbing of Scarlett about her action pose. In fact, I think if Florence Pugh's Yelena were to inherit the role of Black Widow, the way she plays it would make for a far more interesting character than anything Scarlett Johansson has to date.
Things become even more entertaining when it comes to the reuniting of the 'family'. The flirtatious interplay between David Harbour and Rachel Weisz during the dinner scene is side-splitting. This actually becomes the best written arc and best piece of characterisation out of any MCU film to date where we see despite the foursome being a fake family as sleeper agents that the two children developed real emotional bonds with the parents at the same time as the two adults insist they were only playing a role. This family despite itself theme weaves throughout the film with some effect,
And the film proceeds to get better as it goes on. Cate Shortland, who impressed one greatly with her Wartime film Lore (2012), and had previously made the imprisonment thriller Berlin Syndrome (2017), does a solid job with the action in her first studio outing. There's the spectacular raid on the prison and in the later scenes with the Red Room falling apart as a parachuteless Scarlett and Olga Kurylenko fight in mid-air amid exploding pieces of debris. The action sequences do stand somewhat in the shadow of the Mission: Impossible films, while the latter sequence feels like a discarded scene from one of Michael Bay's Transformers films. On the other hand, while the Mission: Impossible films feel more like Tom Cruise's Ethan Hunt and a supporting cast of friendly faces, and at most Michael Bay's films come with an adolescent schoolboyishness, Black Widow gives its action sequences an appealing heart, camaraderie and humour that none of these have.
(Nominee for Best Supporting Actress (Florence Pugh) at this site's Best of 2021 Awards).
---
Trailer here
---