---
USA. 2010.
Crew
Director – Steve Pink, Screenplay – Sean Anders, Josh Heald & John Morris, Story – Josh Heald, Producers – John Cusack, Grace Loh & Matt Moore, Photography – Jack N. Green, Music – Christophe Beck, Music Supervisors – Steve Pink & Dana Sano, Visual Effects – Mr. X Inc. (Supervisor – Dennis Berardi), Additional Visual Effects – Level 256, Pixel Magic (Supervisor – Ray McIntyre Jr) and Rhythm & Hues Studios, Special Effects Supervisor – Clayton Orr, Makeup Effects – Charles Porlier, Production Design – Bob Ziembicki. Production Company – MGM/United Artists/New Crime.
Cast
John Cusack (Adam), Rob Corddry (Lou Dorchin), Craig Robinson (Nick Webber-Agnew), Clark Duke (Jacob), Sebastian Stan (Blaine), Crispin Glover (Phil), Chevy Chase (Hot Tub Repair Man), Lizzy Caplan (April), Lyndsy Fonseca (Jenny Steadmeyer), Collette Wolfe (Kelly), Crystal Lowe (Zoe), Jessica Paré (Tara), William Zabka (Rick), Kellee Stewart (Courtney Agnew), Jake Rose (Adam at 17), Aliu Oyofo (Nick at 17), Brook Bennett (Lou at 17)
---
Plot
Adam and Nick go to see Lou, their best friend from their teens, after learning that he has tried to commit suicide by gassing himself with carbon monoxide in his garage, although Lou is insistent that it was only an accident. With Lou released from hospital in their care, they decide to head up to the Silver Peaks Lodge at the Kodiak Valley ski resort where they last visited as teenagers in 1986. Nick is forced to bring along his nephew Jacob who has been left in his care since his mother's new boyfriend moved in. None of them are happy with their lives. They arrive to find the lodge dilapidated. Settling into the room they rented last time, they jump in the hot tub. However, some illegal Russian soda spills on the machinery of the tub and causes strange things to happen. When they wake in the morning, they find they are back in 1986 at the time they originally visited the lodge and in their teenage bodies. A strangely knowledgeable hot tub repairman warns them that they cannot change the future. And so they set out to follow through on the things that happened that weekend where Adam broke up with the girl of his dreams who then stabbed him in the eye with a fork; where Nick failed miserably in his stage debut with his band and thereafter gave up his dream of being a musician; and Lou was beaten up by a group of bullies. However, as they start to re-enact these things, the three of them cannot hold back the desire to improve things for the better rather than allowing them to turn out the way that history says they must.
---
When I initially heard of Hot Tub Time Machine, the idea had a wackiness that seemed like a conceptual collision between Bill and Ted's Excellent Adventure (1989) and one of the raucously crude and vulgar teen movies that were spawned after the success of Porky's (1982). The idea of time travellers returning into a parody of the pop culture of a particular era was previously conducted in The Spirit of 76 (1991), which satirically tripped through the 1970s, while the idea of a modern dissatisfied fortysomething returning to their teen years and inhabiting their younger body to sort their lives out for the better had previously been conducted in Francis Ford Coppola's Peggy Sue Got Married (1986).
Of course, the one time travel film that cannot help but cast a giant shadow over Hot Tub Time Machine is the quintessential 1980s hit Back to the Future (1985), from which all of the abovementioned time travel films draw their inspiration. Hot Tub Time Machine does not directly reference Back to the Future but the connection is something it is certainly aware of – it even has an extended cameo from Crispin Glover who played George McFly in Back to the Future and plays the one-armed porter here.
Moreover, Hot Tub Machine follows the same story arc as Back to the Future – both films end with a similar fantasy of straightening out the lives of downtrodden losers and having them return to the present following a few tweaks with history to find worlds where the principal characters are living the dreams they always wanted to. Both films derive much play from the pop culture from the eras and ironic commentary on the past – where Back to the Future had Michael J. Fox inspire Chuck Berry, Hot Tub Time Machine goes one further and has Craig Robinson stealing Black Eyed Peas songs as his own.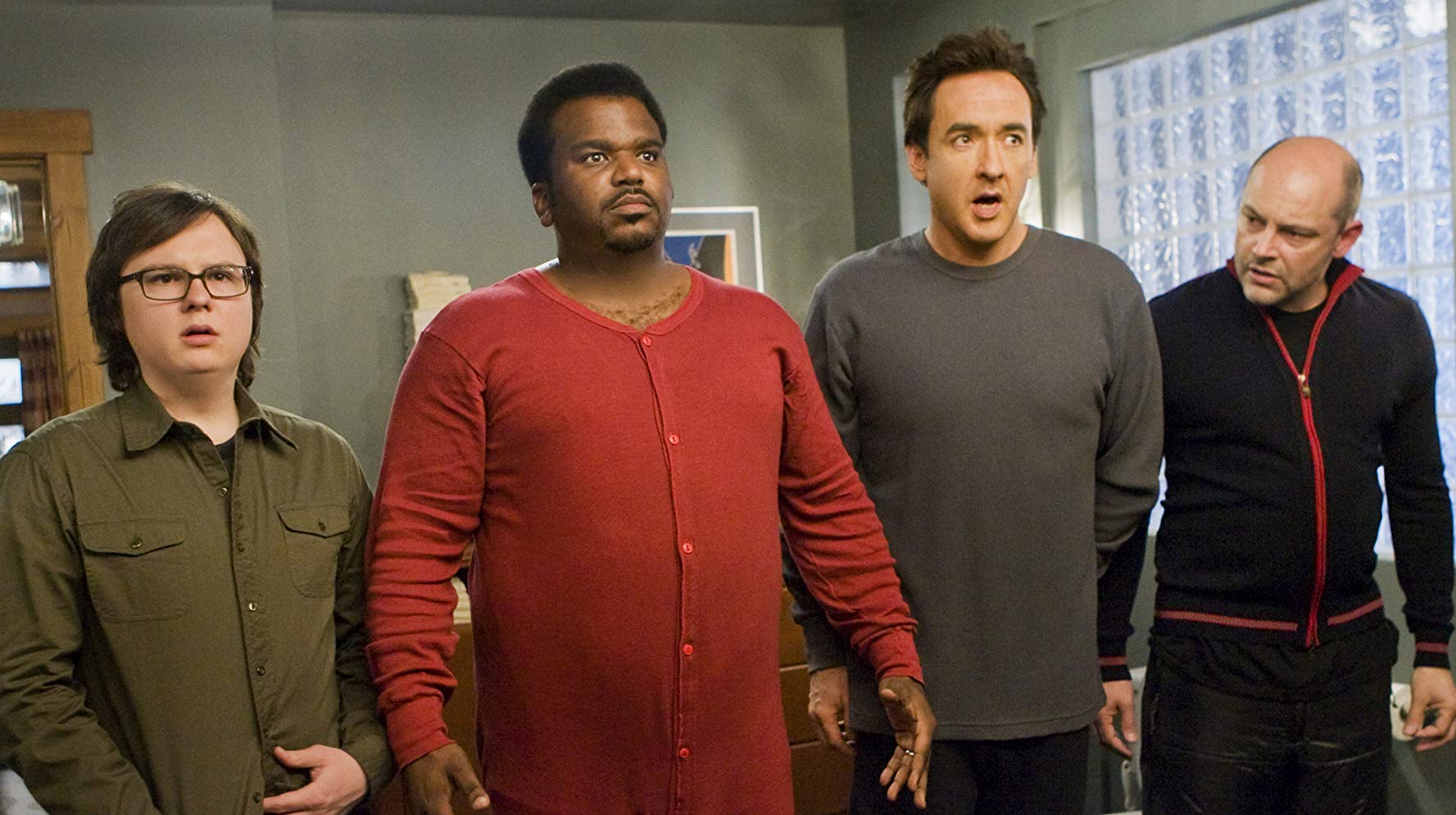 Where Back to the Future derived amusing complications out of Michael J. Fox's mother coming onto him and he finding his brothers and sisters fading out unless he got his parents together, Hot Tub Time Machine more vulgarly has teenage kid (Clark Duke) wandering in on Rob Corddry having sex with his mother and reacting in disgust only to wipe out his own existence, whereupon Corddry turns the mother over and resumes banging her in order to bring Duke back to life.
The publicity machine compared Hot Tub Time Machine to the previous year's runaway box-office hit The Hangover (2009) about four guys on a party trip gone wrong amid much ribald hilarity. For once, this is not the hyperbole of a publicist's attempt to shoehorn a film in to ride to coattails of the last big success but a reasonably accurate comparison. Indeed, one suspects that Hot Tub Time Machine would not have been greenlit so readily were it not for the success of The Hangover. Both films in turn tap into the new 00s fad for the bromance – films about guys bonding, which come with the underlying implication that adult life and its attendant responsibilities for things like marriage and dull jobs are never as happy as the glory days of going out partying with one's best friends, and of reaffirming the love that guy friends have for one another while throwing in a requisite degree of homophobic humour to ensure that it's not 'that' type of love they are talking about.
Hot Tub Time Machine is a loud and vulgar film. It derives its gags from things like projectile vomiting, colourfully snide insults, gay humour, handling doggie poo and people pulling out catheters and predictably spraying everyone else in the room with urine. All of this is likely to be funny or not dependent on one's tolerance for such material. Director Steve Pink's gags are often hit or miss. Many of them are just vulgar but every so often the film staggers up out of itself to hit the mark right on the nose. One of these is a very funny gag where Craig Robinson picks up a phone and delivers a blistering piece of his mind to his adulterous wife who is only nine years old at the time. Another of the film's big laughs comes from Rob Corddry making a bet on a football game where he knows the outcome and agreeing to suck Craig Robinson's dick if he loses. The film is not unakin to the character played by Rob Corddry, a crass loudmouth party animal that, try as you might to hate or get offended, has the gauche charm of a big smelly dog that only wants to come up and lick your face.
Much of the material is familiar to anyone who has seen a handful of time travel films. It is served up with no particular originality, just an emphasis on the crude and raucous laughs. A large part of the times when the film does work is whenever Rob Corddry is on screen. Corddry appears to have a natural wind-up talent to suddenly enter a scene at a level of loud, raucous, frequently obnoxious energy and drag everything along in his chaotic wake. He even overshadows top-named star and producer John Cusack who seems uncustomarily mellow and quiet. Another lively sparkle comes from Lizzy Caplan, even if her character cries out for more screen time than she gets.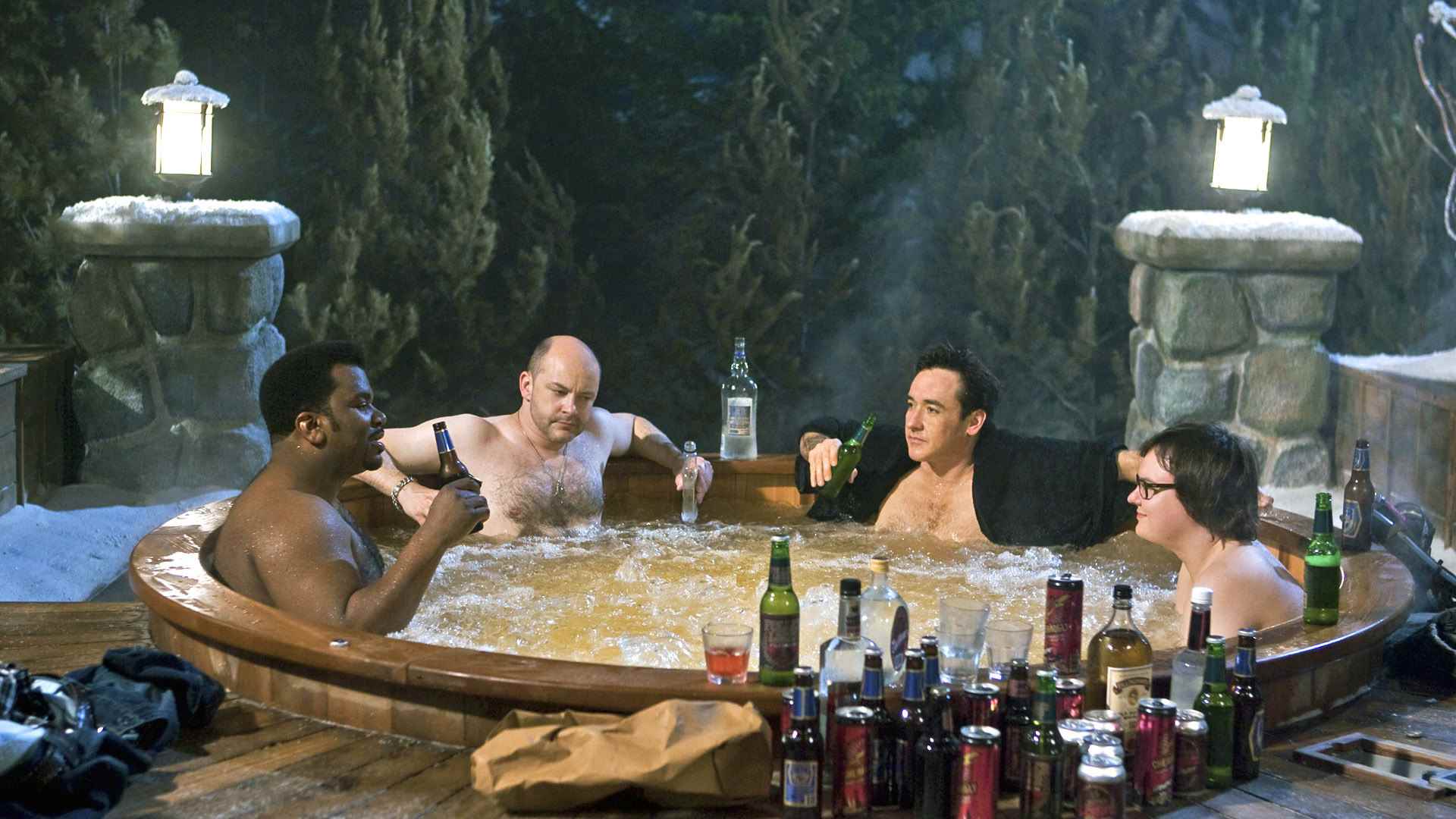 The 1980s satire also seems uneven. The film is packed to the edges with the pop culture ephemera of the era – clips of Ronald Reagan and ALF (1986-90) on tv, Poison in concert, Miami Vice (1984-9) T-shirts, the Soviet Union still in existence, leg warmers and pastel fashions, a cameo from Chevy Chase, not to mention a soundtrack overflowing with hit songs from the period. Elsewhere the situation they are in is variously compared to 1980s films like The Shining (1980), Red Dawn (1984) and The Terminator (1984).
Oddly, the film never generates much humour from sending the era up – a few gags about girls being baffled by talk about texting and emails, the guys deciding they should alter the future and prevent Miley Cyrus. The most amusing gag in this direction is where Craig Robinson asks a girl "What colour is Michael Jackson?" as a way of determining what era they are in, but the film feels like it needed a few more of these gags to truly exhume its milieu and that it lets many of its opportunities go by.
Others gags like the climactic scene with Craig Robinson waving a can of soda and announcing they are Russian spies falls singularly flat. And given that star/producer John Cusack is an undisputable 1980s icon and one of the box-office Brat Pack of the era, the film surprisingly fails to derive any humour in this direction. The film eventually ends on a playful time travel conundrum and a wish fulfilment fantasy akin to Back to the Future's re-editing of the present for something more successful, albeit amplified by a factor of ten.
Steve Pink and most of the cast with the exception of John Cusack returned with a sequel Hot Tub Time Machine 2 (2015).
Hot Tub Time Machine comes from Steve Pink, a relative newcomer director who had previously only directed Accepted (2006). Pink has however been a John Cusack associate for some years, writing and producing both Grosse Point Blank (1997) and High Fidelity (2000), as well as producing Cusack's tv Western The Jack Bull (1999) – he even debuted as an actor in one of Cusack's earliest films The Sure Thing (1985). Pink subsequently went onto direct the remake of About Last Night (2014).
(Winner for Best Supporting Actor (Ron Corddry) at this site's Best of 2010 Awards).
---
---