---
Crew
Director – Morgan Spurlock, Screenplay – Jeremy Chilnick & Morgan Spurlock, Producers – Jeremy Chilnick, Matthew Galkin, Harry Knowles, Stan Lee, Morgan Spurlock, Thomas Tull & Joss Whedon, Photography – Bryan Donnell, Nick Higgins, Ross Kauffman, Dane Lawing, Daniel Marracino, Jason Miller & Guy Mossman. Production Company – Thomas Tull/Warrior Poets/Pow! Entertainment.
---
Director Morgan Spurlock first appeared with the documentary Super Size Me (2004), which became a festival and audience hit wherein Spurlock personally went on a month-long McDonald's diet to see what effect it would have on his health. (The answer proved to be nothing good). This created so many ripples that it forced McDonald's to remove all super-size order from their menus. Spurlock then moved onto a variety of other amiable if never hard-hitting documentaries such as Where in the World is Osama Bin Laden? (2008), Freakonomics (2010), The Greatest Movie Ever Sold (2011) wherein he took on movie product placement by putting the film together via soliciting product placements, and Rats (2016).
With Comic-Con Episode IV: A Fan's Hope, Morgan Spurlock tackles the topic of the San Diego Comic-Con, which has in recent years become the annual mecca for all things fannish and a massive media event that many studios are now turning to to promote and sometimes even premiere their films. Spurlock shows his fannish credentials by managing to bring on board everyone from Marvel Comics creative force Stan Lee; Joss Whedon, creator of Buffy the Vampire Slayer (1997-2003), Angel (1999-2004), Firefly (2002-3) and Dollhouse (2008-10), as well as director of Serenity (2005), The Avengers (2012) and Avengers: Age of Ultron (2015); and Harry Knowles of www.aintitcool.com as producers (said personalities also form some of the most prominent interviewees that Spurlock focuses on in the film).
Comic-Con Episode IV: A Fan's Hope follows six of the attendees at the 2010 San Diego Comic-Con – barman Skip Harvey and soldier Eric Henson as they both independently attend the portfolio review sessions where they show their artwork to the various comic-book houses in the hope of landing a job; costumier Holly Conrad and her team who have entered the convention masquerade with an impressive live-action recreation of an ensemble of characters from the Mass Effect videogame, including an alien with an animatronic headpiece, in the hope of gaining professional attention (it should also be noted that the film rights to Mass Effect are owned by this film's producer, Legendary Pictures founder Thomas Tull, making this something that surely verges on another of the product placements that Spurlock deplores); Chuck Rozanski, the proprietor of the US's largest comic-book warehouse Mile High Comics who has made the decision to sell the very rare copy of Marvel's Red Raven #1 from 1940 for $500,000 in an effort to recoup financial losses; and James Darling who met his girlfriend Se Young Kang at the previous year's Comic-Con and is hoping (if he can ever get away to pick-up the engagement ring) to propose to her during the Q&A session of the Kevin Smith panel.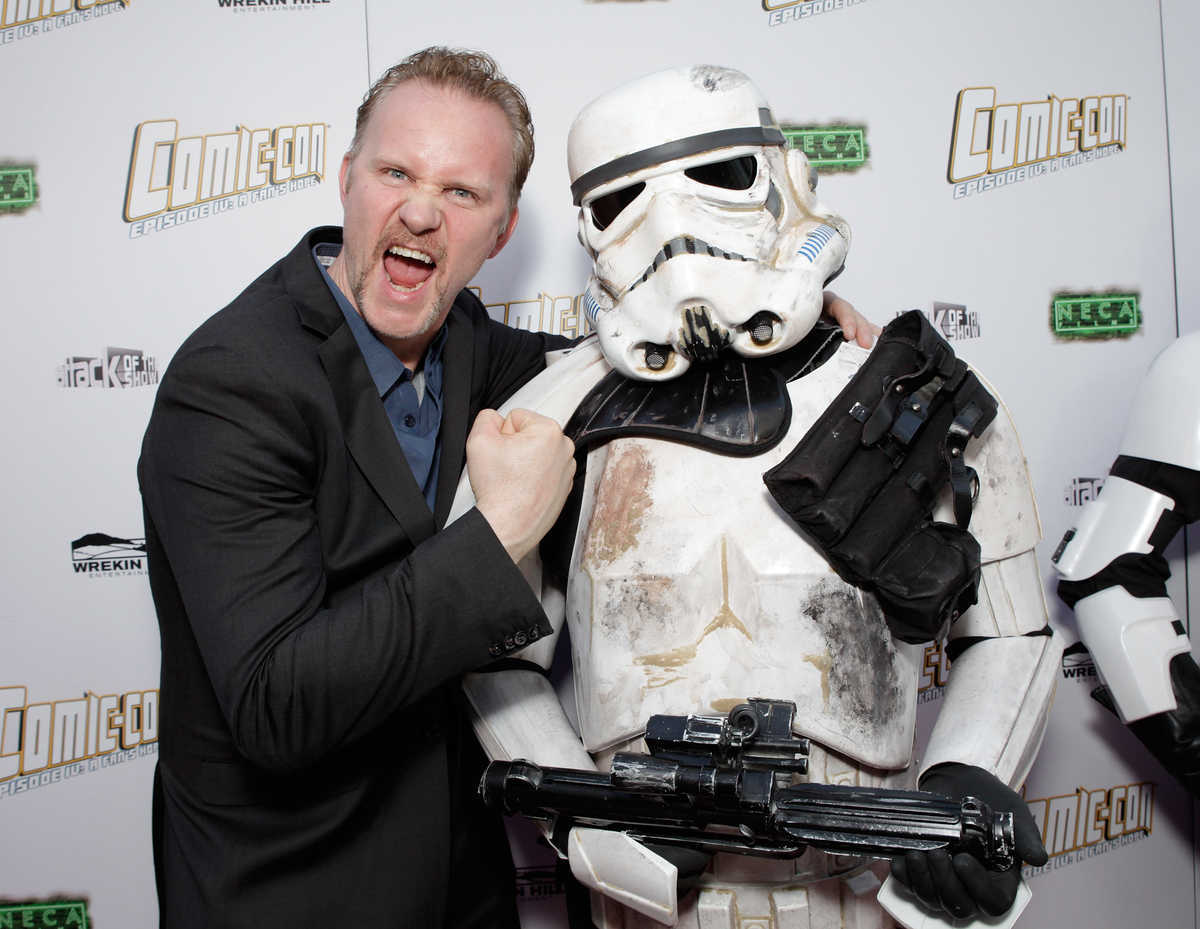 Comic-Con Episode IV: A Fan's Hope is not a bad film but I could never decide while watching what Morgan Spurlock's purpose in making the documentary was. Is it a documentary-maker who has decided to explore the strange and curious world of fandom and ask why people go to Comic-Con? Though Spurlock focuses on several of these who come for differing purposes, the film remains curiously uninvolved about ever digging into their motivations. There is some occasional reflection on the pros and cons of the convention and what it has become, especially when Chuck Rozanski talks about his frustrations with things like Lucasfilm now owning the loading docks, and some of the talking heads who occasionally say how it has become a commercialised event, but surprisingly little in the way of analysis of the phenomenon or the nature of the fans. (I, for one, was curious what it is that has made the San Diego Comic-Con, as opposed to any other convention, such a big phenomenon).
Contrast Comic-Con Episode IV: A Fan's Hope to The People vs. George Lucas (2011), which exhaustively looked at different both sides of the Star Wars phenomenon, or the Trekkies films and their digging into the oddities of Star Trek fan phenomena all over the globe and you can see exactly what is lacking here – an analytical or critical perspective or even allowing fans on both sides of the fence to address particular questions. (Although none of these are as downrightly side-splitting as Comic Book: The Movie (2004), an hilarious mockumentary take on the San Diego Comic Con directed by actor Mark Hamill).
On the other hand, you never exactly get the impression that Morgan Spurlock is a fan who has a burning desire to explain his cause to the world as say the very similar Trekkies (1997) does. The film never gets fired up by any of the burning proselytism and love of its topic that Trekkies did. Moreover, Morgan Spurlock makes the odd gaffe such as identifying Joss Whedon as the director of Buffy the Vampire Slayer, which is something that no fan would do – you could correctly identify Whedon as the creator of Buffy the Vampire Slayer, and, while he did direct a number of episodes, he was only one of several other directors on the series and certainly did not direct the original 1992 film. Even the very title Comic-Con Episode IV: A Fan's Hope has an awkward contrivance to it that feels like it was conceived by a geeky novice.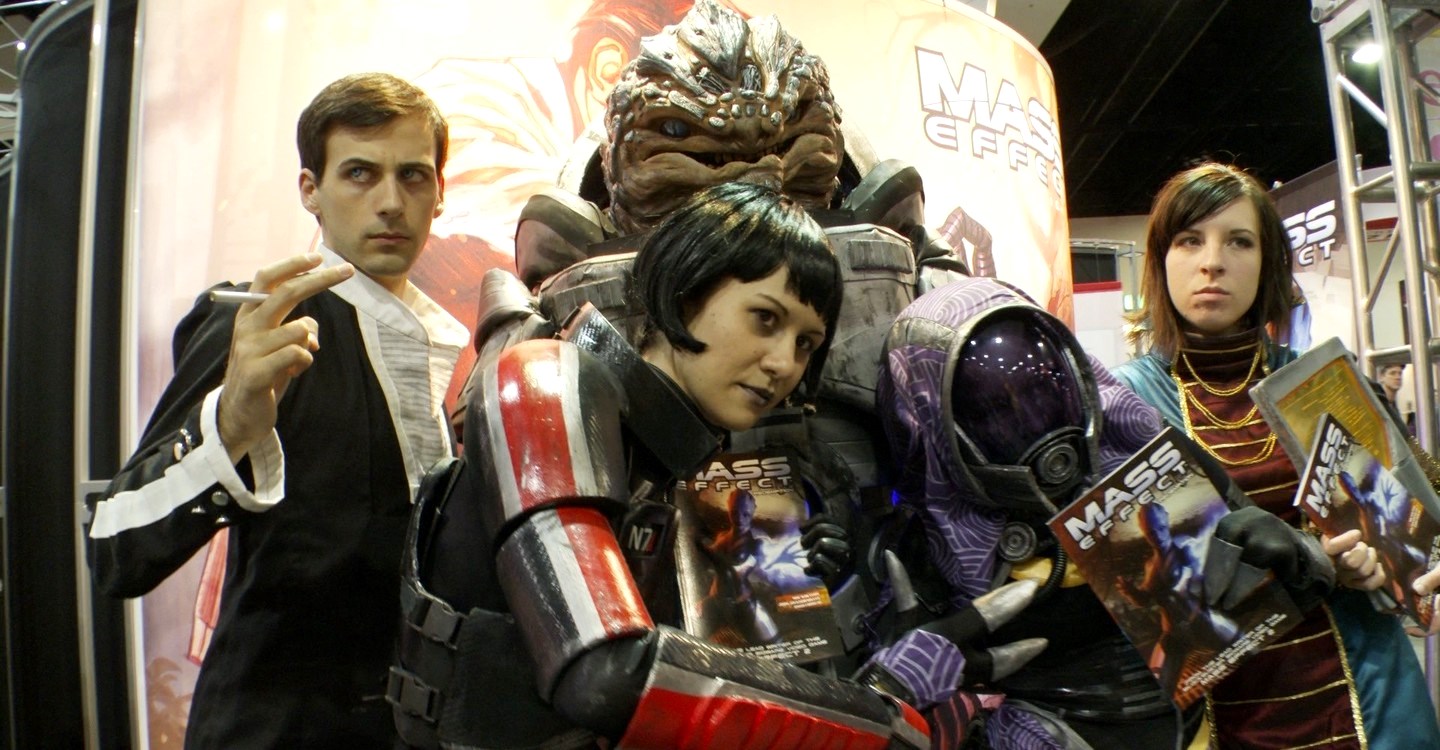 The interviewees are a mixed bag of faces with Kevin Smith owning the show with entertainingly gregarious regard in most of his appearances, while a shy and nervous seeming Joss Whedon tries hard not to be but looks awkward in front of the camera. Certainly, the line-up of a faces here – a host of cult creative names including everyone from Frank Miller to Todd McFarlane and Paul Dini and directors like Eli Roth, Edgar Wright and Guillermo Del Toro makes a play for the fan as opposed to mass audience appeal.
By taking the approach of following the stories of various attendees, Comic-Con Episode IV: A Fan's Hope achieves mixed effect. Not all of the stories are that interesting. We follow Skip Harvey and Eric Henson as they make their pitches for their artwork and receive feedback – Henson obtains a commission to draw some covers, while Harvey walks away empty-handed. Chuck Rozanski puts his Red Raven #1 up for sale but gets no bids and the bulk of his scenes consist of him walking around worrying whether sales figures are up or down this year.
The most affecting parts of the film is the drama of James Darling and his efforts to sneak away and pick up the engagement ring, which are constantly thwarted with almost regard comic by his and Se Young's convention schedule and her desire not to be seperated from him. The scenes where he finally does make his proposal and she comes into his arms hold the biggest emotional uplift in the film and have a sweetness and genuineness that many romantic films aim for but never achieve.
---
---