---
Crew
Director – Krishna Rao, Screenplay – Krishna Rao & Raman Rao, Producers – Rupert Harvey & Lloyd Segan, Photography – Christopher Walling, Music – Christophe Beck, Visual Effects Supervisor – Wendy Grossberg, Visual Effects – Todd-AO Digital Images (Supervisor – Brian Jennings), Digital Effects – Digital Drama Inc (3D Animation Supervisor – Mark J. Smith) & Pure Light Images Inc (Supervisor – Mike Fernster), Digital Visual Effects – Shockwave Entertainment Inc (Supervisor – Jody Levine), Mechanical Effects Supervisor – Frank Ceglia, Production Design – Aaron Osborne. Production Company – Trimark Pictures.
Cast
Josh Charles (Joe Talbot), Rutger Hauer (A.T.), Andrea Roth (Laura), Stuart Wilson (Ferris), Perry Anzilotti (Rebo), Jack Black (Steve), Richard McGregor (Stu), Ellen Geer (Mrs Talbot)
---
Plot
After meeting a beautiful girl at a party, average business student Joe Talbot is suddenly dragged into aiding a resistance movement that is trying to prevent the invading warlord Ferris who is intent on conquering a multiverse of alternate realities. Joe becomes a key player in the struggle when it is discovered that a crystal left by his father is a valuable artifact capable of opening doorways between worlds.
---
From the look of it, Crossworlds seems to be nothing more than another direct-to-video action film. Instead, it confounds expectation to become a surprisingly worthwhile effort. Director Krishna Rao takes a newly familiar theme – parallel world hopping – one that was treated in the most unimaginative way possible around the same time by tv's Sliders (1995-2000) and the far less imaginative The One (2001) a couple of years later – but conducts it in an original and interesting way.
Immediately into the film, one's attention is immediately captured by a dizzying series of spins – hero Josh Charles meets a beautiful girl (Andrea Roth) at a party who happens to know his name; wakes to find her in his bedroom sitting over him with a knife and runs, only to open his bedroom door and find he is looking out across a desert plain with an approaching rider; they are pursued and shot at with still no idea what is meant to be happening; seek refuge with Rutger Hauer at a seedy motel where an ordinary motel room mysteriously opens into a building the size of an airplane hangar, followed by a subtle attempt by villain Stuart Wilson to take over Andrea Roth's mind at a museum.
Krishna Rao is capable of effectively suggesting the immediately otherworldly by a subtly disquiet shifting of the everyday – Andrea Roth vanishing at the party in the moment Josh Charles turns his back; the sense of eeriness that is created in a perfectly ordinary museum garden when Rutger Hauer suggests that people are watching them.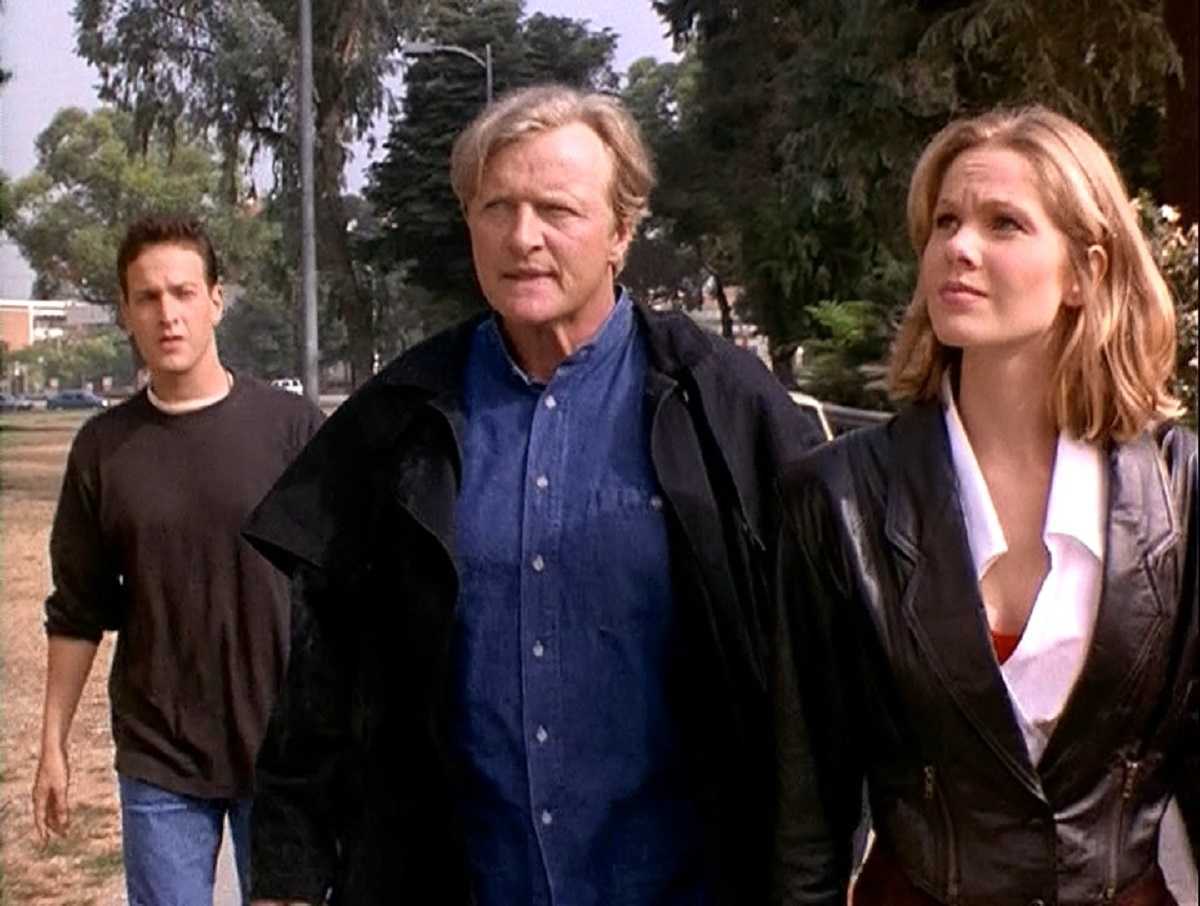 Unfortunately, Crossworlds becomes a less effective film once it explains what is going on and all the building mystery is brought out into the open. Here the ordinariness that Krishna Rao is trying to suggest as being otherworldly becomes a little too apparent – a corridor between worlds is simply a desert canyon filmed through a blurred lens, while movement between worlds is conducted by people simply turning their backs in the desert. Nor, bar a brief visit to a rebel camp at the end, do we ever get to see anything of the other worlds talked about. Here the film's lesser budget has gotten in the way of the scope of imagination that the film promises at the ouset – Crossworlds would have been a far better film made on an A budget.
Despite this, there are a number of highly effective scenes in the latter half – a last minute salvation from a fall from a skyscraper by shifting between worlds; an excellent scene where the protagonists are caught in an illusion where it appears the lift they are descending in is disappearing around them piece-by-piece until they are left hanging from one another's shoes. Josh Charles gives a good performance as an ordinary average guy propelled into bewildering circumstances.
Crossworlds is the only film that Krishna Rao has directed. He has worked as a television director, although is more often employed as a cinematographer.
---
---