---
Crew
Director – Duncan Jones, Screenplay – Ben Ripley, Producers – Mark Gordon, Philippe Rousselet & Jordan Wynn, Photography – Don Burgess, Music – Chris Bacon, Visual Effects Supervisor – Louis Morin, Visual Effects – Fly Studio (Supervisor – Jean-Pierre Boies), Modus FX (Supervisor – Eloi Brunelle), MPC (Supervisor – Erik Nordby), Mr X (Supervisor – Wayne Brinton), Oblique FX & Rodeo FX (Supervisor – Sebastien Moreau), Special Effects Supervisor – Ryal Cosgrove, Makeup Effects – Adrien Morot, Production Design – Barry Chusid. Production Company – Vendome Pictures/The Mark Gordon Company.
Cast
Jake Gyllenhaal (Captain Colter Stevens), Michelle Monaghan (Christina Warren), Vera Farmiga (Captain Carol Goodwin), Jeffrey Wright (Dr Rutledge), Michael Arden (Derek Frost), Cas Anvar (Hazmi), Russell Peters (Max Denoff), Joe Cobden (Jim), Gordon Masten (Conductor), Chris Thomas (Executive)
---
Plot
Colter Stevens wakes up on a train to Chicago. He has no idea how he got there, the last he knew he was an Air Force captain in service in Afghanistan. He is bewildered to find that his id states that he is teacher Sean Fentress and that he has a different face when he looks in the mirror. He puzzles over what is going on, moments before a bomb aboard detonates and blows the train up. Colter comes around in a capsule where he is being remotely observed by military personnel. He is placed back on the train inside what they refer to as the Source Code simulation and told to find who planted the bomb. As the events rerun, he locates the bomb but is unable to prevent the train from blowing up again. Demanding he be told what is going on, he learns that the train blew up earlier that day in what was believed to be the first in a series of attacks. He has been implanted with the memories of one of the dead passengers. The dead man's after-presence allows the opening up of a temporary eight-minute window in a parallel universe. In being repeatedly sent back into the same eight minutes inside the Source Code, Colter searches the train and tries to find who planted the bomb. He is also attracted to fellow passenger Christina Warren who sits opposite him in the carriage. He believes that he can alter events inside the eight-minute window, even though the controllers insist he cannot, and tries to save the train. However, he also begins to discover that there are things his military controllers have not told him.
---
Source Code was one of the buzz movies of 2011, having gained prominence on various most anticipated films of the year lists. A large part of this was because it is the second directorial outing from Duncan Jones. Jones, aka Zowie Bowie, the son of David and Angela Bowie, began working as a commercials director and first emerged with the low-budget science-fiction film Moon (2009), which gained enormous word of mouth and became an acclaimed festival and audience hit. The script for Source Code comes from Ben Ripley, a work that is worlds removed from his previous scripts for Species III (2004) and Species: The Awakening (2007).
Both Moon and Source Code seem to be films made in the Philip K. Dick model – stories where the protagonist is constantly questioning their own identity and waking up to discover that what they believed about reality is an illusion. You see this in Moon's Sam Rockwell who discovers that he is part of an enigmatic cloning scheme or the supremely Dick-ian moment here where Jake Gyllenhaal wakes up on a train with no idea what he is doing there and finds that he has a different identity, even a different face when he looks in the mirror.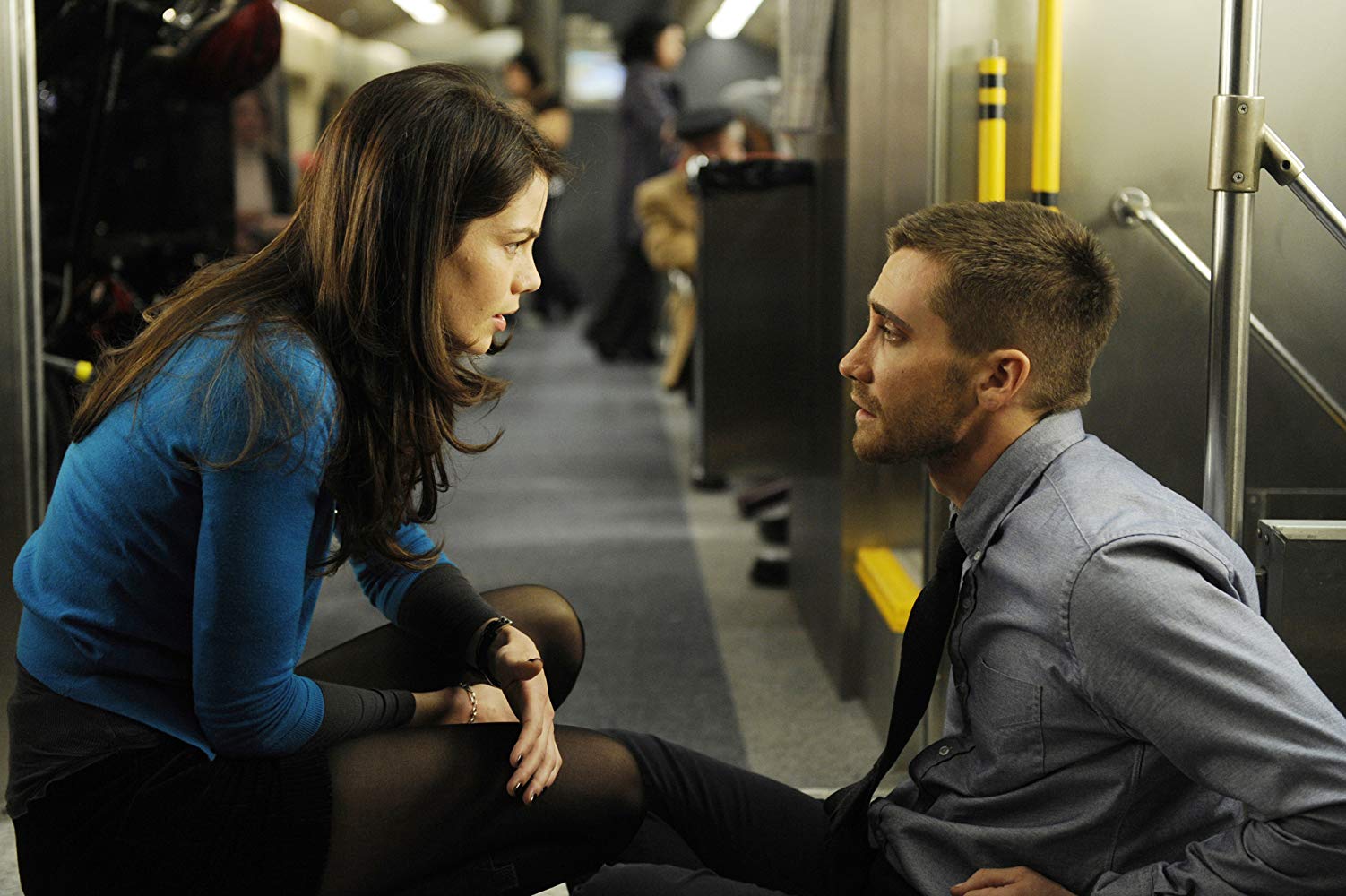 The Philip K. Dickian weirdness of the opening soon evens out into a more familiar fantastic scenario – that of the timeloop, as best exemplified by Groundhog Day (1993), wherein the protagonist usually finds themselves trapped inside a set time period experiencing the same events over and over with minute variations.
Since then the timeloop idea has played out in a number of other films, including 12:01 (1993), Retroactive (1997), Run Lola Run (1998), Naken (2000), The Last Day of Summer (2007), Repeaters (2010) and Edge of Tomorrow (2014), ARQ (2016), Before I Fall (2017), Happy Death Day (2017), Naked (2017), Boss Level (2020), Palm Springs (2020), The Map of Tiny Perfect Things (2021) and Re/Member (2022), even two entire tv series with Day Break (2006-7) and Russian Doll (2019- ). For greater detail about Timeloop Films see Timeloop Films.
Source Code is one of the few of these that offers up a science-fictional explanation for what is going on. Here Ben Ripley gets full marks for winding in parallel worlds theory as a justification, along with some doubletalk about after-death personality ghosts. After the revelation of what is happening, Source Code thereon becomes a generally clever whodunnit about Jake Gyllanhaal trying to replay the scenario in different ways to find who planted the bomb and even stop it. This becomes more familiar material, particularly if one has watched any of the aforementioned timeloop films, although is perhaps the first of these excepting Day Break to turn the idea into a thriller.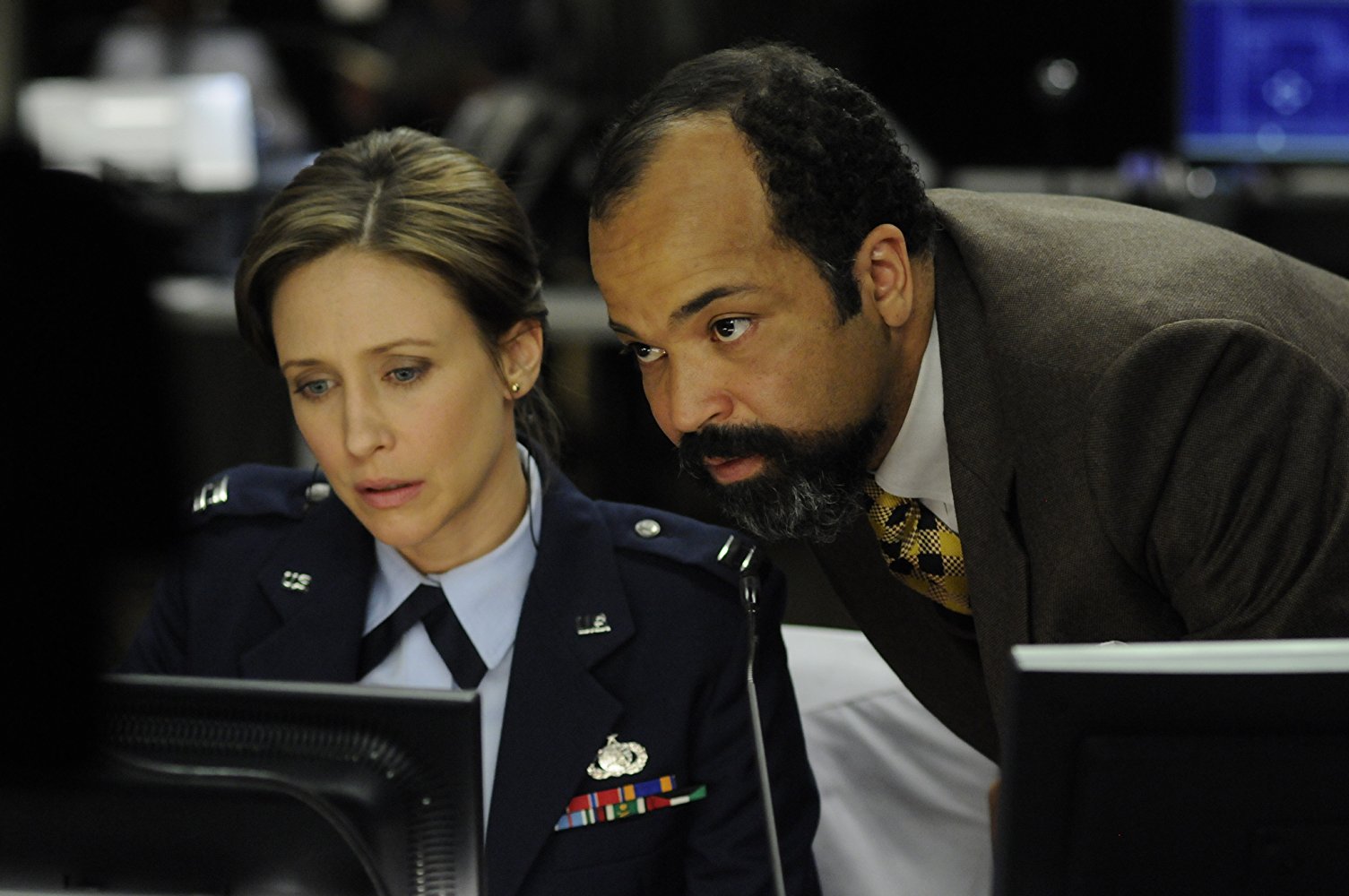 The film arrives at a beautifully subtle ending, not unakin to Bill Murray's creation of the perfect day in Groundhog Day, and goes out as we watch the alternate scenario drift on with the principals unaware of it. The minor complaint might be that the film's big Philip K. Dickian surprise twist – about what has happened to Jake Gyllenhaal – is one that you can easily see coming from half the film away, leaving one a little disappointed in that neither Duncan Jones and Ben Ripley do more to hide this or turn it on its head.
Duncan Jones reveals himself as having a fine and adept thriller hand and allows the suspense to cruise along with effortless engagement. He does a worthwhile job in eking out the minor characters within the scenario. Jake Gyllenhaal largely keeps to the screen persona he has created for himself – handsome, lantern-jawed and determined – and does not play too much outside of that. The charm of the film is Michelle Monaghan of winning smile, while the greatly underrated Jeffrey Wright plays in cold and ambiguously detached mode.
Duncan Jones next made the computer-game adaptation Warcraft (2016) and the SF film Mute (2018).
---
---