---
USA. 1993.
Crew
Director – Michael Schroeder, Screenplay – Michael Schroeder, Mark Geldman & Ron Yanover, Story – Mark Geldman & Ron Yanover, Producers – Raju Patel & Alain Silver, Photography – Jamie Thompson, Music – Peter Allen, Visual Effects – Stargate Films (Supervisor – Dan Schmit), Special Effects – Gregg Hendrickson & Gregg Landerer, Makeup Effects – KNB EFX Group (Supervisors – Howard Berger, Robert Kurtzman & Greg Nicotero) & Mony Mansano, Production Design – Elisabeth A. Scott. Production Company – Anglo-American/Films International.
Cast
Elias Koteas (Colton Ricks), Angelina Jolie (Casella 'Cash' Reese), Billy Drago (Danny Bench), Jack Palance (Mercy), Allen Garfield (Martin Dunn), Karen Shepherd (Raven Chen)
---
Plot
It is the year 2074 and two corporations – Kobayashi Electronics and Pinwheel Robotics – dominate the field of cyborgs. Pinwheel plan to eliminate the competition by detonating Cash, a female cyborg containing an explosive nicknamed Glass Shadow, at a Kobayashi conference. Mercy, a mysterious presence on a computer screen, helps Cash and her human combat trainer Colton Ricks to flee her intended fate. Pursued by a psychotic bounty hunter, they try to make it to freedom.
---
The first Cyborg (1989) was a mindless post-holocaust kickbox fest from B-budget hack Albert Pyun that featured Jean-Claude Van Damme in a series of violent heroics that were almost entirely devoid of a plot. Cyborg2: Glass Shadow proves to be that one rarity of a sequel that is actually better than its original.
Cyborg2: Glass Shadow pays minimal lip service to the first film – it is set vaguely in the same future, although the society portrayed appears much less devastated than in the first film; and we get one or two seconds of clips from the original shown on a tv screen at one point. What Glass Shadow also does is to abandon the mindless kickboxing chop suey of the original – it keeps the basic cyborg theme to justify the title but reconstructs the rest into a reasonable Cyberpunk film. Nobody is ever going to mistake Cyborg2: Glass Shadow for a great work of art or even an unrecognised classic, nevertheless it marshals its Cyberpunk tropes into a reasonable plot and with a fair degree of intelligence.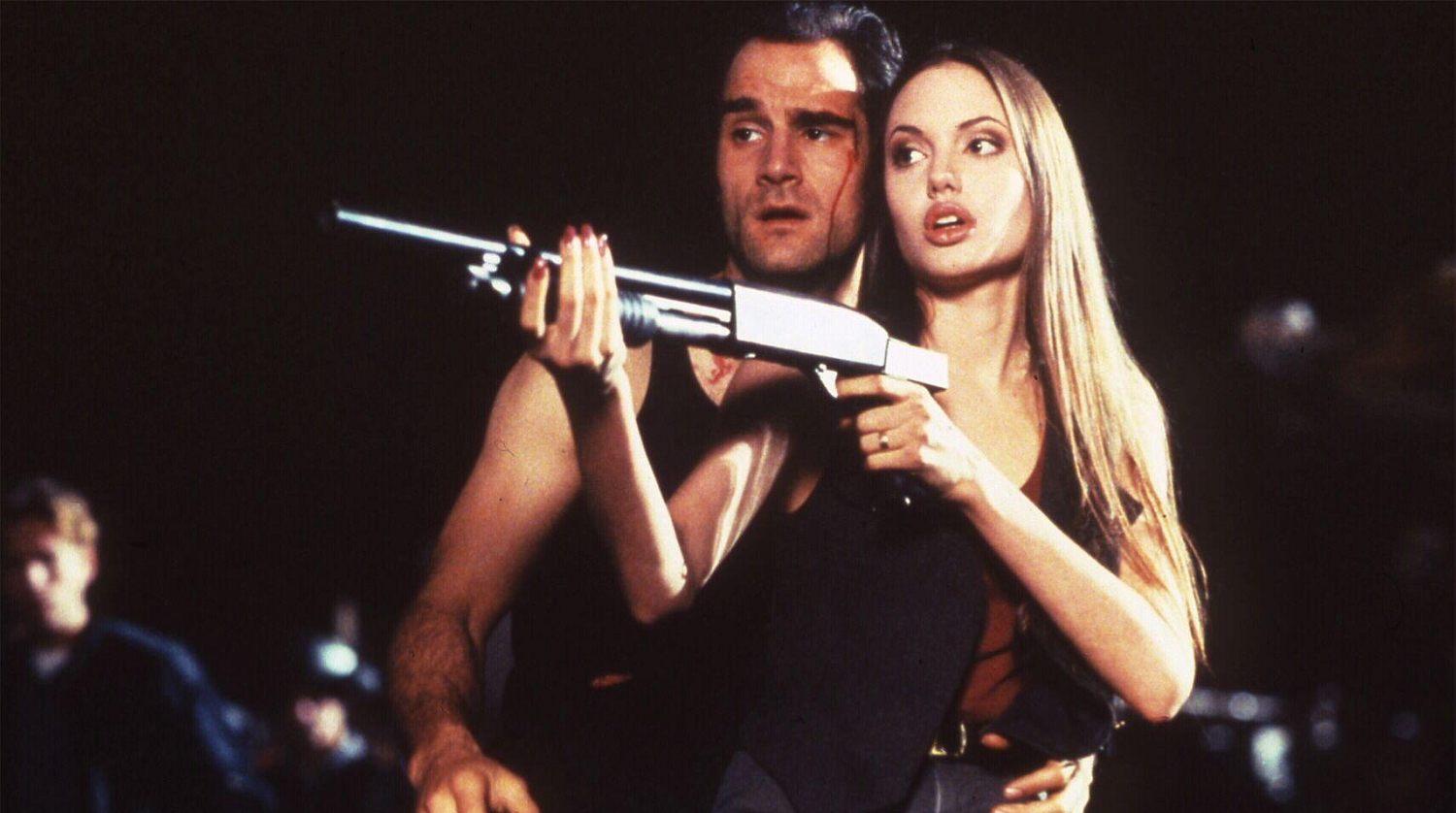 There is some fine effects work – notably a beautifully detailed model city and one excellent sequence over the credits where we see the transparent cyborg being filled with the plastic explosive. Even when the low-budget shows through, director Michael Schroeder rides over it with a maximum degree of rundown moodily lit dark future atmosphere that more than disguises any rough edges.
Elias Koteas plays with a likeably wry sense of humour, although Angelina Jolie (well before the days she became a major A-list superstar) makes almost no distinction at all in the role of the cyborg. The final image the film goes out on of the geriatric hero sitting on a porch being tended by the unaged cyborg is a wonderful coda to the film.
Director Michael Schroeder returned for a further sequel, the also worthwhile Cyborg3 (1994).
Michael Schroeder has made a number of other modest B-budget genre films, including the bad taste comedy Mortuary Academy (1988), the psycho clown film Out of the Dark (1989), Dead On: Relentless II (1992) and the psycho-sexual thriller Cover Me (1995). One of the intriguing credits is the name of horror writer Jeffrey Konvitz, best known for the novel that became the film The Sentinel (1977), who is listed as one of the Executive Producers.
---
---