aka Nemesis 4: City of Angels
---
USA. 1996.
Crew
Director/Screenplay – Albert Pyun, Producers – Tom Karnowski & Gary Schmoeller, Photography – George Mooradian, Visual Effects – Stargate, Special Effects – Jaro Goldschmid & Zdravko Smojver, Makeup Effects Supervisor – Dan Rebert, Makeup Effects – Interactive Life Forms, Art Direction – Nenad Pecur. Production Company – Filmwerks/Karnowski-Schmoeller.
Cast
Sue Price (Alex Sinclair), Andrew Divoff (Bernardo), Norbert Weisser (Tokuda), Nicholas Guest (Earl Typhoon), Simon Poland (Johnny Impact), Blanka Copikova (Woman in Black), Juro Rasla (Carlos Massimo Jr.), Michal Gucik (Priest)
---
Plot
It is the year 2080 where the population has become heavily cyborg-integrated. The genetically-engineered Alex Sinclair works as a killer for hire. Her boss Bernardo cautions her that she is getting old and suggests she retire but asks her to do one last job. However, after Alex completes her kill, her handler Earl Typhoon informs her that she killed the wrong person and attempts to eliminate her, before she despatches him. Finding that she has in fact killed the son of a mob boss, Alex discovers there is now a bounty of 100 million on her and that all her former colleagues are after her. At the same time, she is haunted by a mystery woman dressed in black that she believes is an angel of death.
---
Albert Pyun is a prolific genre director. Pyun had first appeared with the vigorous sword and sorcery film The Sword and the Sorcerer (1982), which proved to be a modest hit. Following the other modest hit of Cyborg (1989), Pyun went onto a long output of usually B-budget post-apocayptic kickboxing cyborg films such as Knights (1993), Heatseeker (1995) and Omega Doom (1996), among others. (A list of Albert Pyun's genre credits is at the bottom of the page).
Pyun's best film was Nemesis (1993), which featured Olivier Gruner and conflated the usual killer cyborg themes alongside a furious range of Cyberpunk tropes. Pyun made two sequels, Nemesis 2: Nebula (1995) and Nemesis 3: Prey Harder (1995), shot back-to-back in East Africa and starring professional bodybuilder Sue Price. These bore little resemblance to the first film, featuring the strikingly Amazonian Price as a genetically-perfected human being hunted by cyborgs from the future.
Nemesis 4: Death Angel was the fourth and (so far) final film in the series. It also features Sue Price, although continuity to the previous films has been ignored and she is no longer hunted but is working as an assassin for hire. The location has now moved from the African desert to an urban one shot in the former Yugoslav republics (where all the action seems to take place in a single half-ruined city block).
Nemesis 4: Death Angel is a peculiarly interesting film. Throughout Albert Pyun's cyborg films, you got the impression that he was trying to make the 'soul of the cyborg' film, even if the films themselves were trapped by low-budgets and an action emphasis. Oddly here, Pyun jettisons most of the action emphasis of the previous films and concentrates it around Sue Price sitting in the ruins of a building and waiting for her assassins to come after her. The setting is fairly vague. Not to mention dated (well at least looking back from the 2010s) – it is supposedly the year 2080 but people are still using large bulky brick cellphones with aerials.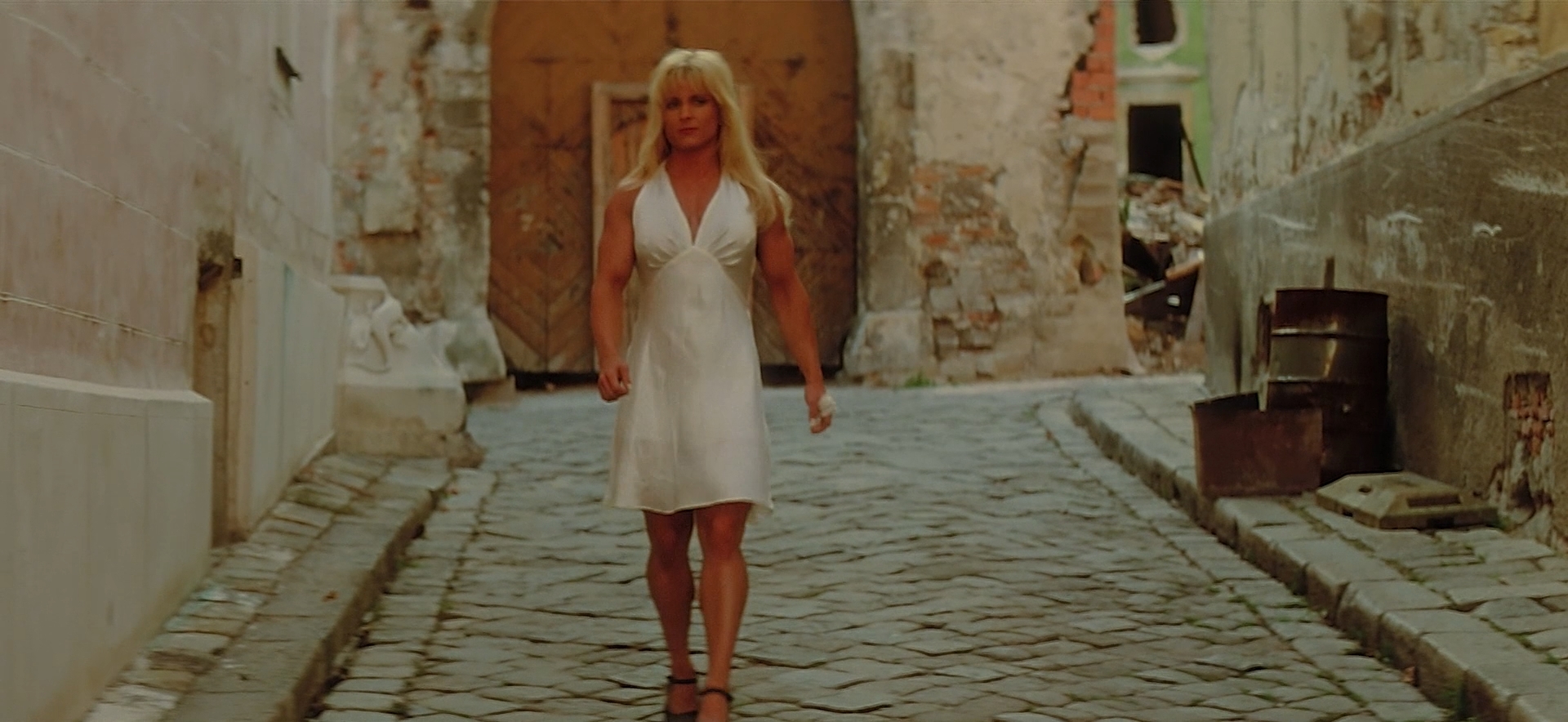 The film has a fascinating mix of weird elements – cyborgs that have become a norm in society, cyborg sex, the strong story arc of an assassin betrayed by their own side – and is filled with fascinatingly offbeat images. Despite being set in a science-fiction/Cyberpunk milieu, Sue Price keeps encountering a woman she believes is an angel of death – outfitted in leather jacket, fetish cap, partially bared boobs and with a veil hiding her face who shoots pursuers while proclaiming "I don't hear any angels crying."
We follow Sue Price on her assignment where she seduces the target (Juro Rasla), strangles him using her thighs after having sex with him, only for him to start short-circuiting revealing that he is a cyborg. There is an even more bizarre sequence where Sue's handler (Nicholas Guest) demands sex from her in the car after she conducts the kill, she relents and strips in the backseat where he too proves to be a cyborg and his body produces a strange device like a sonic screwdriver and a hole opens up somewhere on her skin so he can penetrate her, before she ends up killing him too.
With her pumped bodybuilder physique and golden dreadlocks, Sue Price looks something unearthly – even when Pyun outfits her in heels and a white cocktail dress, she still looks like a transsexual. Not to mention that this is a film where Price seems to spend more of it wandering around nude or in a state of undress than she actually does clothed. She also has a rather nifty trick where she produced a set of spikes from out of her nipples.
Albert Pyun's other films are:– The Sword and the Sorceror (1982), Radioactive Dreams (1986), Vicious Lips/Pleasure Planet (1987), Alien from L.A. (1988), the uncredited Journey to the Center of the Earth (1988), Cyborg (1989), Deceit (1989), Captain America (1990), Dollman (1990), Brain Smasher: A Love Story (1993), Knights (1993), Arcade (1994), Hong Kong 1997 (1994), Heatseeker (1995), Adrenalin: Fear the Rush (1996), Omega Doom (1996), Postmortem (1998), Ticker (2001), Infection (2005), Cool Air (2006), Bulletface (2007), Left for Dead (2007), Tales of an Ancient Empire (2010), The Interrogation of Cheryl Cooper (2014) and Interstellar Civil War (2017).
---
---