---
USA. 1994.
Crew
Director – Richard Pepin, Screenplay – Jacobsen Hart, Producers – Richard Pepin & Joseph Merhi, Photography – Ken Blakey, Music – Bill Montei & Lisa Popeil, Visual Effects Supervisor – Frank H. Isaacs, Special Effects – Don Power & Larry Roberts, Mehcanical Effects – Make-Up and Effects Labs, Inc. (Alan A. Apone, John R. Fifer & Douglas J. White), Makeup Effects – Mark Sisson, Production Design – Steve Ramos. Production Company – PM Entertainment Group Inc.
Cast
Don 'The Dragon' Wilson (Eric Phillips), Stacie Foster (Connie Griffith), John Aprea (Senator Robert Dilly), Michael Norton (Mark Ross), Joseph Ruskin (J. Craig Rounds), Jim Maniaci (The Core Trackers), Abby Dalton (Chief Susan Olson), Steve Burton (Jared), David Barnathan (Marcus), Lisa Larosa (Ally), Duchess Dale (Becca), Dana Sparks (Stephanie Austin)
---
Plot
Los Angeles in the 21st Century. Eric Phillips is a secret service agent assigned to guard Senator Robert Dilly. Senator Dilly has created the United States Computerized Judicial System, which uses invincible cyborgs known as Core Trackers to dispense justice and execute the guilty. Phillips is successful in preventing a group of anti-machine protestors, the Union of Human Rights, from assassinating Dilly. Dilly and his associates decide to invite Phillips into their inner circle but Phillips flees after he sees Dilly shoot a UHR double agent in cold blood. Dilly then has Phillips listed on police computers as an armed and dangerous suspect and sends a series of Core Trackers to eliminate him. Phillips falls in with the UHR rebels and tries to find a means of stopping the near-invincible cyborgs.
---
Director Richard Pepin, along with his partner Joseph Merhi and their PM Entertainment Group production company, were prolific producers of action films during the 1990s/2000s. Richard Pepin in particular specialised in action and science-fiction hybrids. (Pepin and Mehri's other films of genre note are listed at the bottom of the page). Cyber Tracker was Richard Pepin's third film as a director. Here he teamed up with Don 'The Dragon' Wilson, a World Kickboxing Champion who maintained a fair career as an action movie star in the B-movie end of the market throughout the 1990s, boosted in no small part by numerous roles in PM's films.
Cyber Tracker is a blatant rehash of the basics of The Terminator (1984) and RoboCop (1987) – killer androids designed for the purpose of law enforcement, much pursuit as the protagonists try to stop the near-invincible machine (as well as the common misidentification that frequently occurs in low budget sf/action films of an android being confused for a cyborg). Ultimately, one can only judge a film in terms of its intentions and whether it achieves said goal. In terms of what it sets out to be – a cheaply made Terminator/RoboCop copy where the emphasis is on hard and fast action – Cyber Tracker achieves its ambitions passably well. The corollary might also be that Cyber Tracker is not something that anybody is ever going to confuse as a work of cinematic genius. Nevertheless, the action sequences move with a sufficiently physical impact and the fight scenes have a toughness – the climactic showdown between Don 'The Dragon' Wilson and Michael Norton feels like the blows are actually connecting.
Certainly, Cyber Tracker tends to work more as an action film than it ever does as a science-fiction film. Although, there is one cute scene where Don 'The Dragon' Wilson gets drunk in his apartment and programs his AI home computer to get intoxicated along with him. The script leaves a number of glaring holes – it is mentioned after Wilson meets the UHR rebels that they were not the ones that tried to kill the Senator, which leaves the gaping and never answered question as to who it was that tried to assassinate the Senator. It is also never explained at the end what Operation Echo and the Senator's sinister plan that the rebels are trying to stop consists of.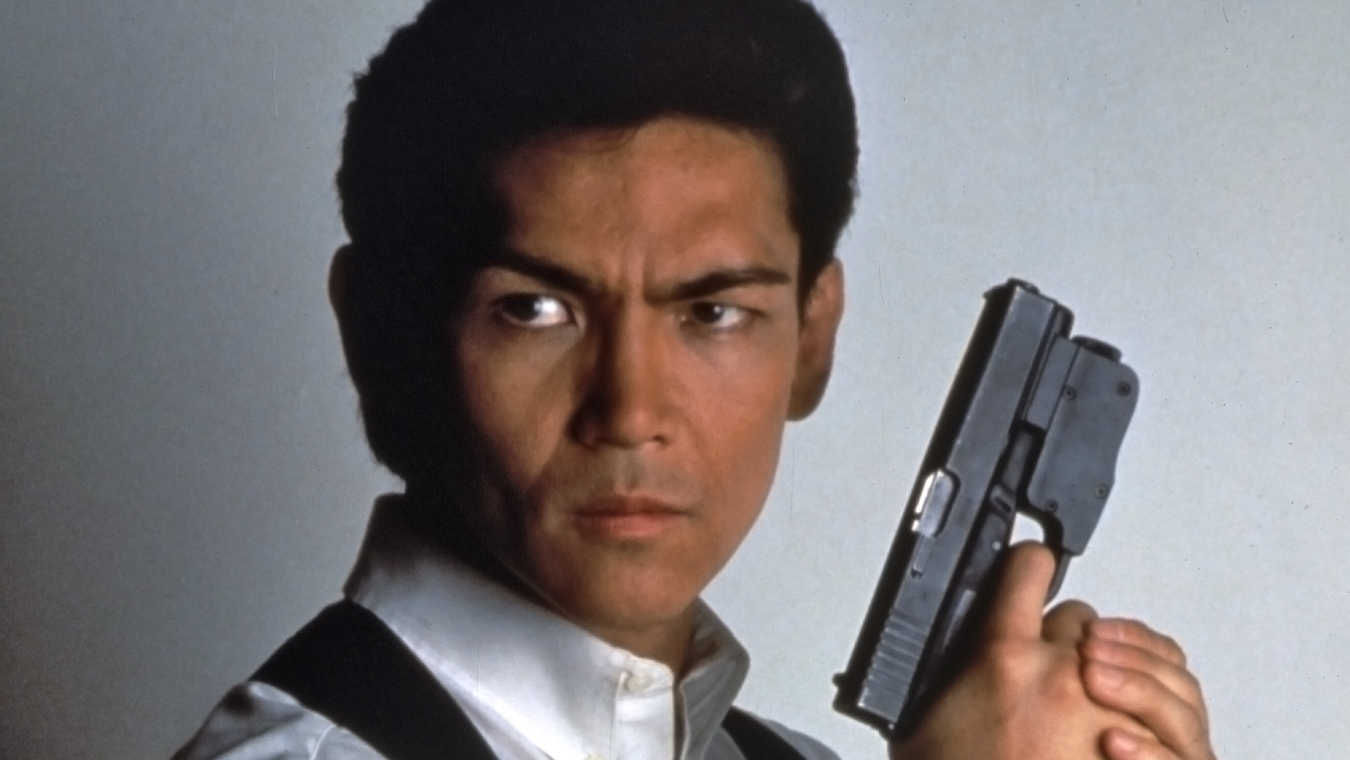 Richard Pepin's typical way of making a film is to throw a spectacular action sequence in in the first few minutes – no matter whether it makes sense or not. True to form, he does so here with a sequence involving an attempted assassination of the Senator at a public meeting and subsequent shootout where Don 'The Dragon' Wilson demonstrates some brutal martial arts moves, a helicopter being shot down with a missile launcher and a high-speed car chase that culminates in a van hitting Wilson's car, rolling over in mid-air and exploding as it hits the ground (with Wilson somehow managing to have sat in the car as it is hit side-on and emerging without a scratch). Pepin appears to love the sight of vehicles hitting into another and then spinning through the air in slow-motion before exploding – he throws three such sequences in throughout with the abovementioned and a couple of other sequences involving a police car and a firetruck.
Unlike Pepin's later films, Cyber Tracker is made on the cheap – the protestors and press at the Senator's open-air press conference only number about a dozen extras, and there are some very cheap optical effects. There is also a tinny synthesizer score, which pretentiously bursts into operatic aria during the senatorial assassination attempt.
Richard Pepin and Don 'The Dragon' Wilson returned for a sequel Cybertracker 2 (1995), which also featured Stacie Foster and Jim Maniaci reprising their characters.
Richard Pepin's other films of genre note are:– Firepower (1994), Dark Breed (1995), Hologram Man (1995), T-Force (1995), The Silencers (1996), The Sender (1997), Y2K/Terminal Countdown (1999), Mindstorm (2001) and Caved In (2006). Joseph Mehri has also directed the horror film The Newlydeads (1987) and the sf/action film Rage (1996). PM Entertainment has produced some 80 plus films, almost all being action films. Their other genre productions include Death By Dialogue (1988), Hollow Gate (1988), The Art of Dying (1991), Alien Intruder (1993), CIA: Code Name Alexa (1993), CIA II: Target Alexa (1994), The Power Within (1995), Steel Frontier (1995), Sutures (2009), as well as the children's films Storybook (1995), Two Bits and Pepper (1995) and Little Bigfoot (1997).
(Review copy provided courtesy of Ryan Kenner from Movies in the Attic).
---
Trailer here
Full film available online here:-
---