---
Crew
Director – Jonathan Winfrey, Screenplay – Craig J. Nevius, Producer – Mike Elliott, Photography – Geoff George, Music – Kevin Kiner, CGI Supervisors – Bob Farnham & Percy Harovas, Digital Effects – Digital Drama, Makeup Effects – Michael Burnett Productions, Supervising Production Designer – Nava, Production Design – Eric Kahn. Production Company – Libra Pictures.
Cast
Joan Severance (Darcy Walker/The Black Scorpion), Bruce Abbott (Michael Russo), Garrett Morris (Argyle), Stephen Lee (Captain Strickland), Rick Rossovich (Stan Walker), Casey Siemaszko (The Breath Taker), Terri J. Vaughn (Tender Lovin), Darryl M. Bell (E-Z Street), John Sanderford (District Attorney Thomas Aldridge)
---
Plot
In Angel City, District Attorney Thomas Aldridge suddenly goes crazy and shoots police detective Darcy Walker's father. He is arrested but it is then announced that the charges are going to be dismissed. Darcy is suspended after she goes to confront him. She decides to take the law into her own hands. She dresses in a masked costume of black vinyl and sets out in a customised hi-tech car provided by a former perpetrator. She becomes what the media term The Black Scorpion, exacting street justice and coming to the aid of those who need it. At the same time, a masked and steel armoured villain known only as The Breath Taker launches an insidious scheme to poison the city with a madness-inducing nerve gas.
---
Black Scorpion – no relation to the 1950s giant monster film The Black Scorpion (1957) – was one of a mini-spate of black leather superheroine films that all came out within the space of a year. Others included Barb Wire (1996) and The Demolitionist (1996), which also featured Bruce Abbott. The central facet of these films was a kickass tough masked superheroine dressed in skintight black leather or vinyl (all of these films contain much fetishistic closeup focus on them putting the costume on). In all cases, these heroines were played by an actress who is better known elsewhere for taking her clothes off. All three films were almost certainly inspired by the fetishistic fascination that surrounded Michelle Pfeiffer's vinyl-clad Catwoman in Batman Returns (1992). (There is certainly a scene that is blatantly imitative of Batman Returns here where the masked heroine and her object of romantic interest kiss during a fight, he unaware of her real identity, which is near-indistinguishable from the scene where the battling Batman and Catwoman share a kiss).
Black Scorpion is cheaply made and the action routine. Joan Severance, an actress best known for softcore roles in films such as Lake Consequence (1993), Dangerous Indiscretion (1994), Criminal Passion (1994) and various episodes of Red Shoe Diaries (1992-9) seems miscast. (And at age 37, just a little too old for the role). Severance's parts in these erotic films had her perfectly cast as a regal ice queen whose passions were slowly tapped throughout the course of the story. However, cast as a larger-than-life superheroine role, she is far too quiet and introverted a presence. She seems wimpy when trying to do the tough poses and the one-liners fall flat in her utterance.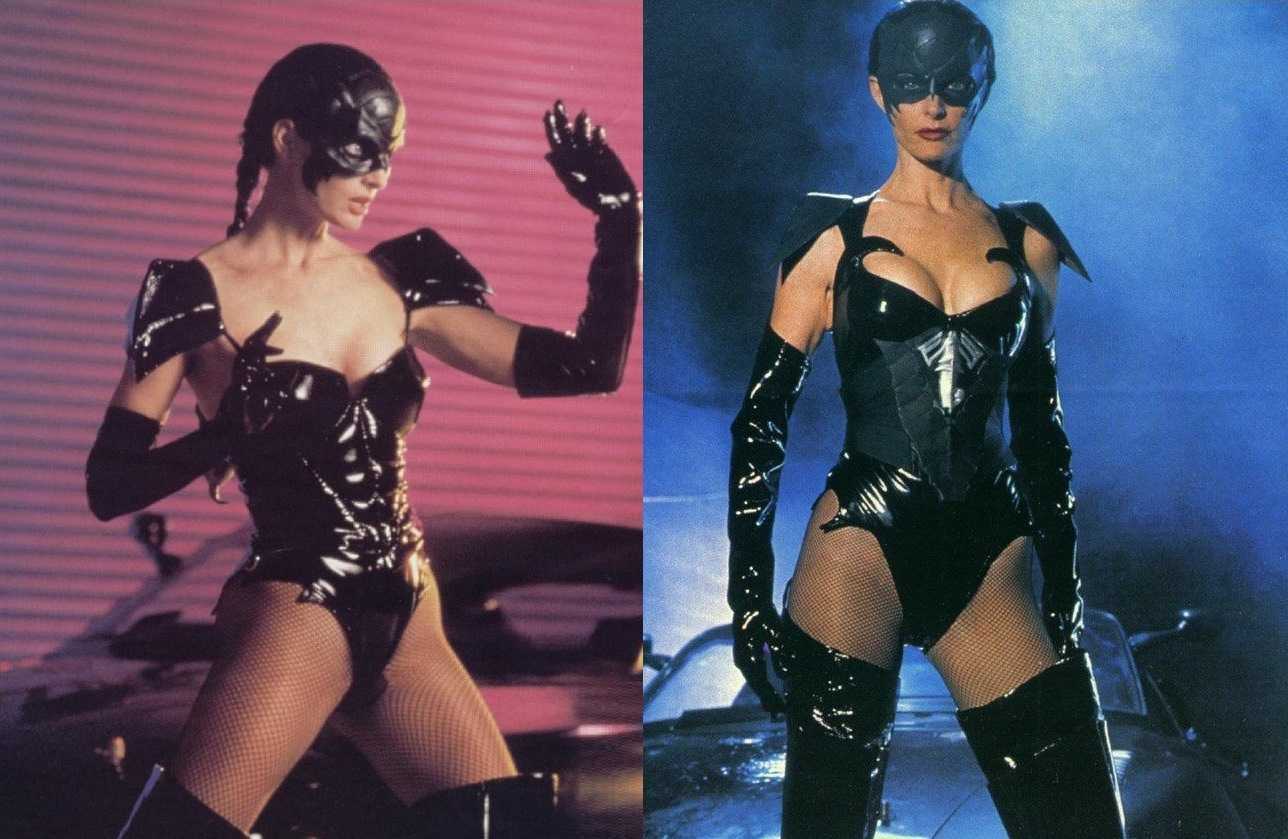 Some of the film's comic-bookish touches are amusing – like the villain The Breath Taker who unites all the asthmatics in the city to take revenge. On the other hand, many of the touches have been unimaginatively borrowed from other superhero films – the chameleon car comes from tv's Viper (1994, 1996-9); the villain's scheme to erect a series of towers to suck the city dry seems very similar to Christopher Walken's scheme in Batman Returns; while the scene where the heroine wipes the romantic male lead's awareness of her identity at the end has been directly taken from Superman II (1980).
The sequel, also featuring Joan Severance, was Black Scorpion: Ground Zero (1996). The film was later expanded out into a tv series Black Scorpion (2001), where the title role was recast with Michelle Lintel. This led to a further made-for-video movie, Black Scorpion Returns (2001), featuring Lintel.
---
Trailer here
Full film available online here:-
---