---
Crew
Director/Screenplay – Angela Robinson, Producers – Jasmine Kosovic & Andrea Sperling, Photography – M. David Mullen, Music – Steven M. Stern, Music Supervisor – Howard Paar, Visual Effects Supervisors – David Tecson & Mark Thompson, Visual Effects – Edgeworx, Special Effects Supervisor – Mike Tristano, Production Design – Chris Anthony Miller. Production Company – Screen Gems.
Cast
Sara Foster (Amy Bradshaw), Jordana Brewster (Lucy Diamond), Meagan Good (Max Brewer), Jill Ritchie (Janet), Devon Aoki (Dominique), Jimmi Simpson (Scud), Holland Taylor (Mrs Peatree), Michael Clarke Duncan (Mr Phipps), Geoff Stults (Bobby), Jessica Cauffiel (Ninotchka Kaprova)
---
Plot
The D.E.B.S are a crack troupe of high school girls who have been recruited via a secret test embedded in the SAT scores and operate as secret agents. Amy Bradshaw is part of a four-girl D.E.B.S team that is assigned to spy on villainness Lucy Diamond as Lucy meets with Russian assassin Ninotchka Kaprova in a restaurant (on what is in fact a date between the two). However, the undercover operation goes wrong and the D.E.B.S. are spotted. While pursuing Lucy, Amy bumps into her. At the same time as she is trying to arrest her, Amy effusively expresses admiration for Lucy, having written an essay about her. Lucy makes an escape but is captivated by Amy. And so Lucy breaks into D.E.B.S. headquarters to abduct Amy to go on a date. Amy is drawn to Lucy and almost lets Lucy kiss her. Back at Hq, Amy keeps the date a secret only to be promoted to the squad's team leader because of her encounter with Lucy. Lucy then conducts a bank robbery. However, this is a set-up for her to abduct Amy. Sequestered at Lucy's lair, the two fall in love. The other D.E.B.S. mount a countrywide hunt for Amy and break in to find the two of them in bed together. Amy is regarded as an embarrassment but agrees to renew her loyalty to D.E.B.S. However, Lucy still pines for Amy and tries to redeem herself in order to get back together with her.
---
In many ways, D.E.B.S. could be construed as another film that joins the fad for spy movie spoofs that began with Austin Powers, International Man of Mystery (1997) and passed through the likes of Spy Kids (2001), Undercover Brother (2002), Agent Cody Banks (2003), Johnny English (2003) et al. (For an overview of the genre see Spy Films).
D.E.B.S. is somewhat different to these though. For one, rather than drawing from the James Bond series and spoofing its conventions, it is a witty skewering of Charlie's Angels (1976-81). D.E.B.S. also resembles the first Austin Powers in a number of ways that the numerous Austin Powers sequels and copycats do not – that is to say, rather than merely spoof the conventions of the original, it sharply deconstructs them. Austin Powers' cleverness was to show up the swinging playboy spy image of the James Bond films by contrasting it to the 1990s post-feminist, sexual responsibility generation; while D.E.B.S.' cuteness of concept is to play the girls-kicking-ass action as a suppressed lesbian romance.
D.E.B.S. found a reasonable degree of success by playing at various gay and lesbian film festivals around the world, although has a much wider appeal than this niche market. (Part of the problem with selling D.E.B.S. was apparently distributors scratching their heads over what niche to pitch it to). D.E.B.S. is an extremely funny film, in fact far more so than any other film to come out of the Austin Powers spy spoof fad. The moves are wittily parodistic – the girls charge into action wearing school uniforms with skirts that are so short as to almost prove indecent while wielding absurdly augmented guns that are nearly as big as they are.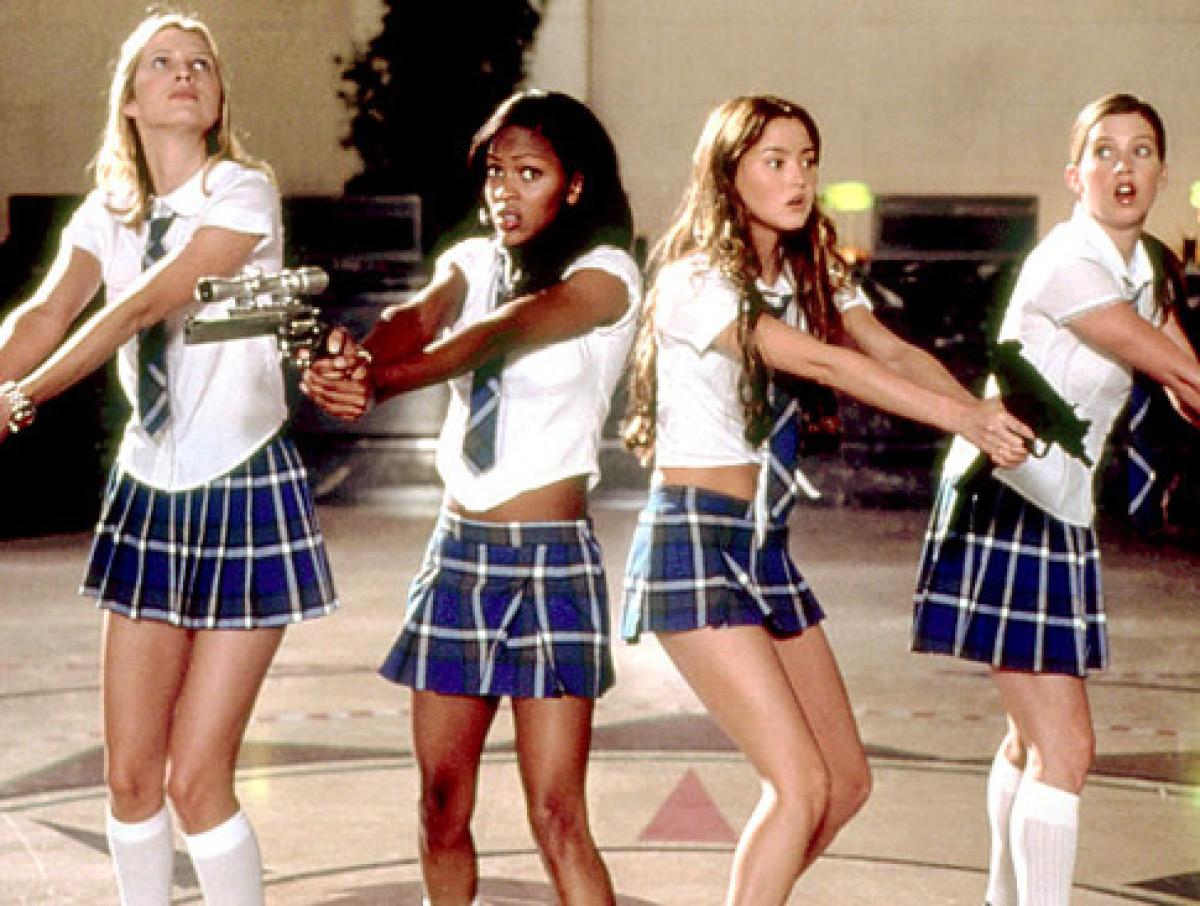 Director Angela Robinson spoofs the Bond gadgetry – Jordana Brewster's break-in to the D.E.B.S. headquarters, where she is seen cutting through the forecefield with a glasscutter, skipping across the laser grid on a lawn like it was hopscotch squares and scaling a wall using sucker tips that make cute little plink noises, is hilarious. Robinson spoofs the action moves – although for all that, she seems almost entirely disinterested in directing any actual action scenes. Rather she has much more fun subverting the poses. A covert meeting at a restaurant between two lethal women turns out to really be a date – "So you're an assassin? What's that like?" – while a John Woo-styled Mexican standoff between Sara Foster and Jordana Brewster turns into an hilarious scene of mutual attraction.
Angela Robinson's forte is a near-perfect touch with deadpan comedy and in being able to throw in all manner of wittily off-the-cuff straight-faced gags – be it turning the four D.E.B.S. sitting on a perch covertly surveilling the restaurant into almost a piece of minimalist theatre where the distances moved apart signify what is going on, to hilarious little throwaway gags about Lucy's Target sweater and jewelled handcuff presents. One of the funniest parts of the film is the montage of scenes as Lucy tries to go straight.
Angela Robinson has also chosen an extremely good cast of then unknowns. In the central role is Sara Foster who has to be one of the tallest lead actresses that I have ever seen in a film (and with the mini-skirt she is outfitted in, she comes across as looking three-quarters legs). Sara Foster is one of the understated strengths of the film, playing the absurdities with a remarkable seriousness and complete straight face.
Jordana Brewster sparkles in a role that has clearly been modelled on Demi Moore in Charlie's Angels: Full Throttle (2003). Be it playing out a truly amazing scene of eye flirtation upon first meeting Sara Foster or cheerfully bursting into D.E.B.S. Hq to ask for a date, Brewster has a charmingly twinkly flirtatiousness to her performance that steals a large part of the film. Equally good is Meagan Good who plays her part with considerable sass and forthright strength. The scene stealer of the show though proves to be Devon Aoki – who subsequently appeared in Sin City (2005) – who plays the entire role in deadpan sour-face, managing to break the audience into hysterics every time she lights up another of her cigarettes.
Angela Robinson had earlier made the film as an 11-minute short D.E.B.S. (2003), which also featured Jill Ritchie. The short essentially played as a promo for a mythical tv series a la Charlie's Angels. Robinson was granted a modest B-budget to expand the idea to a feature film. After making such a wittily subversive gay film, Robinson was then chosen by Disney to direct the big-budget family film Herbie: Fully Loaded (2005), although that lacked any of the scintillating wit that D.E.B.S. has. Subsequently, D.E.B.S., Robinson has worked in television and made no other films until Professor Marston and the Wonder Women (2017), a biopic of Wonder Woman creator Charles Moulton Marston and his menage a trois love life.
(Winner in this site's Top 10 Films of 2004 list. Nominee for Best Actress (Jordana Brewster and Sara Foster) at this site's Best of 2004 Awards).
---
Trailer here
Full film available online here:-
---