USA. 1996.
Crew
Director – Rick Friedberg, Screenplay – Dick Chudnow, Jason Friedberg, Rick Friedberg & Aaron Seltzer, Story – Jason Friedberg & Aaron Seltzer, Producers – Doug Draizin, Rick Friedberg & Jeffrey Konvitz, Photography – John R. Leonetti, Music – Bill Conti, Production Design – William Creber. Production Company – Hollywood Pictures.
Cast
Leslie Nielsen (Dick Steele), Nicollette Sheridan (Veronique Yugrinsky), Charles Durning (The Director), Andy Griffith (General Durwood Rancor), Stephanie Romanov (Victoria/Barbara Dahl), John Ales (Kabul), Barry Bostwick (Coleman), Marcia Gay Harden (Miss Cheevus), Elya Baskin (Professor Yugrinsky), Mason Gamble (McLucky)
---
Plot
When Barbara Dahl, the daughter of his former partner and true love, is captured while trying to infiltrate the base of the nefarious General Rancor, secret agent Dick Steele goes into action. Dick sets out to obtain the control chip to the satellite that General Rancor wants before Rancor fulfils his threat to launch a rocket into orbit with Barbara tied to it.
---
Spy Hard is another attempt to conduct a movie parody in the style patented by films such as Airplane/Flying High (1980), The Naked Gun: From the Files of Police Squad (1988) and Hot Shots! (1993). It closely follows what has now become an established formula for these spoofs – Leslie Nielsen as a requisite star, the parodies of scenes from various well-known films, the deadpan literalistic sight gags and the silliness taking place in the background of the action.
Spy Hard sets out to parody the James Bond films – but of all the films to have copied the Airplane style, it is one of the worst and the one that probably has the least to do with the subject matter it tries to send up. [Although, it was subsequently surpassed in both these regards by the excruciating 2001: A Space Travesty (2001), also featuring Leslie Nielsen]. There are numerous of send-ups principally from films in recent memory – the dancing scene from Pulp Fiction (1994), the bus chase from Speed (1994), the presidential motorcade from In the Line of Fire (1993), the horse in the lift and Harrier Jet scenes from True Lies (1994), the bicycle tomfoolery from Butch Cassidy and the Sundance Kid (1969), and various parodies of Sister Act (1992) and Home Alone (1990).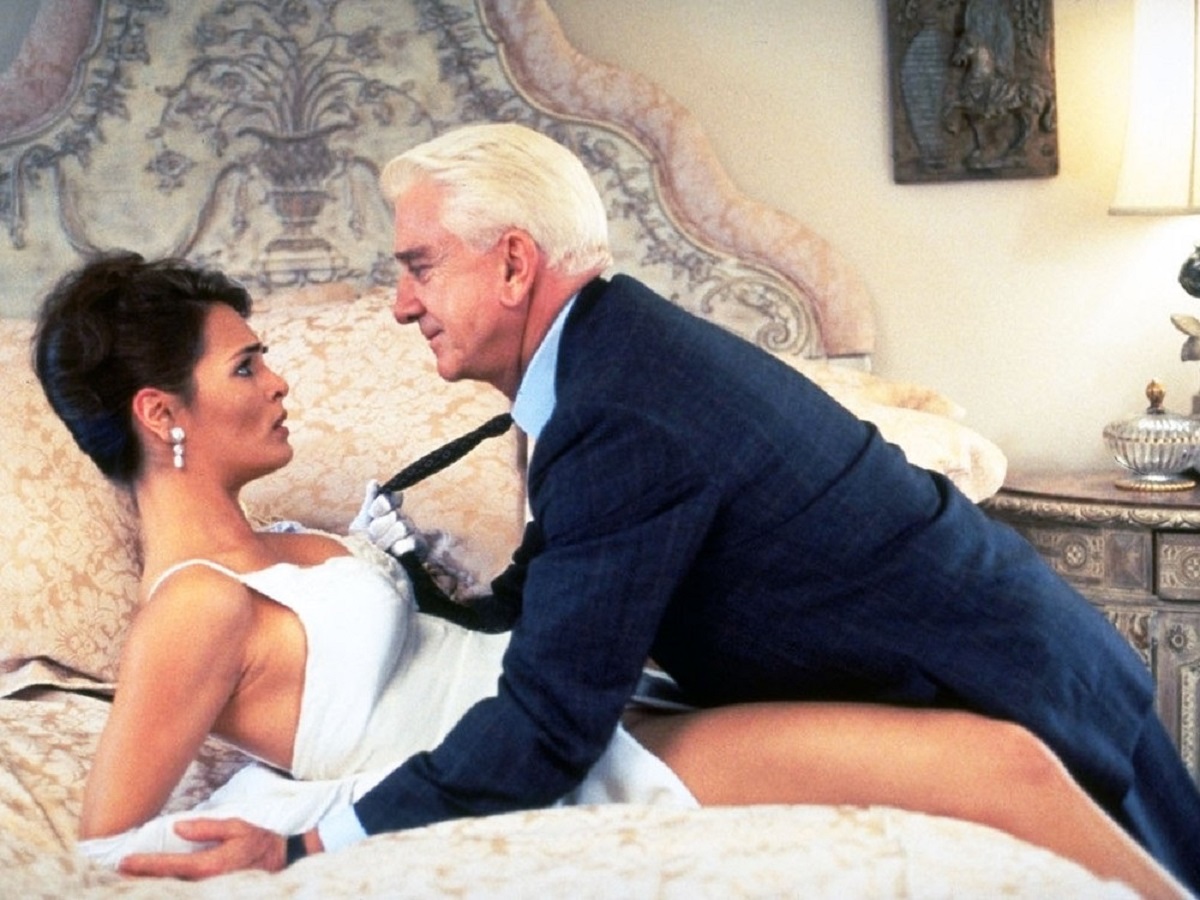 Oddly, bar an amusing parody of the trademark James Bond credits sequences with silhouetted fat ladies swimming, which is written, directed, sung by and starring Weird Al Yankovic, and the odd gags about martinis shaken not stirred, there is precious little in the way of parody of the James Bond film – and what there is is predictably dull, like the briefcase in the gadgeteer's office that turns out to only be a briefcase.
The other movie parodies seem empty and pointless – there seems staggeringly little purpose or humour to them, they seem inserted more as quotes than as actual send-ups. Simply parroting a scene does not count as satire. The most amusing gag is the kid who looks like Macaulay Culkin that the bad guys torture for having inflicted My Girl (1991) and Getting Even with Dad (1994) on the world. The real spy spoof would have to wait until Austin Powers, International Man of Mystery (1997) for an effective workout. Although, those interested should search out Stephen Chow's hilarious spoof of the Bond films in From Beijing with Love (1994).
Co-writers/producers Jason Friedberg (the son of director Rick Friedberg) and Aaron Seltzer later came to specialise in this form of movie parody – one founded on gags making reference to films that came out in about the last six months, all overlaid with much schoolboyish humour. They also co-wrote Scary Movie (2000) and then went onto together direct/write Date Movie (2006), Epic Movie (2007), Meet the Spartans (2008), Disaster Movie (2008), Vampires Suck (2010), The Starving Games (2013), Best Night Ever (2013) and Superfast! (2015).
(Winner in this site's Worst Films of 1996 list).
---
Trailer here
---