---
Crew
Director – Harald Zwart, Screenplay – Scott Alexander, Larry Karaszewski, Ashley Edward Miller & Zack Stentz, Story – Jeffrey Jurgensen, Producers – David Glasser, Andreas Klein, David Nicksay, Guy Oseary & Dylan Sellars, Photography – Denis Crossan, Music – John Powell, Music Supervisor – Julianne Jordan, Visual Effects – Pixel Magic (Supervisor – Raymond McIntyre Jr), Special Effects Supervisor – Tony Lazarowich, Production Design – Rusty Smith. Production Company – Splendid Pictures/Maverick Pictures/Dylan Sellars.
Cast
Frankie Muniz (Cody Banks), Hilary Duff (Natalie Connors), Angie Harmon (Ronica Miles), Keith David (CIA Director), Arnold Vosloo (Francois Molay), Ian McShane (Dr Brinkman), Martin Donovan (Dr Albert Connors), Cynthia Stevenson (Mrs Banks), Daniel Roebuck (Mr Banks), Chris Gautier & Marc Shelton (Surveillance Van Agents), Darrell Hammond (Earl), Connor Widdows (Alex Banks), Peter New (Rosychuk)
---
Plot
The CIA learns that Dr Brinkman has secluded the brilliant nanotech researcher Dr Albert Connors and gotten him to produce a nanobot that ostensibly eliminates oil slicks but can potentially be programmed to devour any substance. The only way to get to Connors is thought to be through his teenage daughter Natalie. For the job, the CIA recruits fifteen-year-old Seattle kid Cody Banks, who once entered a secret summer camp spy-training school. Outfitted with a series of hi-tech gadgets, Cody is registered at the exclusive prep school that Natalie attends with the assignment of scoring an invite to her birthday so that he can infiltrate her father's lab. However, Cody's CIA handlers have forgotten one essential thing – teaching him how to deal with girls.
---
Agent Cody Banks is another in the fad of films that emerged following the success of Austin Powers, International Man of Mystery (1997). Austin Powers gave way to a series of sequels and copycats that featured spoofily over-the-top parodies of James Bond and the spy film. Among these, Agent Cody Banks seems not just another Austin Powers knockoff but even a copy of the Austin Powers copies – namely Robert Rodriguez's appealing Spy Kids (2001) and sequels.
Indeed, Agent Cody Banks could be the Spy Kids films grown up a few years. Rodriguez left his kids on the cusp of adolescence but Agent Cody Banks has the amusing idea of extending the concept into the mid-teens. Here the agent's international career is cut short when his parents ground him; where he desires a super-spy car for cool purposes and so the CIA have to intercede with the DMV to get him a special licence; while his super-suave playboy image flounders because his trainers never told him how to ask girls out.
There is some amusement to be found in the basic idea, even if one feels that the spy spoof genre is starting to become creatively milked out. That said, Agent Cody Banks does not do a particularly good job of it. It is a film that perpetually seems funnier on paper than it does in watching it. Rarely does anything happening on screen raise more than a vague smile. The film sits between offering up a spoofy parody of the whole spy image, a la Austin Powers and Spy Kids, and playing into it.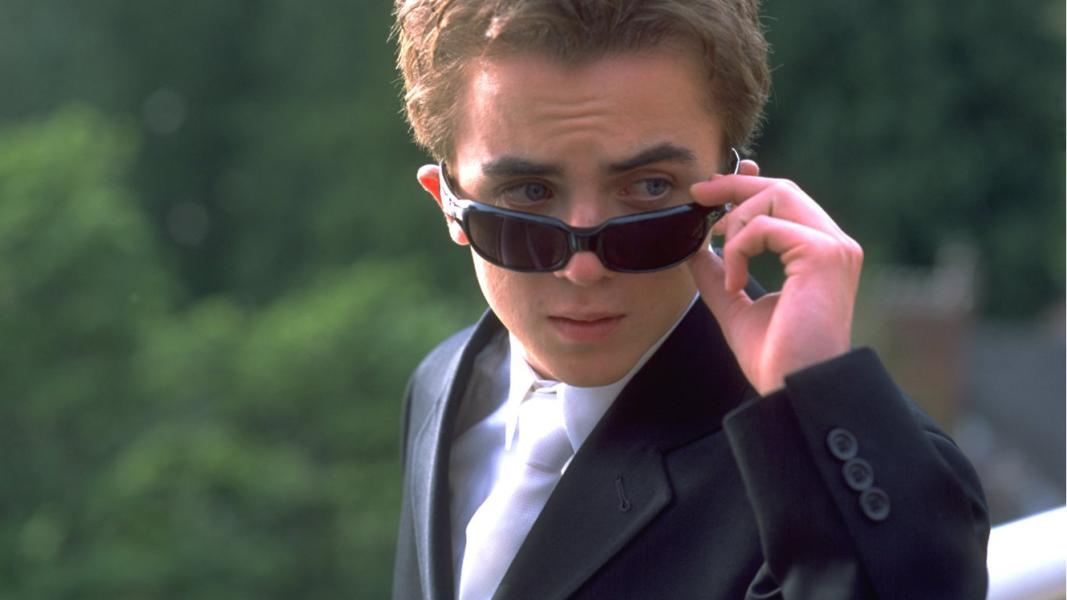 Most of the scenes are standard adventure scenarios that are tried and true clichés of the genre, conducted without anything detectable in the way of parody – the break-in to the sensor-ridden high-security complex by winch, the skier pursued by goons on snowmobiles, the climactic assault on the villain's hideout with everything going up in an explosion at the end.
As the Bond-styled villain of the show, Ian McShane makes disappointingly little of himself felt. Indeed, Ian McShane is almost entirely negligible as a villain – we never even learn what his world domination scheme is about – and he is frequently upstaged by Arnold Vosloo as his henchman.
Agent Cody Banks features Frankie Muniz, the star of tv's hit sitcom Malcolm in the Middle (2000-6). The geeky Muniz at least generates a likeable enough screen presence. The scene-stealer of the show proves to be the radiantly lovely Hilary Duff but the film does almost nothing with her.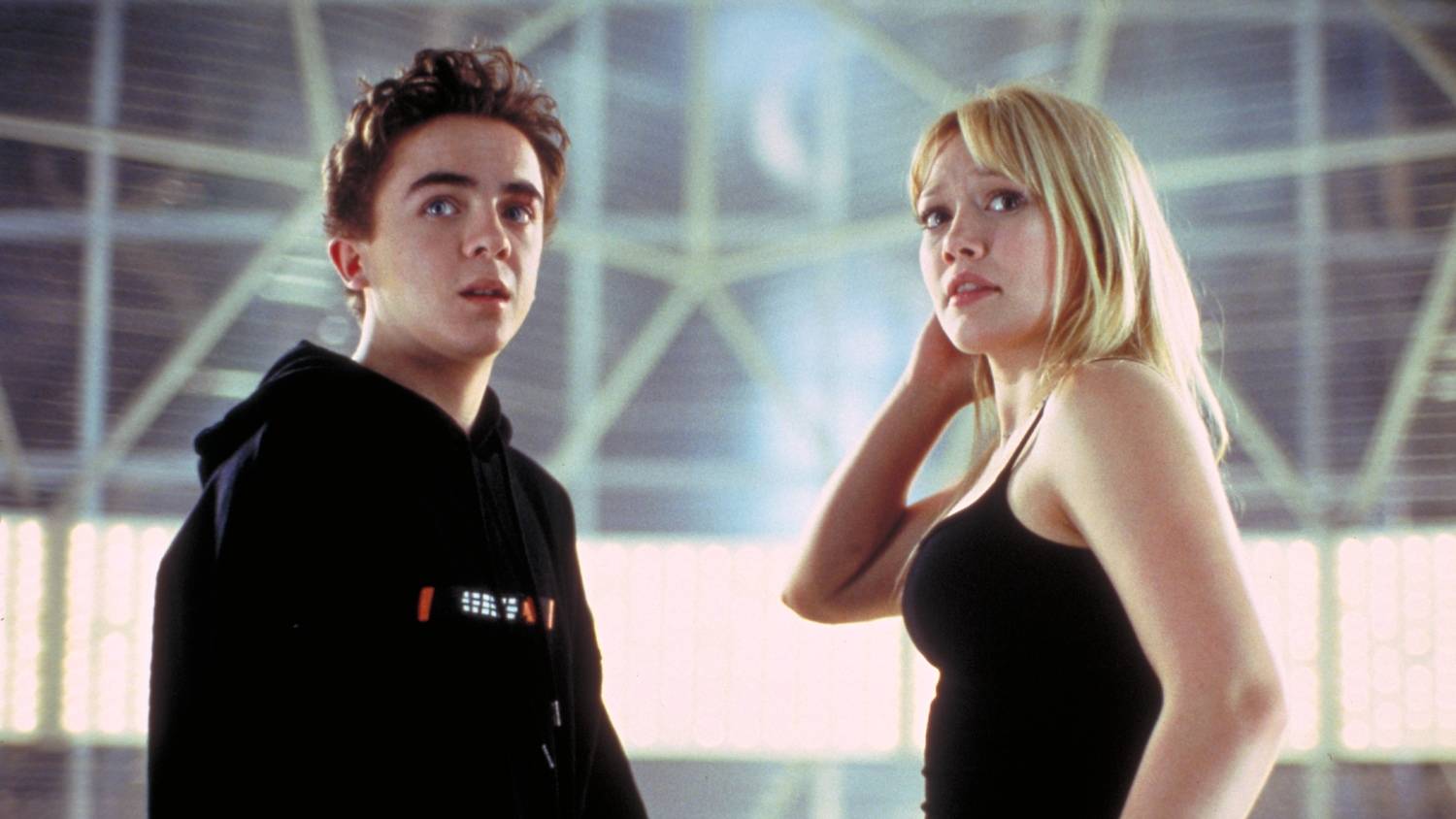 The film certainly arrays an odd list of talent behind the camera elsewhere. The script comes from Larry Karaszewski and Scott Alexander, the co-writing team better known for biopics such as Ed Wood (1994), The People Vs Larry Flynt (1996), Man on the Moon (1999), Big Eyes (2014) and Dolemite is My Name (2019). Listed among the producers' credits is everybody from Madonna to Jason Alexander of Seinfeld (1990-8) fame and Robert Meyer Burnett, the director-writer of the fan favourite Free Enterprise (1998).
Dutch born director Harald Zwart had previously made his English-language debut with One Night at McCool's (2001) and subsequently went onto The Pink Panther 2 (2009), the remake of The Karate Kid (2010) and the fantasy film The Mortal Instruments: City of Bones (2013).
The sequel was Agent Cody 2 Banks: Destination London (2004).
---
---