---
Crew
Director/Teleplay – Alex Garland, Producer – Sara Desmond, Photography – Rob Hardy, Music – Geoff Barrow, The Insects & Ben Salisbury, Visual Effects Supervisor – Andrew Whitehurst, Special Effects Supervisor – Stefano Pepin, Production Design – Mark Digby. Production Company – DNA Films/FX Productions.
Cast
Sonoya Mizuno (Lily Chan), Nick Offerman (Foster), Jin Ha (Jamie), Alison Pill (Katie), Zach Grenier (Kenton), Cailee Spaeny (Lyndon), Stephen McKinley Henderson (Stewart), Karl Glusman (Sergei), Jefferson Hall (Pete), Linnea Berthelsen (Jen), Aimee Mullins (Anya), Janet Mock (Senator Laine), Corey Johnson (Dr Goodman), Brian D'Arcy James (Anton), Liz Carr (Lecturer), Mark Ciarrocchi (Joe), Georgia King (Lianne)
---
Plot
Lily Chan and her boyfriend Sergei both work for the giant computer corporation Amaya. Sergei's work impresses Amaya head Foster and he decides to promote Sergei to the top secret Devs unit. Sergei is introduced to the hi-tech Devs facility and is astonished at the work being conducted there. Leaving to go home, he is stopped by Foster and Kenton, Amaya's security head, who accuse Sergei of stealing code using a wristwatch camera. Kenton then strangles Sergei with a plastic bag over the head. Lily is distraught when Sergei fails to come home and goes to Kenton to report him missing. They later play her cctv footage that show Sergei dousing himself in petrol and setting himself alight. A distraught Lily refuses to accept this and contacts her ex Jamie who hacks Sergei's phone to reveal information that shows he was a spy for the Russians. Further investigation uncovers that the film footage was faked. Kenton responds by having Lily committed to a psychiatric institution and then hunting her when Jamie helps her escape. At the same time, Lily is crucial to the massive project being constructed at Devs, the creation of a computer that tracks the behaviour of every particle and can perfectly trace its actions into the past and predict how it will behave in the future.
---
Alex Garland has become a rising name on the genre scene in recent years. Garland first appeared as a novelist with The Beach (1996), which was a best-seller that was turned into the Danny Boyle film The Beach (2000) with a script by Garland. Garland wrote two other novels, one of which was also filmed as The Tesseract (2003) by the Pang Brothers. Garland and Danny Boyle then collaborated on 28 Days Later (2002), which is notable for kicking off the massive zombie revival fad of the 2000s/10s, as well as the underrated science-fiction film Sunshine (2007). This seemed to set Garland on a career as a science-fiction screenwriter and he subsequently went onto the excellent Never Let Me Go (2010), the adaptation of Dredd (2012) and has been prominently associated with the scripts for the stalled adaptation of the Halo videogame and proposed remake of Logan's Run (1976).
Garland made his directorial debut with the artificial intelligence film Ex Machina (2015), which won acclaim around the world, including having him nominated for a Best Original Screenplay at the Academy Awards. He followed that with Annihilation (2018) about a journey into a mysterious alien zone, which received a much more mixed reception. Devs was his third directing-writing outing, a tv mini-series that first aired on the US FX channel in eight one-hour episodes. Subsequent to Devs, Garland went on to make and the folk horror/gender politics film Men (2022).
Ex Machina set a benchmark for treatment of artificial intelligence themes. Garland has determined to build on his meditations about the state of the technological world and here takes a dive right inside a Silicon Valley tech corporation. (To underscore matters, Sonoya Mizuno even has a copy of D.F. Jones' Colossus (1966), the basis of the evil super-computer film Colossus: The Forbin Project (1969) as bedtime reading). The series is filled with casual mention/discussion of quantum computing and encryption issues. And not in the usual handwave ways you get in the media – Garland has clearly done his research on the topics. The later scenes come with some heady discussions on quantum physics, quantum super-positioning and debates about the validity of the Copenhagen, Penrose, von Neumann-Wigner and Everett Interpretations. I struggle to even think of any other filmed work I have seen that delves into such a field.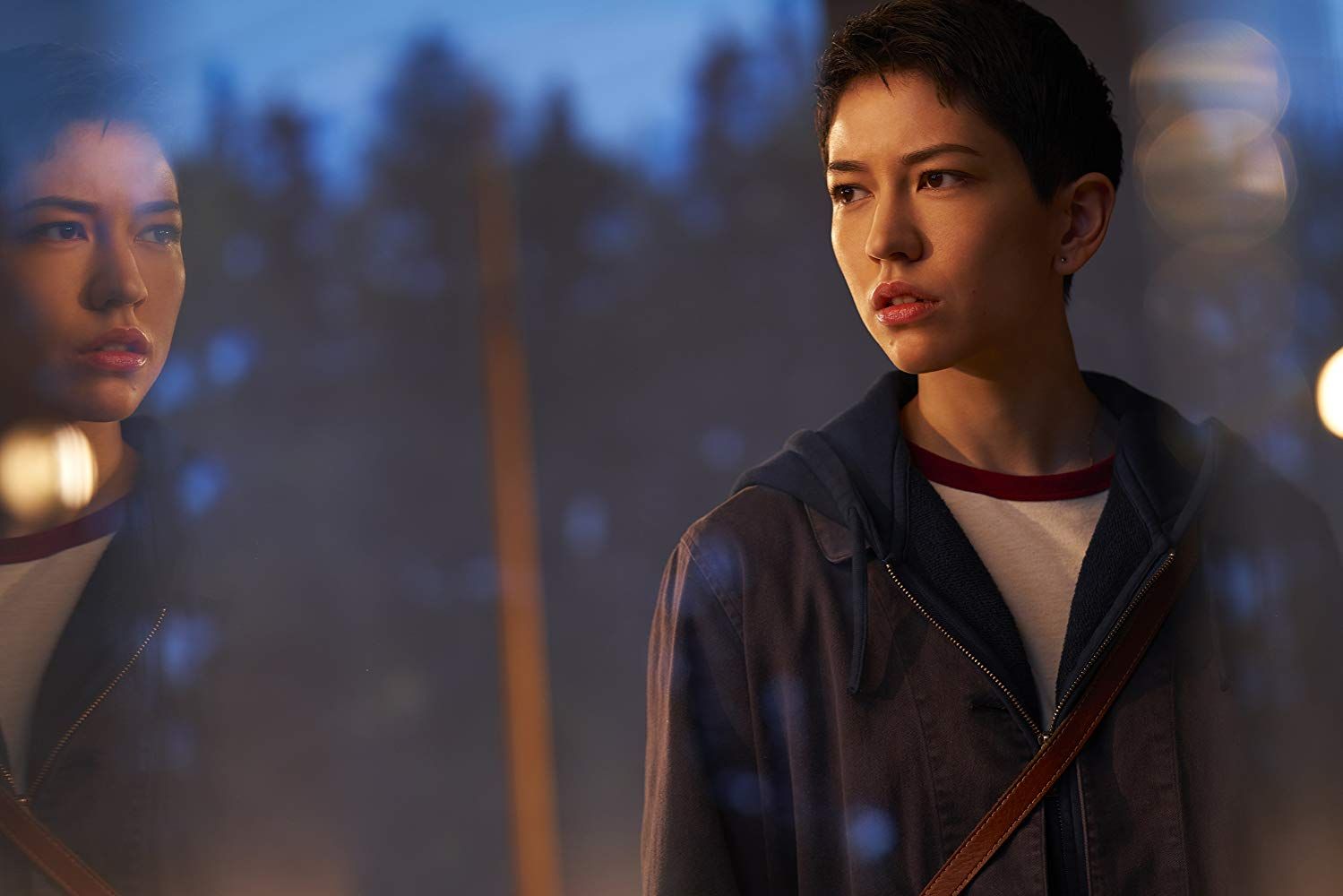 Garland does a superlative job in the build-up. The first episode takes us through the placid calm of the Amaya campus, with its slightly discomforting image of the giant statue of a child towering above the surrounding forest. Especially intriguing is Karl Glusman's introduction to the Devs facility, a bunker that sits in a field surrounded by gold metal pillars and has an interior of gold metal panelling and a futuristic anti-gravity cage that moves between the inner and outer shell, all of which is described in an impressive series of technical flourishes. Glusman is granted a glimpse into what is being developed – something we are not initially privy to – and reacts in stunned awe "If this is true, it changes everything." All of this is abruptly turned on its head when Glusman leaves for the night to be stopped in the woods – all strikingly lit up by trees surrounded in rings of light – by CEO Nick Offerman who lectures him on predestination before security head Zach Grenier strangles him with a plastic bag over the head.
It is a show filled with some fantastic writing. This is a mini-series that grapples with big issues and takes on the meaning of it all. Garland has clearly done his reading on quantum physics and much of the film is concerned with the debate between whether all matter in the universe and its behaviour is predetermined – there is a great scene at the end of Episode 6 where Alison Pill demonstrates the nature of this to Sonoya Mizuno using a pen. Much of the series is set up to debate whether everything is predetermined or the validity of other quantum interpretations like the Many Worlds Interpretation, which sees every quantum event split off into a series of branching universes. This is the only fictional work I have ever seen that conducts a demonstration of the quantum Double Slit Experiment, for instance. It is quite something in the latter scenes watching as people view their future selves saying things and then said actions start to come true, all before this is ingeniously twisted on its head at the end. Or of scenes where they sit casually viewing the past, seeing Jesus Christ on the cross or Marilyn Monroe in bed with Arthur Miller.
I loved the whiplash twists of Alex Garland's writing – where we go from Sonoya Mizuno appearing to go off the deep end after her boyfriend's death and talking about strange random patterns, to her walking out on the ledge of Zach Grenier's office, followed by the resulting drama in trying to talk her down to the abrupt revelation that all of this is a ruse to steal information from Grenier's computer (although part of you does a double take in that the head of security leaves a computer in his office that sits open without any password required to log back in). There are abrupt whiplash reversals – discussions on future determinism that end with the revelation that Lily is meant to die in 48 hours time, or the bombshell that Alison Pill delivers at the end of Episode 6 when she sits down to explain the nature of Devs to Lily.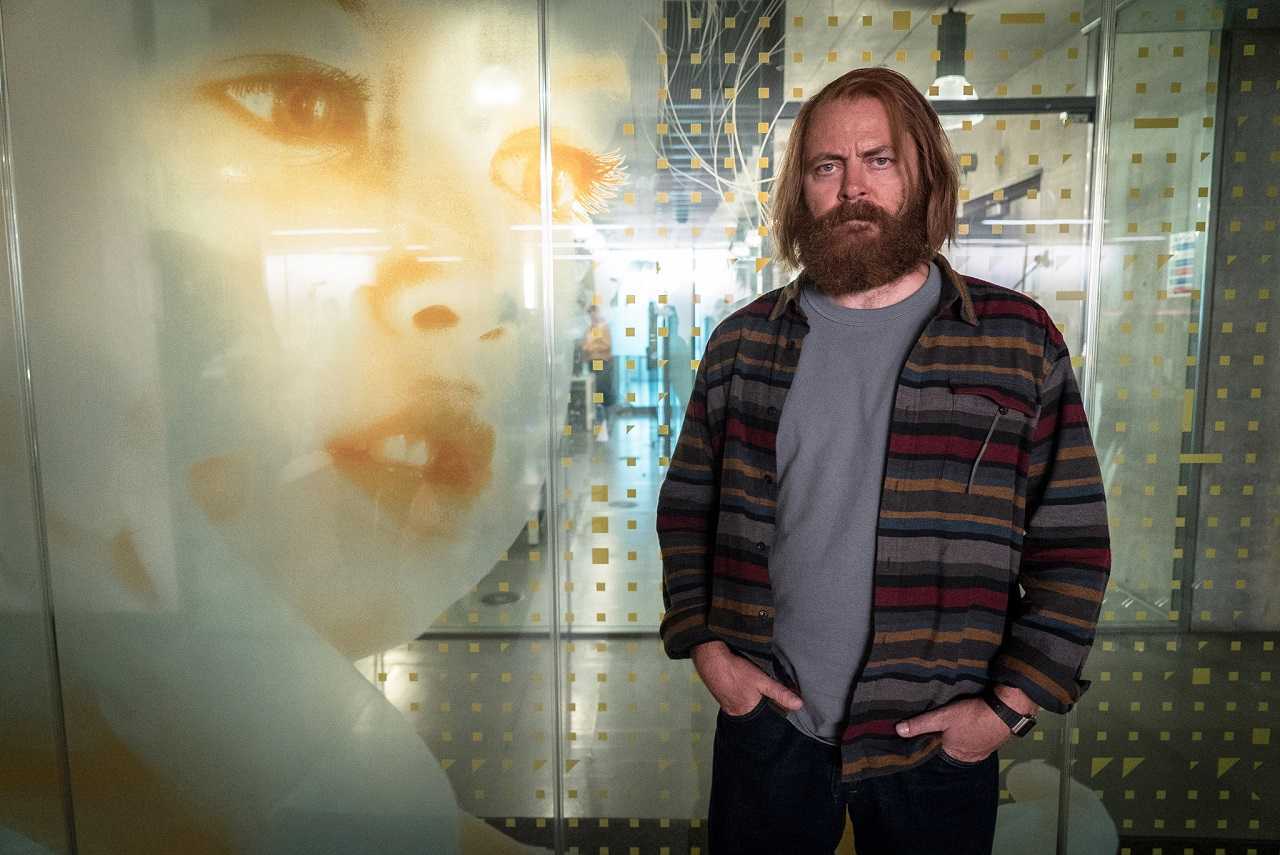 To me, one of the most stunningly written scenes is the one where Alison Pill takes Lyndon (Cailee Spaeny) up over a dam and challenges him to put his faith in his worldview and stand on the ledge – the version in which he falls is predetermined, but if he survive it proves the validity of his Many Worlds Interpretation in which he can choose one of the paths where he comes back to work. The end of the show goes with a reiteration of the good old "we are all living in the matrix" but with some clever and inventive twists on the familiar. But what a stunning and conceptually ride in getting there. It makes for one of the best science-fiction viewing experiences I have had on big or small screen in at least the 3-4 years.
It is also a show filled with some great performances. Nick Offerman is a bear of a presence who comes with long unkempt hair and beard that makes him look like he came from an audition for the role of the derelict outside Lily's apartment but has a serene otherworldly calm and wisdom in every scene he appears. A scene-stealer proves to be Zach Grenier, a regular supporting actor on tv and in film roles, who shows unexpected depths in the part of the security head – there are some wonderful scenes like where he drowns Jin Ha in his bath and breaks his fingers in between lecturing on Tiananmen Square. Sonoya Mizuno has appeared in all of Alex Garand's directorial outings – as an android in Ex Machina and the alien in Annihilation. Alison Pill is an actress I have been consistently impressed with for some time now and delivers a coolly aloof performance of some effect. As do all of the other cast – Jin Ha, Cailee Spaeny (who is actually a girl despite playing the role of a teenage boy) and Stephen McKinley Henderson.
(Winner Best Film in this site's Top 10 Films of 2020 list. Winner for Best Original Screenplay and Best Supporting Actor (Nick Offerman), Nominee for Best Supporting Actor (Zach Grenier), Best Supporting Actress (Alison Pill), Best Supporting Actress (Cailee Spaeny) and Best Production Design at this site's Best of 2020 Awards).
---
---