---
Crew
Director – David Nutter, Screenplay – Scott Rosenberg, Producers – Armyan Bernstein & Jon Shestack, Photography – John S. Bartley, Music – Mark Snow, Music Supervisors – Sharon Boyle & John Houlihan, Psychologically Altered Visions – Heroes at Encore & Kathryn Peaslee, Visual Effects – Encore Visual Effects (Supervisor – Kent Feeler) & Northwest Imaging &FX (Supervisor – Paul R. Cox), Special Effects Supervisor – Joel Whist, Makeup Effects – Tony Lindala, Production Design – Nelson Coates. Production Company – Beacon Communications.
Cast
James Marsden (Steve Clark), Katie Holmes (Rachel Wagner), Nick Stahl (Gavin Strick), Bruce Greenwood (Dr Edward Caldicott), William Sadler (Dorian Newberry), Chad E. Donella (U.V.), Crystal Cass (Lorna Longley), A.J. Buckley (Chug Roman), Katharine Isabelle (Lindsay Clark), Steve Railsback (Officer Cox), Derek Hamilton (Trent Whelan), Tygh Runyan (Dickie Atkinson), Terry David Mulligan (Nathan Clark), Susan Hogan (Cynthia Clark), Tobias Mehler (Andy Effkin), Natassia Malthe (Mary Jo Copeland)
---
Plot
Steve Clark moves from Chicago to Cradle Bay on Washington's Crescent Island along with his family. He settles into the local school where he is befriended by slacker Gavin Strick and is attracted to Rachel Wagner. Gavin is paranoid that something sinister is happening to the slackers in school that it is causing them to turn into members of the Blue Ribbons clique who are all academically high-achieving, snobbish and bullying towards others. At the same time, whenever members of the Blue Ribbons become sexually aroused, they have a tendency to snap and go on psychotic rampages. Steve is forced to take Gavin's paranoias seriously when Gavin himself becomes the next member of the Blue Ribbons and is turned into a perfect preppie. Steve and Rachel uncover how neuropsychologist Edward Caldicott is conducting an illicit brainwashing program in the school. However, this discovery earmarks them as a threat to be silenced.
---
Disturbing Behavior was one of a host of teenage horror films that came out following the runaway success of Scream (1996). As such, it is a cut above some of the others that emerged from the cycle – Urban Legend (1998), Idle Hands (1999), Valentine (2001). Indeed, there are surprising similarities between Disturbing Behavior and one other teen horror film that came out the same year – Scream writer Kevin Williamson's The Faculty (1998). Both are high school body snatchers films about sinister schemes to take over the minds of students.
If The Faculty was a modern teen variant on Invasion of the Body Snatchers (1956), then Disturbing Behavior has clearly been construed as a teen take on The Stepford Wives (1975) or perhaps even more so the tv tv movie sequel The Stepford Children (1987). Like The Faculty, Disturbing Behavior has the mildly anti-authoritarian theme of championing slackerdom over academic high achievement – here the underlying threat is seen as being conformity to parental expectations, conservative dress codes and becoming an A student.
Disturbing Behavior was an American-financed, Canadian-shot production. The director was David Nutter, who has been extremely prolific in genre tv, including directing the pilots and numerous episodes of shows such as Space: Above and Beyond (1995-6), Millennium (1996-9), Sleepwalkers (1997), Roswell (2000-2), Dark Angel (2000-2002), Smallville (2001-11), Terminator: The Sarah Connor Chronicles (2008-9), Game of Thrones (2011-9) and The Flash (2014-2), most of which he has also worked for in a producing capacity. The work that David Nutter was probably most well known and almost certainly selected on the basis of here was as director and a producer on the first three seasons of The X Files (1993-2002, 2016-8). Despite his prolific television output, David Nutter had only directed one other film, Full Moon's video-released Trancers 4: Jack of Swords (1994) and has yet to be offered the chance to make another film subsequent to Disturbing Behavior.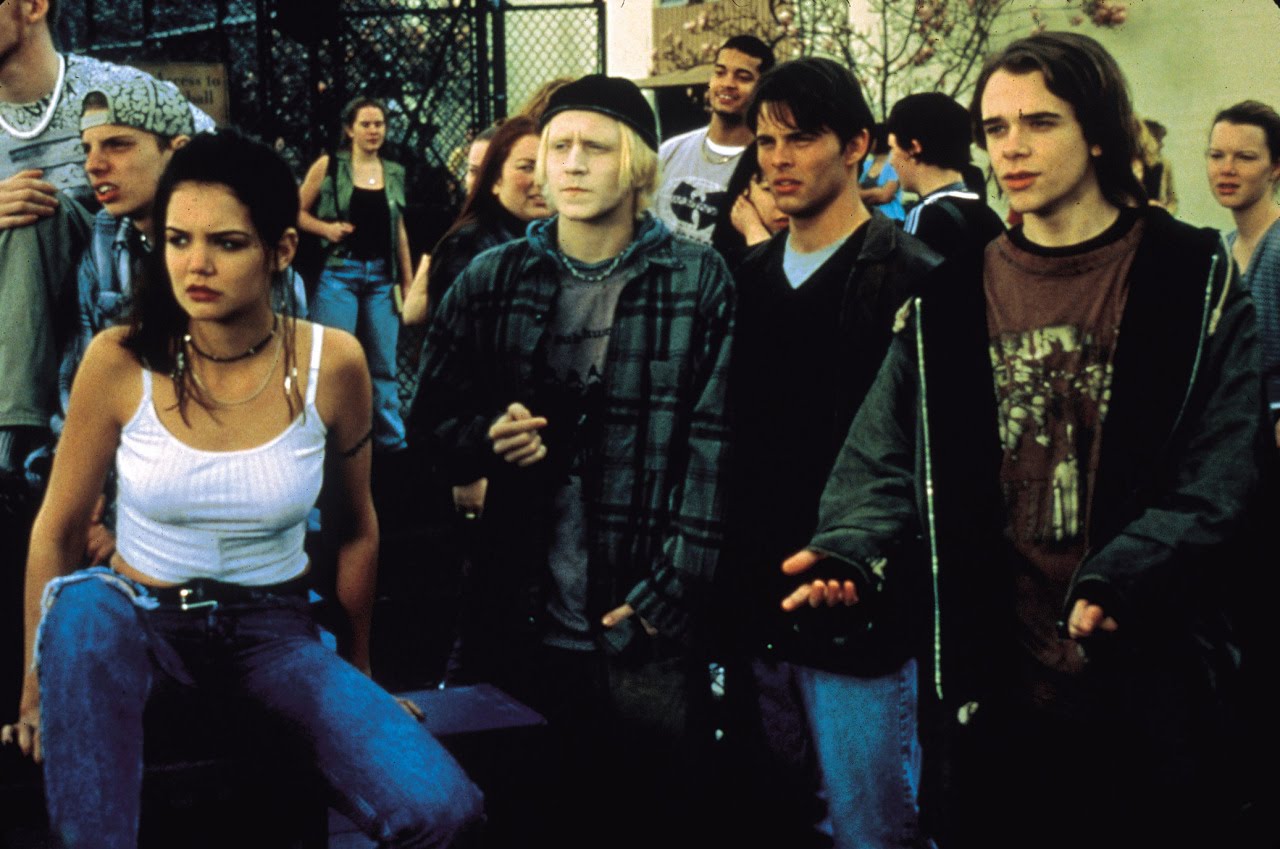 Disturbing Behavior is a promisingly better film than most of the other abovementioned contemporary teen horror films, most of which ended up being not much more than 1980s slasher films with studio budgets. There is some deft characterisations and sharply cynical writing – Nick Stahl has a wonderful speech early on in the show where he conducts a verbal tour of the student cafeteria dividing the students up into various wryly-observed types.
Some of the casting does tend to get in the way of suspension of disbelief – James Marsden, later Cyclops in the X-Men films, is too handsome and assured to seem like someone who would convincingly automatically seek out the company of two slackers and social dropouts. Katie Holmes, then just come from the success of Williamson's Dawson's Creek tv series (1998-2003), has more success at portraying a cynical social outsider. Best of all is Nick Stahl, whose sarcastically cheerful geek is well played, especially good being the abrupt change the character makes in mid-film.
David Nutter does a decent job of directing, providing a modest degree of style and some effective moments of tension. The best scene is where the beautiful Crystal Cass comes onto James Marsden and then has a psychotic episode where she bashes her head into the bathroom mirror and comes after him with a shard of broken glass, before suddenly getting up and walking out as though nothing had happened: "I have to go – I have a test tomorrow."
Where the film falls down is in a screenplay that fails to offer adequate resolution to its elements. The menace is wrapped up as though the writer suddenly realized that the script had exceeded a predetermined length whereupon the threat is brought to an end with an abrupt and disappointingly obvious deus ex machina resolution that comes out of nowhere.
---
---