aka Club Extinction
---
 West Germany/Italy/France. 1990.
Crew
Director/Adaptation – Claude Chabrol, Screenplay – Sollace Mitchell, Story – Thomas Bauermeister, Based on the Novel Mabuse der Spieler by Norbert Jacques, Producer – Ingrid Windisch, Photography – Jean Rabier, Music – Mekong Delta & Paul Hindemith, Models – Joost van der Velden, Special Effects – Karl Baumgartner, Special Effects Makeup – Hasso von Hugo, Artificial Heart – Giannetto de Rossi, Production Design – Dante Feretti & Wolfgang Hundhammer. Production Company – NEF Filmproduktion GmbH/Ellepi Film Srl/Clea Productions S.A./Zweites Deutsches Fernsehen, La Sept/Telefilm GmbH.
Cast
Jennifer Beals (Sonja Vogler), Alan Bates (Dr Heinrich Marsfeldt), Jan Niklas (Lieutenant Klaus Hartmann), Benoit Regent (Sergeant Stieglitz), Alexander Radszun (Captain Engler), Hanns Zischler (Moser), Peter Fitz (Helmut Veidt), Wolfgang Preiss (Commissioner Kessler)
---
Plot
West Berlin is being plagued by mass suicides. In his investigation, police detective Klaus Hartmann discovers that all the victims were obsessed with model Sonja Vogler, who appears on video billboards around the city as a spokesperson for the Club Theratos holiday tours. All the victims have left suicide messages for Sonja or pictures with her eyes cut out. As Hartmann and Sonja team up to investigate the mystery, it becomes apparent that media mogul and Club Theratos owner Dr Heinrich Marsfeldt is the mastermind responsible, using tv broadcasts to trigger mass suicides in the belief that he is delivering people from a social malaise.
---
Dr M/Club Extinction is a remake of the silent German classic Dr Mabuse, The Gambler (1922) from Fritz Lang. There is some appeal to a contemporary version of Dr Mabuse. In lieu of a decadent post-World War I Berlin, director Claude Chabrol supplants Germany of the 1990s where the Berlin Wall stands as a symbol of a divided landscape (ironically, The Berlin Wall fell shortly before the film was released – a lesson to any science-fiction film in the pitfalls of prognostication). The milieu in the original of a decadent post-World War I Berlin has now become the world on the edge of the millennium where youth dances away in punk nightclubs and the populace is affected by a malaise of nihilism and mass suicide, while Dr Mabuse now becomes a media baron controlling the masses through television and advertising.
Many potent images from the original Dr Mabuse films remain – Mabuse watching behind hidden windows and controlling the random flow of games of chance, his hotels that double as mind control institutes, the ending with him gone mad. Some of the new images that Claude Chabrol introduces are good too – the background of a future dominated by media where giant video billboards offer banally repeated ads over and over; and some striking sets such as the nightclub vividly dressed in brickwork where people dance to the silently flickering b&w film images from anonymous wars projected on a wall behind them.
There is a good central metaphor of chaos and randomness versus control – in one potent moment, Marsfeldt stands secretly watching a roulette game and the camera pans to watch the 0 come up as he wills it. At various other points, Marsfeldt appears to be in imminent danger of having a heart attack depending on how much control he has over things.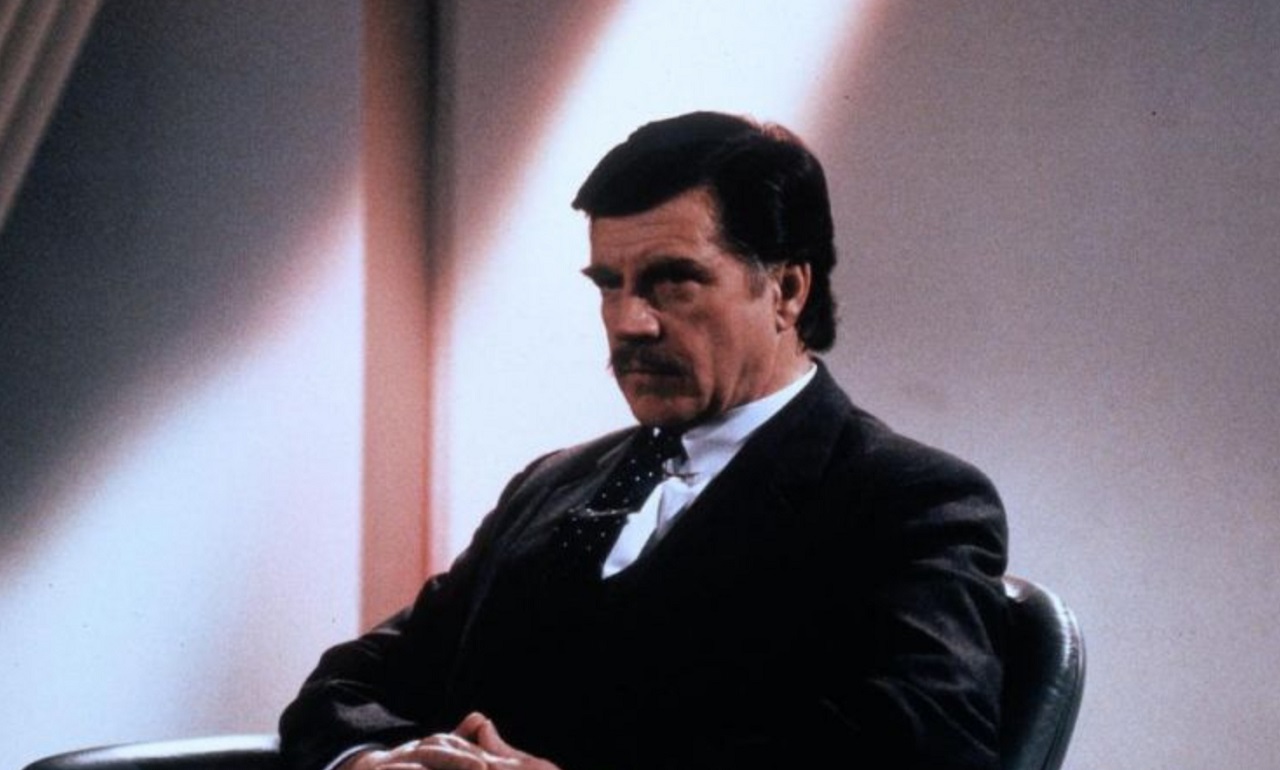 For all that, Dr M/Club Extinction is a dull film. Claude Chabrol never conjures a sense of the decadence or the vast criminal underworld that Fritz Lang created. Both Chabrol's direction and the photography are flat and dreary and the cast equally uninspired. The plot is not that well held together – indeed seems rather ludicrous when one thinks about it – Marsfeldt's scheme seems to be to cause people to commit mass suicide (one is never sure why – his only explanation is ever that he is giving them what they want), or most of all how (some link to the Club Theratos, at other points to hypnotic control triggered by tv broadcasts), or why the victims have an obsession with Sonja.
Alan Bates gives a reasonably good performance – certainly his affection of fatherly geniality is very good, especially during one sequence when he appears on tv, surrounded by children to assure people that there is no panic over the mass suicides, deliberately disseminating disturbing information. However, the very charisma of Alan Bates' performance points obviously to the identity of the mastermind behind things – one fails to see the point in making the revelation of the identity a surprise as it fools nobody. And unfortunately, what starts as a good performance becomes increasingly hammy throughout – at its worst when Bates is impersonating a guru in 60s clothing, beads, white wig and bad accent. It culminates in a very silly ending amid rampant overacting upon Alan Bates's part.
The other Dr Mabuse films are: Dr Mabuse, The Gambler (1922), The Testament of Dr Mabuse (1933), The 1000 Eyes of Dr. Mabuse (1960), The Return of Dr Mabuse/The FBI Versus Dr Mabuse (1961), The Testament of Dr Mabuse (1962), The Invisible Dr Mabuse/The Invisible Horror (1962), Dr Mabuse vs Scotland Yard (1964) and The Death Ray of Dr Mabuse/The Secret of Dr Mabuse (1964).
---
---