---
Crew
Director – Francis Lawrence, Screenplay – Peter Craig & Danny Strong, Adaptation – Suzanne Collins, Based on the Novel Mockingjay by Suzanne Collins, Producers – Nina Jacobson & Jon Kilik, Photography – Jo Willems, Music – James Newton Howard, Visual Effects Supervisor – Charles Gibson, Visual Effects – Cantina Creative (Supervisor – Jay Grunfeld), Double Negative (Supervisor – Adrian de Wet), The Embassy Visual Effects, Lola VFX (Supervisor – Edson Williams), Pixomondo (Supervisor – Bjorn Mayer), Rising Sun (Supervisor – Tim Crosbie), Scanline VFX(Supervisor – Darren Poe) & Whiskytree (Supervisor – Jonathan Harb), Special Effects Supervisor – Gerd Nefzer, Makeup Supervisor – Ve Neill, Production Design – Philip Messina. Production Company – Color Force/Lionsgate.
Cast
Jennifer Lawrence (Katniss Everdeen), Liam Hemsworth (Gale Hawthorne), Josh Hutcherson (Peta Mellark), Julianne Moore (President Alma Coin), Philip Seymour Hoffman (Plutarch Heavensbee), Donald Sutherland (President Coriolanus Snow), Elizabeth Banks (Effie Trinket), Woody Harrelson (Haymitch Abernathy), Willow Shields (Primrose Everdeen), Sam Claflin (Finnick Odair), Jeffrey Wright (Beetee Latier), Natalie Dormer (Cressida), Mahershala Ali (Commander Boggs), Paula Malcomson (Katniss's Mother), Stanley Tucci (Caesar Flickerman), Elden Hanson (Pollux), Sarita Choudhury (Egeria), Evan Ross (Messalla), Wes Chatham (Castor)
---
Plot
Katniss Everdeen tries to cope in the aftermath of President Snow's bombing of District 12 and the destruction of her home. Rebellion is growing across the districts. In hiding in District 13, the rebellion's leader President Alma Coin persuades Katniss to appear in a series of propaganda clips as the mockingjay and become the symbol of the resistance. When Katniss appears stiff and rehearsed in these, Haymitch pinpoints that the real problem is that she needs authenticity. And so she sets on a tour of the rebelling districts accompanied by a camera crew go. President Snow retaliates by bombing a hospital that she just visited. As they are able to turn this around into a propaganda victory, The Capitol responds by bringing out a still alive Peta to argue for their side. Katniss insists as price of her cooperation that he be rescued. An attempt is made after the sabotage of a dam leaves The Capitol without power. Meanwhile, President Snow responds by ordering his air force to bomb District 13 to the ground.
---
Mockingjay Part 1 is the third film in the massively popular Young Adult film series that began with The Hunger Games (2012) and was followed by The Hunger Games: Catching Fire (2013). Suzanne Collins, whose books the films are based on, only wrote a trilogy and so, following a number of other popular series at the moment – the Harry Potter series, the Twilight series, the Divergent series – the producers have taken the step of splitting the final book Mockingjay (2010) into two films. The concluding chapter was The Hunger Games: Mockingjay Part 2 (2015). Director Francis Lawrence and all of the principals from the previous films have returned here.
I am not a wildly enthusiastic fan of The Hunger Games series. It is better written than the Twilight series and has a lot more shaded complexity of writing than the Harry Potter series. It is okay as science-fiction but too many unanswered questions remain. It is a world that seems to exist in a bubble, for one. I don't have a problem so much with Panem seeming to exist out of any socio-historic connection to the present but it also a world that seems to assume that whole sectors of contemporary technologies don't exist.
For example, there is seemingly no internet where surely a half-decent blogosphere would tear apart the propaganda messages or issue their own viral videos within a matter of hours. It is also a world that seems to be without nukes – District 13 could have been obliterated in one quick bombing. (There is mention of radiation at one point, although moments later Jennifer Lawrence and others go topside to ground zero, which seems bombed by regular means and nobody is concerned about fallout).
Or the idea of a Capitol that is rendered vulnerable because of their dependence on a single hydro-electric dam. Indeed, Panem seems to be a world that exists only as thirteen districts within a single country, impliedly a future USA, and where the rest of the world has vanished altogether – surely there would be some outrage expressed from international quarters at a president willing to bomb his own people into submission. (Look no further than the contemporary situation in Syria).
Part of what I am enjoying about the Hunger Games series is that it is constantly turning everything we expect of each chapter on its head. The first film was nothing more than a Young Adult variation on the well-used dystopian scenario of the populace being entertained with human bloodsports with some amusingly satiric digs at reality tv added to the mix. It was okay but an unremarkable treatment; nevertheless, the idea was new to younger audiences who lapped it up. Catching Fire reversed that and dug beneath the games into the society and came with a strong parable about Marxist revolution.
While the set-up of the previous film left our sympathies with the downtrodden masses as they revolted against the privileged elite, Mockingjay Part 1 starts to muddy the question. Katniss may have started the fire of rebellion but the rebels don't seem a group you can fully trust – President Coin's motivations seem guarded, while you can only sympathise with Effie's complaints about a group that demand uniformity right down to everybody dressing in unglamorous boiler suits. (This went to an even greater extreme in Mockingjay Part 2 that paints the rebels as even worse than the corrupt system they were trying to tear down).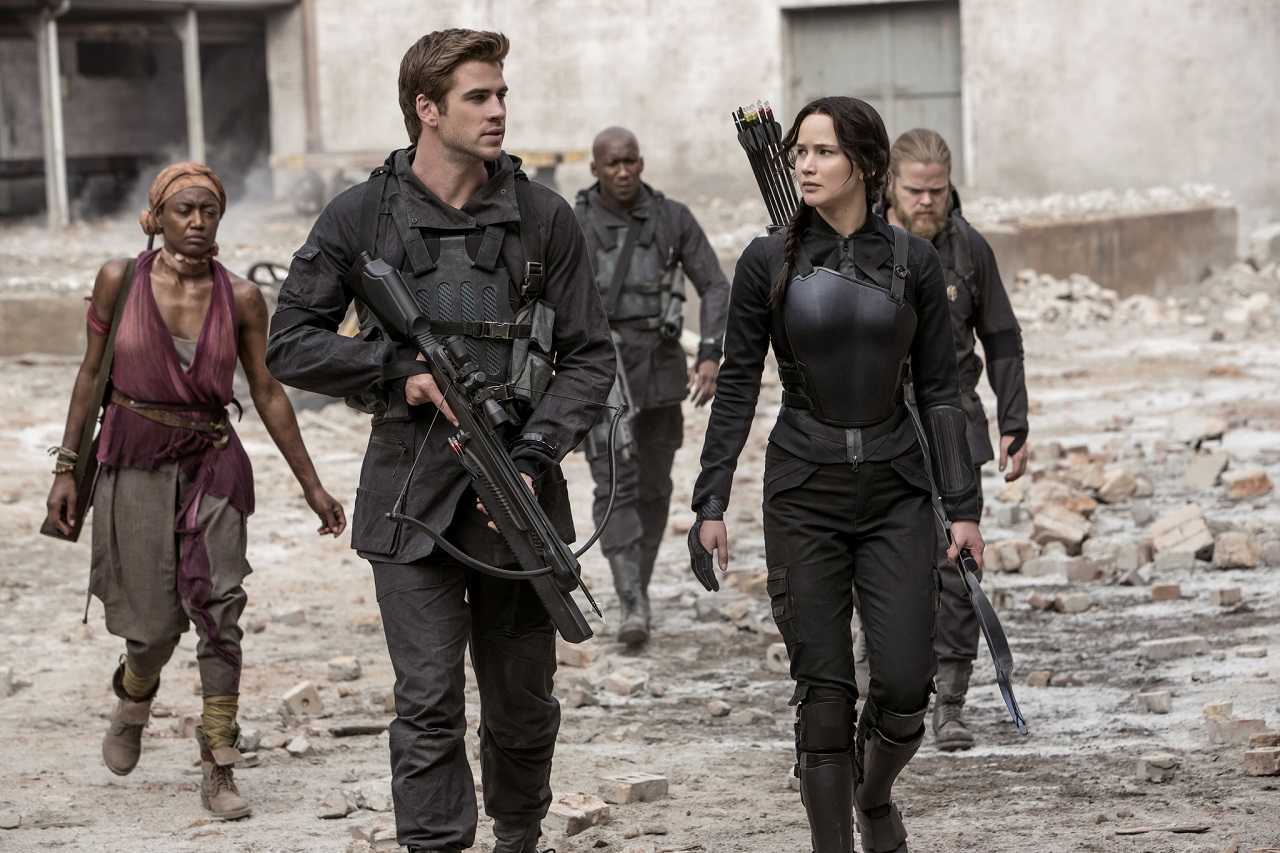 Mockingjay Part 1 starts in well. We see Jennifer Lawrence's Katniss reacting to the bombing of District 12 and the apparent death of Peta. This darkens the more outward focus of the other two films, gives this film a more brooding emotional complexity. Equally, the early scenes here are some of the most amusing in the film, which come with the highly satiric idea that the revolution needs to be media-managed and that its leader should go into action with an image consultant, a costume makeover and a team of people to tweak the video image going out.
The drawing out of the story across two films allows many of the characters more screen time than before – especially Liam Hemsworth's Gale who emerges as a far more satisfying potential romantic lead than the largely sidelined Josh Hutcherson, while Effie gets more to do (even if Elizabeth Banks' playing still comes across as a bad caricature of a drag queen). The late Philip Seymour Hoffman has a field day in his part, offering wry observation on the rebels' actions. (There is a certain ghoulish fascination in seeing Hoffman alive here nine months after his death by drug overdose. Given that Hoffman died with a handful of scenes left to shoot, his line here "Anybody can be replaced" cannot help but come across as hauntingly prophetic).
The in-politicking and manoeuvring between the rebels and The Capitol starts to build to an interesting plot, even if the raid on The Capitol to rescue Peeta feels too much like it is borrowed from Zero Dark Thirty (2012). The disappointment is that about the point when you feel like it starts getting interesting, the film just ends and goes out with a downbeat cliffhanger that left the audience delivering an audible gasp of disappointment.
This is the problem with Young Adult series splitting stories like this – it results in incomplete storytelling. You come out of Mockingjay Part 1 feeling unsatisfied. It is a film where the story has been extruded beyond its natural length for commercial purposes – admittedly not as badly as it is in The Hobbit trilogy – and the results make it a lot slighter in the telling than the previous two films, which at least came with a beginning, middle and ending.
---
---