---
Crew
Director/Screenplay – Glenn Payne, Producers – Glenn Payne, Josh Whites & Michael Williams, Photography – Michael Williams, Music – Ashley W., Visual Effects – Johnson Thomasson, Special Effects – Casey Heflin & Brandon Murphee. Production Company – Dead Leaf Productions.
Cast
Meaghin Burke (Dawn Nevil), Greg Earnest (Marshall Clayborne), Casey Dillard (Vivian Colfer), Jon W. Sparks (Martin Nevil), Sherri Eakin (Tonya Clayborne), Michael Ewing (Revive Spokesman)
---
Plot
Over the last thirty years, most of humanity has relocated on Mars away from a devastated Earth. Three people, Dawn Nevil, Vivian Colfer and Marshall Clayborne, are selected by the Revive Project to travel back to Earth and help with the recovery of the planet. During the course of the journey, all of them begin to experience hallucinations, including visions of members of their family or of non-existent disasters occurring on board. This is something that threatens to tear the expedition apart.
---
Earthrise was the fourth feature film from Glenn Payne. He had previously made Avarice (2007), A Zombie Movie (2009) and High Tide (2010), as well as co-directed In a Trice (2008), plus a dozen short films. None of these others give the impression they have been widely seen – for instance, of these, only A Zombie Movie has accrued any votes at the IMDB and even then only around twenty people appear to have seen it. Payne subsequently went on to direct the horror film Driven (2019).
With Earthrise, Glenn Payne sets out to make a space expedition film. The entire film has been economically constricted to take place on a few minimally designed sets and with three essential cast members (and about as many others who appear as hallucinated loved ones or figures on video recordings). The whole of the film is a chamber drama that plays out between the characters as something starts to affect them.
When it comes to the scenes of the crew hallucinating appearances from family members and loved ones, what Earthrise more than clearly resembles is Solaris (1972) with its image of the dead brought to life from people's memories by an alien planet in an attempt to communicate with the human crew of a space station. That said, the end explanation of what is happening is not nearly as interesting as it seems it is going to be at the outset.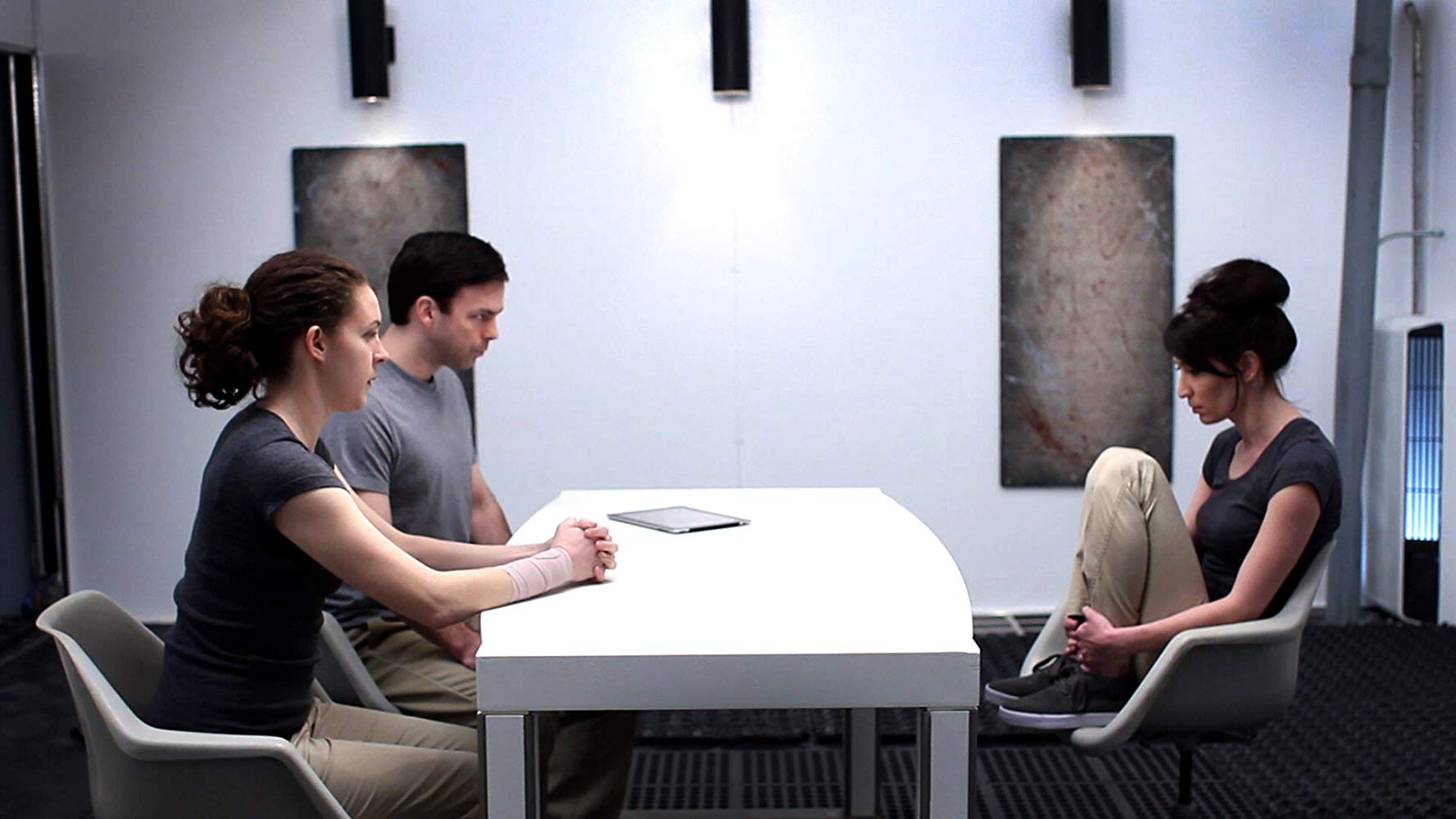 In fact, what we end up with resembles something like The Crazies (1973) and one of its imitators about the release of a madness-inducing infection of some type but with the setting transplanted aboard a spaceship. There have been several other films that have used this basic premise of a madness outbreak in space with the likes of Alien Cargo (1999), Pandorum (2009), Infini (2015) and Teleios (2017)
The main problem that Earthrise has is simply that no film has yet managed to do something interesting with the set-up involving a crew on a long space journey. A typical example was the earnest but deadly dull Czech-made Voyage to the End of the Universe (1963). 2001: A Space Odyssey (1968) is another example but there Stanley Kubrick was at least making a point of how dull onboard life would be – even then, he had to contrive elements concerning an amok computer in order to create drama. Of course, there was also John Carpenter's Dark Star (1974) but that was making a point of showing how the dullness of life on board would drive the crew crazy.
Earthrise is nicely shot and edited for what is clearly a low-budget film – we at least are willing to suspend our disbelief and accept that we are on board a ship. The cast have the occasional touches of amateurism but mostly play intently and give their all to the respective roles. It is just that you keep expecting more from Earthrise only for it to arrive at an underwhelming non-event of an ending.
---
---