---
Crew
Director/Screenplay – Shane Abbess, Story – Shane Abbess & Brian Cacchia, Producers – Sidonie Abbene, Shane Abbess, Matthew Graham & Brett Thornquest, Photography – Carl Robertson, Music – Brian Cacchia, Visual Effects – Orb VFX (Supervisor – Jacqui Fifer), Steve Anderson, Makeup/Prosthetics Supervisor – Luke Polti, Production Design – George Liddle. Production Company – Storm Vision Entertainment.
Cast
Daniel MacPherson (Whit Carmichael), Luke Ford (Chester Huntingdon), Harry Pavlidis (Harris Menzies), Kevin Copeland (Seet Johanson), Grace Huang (Claire Grenich), Luke Hemsworth (Charlie Kent), Dwaine Stevenson (Rex Mannings), Louisa Migone (Phillipa Boxen), Bren Foster (Morgan Jacklar), Brendan Clearkin (Depot Sergeant Hackford), Tess Haubrich (Lisa Carmichael), Paul Winchester (David Ponter), Richard Huggett (Montoli Reece)
---
Plot
Whit Carmichael goes to work as part of a Slipstreaming operation where people use teleport devices built in to the nervous system to jump to parts of the galaxy to conduct mining operations. Just as he is preparing for the day, a team teleport back in from the frozen planet Infini, the remotest outpost in the galaxy, having been infected with something that has driven all of them insane. As the base rapidly comes under attack, Carmichael is the only one able to escape by teleporting out to Infini. A search and rescue team are sent to get him back and disarm a deadly explosive payload that has been sent on a course to Earth. They arrive on Infini moments later their time but where weeks have passed due to time dilation. They find Carmichael is the only survivor and all the other personnel have killed each other. As Carmichael and the others discover, the mining operations have unearthed a deadly organic substance native to the planet, which is highly prized as a source of energy but turns everyone who touches it insane. As the members of the team quickly become infected, Carmichael realises that the substance is a living alien organism.
---
Infini was the second film from Australian director Shane Abbess who is shaping up as a genre regular. Abbess first appeared with the angel film Gabriel (2007). He was also one of a revolving door of directors attached to make The Power of the Dark Crystal but dropped out to make Infini instead. He subsequently made the science-fiction film Science Fiction Volume One: The Osiris Child/Science Fiction Volume One: Origin Wars (2016) and has also produced other genre works such as Terminus (2015) and Better Watch Out (2016).
From the detail given about the future we are in on the opening credits, Infini captures interest – the idea of people with teleport systems implanted into their nervous system jumping into unknown territories, where the poor take these high-risk jobs because they need the money but some fail to return properly. There is the vague hope in some of this that maybe we are in for a film version of the awe-inspiring Frederik Pohl novel Gateway (1977). Alas, soon in, this promise falls down once it becomes apparent that the film is no more than good old standby of the search and rescue team going into a deadly labyrinth infected with alien nasties. (Moreover, one that seems to have been designed less to take place in an imaginatively conceived future than to try and convince us a standard industrial plant is a galactic outpost).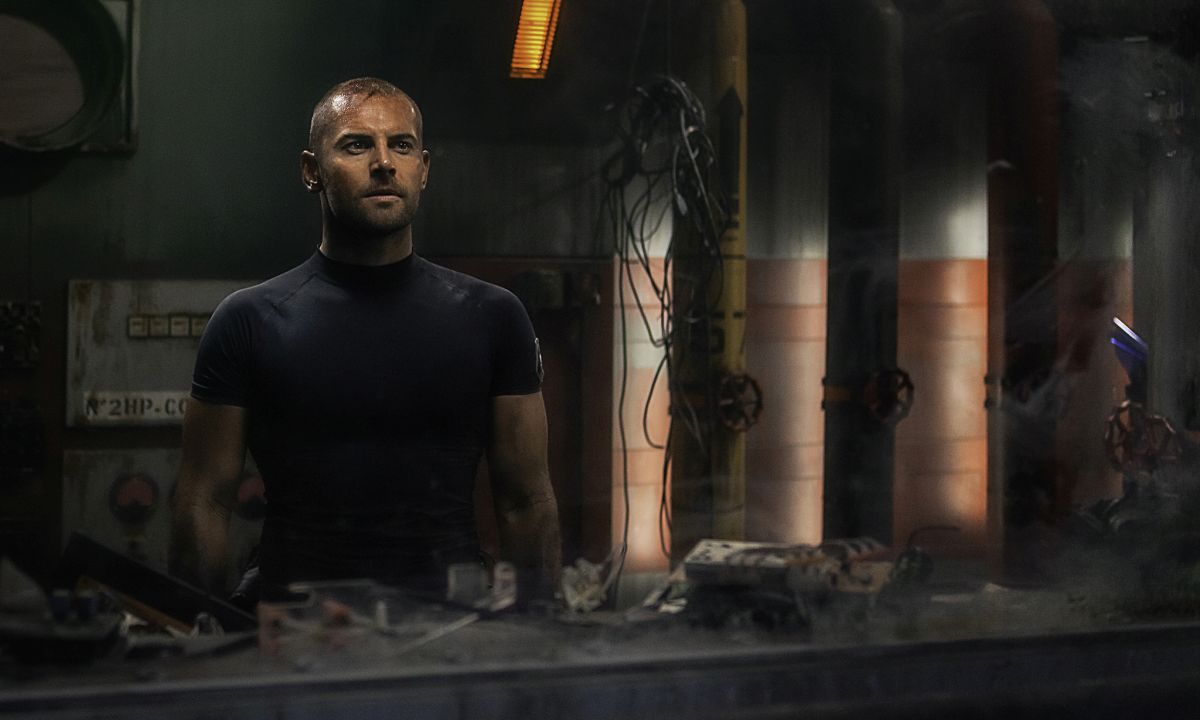 We have seen this set-up in a great many films from Aliens (1986) onwards through to the more recent Australian entry Crawlspace (2012). The work that you feel informs this the most is Event Horizon (1997) – there is even a line inserted here about "what do you expect, something written in Latin?" I saw a comment somewhere that called Infini "The Crazies (2010) – or the George Romero original The Crazies (1973) – in space" and that essentially nails it where Shane Abbess eschews the old standby of something stalking people through the corridors of the facility and gives us an alien infection that causes mass insanity. There have been a number of other films on the theme of a mass insanity outbreak aboard a spaceship with the likes of the likes of Alien Cargo (1999), Pandorum (2009), Earthrise (2014) and Teleios (2017)
Even "The Crazies in space" theme has some potential to it but it feels as though Infini misses all of that. Much of the film feels like we are sitting around waiting for something to happen. Shane Abbess even fails to make much out of the theme of people being infected and going crazy. Crucially, without any nasties lurking in corridors, all that we have is a film that feels as though it is lacking tension and suspense.
At a running time of nearly two hours, you feel like the film could easily have lost half-an-hour. Shane Abbess doesn't seem to know when to trim scenes down or crucially when to find the dramatic core of them. Case in point is the ending where the team inexplicably come back to life and return home – I can sort of see what Abbess was trying to do here but he drags the revival, the return and quarantine procedures out for some twenty minutes before arriving at an anticlimactic ending.
---
---