---
Crew
Director/Story – Drake Doremus, Screenplay – Nathan Parker, Producers – Chip Diggins, Michael Pruss, Ann Ruark, Michael Schaefer & Jay Stern, Photography – John Guleserian, Music – Dustin O'Halloran & Sascha Ring, Visual Effects Supervisor – Jake Braver, Visual Effects – Base-FX (Supervisor – Jim Mehta), Brainstorm Digital (Supervisor – Eran Dinur), 4th Creative Party (Supervisor – Joon Hyung Kim), Method Studios (Supervisor – Jim Rider), Phosphene (Supervisor – John Bair), Production Design – Katie Byron & Tino Schaedler. Production Company – Scott Free/Route One Entertainment/Union Investment Partners/Surefire Entertainment Capital/Freedom Media.
Cast
Nicholas Hoult (Silas), Kristen Stewart (Nia), Jacki Weaver (Bess), Guy Pearce (Jonas), David Selby (Leonard), Bel Powley (Rachel), Aurora Perrineau (Iris), Tom Stokes (Dominic)
---
Plot
In the future, the populace have been given drugs that suppress emotion. However, there are those that suffer from Switched On Syndrome, which causes them to break out into uncontrollable emotion that eventually becomes so severe they have to be committed to a facility known as The Den. Silas, a graphic artist, begins to feel desire for co-worker Nia even though Coupling is outlawed. As he is diagnosed with the early stages of SOS, he and Nia meet in secrecy and start to engage in a forbidden romance.
---
Equals was the sixth film for US director Drake Doremus. Doremus had previously made non-genre indie/romantic/comedy films such as Moonpie (2006), Spooner (2009), Douchebag (2010), Like Crazy (2011), Breathe In (2013) and the subsequent Newness (2017) and Endings, Beginnings (2019). The film is co-produced by Ridley Scott's Scott Free production company. Doremus subsequently returned to science-fictional subject matter with the android film Zoe (2018), also made for Scott Free.
Equals revisits the dystopian film. There is a good deal of familiarity to its plot. The future where the populace must take drugs to suppress emotion has been done in other films such as THX 1138 (1971) and Equilibrium (2002), while the repression of sexuality and relationships goes all the way back to the work that is the template for dystopian fiction – George Orwell' Nineteen Eighty-Four (1949). Indeed, the lovers against the system plot is a staple of almost any dystopian work – see the abovementioned, plus other works like Fahrenheit 451 (1966), Logan's Run (1976) and Code 46 (2003). Much of Equals feels strongly influenced by THX 1138, George Lucas's first film, with the themes of a tranquilised populace and especially with the adoption of the same blinding antiseptic white-on-white visual look.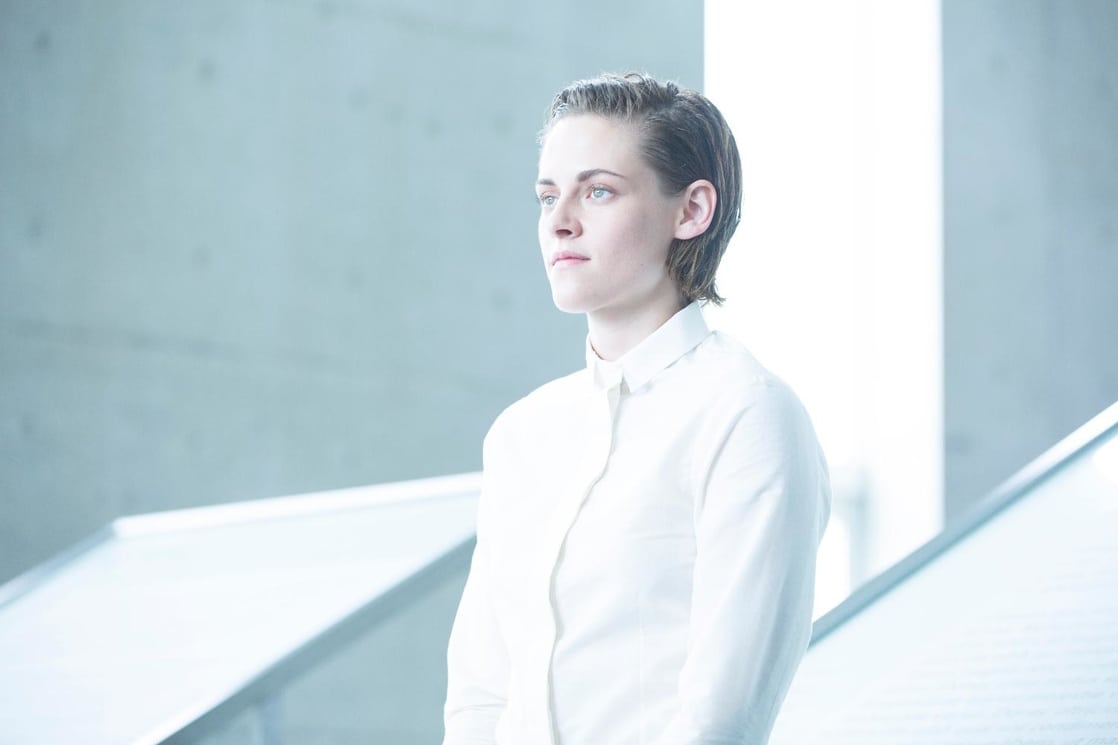 The more you think about the set up, I cannot say that I am sure a world that forbids emotion would work. What we essentially have is a world of Vulcans. Would some emotions not be necessary to the function of the world? How would this society's much vaunted scientific enquiry and artistic instincts work if the mind was simply cool and logical rather than driven by curiosity and an appreciation of beauty, both of which are drives that come from emotional places? The other interesting thing that occurs to me is that when the characters finally do discover emotion after having suppressed it all their lives, would they not be emotionally undeveloped akin to children as opposed to the calm and collected adults they behave as?
Drake Doremus creates a world that comes in the soothingly banal tones of a hygiene commercial. Doremus has travelled to Singapore and Japan to film in areas of that naturally provide such a look. And there is a very nice sense of design – I particularly liked the large-sized drawing board computers and their graphic interfaces.
The problem with the film is that every scene comes in this same featurelessly nondescript visual scheme. It should naturally follow that when the two central characters discover attraction and emotion then the film should follow suit and erupt into colour and visuals chaos to match. There is a little bit of this when it comes to the love scene late in the show but the scenes with Nicholas Hoult and Kristen Stewart together on their secret rendezvous in a toilet cubicle come with the same lack of affect as the rest of the film.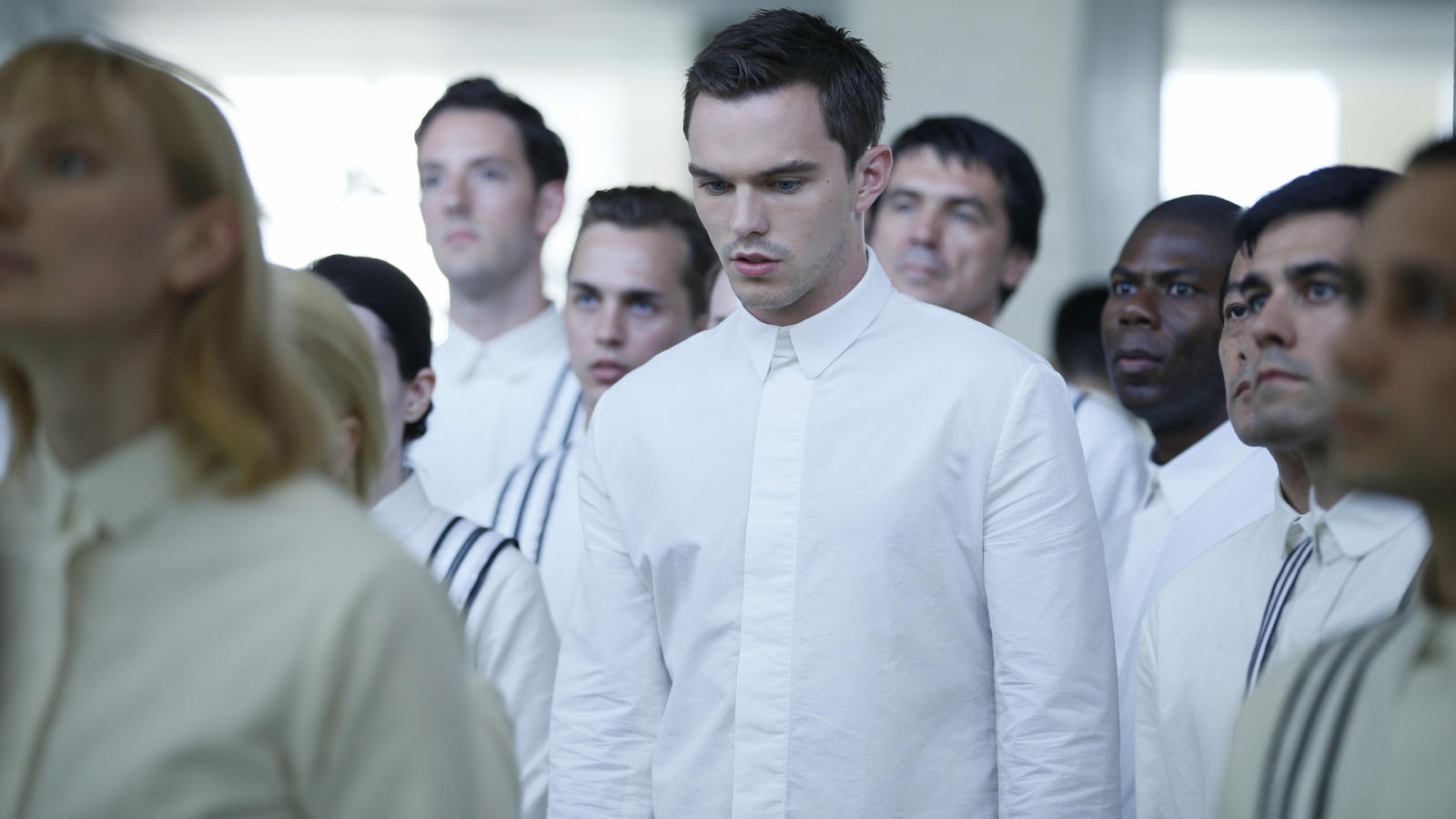 The film also suffers from the casting of Kristen Stewart. Try as she might to establish herself with indie and respectable credentials in the aftermath of the Twilight saga – see the likes of Walter Salles' On the Road (2012), Olivier Assayas's Clouds of Sils Maria (2014), Personal Shopper (2016), Woody Allen's Cafe Society (2016), Lizzie (2018) – her performances remain laconic and without any effort placed into them, like the passive aggressiveness of a pouty teenager who resents being told what to do.
Here she has been given one simple thing to do – playing someone who displays no emotion – and even manages to fail at that. She just comes across as unwell every time we see her – such that you cannot help but wonder what Nicholas Hoult sees in her. Hoult by contrast is fine in his part and proves himself a better actor with every film he does. It's just with her as the figurative loose wheel, the film's emotional centre remains hobbled.
---
---