aka The Divergent Series: Insurgent
---
Crew
Director – Robert Schwentke, Screenplay – Mark Bomback, Brian Duffield & Akiva Goldsman, Based on the Novel by Veronica Roth, Producers – Lucy Wick, Pouya Shahbazian & Douglas Wick, Photography (3D) – Florian Ballhaus, Music – Joseph Trapanese, Visual Effects Supervisor – James Madigan, Visual Effects – Animal Logic (Supervisor – Paul Butterworth), Capital T (Supervisor – Jamie Hallett), Double Negative (Supervisor – Ged Wright), Double Negative Singapore, Luma Pictures & Method Studios (Supervisor – Olivier Dumont), Special Effects Supervisor – John Frazier, Makeup Effects – KNB EFX Group (Supervisors – Howard Berger & Greg Nicotero), Production Design – Alex Hammond. Production Company – Summit Entertainment/Red Wagon Entertainment/Mandeville Films.
Cast
Shailene Woodley (Beatrice 'Tris' Prior), Theo James (Tobias 'Four' Eaton), Kate Winslet (Jeanine Matthews), Jai Courtney (Eric), Miles Teller (Peter), Ansel Elgort (Caleb Prior), Naomi Watts (Evelyn Eaton), Daniel Dae Kim (Jack Kang), Octavia Spencer (Johanna), Zoe Kravitz (Christina), Ray Stevenson (Marcus Eaton), Maggie Q (Tori), Mekhi Pfifer (Max), Janet McTeer (Edith Prior), Ben Lloyd-Hughes (Will), Ashley Judd (Natalie Prior)
---
Plot
Tris, Tobias and the other Divergents are now wanted fugitives. They are granted refuge with the Amity community but this is soon raided by Jeanine's soldiers led by Eric. Tris, Tobias and Caleb make an escape back to the city where they are brought before Tobias's mother Evelyn, leader of the Factionless, who wants them to join an uprising against the regime. Meanwhile, Jeanine has become obsessed with opening the box she took from Tris's mother. To do so, she needs a Divergent but all her test subjects are being killed by the sim process she puts them through. She realises that she needs a subject who is strong in each of the qualities and orders every Divergent apprehended to be tested. As Tris and Tobias take refuge among Candor, they agree to take a truth serum to prove they are not the criminals that Jeanine claims, which means that Tris is forced to admit to killing Will. Candor is raided and it discovered that Tris is the one Divergent that Jeanine seeks. They escape but Jeanine employs a mind control device and says she will force three people to commit suicide every day until Tris surrenders. Tris agrees to do so and is taken prisoner where she is placed inside Jeanine's sim designed to crack the box, which means confronting her own demons.
---
Insurgent, although labelled The Divergent Series: Insurgent twice on the ends credits and the film's poster, is the sequel to Divergent (2014). It is based on Insurgent (2012), the second book in the series of Young Adult Dystopian novels by Veronica Roth. Roth's trilogy was quickly snapped up by filmmakers looking for the next hit Young Adult franchise. Divergent proved more than reasonably successful at the box-office – the nineteenth top-grossing film of that year – and the rest of the sequels were greenlit. As is now mandatory for any popular Young Adult franchise being released now, the last book was split into two films, the first being Allegiant (2016) but the final chapter, announced as Ascendant, appears to have been cancelled after disappointing box-office returns on the third film.
I found Divergent and the set-up of its future involving a strict caste system based on personality types a fundamentally implausible scenario. It seemed like a teenage outlook on human nature – the sort of view that a believer in astrology or someone too devoted to Myers-Briggs scores might come up with without actually sitting down to think how applicable it would be to human psychology. From that point on, I found I was unable to buy any of the absurdly contrived drama that was occurring between factions or Veronica Roth's constant obsession with personality tests.
Insurgent continues with the basic scenario. Similarly, I sat back for most of the film feeling – "why do I care about anything that is happening here?" My suspension of disbelief has never been invested in this world so why does anything that happens matter. At least with The Hunger Games films, which the Divergent series is often seen as a poor man's cousin of, you feel an investment in Katniss and her struggle against the regime (even if that too seems ever so improbable a set-up). In the Divergent series, it feels more like things keep happening but there is no sense of importance. Much of what happens could have been edited in random order or swapped and played out by other characters without it making any real difference.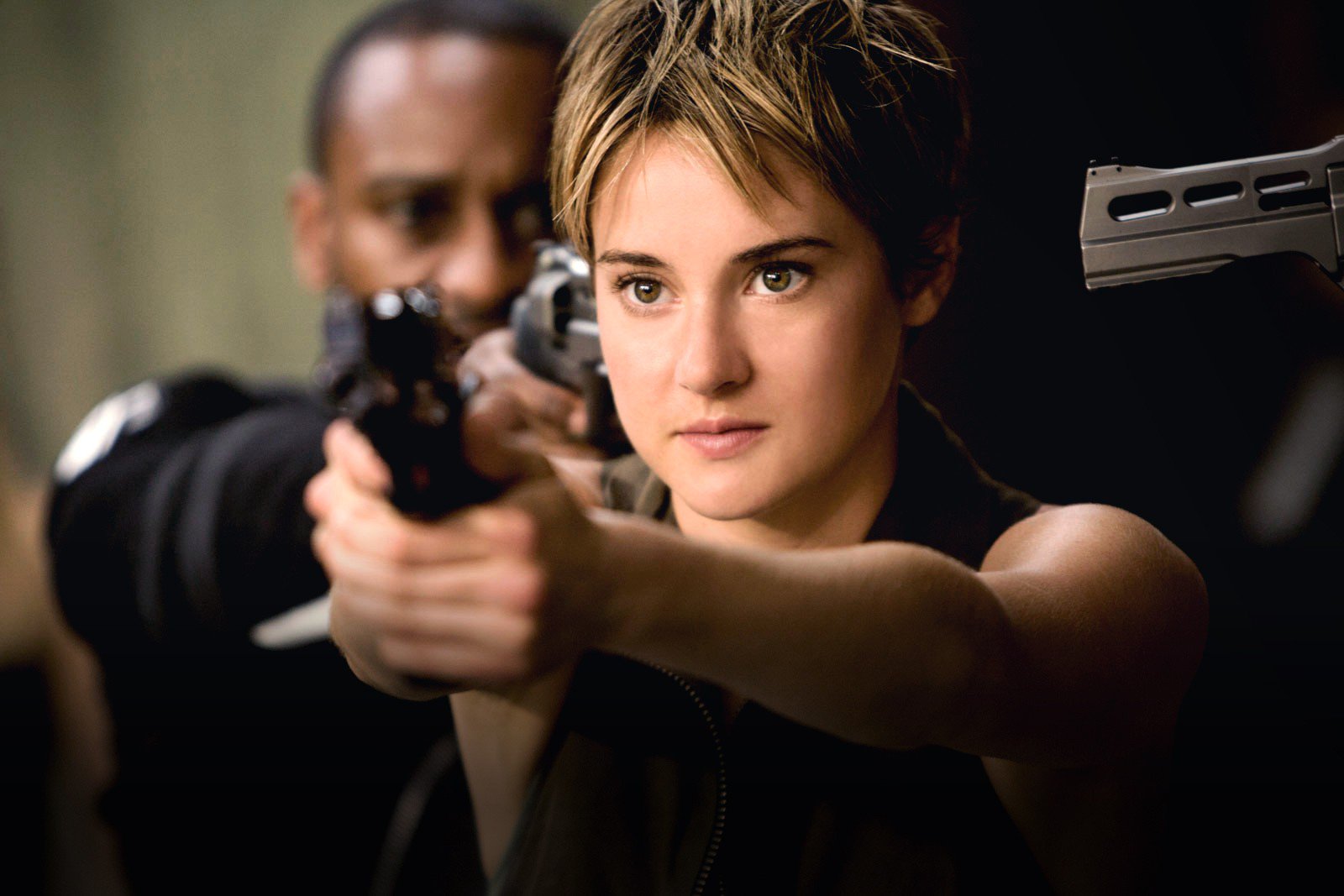 At least, Jai Courtney goes for broke on the ruthlessly good-looking thuggery and Kate Winslet does her stony-faced best, while even Miles Teller does duplicity rather well – and so the villainy of the show is sufficiently well crafted to make that side of things worthwhile. Alas, Shailene Woodley, even though she is doing an admirable job in following Jennifer Lawrence's footsteps in crafting a name as a serious actress outside the Divergent series, never does enough to make you care about Tris's uniqueness and struggle. When it comes to Theo James, you end up more distracted by his good looks than identifying with any insurgent struggle he is engaged in.
The great failing of all of the Young Adult adapted films is that they are only glorified works of fanfic – in the cases of The Mortal Instruments: City of Bones (2013) and Fifty Shades of Grey (2015) literally so. As a result, most of them are no more than Mary Sue stories – the disparaging term that started in Star Trek fanfic where a novice writer would usually write themselves into the story as someone with stunning beauty and/or incredible natural talents who would suddenly get swept off their feet by Kirk, Spock etc. Almost all of the heroes/heroines in modern Young Adult stories fall into this category – Bella Swan, Harry Potter, Katniss Everdeen, Anastasia Steele – they are ordinary characters (usually girls) who have no skills of their own, are usually virginal and have men of incredible wealth and/or supernatural power falling at their feet to proclaim everlasting love.
Either that, as here or in The Hunger Games and Harry Potter, they are in effect Chosen Ones who lead ordinary lives until it is discovered that they have vast destinies plotted out for them, incredible innate skills they never knew about and that they alone hold the power to sway regimes. Here this becomes a piece of ridiculously contrived plotting where it seems that Tris alone holds the innate Divergent skill needed to unlock the magic box that contains information from the ancestors and that only she has the mental fortitude to overcome all the obstacles in the way. Oh and not to forget hoary cliche plot twist that is dependent on people slipping her drugs to fake her death at a moment's notice.
I am not a wild enthusiast of The Hunger Games (2012) and sequels but the series has at least managed to conduct a sophisticated arc, contrasting various political ideologies and then turning them on their heads, while also holding a series of appealing satiric ideas about media and reality television. The Divergent Series seems at best The Hunger Games reduced to a series of simplistic teenage black-and-whites – Jeanine is outfitted in a severe sea blue power dress, her Dauntless bully boys have bodysuits that are intended to evoke imagery of fascism, while Amity is dressed in earth colours and by rote wish people "peace be with you" – and the world seems no more in-depth than that.
Even the story has been simplified over the book's telling and the main drama reduced to a series of boilerplate scenes where the effects department take over. Insurgent is probably a slightly better film than Divergent was in that Robert Schwentke seems more at home when it comes to the action scenes than Neil Burger was. We get some impressive scenes of Theo James being reduced to digital bits, Shailene Woodley struggling around the outside of a burning house flying through the sky, the city collapsing, Shailene Woodley jumping through glass windows and fighting with her dark side – but come the end of the film, I confess that I have difficulty working out what purpose most of these they actually served in terms of the sim tests. They seem there solely because the script has mandated "insert random effects scene here."
Neil Burger, the director of Divergent has stepped back from the director's chair (although is present as a producer) and this role taken up by German director Robert Schwentke. Schwentke first appeared with the serial killer thriller Tattoo (2002) and subsequently moved to the US mainstream to direct works like Flightplan (2005), The Time Traveler's Wife (2009), Red (2010), R.I.P.D. (2013) and Snake Eyes: G.I. Joe Origins (2021).
The more disconcerting name present is that of screenwriter Akiva Goldsman who has been responsible for a great many bad genre films. Goldsman has also written the scripts for the Joel Schumacher Batman films Batman Forever (1995) and Batman & Robin (1997), the big-screen remake of tv's Lost in Space (1998), the witchcraft comedy Practical Magic (1998), the Oscar-winning A Beautiful Mind (2001), I, Robot (2004), The Da Vinci Code (2006), I Am Legend (2007), Angels & Demons (2009), The 5th Wave (2016), The Dark Tower (2017), Rings (2017) and Transformers: The Last Knight (2017). He made his directorial debut with the fantasy Winter's Tale (2014), followed by the horror film Stephanie (2017). Goldsman has also produced Renny Harlin's two genre outings the monster movie Deep Blue Sea (1999) and the serial killer thriller Mindhunters (2004), as well as the comic-book adaptation Constantine (2005), the paranormal investigators tv series Fringe (2008-13), the superhero film Hancock (2008), the supernatural Western comic-book adaptation Jonah Hex (2010), Paranormal Activity 2 (2010), Paranormal Activity 3 (2011), Paranormal Activity 4 (2012), the tv mini-series adaptation of Arthur C. Clarke's Childhood's End (2015), Guy Ritchie's King Arthur: Legend of the Sword (2017), Doctor Sleep (2019), The Map of Tiny Perfect Things (2021), Firestarter, Meet Cute (2022) and the tv series' Star Trek: Discovery (2017– ), Titans (2018-23), Star Trek: Picard (2020-3) and Star Trek: Srange New Worlds (2022- )..
---
---