---
Crew
Director – Peyton Reed, Screenplay – Andrew Barrer, Gabriel Ferrari, Chris McKenna, Paul Rudd & Erik Sommers, Producers – Stephen Broussard & Kevin Feige, Photography (3D) – Dante Spinotti, Music – Christophe Beck, Visual Effects Supervisor – Stephane Ceretti, Visual Effects/Animation – Cinesite (Supervisor – Stephanie Paris), Digital Domain (Supervisor – Nikos Kalaitzidis), DNEG (Supervisor – Alessandro Ongaro), Industrial Light and Magic (Supervisors – Dave Dally & Russel L. Earl), Lola VFX (Supervisor – Trent Claus), Method Studios (Supervisor – Andrew Hellen), Perception, Rise Visual Effects Studios & Scanline VFX (Supervisor – Jelmer Boskma), Visual Effects – Crafty Apes, Luma Pictures (Senior Supervisor – Vincent Cirelli), Rodeo FX (Supervisor – Francois Dumoulin) & Technicolor VFX, Special Effects Supervisor – Dan Sudick, Production Design – Shepherd Frankel. Production Company – Marvel Studios.
Cast
Paul Rudd (Scott Lang/Ant-Man), Evangeline Lilly (Hope Van Dyne/The Wasp), Michael Douglas (Dr Hank Pym), Michael Peña (Luis), Walton Goggins (Sonny Burch), Laurence Fishburne (Dr Bill Foster), Abby Ryder Forston (Cassie Lang), Hannah John-Kamen (Ava Starr/Ghost), Randall Park (Jimmy Woo), Michelle Pfeiffer (Janet Van Dyne/The Wasp), Tip 'T.I.' Harris (Dave), David Dastmalchian (Kurt), Bobby Cannavale (Paxton), Judy Greer (Maggie), Divian Ladwa (Uzman), Goran Kostic (Anitolov)
---
Plot
Scott Lang has been sentenced to two years home detention for his unauthorised trip to Germany with The Avengers. He now begins to have dreams of Janet Van Dyne calling to him from the quantum level. He phones Hank Pym, despite having been given orders not to by the court. Hope comes and snatches Scott, driving away in a miniaturised car and leaving behind an ant wearing Scott's ankle bracelet. Hank realises that Janet is trapped on the quantum level and must have left a message with Scott when he shrank down to the quantum plane. They need a key component to build a quantum tunnel in order to rescue her. However, their setting out to obtain this ends up with them hunted by the FBI seeking to arrest Pym and Hope, as well as prove that Scott has escaped confinement. Also pursuing them is black market arms dealer Sonny Burch who wants Pym's tech, and Ava Starr, a girl who keeps blurring between phase states and needs the quantum tunnel to regain her solidity.
---
Marvel Comics big screen adaptations have all but taken over the box-office during the 2000s/10s. These have so far included Blade (1998), X-Men (2000), Spider-Man (2002), Daredevil (2003), Hulk (2003), The Punisher (2004), Elektra (2005), Fantastic Four (2005), Man-Thing (2005), Ghost Rider (2007), Iron Man (2008), Captain America: The First Avenger (2011), Thor (2011), The Avengers (2012), Guardians of the Galaxy (2014), Deadpool (2016), Doctor Strange (2016), Black Panther (2018), Venom (2018), Captain Marvel (2019), Black Widow (2021), Eternals (2021), Shang-Chi and the Legend of the Ten Rings (2021) and various sequels to most of these, as well as the tv series' Agents of S.H.I.E.L.D. (2013-20), Daredevil (2015-8), Agent Carter (2015-6), Jessica Jones (2015-9), Luke Cage (2016-8), The Defenders (2017), Inhumans (2017), Iron Fist (2017-8), The Punisher (2017-9), Runaways (2017-9), The Falcon and the Winter Soldier (2021- ), Hawkeye (2021- ), Loki (2021- ), WandaVision (2021- ), Moon Knight (2022- ), Ms Marvel (2022- ) and She-Hulk: Attorney at Law (2022- ).
Despite a troubled creative history and change of directors, Ant Man (2015) was an amiably enjoyable entry in the horde of Marvel Comics adaptations on the big screen. Director Peyton Reed and most of the principal cast have returned here for a sequel. The sequel does at least answer the question one had of why Ant-Man wasn't present during Avengers: Infinity War (2018) – the answer being that he had been placed on home detention following his illicit sojourn to Germany in Captain America: Civil War (2016), while the end of this film ties in with Thanos's decimation of much of the galactic populace and keys in to Scott Lang playing a major role in the defeat of Thanos in the subsequent Avengers: Endgame (2019). (Other than reference to these events though, Ant-Man and the Wasp might be the sole MCU film of recent that does not feature a cameo of someone from one of the other concurrent Marvel franchises).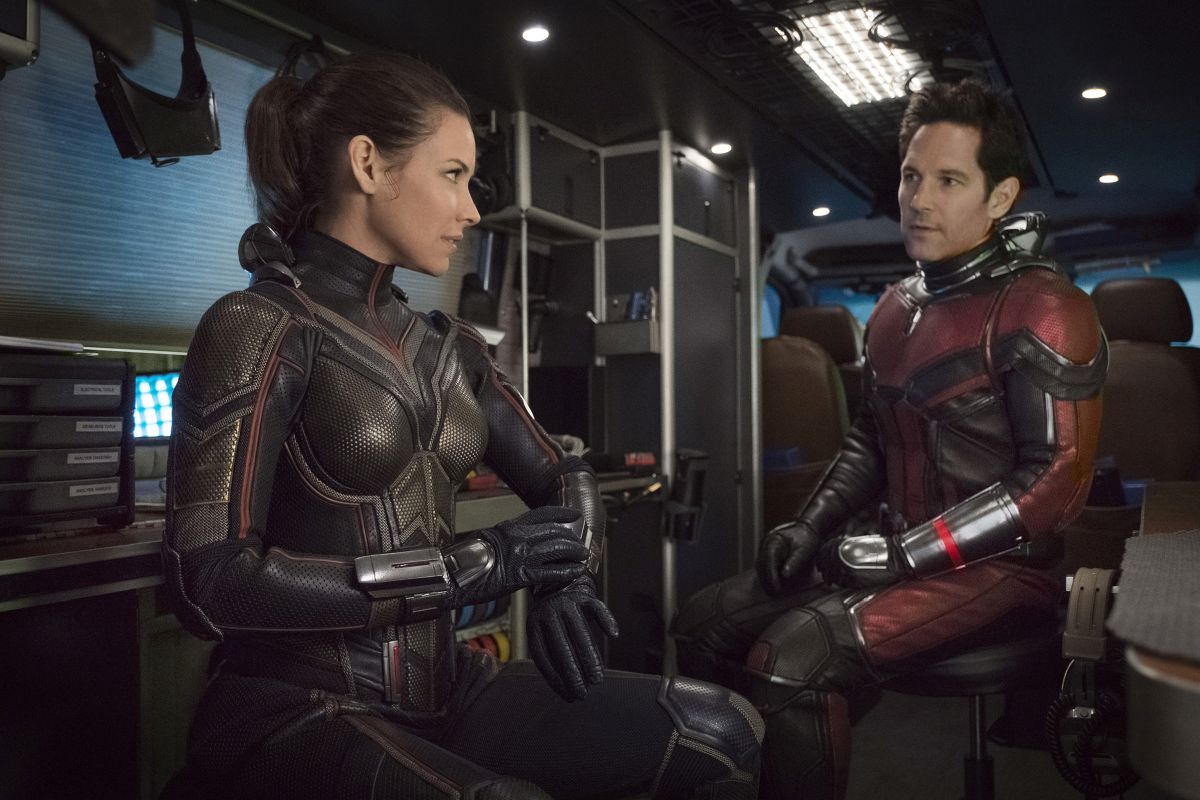 Among the various Marvel Comics films, Ant-Man was a lightweight work. It was perfectly enjoyable as such but less substantial in comparison to the other Marvel films and their usual concerns with superheroes facing super-villains and world-threatening menaces. You get the impression that Peyton Reed has decided that one of Marvel's superhero franchises ought to be the joker of the pack and so he has amplified the comedy elements here (although he has surely been beaten out in this regard by the much smarter Deadpool (2016) and Deadpool 2 (2018) in the rival Marvel franchise over at 20th Century Fox).
As a result, the sequel has been taken over by comedic sequences – ones with Paul Rudd stuck at a quarter normal size racing around his daughter's school, or the contortions he must engage in in order to foil the FBI. In the opening sequence, where we see that he has transformed his entire house into the equivalent of a cardboard fort so that he and his daughter to play, it feels like Peyton Reed and co are trying far too hard to be cute and funny.
Substantial sections of the film get taken over by characters doing comedic monologues – Paul Rudd going on about his desk at the security agency and the other guards about breakfast foods; Rudd receiving an emergency call from his daughter about missing sports footwear while he is being held prisoner; or the imprisoned security guards going on about truth serum. These are seemingly improvised comedic pieces that go on and on. Any other film would have cut them – they are the sort of things that are funny in blooper reels – but here Peyton Reed, seemingly because he wants to be running the comedy show of the MCU pack, keeps them in. The upshot however is that you squirm in embarrassment at watching a bunch of otherwise talented actors trying to 'Be Funny'.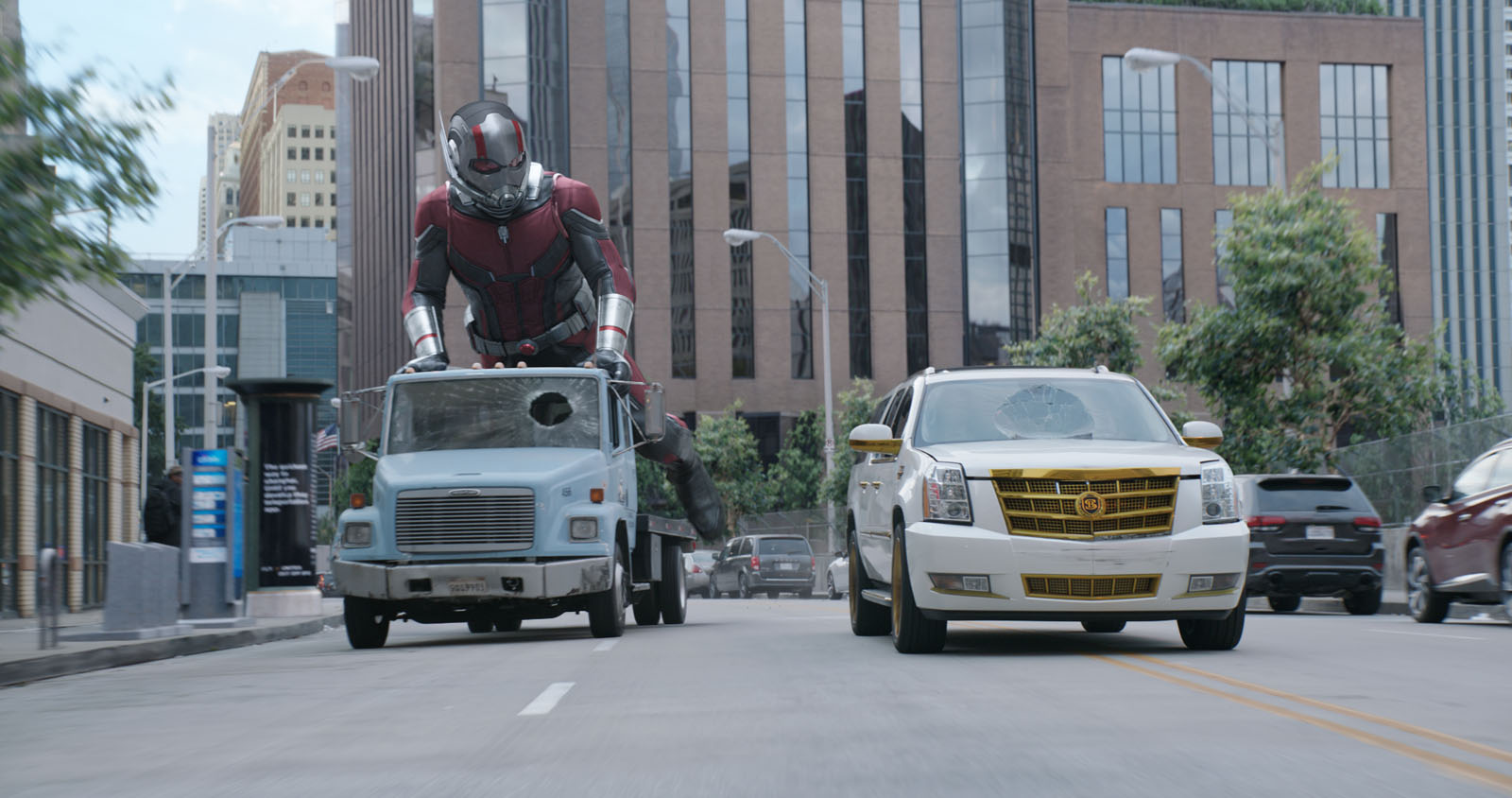 Certainly, Peyton Reed does get some good comedic mileage out of some of the gadgetry on display – people driving about in miniaturised cars and then flicking a remote to pop them back to full size or Michael Douglas who whips out a remote to shrink an entire office building down to the size of a suitcase and then pulls out a handle to wheel it off as a roll-along.
The effects are expert and there are some high energy fight and chase sequences around a kitchen and particularly during the last half with Paul Rudd and Evangeline Lilly rapidly altering size in a vehicular chase with the bad guys. In these respects, Ant-Man and the Wasp works exactly as it is intended to – it is just that the comedy elements throw everything else off balance. Hannah John-Kamen's Ghost must also rank as one of the slightest of all super-villains in the MCU – she even gets eclipsed by the two purely mundane villains of the show.
---
---