---
UK/Romania/USA. 2007.
Crew
Director – Michael Keusch, Screenplay – Joe Halpin & Steven Seagal, Story – Joe Halpin, Producers – Steven Seagal & Pierre Spengler, Photography – Geoffrey Hall, Music – Barry Taylor, Visual Effects – Future Film (Effects) (Supervisor – Tim Walton), Special Effects Supervisor – Lucian Iordache, Production Design – Cristian Corvin. Production Company – Steamroller Productions/Soho Square Film Productions No. 5 LLP/Future Films/Clubdeal EU Film Company/Castel Films (Co Productions) Srl.
Cast
Steven Seagal (John Sands), Angus MacInnes (General Tim Barnes), Clara Payton (Jessica), Steve Toussaint (Colonel Ratcher), Mark Bazeley (Captain Richard Jannick), Tim Woodward (Admiral Frank Pendleton), Vincenzo Nicoli (Peter Stone), Katie Jones (Eliana Reed), Alki David (Rojar), Bart Sidles (Captain Hinkle)
---
Plot
Former Air Force pilot John Sands makes an escape from where he is held in a US jail. At the same time, Colonel Ratcher takes the new X77 stealth bomber up for a test flight but promptly turns on its experimental invisibility cloak and flies off to Afghanistan to deliver the plane to the Black Sunday rebel group. Sands is apprehended when he tries to stop an armed convenience store hold-up. He is freed from police custody by his old superior General Barnes who wants him to undertake a mission to get back the X77. Sands and his co-pilot Jannick fly into the rebel-held areas of Northern Afghanistan where Sands meets up with his girlfriend Jessica who lives amongst the rebels. Together they must recapture or destroy the X77 before the rebels launch a plan to use the plane's invisibility cloak to drop a biological warhead on US targets.
---
Steven Seagal was one of the big names in martial arts/action cinema of the 1980s/90s, appearing in films like Above the Law (1988), Hard to Kill (1990), Marked for Death (1990), Out for Justice (1991), Under Siege (1992), On Deadly Ground (1994), Fire Down Below (1997) and Exit Wounds (2001), among others, as well as the occasional genre effort such as Under Siege 2: Dark Territory (1995), The Patriot (1998), Submerged (2005), Against the Dark (2009) and The Perfect Weapon (2016). Much derision has been poured on Steven Seagal's minimal acting abilities. Personally, I have never liked the self-righteous moralism in Seagal's films, that and the emphasis on a brutal form of martial arts sadism.
The one thing you have to credit Steven Seagal with is that while most of his contemporaries in the 80s/90s have faded away – Arnold Schwarzenegger having dropped out of filmmaking into politics, Sylvester Stallone is only recycling his previous hits these days, Chuck Norris seems to have opted for retirement this side of the 00s, and Jean-Claude Van Damme has not made anything that has a cinematic release for the better part of the decade – Steven Seagal is the only one still working. Seagal's acting and the quality of his films has not improved any but he has put out one, sometimes two, films a year most years since 1990. If nothing else, you have to commend his work ethic.
Flight of Fury is a venture into the hi-tech plane plot that was patented by the classic Clint Eastwood film Firefox (1982). Indeed, Flight of Fury is virtually a word-for-word rewrite of the B-budget Michael Dudikoff vehicle Black Thunder (1998), which in turn was ripped off from Firefox and Airwolf (1985). There is the addition of an extended prelude to the main action about Steven Seagal escaping from jail and being re-arrested after he intervenes in a convenience store hold-up but the plot about the invisible bomber being stolen on its test flight and taken into the services of terrorists in the Middle East and the action star having to go and get it back is identical. The terrorists' locale is changed from Libya to Afghanistan but everything else is copied word for word – literally so in that most of the supporting characters even have the same names that they did in Black Thunder. Whether Flight of Fury is a blatant copy of Black Thunder or a remake that does not credit its source remains unclear.
On the face of it, the Firefox-modeled hi-tech plane theft plot does not naturally seem to sit along with the Steven Seagal movie. The hi-tech plane-type film usually centres around large metal machines flying around in the sky and shooting one another up; the Steven Seagal film usually centres around Seagal showing his one change of expression (narrowed eyes) and breaking bones. It is hard to imagine Seagal co-writing himself a film where he plays second fiddle to a fighter plane. And in fact, he doesn't – most of the film is focused around the break-in to the airfield amid much in the way of martial arts, gunfire and explosions. The sequences with planes in flight are relatively few – while these are well conducted (many having been cobbled from other films), they are not the show's highlights.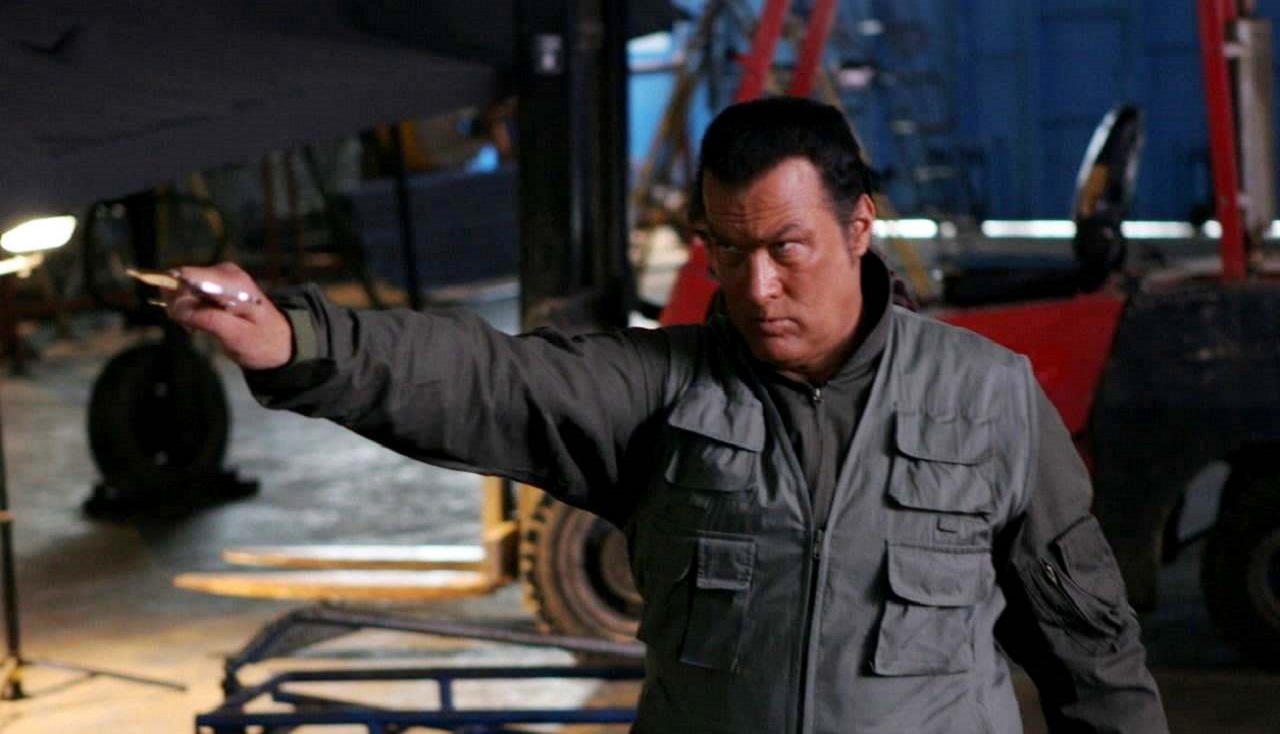 What we are left with is a Steven Seagal film by the numbers. The action scenes move with a reasonable competence under the hand of Michael Keusch (in his third film in a row for Seagal). Seagal is still his usual steely macho self and there are still the same nastily sadistic collateral despatches – we see him repeatedly shooting a downed man and throwing a knife into someone else's neck at various points.
The main problem with Flight of Fury is that it has a plot that feels like a bunch of pages have been tossed out or cut. Things seem to happen randomly. There is an extended sequence at the beginning with Steven Seagal escaping from jail but why he is in there in the first place is never explained. Similarly, after landing in Afghanistan, Seagal goes into the rebel encampment and finds his girlfriend Clara Payton living there – exactly what she happens to be doing conveniently living among the rebels within stone's throw of the very airfield that Seagal needs to raid is never explained either. The plotting indifference to these points is incredibly shabby. The most bizarre scene in the film is when rebel woman Katie Jones comes to search Clara Payton's home and Clara detects she is bi-curious and offers her some girl-on-girl action before humiliatingly kicking her out the door. The blatant gratuitousness of the scene – which is there solely to provide titillation and has nothing to do with the plot – is laughable.
The other part about Flight of Fury that fails to convince is the supposed location – Northern Afghanistan. Geographically, Northern Afghanistan is a ruggedly mountainous area that is mostly arid desert. Politically, most of the area has existed in the hands of warlords without much control by centralised government for a number of years. Contrarily, the Northern Afghanistan that we have here seems lushly verdant (the film was shot in Romania) with paved roads. Clearly, nobody involved in the film had ever visited Afghanistan.
Nor for that matter do they seem to have much idea about what the rebels in the area stand for – we have, for instance, rebels (which given Afghanistan would be members of the Taliban) seen drinking alcohol (which is verboten under Islam). Moreover, women are considered equal members of the troupe (while under the Taliban girls' schools are regularly burned down for such heretical notions as allowing women education) and walk about wearing no headdress (whereas women in the real Afghanistan are forced to wear burqas that cover them from head to foot).
---
Trailer here
---