---
Crew
Director – Geoff Murphy, Screenplay – Richard Hatem & Matt Reeves, Producers – Arnon Milchan, Steve Perry & Steven Seagal, Photography – Robbie Greenberg, Music – Basil Pouledoris, Visual Effects Supervisor – Richard Yuricich, Production Design – Albert Brenner. Production Company – Warner Brothers/Regency Enterprises.
Cast
Steven Seagal (Casey Ryback), Eric Bogosian (Travis Dane), Everett McGill (Mr Penn), Katherine Heigl (Sarah Ryback), Morris Chestnut (Bobby), Andy Romano (Admiral Bates), Kurtwood Smith (General Stanley Cooper), Brenda Bakke (Captain Linda Guilder), Peter Greene (Mercenary #1)
---
Plot
Former Navy SEAL turned cook Casey Ryback catches the train from Colorado to L.A., along with his orphan niece Sarah. However, the train is taken over at gunpoint by an army of mercenaries headed by Travis Dane, a former Strategic Satellite Initiative program employee. Dane kills two military personnel aboard and takes from them the codes to the US's recently launched Grazer One satellite, which is armed with a particle beam designed to trigger seismic faults. He then threatens to fire the satellite on The Pentagon unless paid a ransom. It is up to Casey alone aboard the train to stop Dane and his mercenaries.
---
It is the sad fact in the state of contemporary commercial filmmaking that most films are sold in terms of resemblances to preceding successes rather than in terms of being original ideas. This is particularly so in the action movie genre. Steve Seagal's hit Under Siege (1992) was clearly pitched as Die Hard (1988) aboard a battleship; and one can see that this sequel has with equal lack of imagination been pitched as Die Hard aboard a train.
Moreover, Under Siege 2: Dark Territory slavishly copies exactly what Under Siege did – Eric Bogosian essentially reprises the Tommy Lee Jones role of the megalomaniac hijacker who takes over a large moving vehicle (a battleship in the first film, a train here) and threatens to use hijacked weaponry on the world; again, by a fortuitous set of circumstances, Steven Seagal is the sole man left free aboard to take on an entire army.
Certainly, Under Siege 2: Dark Territory has some good action sequences with Steven Seagal hanging on a rope on the side of a cliff and jumping off to tackle an abseiling mercenary; scenes climbing down the sides of trains as they cross bridges; and an exciting climactic sequence with Seagal running to get off the train as it starts going off a bridge. The film also eagerly picked up on the new technology of the 1990s – stealth bombers, portable fax phones, CD-roms, particle beam weapons and the Strategic Defence Initiative, information terrorism – with confident assurance (wherein, of course, comes the science-fictional rub).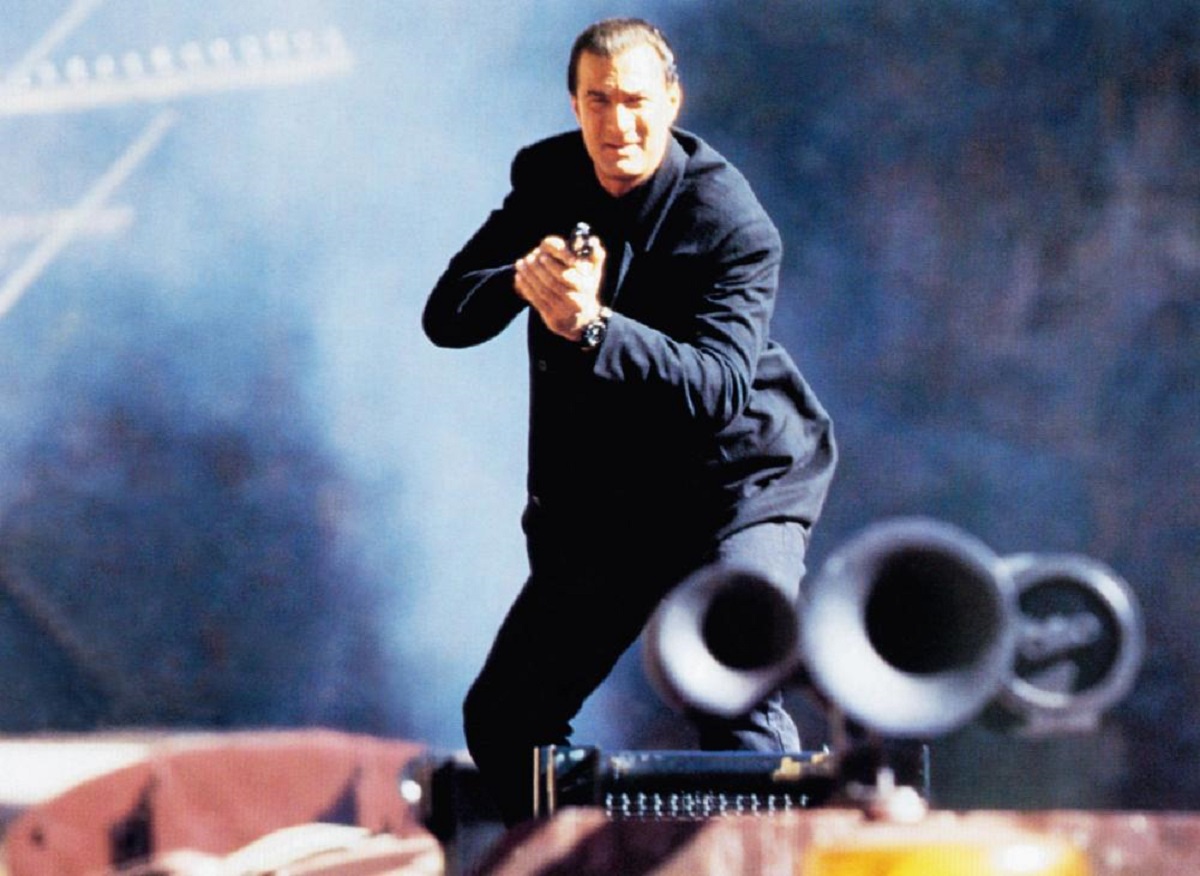 I have to admit that personally I cannot stand Steven Seagal as an actor – he represents too much of the macho brutality and lacks any of the more likable qualities that Sylvester Stallone and Arnold Schwarzenegger present on screen. Not to mention the guy's ego – his interviews come with grandiose claims about his own invincibility and almost certainly exaggerated claims to working as a CIA operative and being the first gaijin to operate an aikido dojo in Japan.
Seagal's films tend to emphasise sadistically nasty dispatch of his opponents – here he willingly snaps victims' necks, bends fingers backwards and there are scenes of bodies going under the wheels of the train while still alive and so on. The net effect is ugly – the action scenes have no beauty, only a sense of sadistic triumph.
Seagal also cannot act – something that has never been a necessary requirement for an action film star – his sole expression seems to consist of narrowing his eyes to achieve a single-minded deadliness. He clearly realises his deficiencies and attempts to leaven his woodenness here by developing a sense of humour and by giving himself a niece (played by an unknown teenage Katherine Heigl) for the sole purpose of allowing himself to display affection and with ghastly results.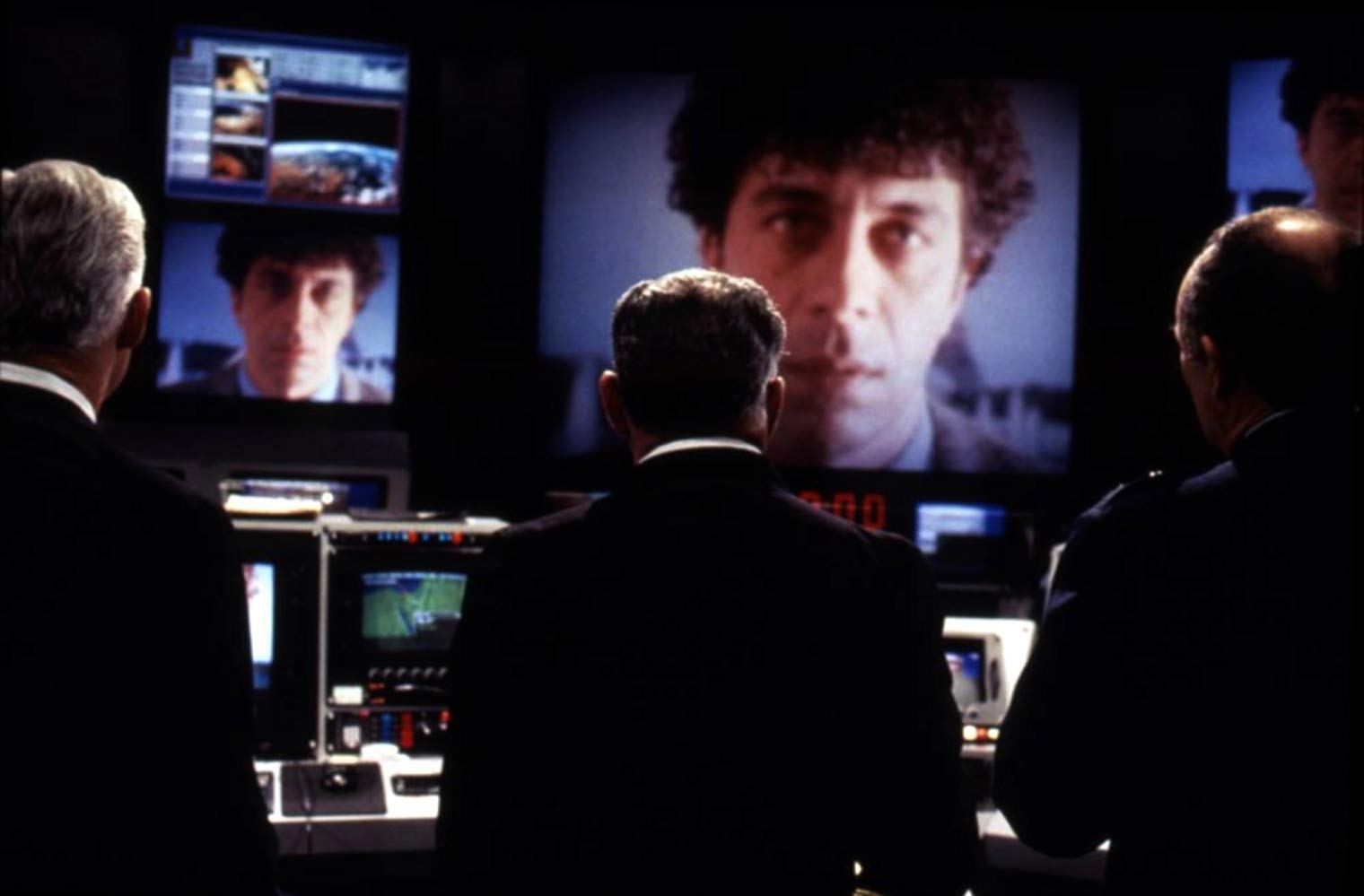 Eric Bogosian, who is otherwise a fine one-act playwright/performer, gives an atrociously over-the-top performance. There is far better supporting villainy from Everett McGill who plays with a stony coldness that is effective – he has one amusing scene demonstrating his toughness by using pepper spray as a breath freshener.
One complaint about the title is that the 'Dark Territory' is almost of no relevance to the film. The 'dark territory' we do see consists solely of an abandoned mine works briefly glimpsed outside the window of the train.
Under Siege 2: Dark Territory was directed by Geoff Murphy, the New Zealander who made fine films like the anarchic road trip film Goodbye Pork Pie (1980), the Maori Wars epic Utu (1983) and the science-fiction film The Quiet Earth (1985), before being swallowed up by the American mainstream and consigned to churning out dreary fodder like Young Guns II (1990), Freejack (1992) and Fortress 2: Re-Entry (2000). One of the more interesting names on the credits is co-writer Matt Reeves who went on to direct Cloverfield (2008), Let Me In (2010) and then do amazing things with Dawn of the Planet of the Apes (2014), War of the Planet of the Apes (2017) and The Batman (2022).
---
---