---
Crew
Director – Anthony Hickox, Screenplay – Paul de Souza & Anthony Hickox, Producers – Paul de Souza, Daphne Lerner & David Varod, Photography – David Bridges, Music – Guy Farley, Visual Effects – Worldwide FX (Supervisor – Nikolay Gachev), Production Design – Carlos Da Silva. Production Company – Millennium Films/FormFame Ltd/Euroimage EOOD.
Cast
Steven Seagal (Cody), Christine Adams (Dr Susan Chappell), Nick Brimble (Adrian Lehder), Vinnie Jones (Henry), William Hope (Agent Fletcher), Alison King (Damita), Stephen Da Costa (Luis), P.H. Moriarty (Chief), Adam Fogerty (O'Hearn), Peter Youngblood Hills (Doc Shock), Niki Sotirov (Colonel Jorge Hilan), Gary Daniels (Agent Sharpe), Luis Soto (Pedro Sandrow), William Tapley (Ambassador Higgins)
---
Plot
A troupe of US Marines is sent to Uruguay on a mission to capture the terrorist Adrian Lehder. However, Lehder has a satellite-beamed device that is able to affect the soldiers' minds and make them back down, whereupon he puts them under an intensive brainwashing program. The US Navy offers Cody and his team of independent military contractors, who were jailed due to political convenience after an operation went wrong, a full pardon if they will undertake an operation to get the marines back. Accepting, the assignment Cody and his team rescue the marines in an armed raid and then escape aboard the terrorists' submarine. However, the brainwashed marines are activated and attempt to sink the submarine. Cody and a handful of his team are able to make an escape. Cody heads to Montevideo where Lehder, in conjunction with a traitorous CIA agent, is planning to use his programmed soldiers to assassinate the newly elected president of Uruguay.
---
Submerged is an action vehicle from Steven Seagal. Seagal is a martial artist who came to fame through the late 1980s and early 90s in vehicles like Above the Law (1988), Hard to Kill (1990), Marked for Death (1990), Out for Justice (1991), Under Siege (1992), On Deadly Ground (1994) and Executive Decision (1996). As most action heroes of that era have, Seagal has struggled to maintain his footing past the 00s in a variety of variable affairs that have (as with Submerged) been released direct to video and dvd shelves as much as they have had theatrical releases.
Occasionally, Seagal's films have branched over into genre material, usually in the techno-thriller vein with the likes of Under Siege 2: Dark Territory (1995) dealing with satellite weaponry; The Patriot (1998) where he faced a deadly viral outbreak; and Flight of Fury (2007) about the theft of a hi-tech fighter plane. In The Perfect Weapon (2016), he was the dictator of a totalitarian future, while Against the Dark (2009) pitted him against a horde of zombies.
I cannot say I have a huge liking for Steven Seagal's wooden acting, which is never limited to anything more than a smugly self-righteous smile and a menacing tight-lipped glower,. Nor for that matter am I a fan of his martial arts prowess, which usually focuses on a nastily sadistic brutality. In the last few minutes of Submerged, for instance, Seagal takes on a hulking heavy, whom he despatches by grabbing a handgun and shooting the man at point blank range, splattering his brains over the wall.
There is no point ever trying to judge a Steven Seagal film by the same standards that you would the works of Shakespeare. A Steven Seagal film can only be seen in terms of its expectations and delivery to the market it is aimed at – and as such Submerged is a work that is neither a classic nor as dreadful as some of Seagal's other works have gotten. The film starts out as a Dirty Dozen (1967)-styled adventure with Seagal and his team released from custody to undertake a tough mission – each of the team gets introduced in a still frame on their face and a listing of their nickname and field of expertise. You are not entirely sure if the Dirty Dozen-type adventure and a Steven Seagal movie go hand in hand – Seagal does not exactly strike one as someone who likes to share the screen or appear as part of a team. (Oddly, for a Dirty Dozen-like plot, the team's various skills and individual quirks are never of much relevance to the story).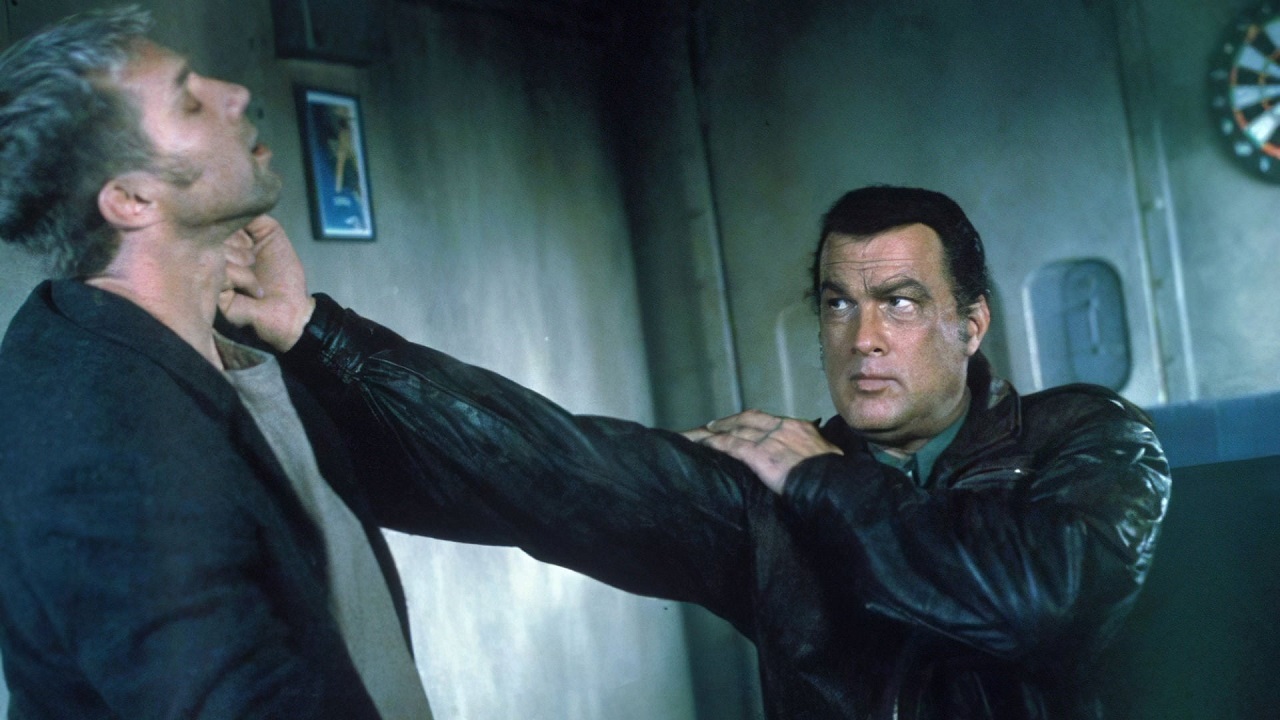 The other thing you notice is that by its very title – and certainly by the tagline "terror has been launched undersea" and the illustration on the dvd cover – is that Submerged gives the appearance of being a submarine adventure along the lines of Crimson Tide (1995), Crash Dive (1996) or Danger Beneath the Sea (2001). However, this is not quite the case – some of the action takes place on a submarine during the middle of the film but the submarine is then sunken and all parties evacuate to land and the bulk of the rest of the film takes place there. One amusing aspect to note is how Seagal and his team make their escape from the terrorists' hideout by just happening upon the submarine, as though that is the most natural piece of equipment to have hanging around a terrorist cell.
In the director's chair is Anthony Hickox. Hickox started out as a horror director in the late 1980s, making efforts like Waxwork (1988), Sundown: The Vampire in Retreat (1989), Hellraiser III: Hell on Earth (1992), Waxwork II: Lost in Time (1992), Warlock: The Armageddon (1993) and Full Eclipse (1993), as well as a tatty sword-and-sorcery outing Prince Valiant (1997). Since then Hickox has abandoned horror filmmaking and specialises in thrillers and action films with the likes of Invasion of Privacy (1996), Storm Catcher (1999), Contaminated Man (2000), Jill the Ripper (2000), Last Run (2001), Federal Protection (2002), Consequence (2003), Blast (2004) and Knife Edge (2009), although appears to have retired from the director's chair by the 2010s.
Anthony Hickox delivers a reasonably competent action film. Submerged appears to have been designed for theatrical release rather than the small-screen, notably when it comes to modestly lavishly scaled sequences like the sinking of the submarine, the chases through the streets of Montevideo and the climactic shootout at the opera. The only minus might be an irritating series of jumpcuts that Hickox keeps throwing in at random points in the midst of action.
The good news is that the action moves at a sufficiently entertaining pace that Steven Seagal's grating presence never shows up on screen much – and when he is there, he is usually surrounded by other members of his team to offset this. The show is frequently stolen by British footballer Vinnie Jones who gets some of the most amusing, albeit un-PC, lines "When I get out of these shackles, you'll be butt-fucked, you cock-sucking wop motherfucker" and "In my book, only queers and penguins go to the opera" – and one suspects would make a far more charismatic action star than Steven Seagal.
(Review copy provided courtesy of Ryan Kenner from Movies in the Attic).
---
---